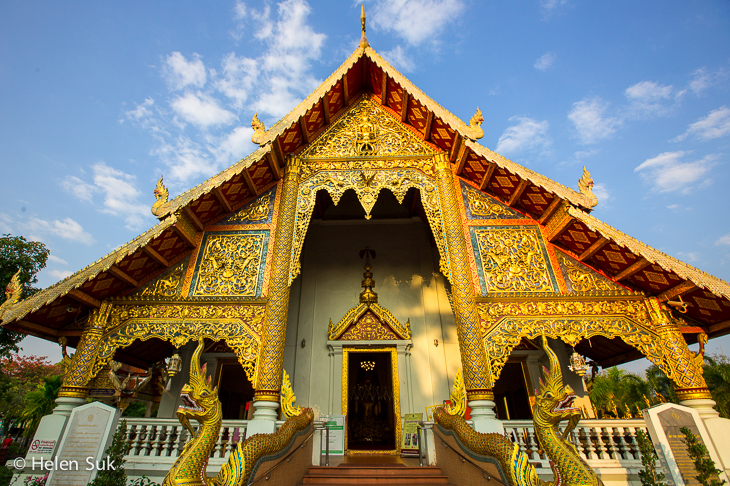 Looking for reasons to visit Chiang Mai? You've come to the right place.
When readers and friends ask for my thoughts on Thailand, my response is unwaveringly consistent. Between the country's two largest cities, I'll take Chiang Mai over Bangkok time and time again. It's where I visited in 2008 and returned in 2015 for three months.
I did eventually experience Thailand fatigue, but I have a special place in my heart for this northern Thai city. Here's why:
1. It's a Walkable City
Bangkok, a sprawling urban jungle, is home to a population of over 8 million. In contrast, less than 1 million people live in Chiang Mai, making it a more laid-back city without the chaos and smog of Bangkok traffic. After the frenetic pace of Bangkok, many tourists welcome the quieter, relaxed vibe of Chiang Mai.
It's also easy to navigate, with the historic Old City surrounded by a moat and the New City outside of it. Days and nights can be spent meandering through the streets with occasional stops at outdoor food stalls or in casual cafes and bars along the Ping River.
For a complete sensory experience, hit up one of the outdoor markets, especially the Sunday Market (Night Bazaar) in the Old City where everything from trinkets and clothing can be haggled down to bargain prices.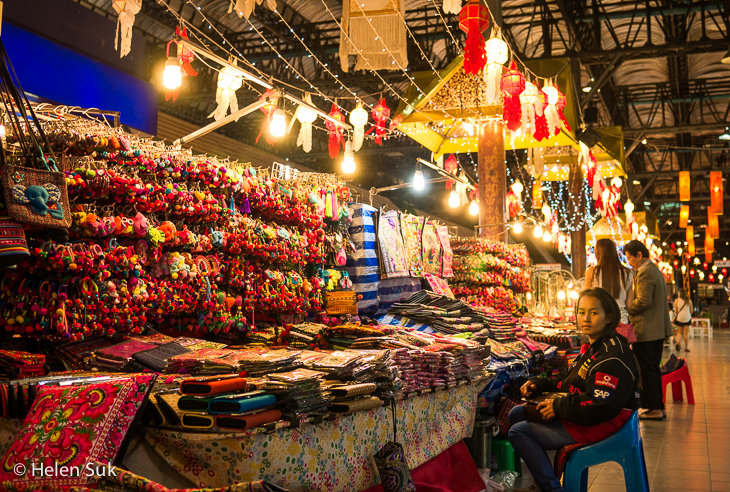 After the shopping, fill up on some of the best street food in the world as you take in the sights and sounds of Chiang Mai by night.
2. Historical and Cultural Treasures Abound
Bangkok has worthy points of interest but it's in Chiang Mai where you'll find the more traditional, culturally rich Thailand. The city has undergone rapid urban development with the building of condos and shopping malls but it hasn't abandoned its Thai roots. Modern structures and fast food restaurants stand alongside well-preserved, meticulously carved teak houses and ancient sites dating back over 700 years in a city that was once the centre of the Lanna Kingdom that ruled northern Thailand.
Chiang Mai is also more socially conservative, which means less sex tourism and more cooking schools and art galleries.
3. Temples Everywhere
With over 300 temples (wats) dotted throughout the city and in the surrounding areas, Chiang Mai has remained true to its Buddhist past.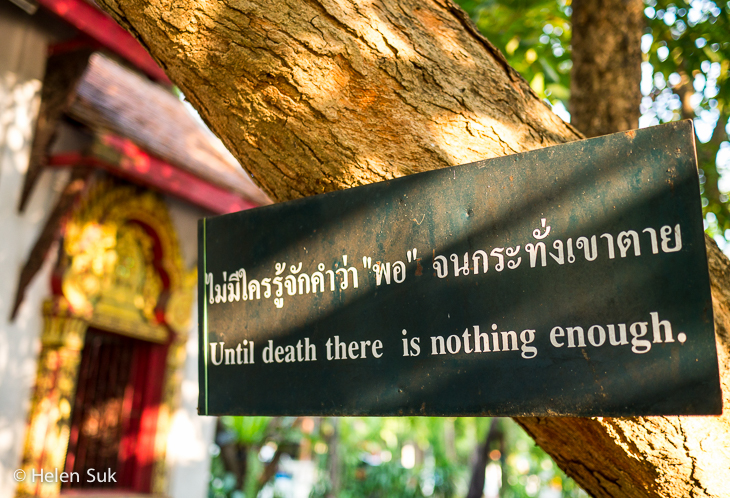 Temple-hopping is a cinch in a city that's so walkable, it takes only 20 minutes to drive from one side of the city to the other. These religious complexes were exquisitely designed in a variety of architectural styles that reflect the various kingdoms that dominated the region throughout the centuries, notably the Lanna and Burmese kingdoms. Ornate and commonly adorned with golden stupas and serpent staircases, the Buddhist temples are smaller and older than those in Bangkok.
A temple in Chiang Mai is a place of spiritual worship, monastery for young Buddhist novices, as well as a community, cultural and study centre. Bare-footed, saffron-robed monks can be seen inside or outside quietly tending to the gardens and conversing with foreigners.
In fact, you'll likely come across "Monk Chat" signs or posters, an invitation to gain insights into monastic life and the principles of Buddhism. Between lessons on the Four Noble Truths and the Eight Fold Path, you can even share stories about your home country or the latest scores of your favourite soccer team. It's an informal setting and the monks are eager to interact with visitors. These cross-cultural exchanges are welcome and valuable opportunities for them to practise their English-speaking skills.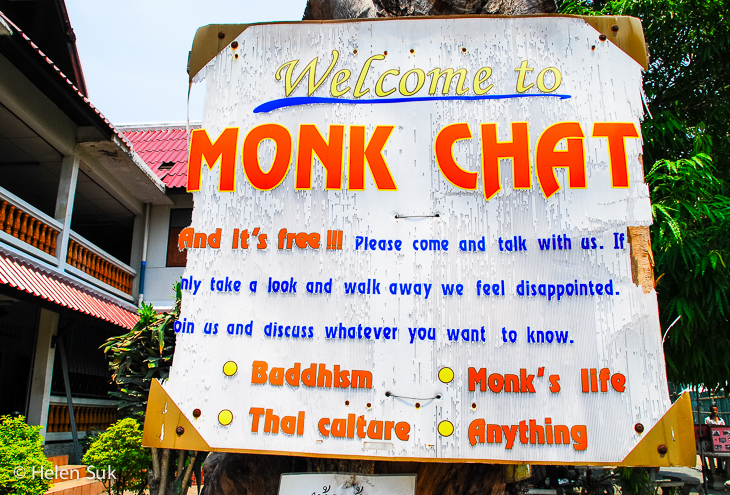 If you want to visit only a handful of temples, Wat Phra Singh, Wat Chedi Luang and Wat Chiang Man are among the most significant and located closely together in the Old City.
Arguably the most sacred temple in Chiang Mai is Doi Suthep, located on a mountain 30 minutes outside the Old City — a lavish, legendary temple with impressive views of the city. If you'd rather not climb the 306 steps to reach the top, hop in the cable car.
4. The Price is Right
Thailand is known the world over for its low cost of living but did you know Chiang Mai is more affordable than Bangkok? Whether it's for meals, accommodations or Thai massages (you need to experience this centuries-old tradition at least once during your visit), your dollar will go further in Chiang Mai. Oh, and if you need low-cost but high-quality dental work, you'll find it here. Why not treat your health as well as your wanderlust at the same time? Read this post for a breakdown of prices in Chiang Mai from local transportation to my dental crown.
5. (Mostly) Comfortable Climate
I love clear skies and the warmth of the sun but I'm a wimp when it comes to extreme heat and humidity (I'm Canadian, okay?). If you share the same aversion, know that Chiang Mai sits at a higher altitude than Bangkok, giving it cooler temperatures and less humidity. Make no mistake though: it's still sweltering during the Thai summer.
Tip: avoid visiting Chiang Mai in April, the hottest and most humid month of the year (unless, of course, you prefer that kind of climate). You may also want to skip the July-September monsoon season.
6. Friendly and Safe
As a hotbed for expats, Chiang Mai is exceptionally foreigner-friendly and generally safe for female solo travellers. Never did I feel threatened even when I walked the streets alone at night. Statistics support my experience: this is a chill city low in violent crime.
There are, however, some risks to be aware of such as pickpockets in crowded, tourist areas, as well as gem and tuk tuk scams. Most of all, beware of traffic and when riding motorbikes. Chiang Mai's streets are nowhere near as dangerous as those of Bangkok but it still sees its fair share of traffic accidents and they typically involve two-wheeled vehicles.
You'll also want to stay on the right side of Thai law:
Do not insult the Thai royal family (punishable by incarceration). Otherwise, you may suffer the same fate as this man's. After publishing Facebook posts critical of the monarchy, he was sentenced to 35 years in prison. 

Do not, for the love of life, traffic narcotics, even marijuana. This is punishable by death.

Avoid political demonstrations. Since 2014, Thailand has been ruled by a military junta but you'd hardly know it during your visit. You'll rarely see a military presence, if at all, unless you find yourself caught up in a protest (in which case, get the hell out).
Keep the above tips in mind and you should experience few troubles, if any.
7. The Food
From local street food to upscale fare, the culinary offerings are without a doubt one of the most significant reasons to visit Chiang Mai.
I ordered Thai roti on the regular from a food stall or cafe near my home. A thin parcelled crepe filled with bananas, egg and an optional topping of nutella or drizzled chocolate or condensed milk, this was one of my favourite sweet indulgences.
So too was Thai iced tea (Ceylon tea mixed with condensed milk).
Love coffee? You'll never be far from a cafe serving Americanos and cappuccinos that are just as good as the ones at home.
But Chiang Mai's culinary star is northern Thailand's most celebrated dish: khao soi. Soft egg noodles are served with a chicken drumstick in a rich, creamy coconut curry broth, topped with more noodles deep-fried to a crunch. 
For a bit of zest, diced red onions, pickled cabbage and sliced lime are served as an accompaniment. Chiang Rai is where I discovered the perfect bowl of khao soi but I passionately slurped countless, mouthwatering bowls of it in Chiang Mai too.
Of course, you may want to take all the culinary secrets home to recreate your favourite Thai meals, and the many cooking schools throughout the Old City of Chiang Mai are there to teach you how. Often including a trip to the market, these cooking classes can last a half or full day.
8. Ideal Base for Day or Weekend Trips
There is one downside to Chiang Mai. While Bangkok in the south is a major hub for both domestic and international flights, Chiang Mai in the north is less convenient when it comes to reaching Thailand's famous beaches. But the areas surrounding the city make up for what it lacks.
A treasure trove of natural beauty is easily accessible from Chiang Mai: caves, pristine waterfalls, mountains and tropical jungles. Mae Salong, a Chinese village 4.5 hours north, is a tea-lover's paradise.
Pai, a tranquil, hippie town and magnet for artists, is surrounded by gorgeous landscapes and only 3 hours northwest.
Chiang Rai, a small, sleepy city and home to the famous White Temple, is 3 hours northeast.
Adrenaline junkies can also get their thrills on hiking, ziplining and white water rafting excursions.
All these trips can be booked at one of the many travel agencies in the Old City but before handing over your tourist dollars, I strongly advise doing your research.
Hill tribe treks, particularly those involving the Karen "long neck" tribes, are controversial. I joined one many years ago when I was unaware that the Karen tribes are Burmese refugees who are not recognized as citizens by the Thai government. They're denied education and healthcare, geographically confined and often exploited for the tourism economy.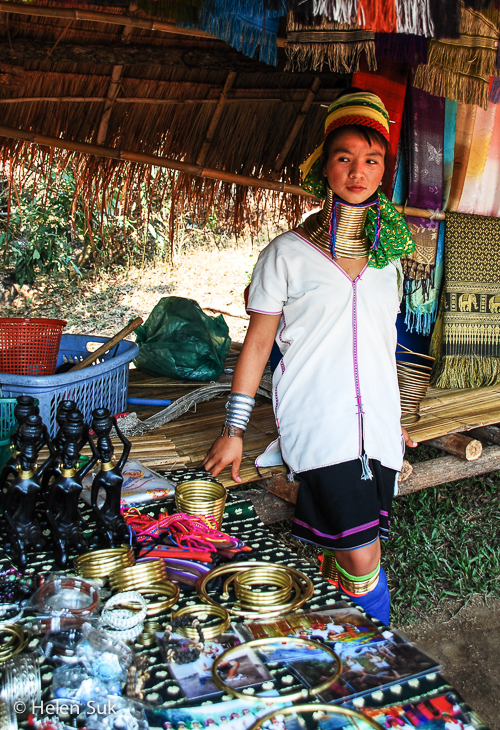 I suggest reading this article for suggestions on how to select a responsible hill tribe tour.
Animal tourism is no better. It's a booming business but also ethically ambiguous in a country where animal cruelty is prevalent but well-hidden. Be wary of zoos, tiger attractions and elephant treks or "sanctuaries". This Newsweek article highlights recent scandals involving the Tiger Temple, and my post about rampant elephant abuse in Thailand explains why you should think twice before riding elephants.
It's not all doom and gloom though. One animal attraction called Elephant Nature Park was in fact my top reason for visiting Chiang Mai a second time. Located 90 minutes from the city, this elephant rescue and rehabilitation centre is widely recognized as one of Thailand's most ethical elephant sanctuaries. Although visitors are not permitted to ride the animals, they can feed and bathe the giant pachyderms that roam the park in near freedom.
Elephant Nature Park was one of my most memorable experiences in Thailand. You can read about it here.
I have my reasons to visit Chiang Mai. What are yours?
Pin This Post to Pinterest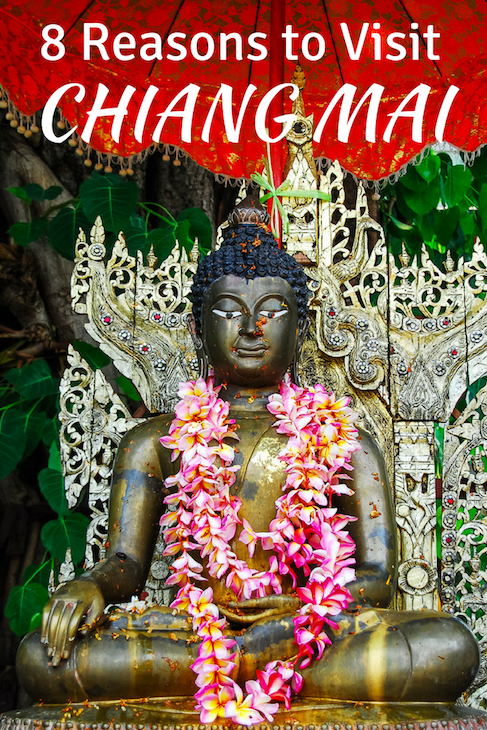 Plan on visiting Chiang Mai? Search for hotels here. Disclosure: This is an affiliate link that allows me to earn a modest commission from Booking.com if you click on it and make a hotel reservation (at no cost to you). Thank you for your support!