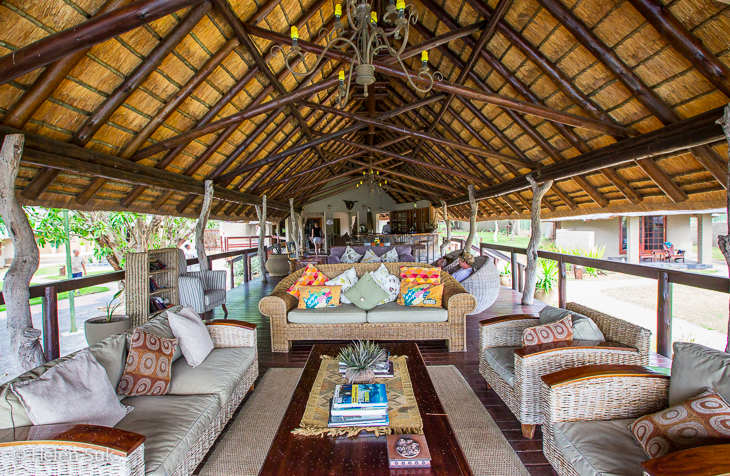 Who says you can't have modern luxuries in the wild? Deep in the African bush, I found them at Arathusa Safari Lodge in Sabi Sands game reserve, a privately owned area bordering Kruger National Park and the coveted refuge for South Africa's most prized wildlife. Here, visitors can spot the continent's Big Five in just one day — even the ever-elusive leopard. That's because the northern region of Sabi Sands where Arathusa is located is said to boast the highest concentration of leopards in South Africa and one of the highest in the world. In fact, some guests stay at the lodge for this reason alone. And lucky me! It was the one animal of the Big Five I didn't have the privilege of encountering on my safaris in Kenya some years ago.
Arathusa (a name rooted in the North Sotho word "reathusa", meaning "we are helping") offers guests over the age of 12 a complete safari experience at their 868-hectare property, including: all meals, tea, coffee, two three-hour game drives per day and, during the summer months, an optional bush walk (alcoholic beverages and spa treatments are additional costs).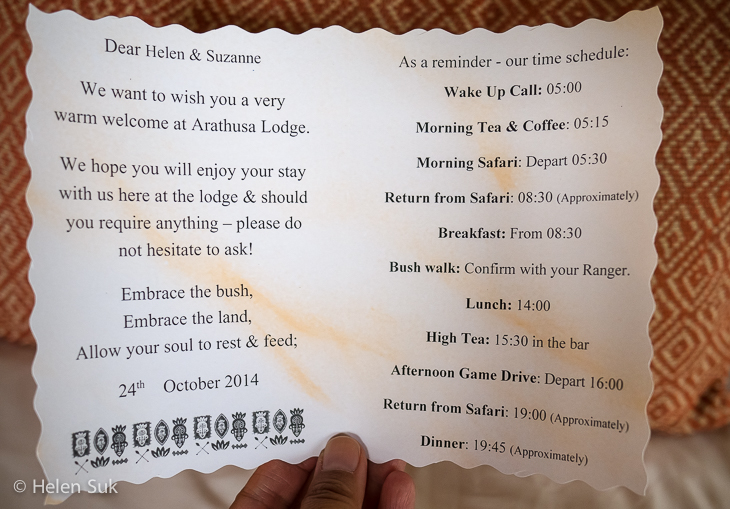 Arathusa is the third most cost-effective lodge in the northern Sabi Sands area, with rates starting at R3400/person/night. Guests are offered value for their money. True to its name, the staff provides visitors with a level of hospitality as if they were guests in their own home.
The Lodge
With its earthy tones and use of the natural elements, this deluxe lodge is thoughtfully integrated into its wild surroundings.
The atmosphere in the open-air lounge and bar is one of comfort and peace for quiet relaxation and soaking in the 180-degree view of one of Arathusa's biggest draws: the large watering hole, a lake from which buffalo and elephants take their drink, and where up to 20 hippos call home. (If you're curious to see which wildlife is gathering there now, the live cam on the Arathusa home page will give you an idea).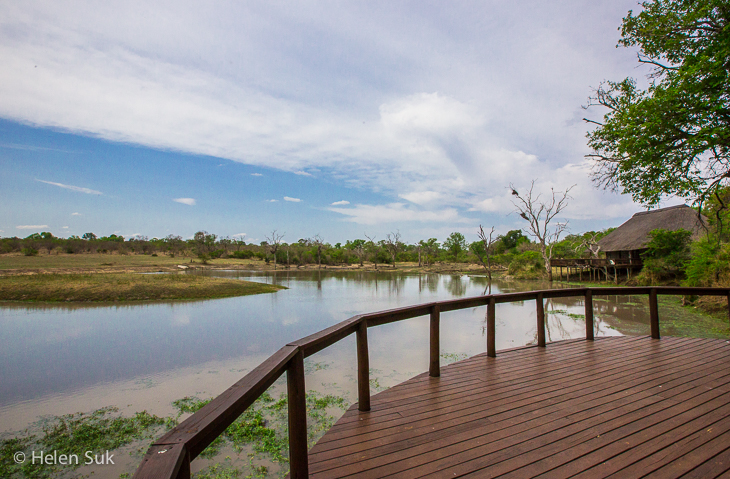 While this feature isn't unusual for other lodges in Sabi Sands, the watering hole is typically either smaller or further away from the camp. At Arathusa, I didn't have to jump in a land rover for game viewing — I already had front-row seats to a wildlife spectacle at the lodge, which is essentially a 24-hour, outdoor theatre.
So too is the infinity pool and sun deck.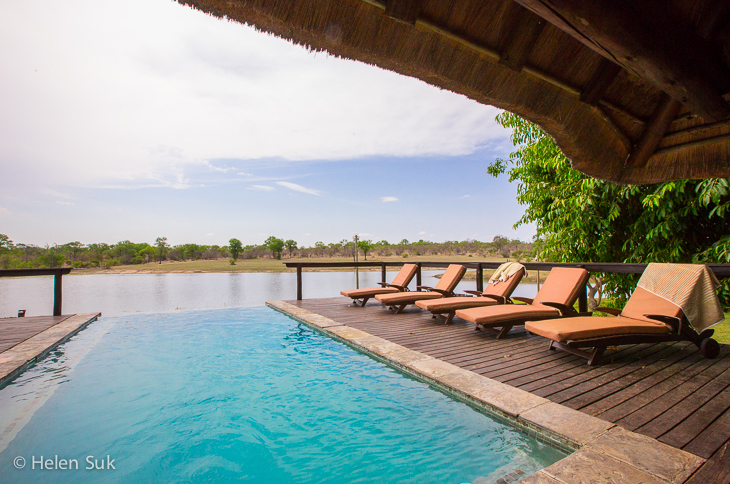 The Accommodations
With only 9 standard rooms and 4 luxury suites, Arathusa offers guests an intimate, personalized stay surrounded by wood decor and natural textiles. All thatch-roofed accommodations are elegantly designed and include an outdoor shower for a rare bathe-in-the-bush experience.
Other in-room amenities include: air conditioning, mini bar, safe, hairdryer, toiletries, phone, mosquito net and tea/coffee (there are no TVs).
As for wifi, it was spotty at times (which is expected in remote South Africa) and can only be accessed in the bar and lounge but, I've been told, that may change in the future.
All Standard Rooms overlook the watering hole and include a small private patio for lounging and wildlife viewing.
Further from the main camp for added privacy are the exclusive, spacious Luxury Suites. These look out to the bush instead of the watering hole, but each comes with a separate sitting area, private deck and plunge pool. My friend Suzanne and I checked into the Tamboti suite, a modern sanctuary of comfort and style triple the size of — and far more beautiful than — most one-bedroom condos in downtown Toronto.
Two things to keep in mind: Doors should be kept shut, especially at night, to keep the (rather large) African insects out. And Arathusa is not enclosed by a fence. Any animal that calls Sabi Sands home can roam through the grounds — but that's part of its appeal. Walking to and from my suite after dark required a staff escort.
Dining
Guests can overlook the watering hole from the open-air boma during meal time. In fact, from my table, I watched an elephant quietly take its drink while waiting for my lunch and, during dinner, the resident hippos graze under the starry night sky.
The executive chef makes use of fresh, local produce to serve up satisfying meals with a different menu each day. Breakfast is buffet style with an option to order hot dishes, but my one morning meal at Arathusa was an unexpected treat (continue to The Game Drives section below to find out why). Fruit and freshly baked pastries are served during High Tea at the bar for anyone who needs to fuel up for afternoon game drives. For lunches and the three-course dinners, guests are given a choice of three main dishes that (for an additional cost) can be accompanied by the finest wines from the country's vineyards.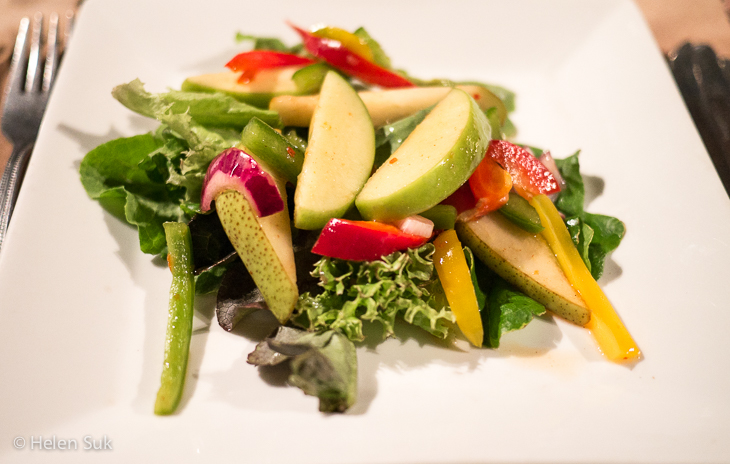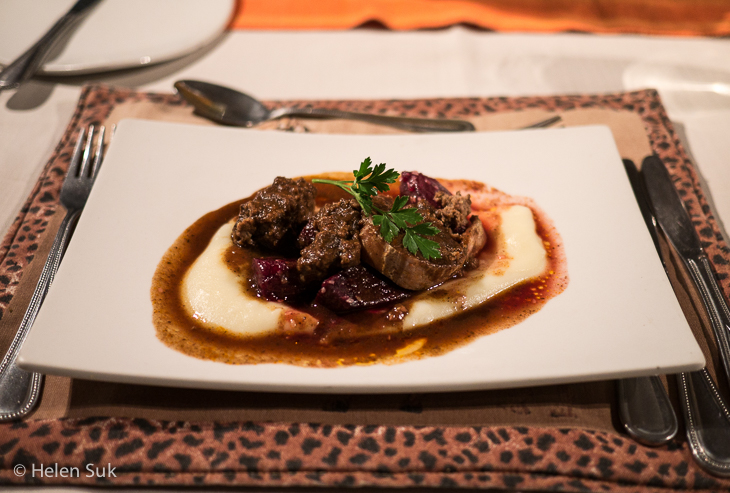 Just to keep things interesting, the kitchen changes the dinner location each evening. One night it could be in the boma, the second at the watering hole and the third in the bush around a camp fire.
Special dietary requirements can also be accommodated.
The Game Drives
As comfortable and relaxing as the camp is, ultimately, it's all about the wildlife. With one of the best traversing rights in Sabi Sands, Arathusa delivers outstanding safari adventures with a personal touch and close-up sightings of everything from bird life to the famous Big Five (the elephant, lion, rhino, cape buffalo and leopard).
There are two advantages to private game reserves like Sabi Sands over Kruger National Park. First, they have fewer visitors than the national parks — this can make a significant difference to the safari experience (the traffic congestion, for example, was my one complaint about my game drives through Kenya's Maasai Mara). Secondly, rangers in Sabi Sands are permitted to veer off the road to get up close to the Big Five (thanks to the agreements between lodges and landowners), a freedom not enjoyed in Kruger. In keeping with the reserve's conservation policies, however, the practice is carefully regulated to deter guides from abusing the privilege.
We arrived in the afternoon, just in time for lunch and the 4:00pm game drive. After climbing into our open, cushy-seated land rover, we eagerly set off on safari with our ranger, Rein, and tracker, Debeer — both native South Africans with years of experience in the field. Rein's knowledge and confidence were impressive, and his passion for the flora and fauna contagious. DeBeer's gift for tracking animal footprints and droppings — a skill he started honing as a child — seemed instinctual. Rarely did I see his eyes shift from the ground.
The duo led us to sightings of impalas, a mongoose and Korhaan bird, then… the first of the Big Five: a cape buffalo. A female abandoned by the herd, she appeared weak and defeated in her old age.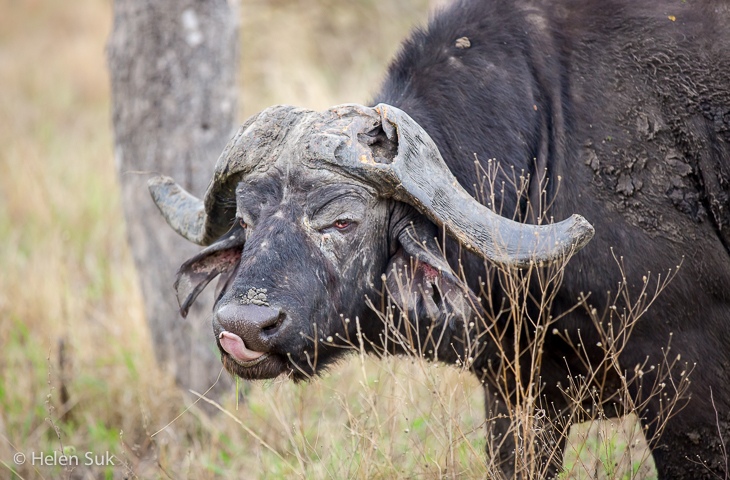 Uncomfortable with trailing an ailing and dejected animal, Rein stopped the vehicle to let us observe only for a few minutes before moving on.
That's when it happened: a sighting of one lone leopard resting comfortably, her black-dotted coat camouflaged in the thicket.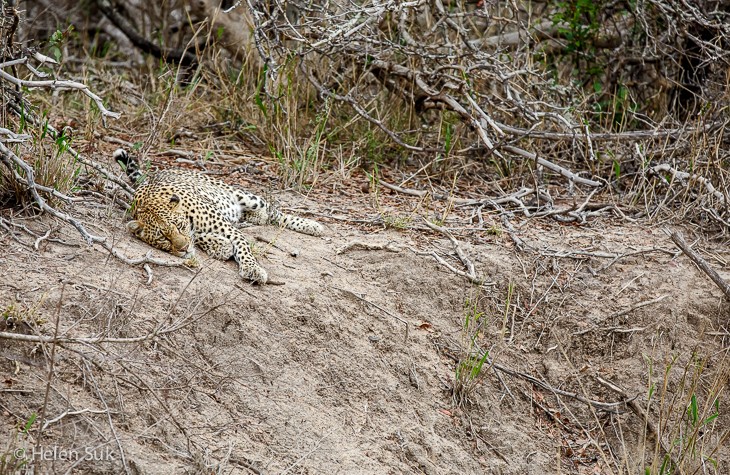 She was a mother, we were told, although her cubs were nowhere to be seen (despite their territorial nature, females can leave their cubs for up to three days at a time). Mission Leopard accomplished — and I was elated. This mysterious, wild feline was gorgeous.
Still on a high, we eventually reached a clearing, and stopped for drinks and snacks.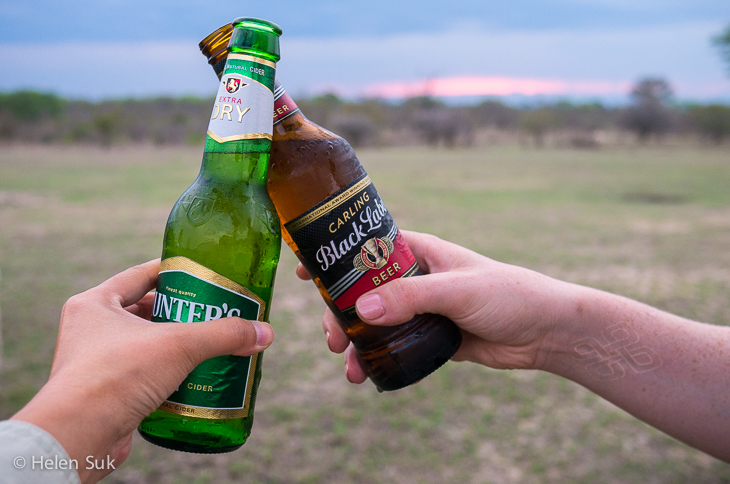 It was here where we watched an astonishing sunset with colours so intense, I barely had to touch up this image.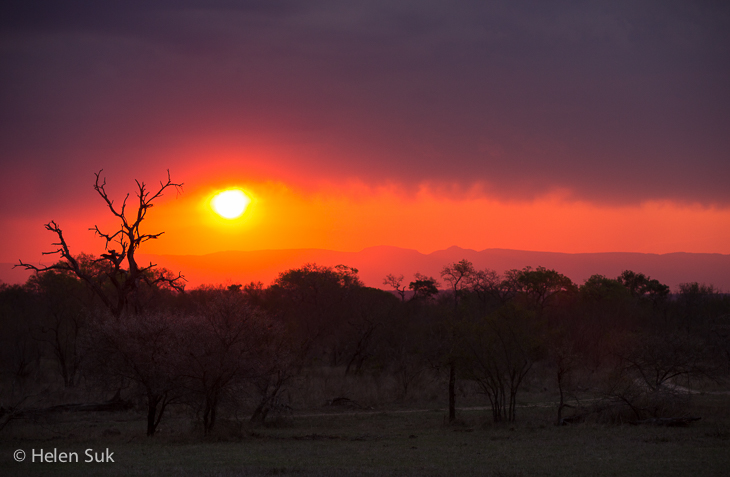 The moment was magical in itself but, for one young couple in our vehicle, it was especially sentimental and historic. Right before our eyes, the man dropped to one knee and proposed to his sweetheart (she said "yes"!) — an engagement event orchestrated by the groom-to-be with the help of Rein. And out came the celebratory bottle of bubbly and champagne flutes (to the couple: thanks for sharing).
Returning to the lodge, we were warmly greeted by staff with glasses of port and warm towelettes, a welcome and thoughtful post-safari ritual.
After a jolt of caffeine and biscotti, we departed on our game drive at 5:30am the following morning to come face to face with more wildlife.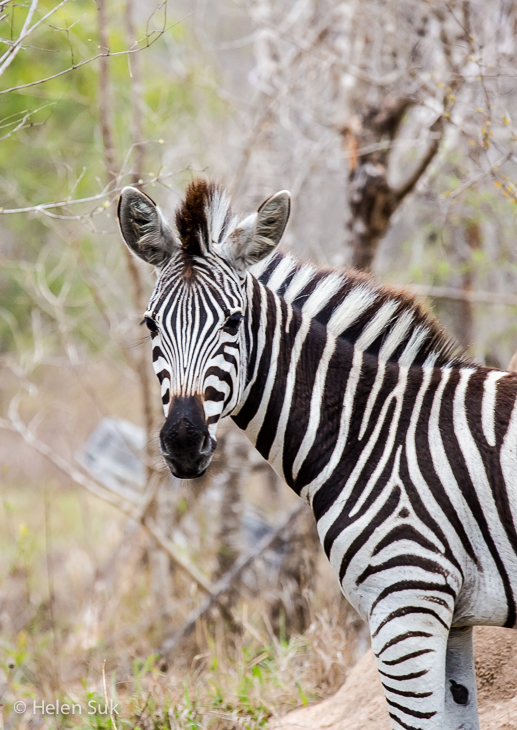 A beverage and snack break followed before continuing on in our search for lions, the mighty, apex predators of Africa's animal kingdom.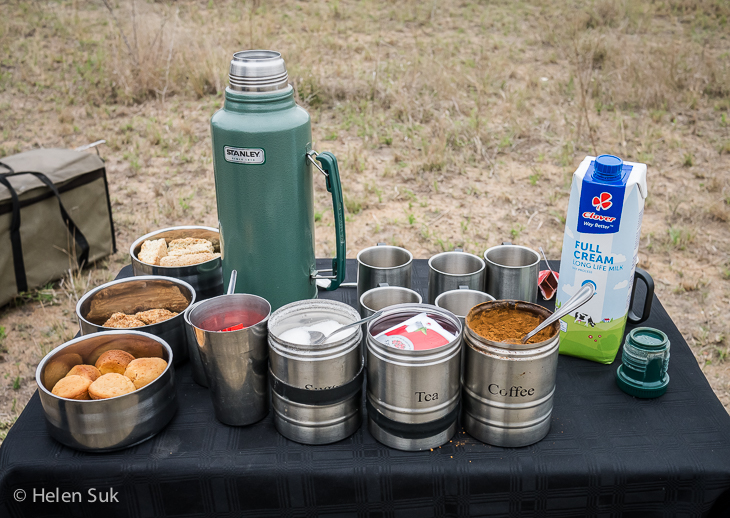 As if the rare (although common in northern Sabi Sands) leopard sighting wasn't enough, this is what we witnessed.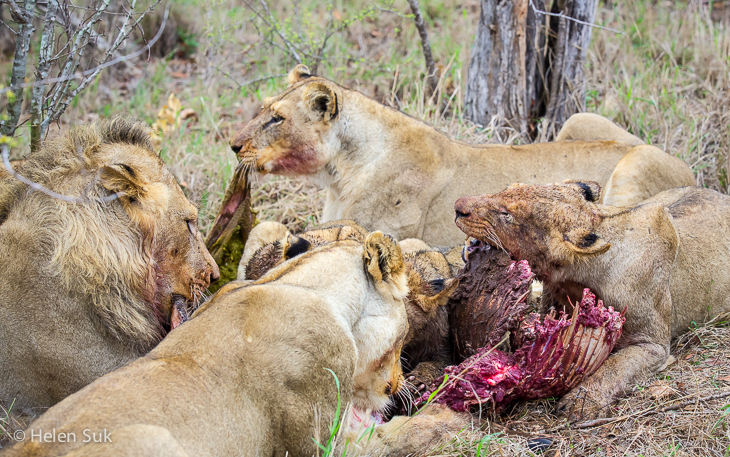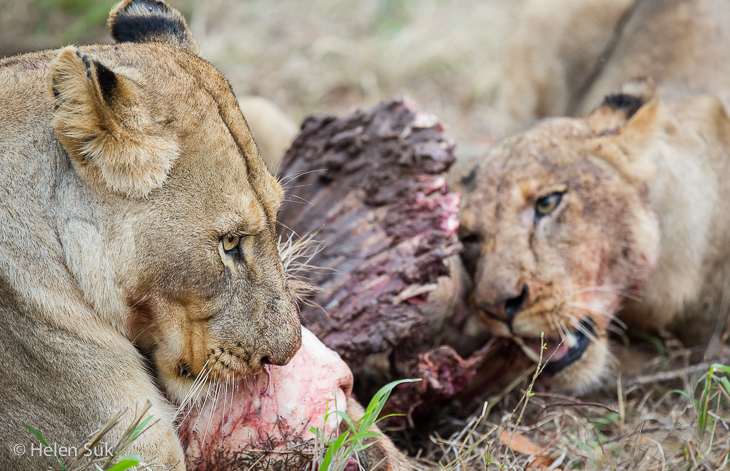 One poor waterbuck became the breakfast of champions for this pride of lions. In fact, we were so close that the odour of the carcass drifted right to our vehicle — not exactly pleasant, but it was all part of the thrilling experience of observing this feeding frenzy in the wild.
Speaking of breakfast, we were surprised with our own morning meal in the bush — and it was far more appetizing than a waterbuck.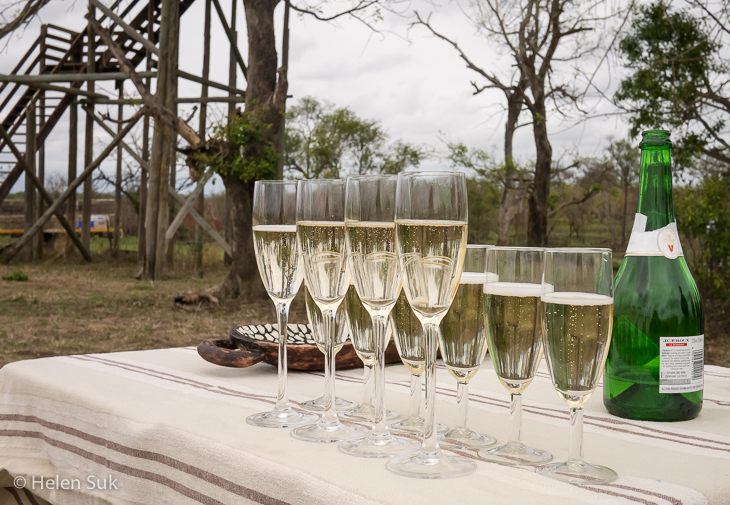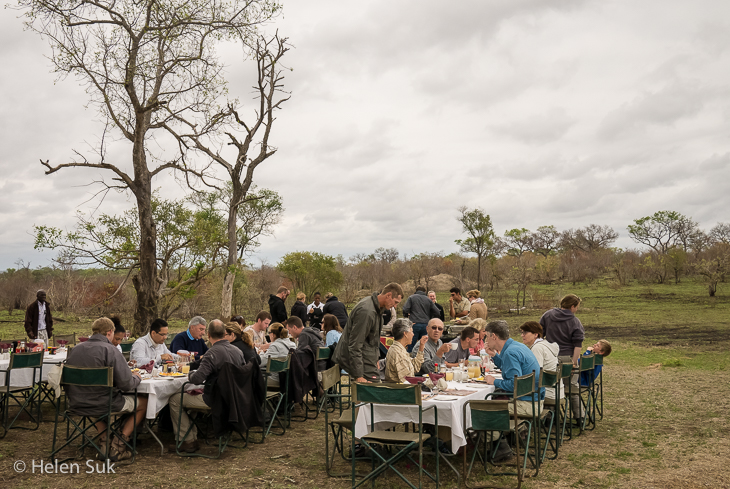 Needless to say, the morning game drive was worth the 5:00am wake-up call.
For a deeper insight into the flora and fauna, interpretive bush walks are also offered by armed rangers during the summer.
The Spa
Had I spent more than one night at Arathusa, I would have indulged in the treatments offered at the Safari Spa, which is one of the top features of the lodge. After all the hours spent traversing the African bush, guests can relax and pamper themselves in the lap of luxury.
I may have missed out on the spa and wellness services, but I loved this lodge no less. From the deluxe accommodations to the exceptional service and spectacular wildlife encounters, my brief stay at Arathusa was truly unforgettable.
Many thanks to Arathusa Safari Lodge for hosting my visit. As always, all opinions expressed in this post are entirely my own.
Pin this post to Pinterest