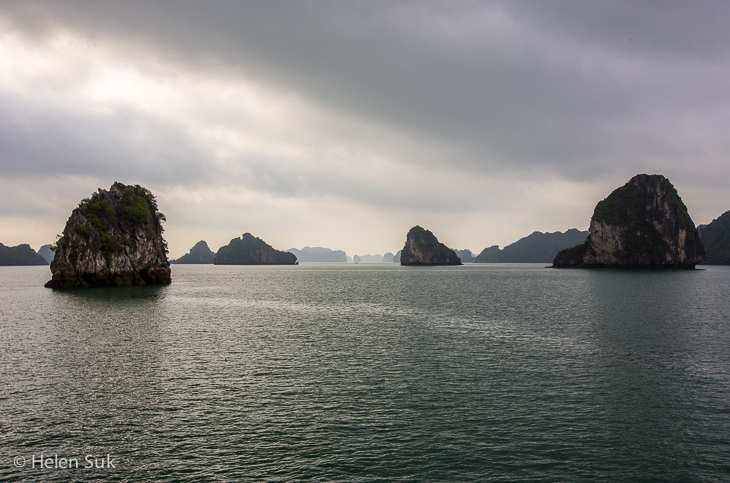 We've all been there: our hearts sink with disappointment when we learn a place we've longed to visit has descended into a cesspool of mass tourism and overdevelopment. It was only after I arrived in Vietnam that I learned the extent to which Halong Bay has suffered this unfortunate fate, from the huge crowds to garbage-strewn waters.
But what if I told you there's an alternative, one that's just as magical as pre-tourism Halong Bay, but quieter and less disturbed?
Bai Tu Long Bay
Bai Tu Long Bay is part of the famous Halong Bay UNESCO World Heritage Site in northeastern Vietnam. A fantasy-like archipelago defined by 1,600 islands shaped by the natural elements over time, the region is rich with geological splendour. The smaller, uninhabited islands — protruding limestone karsts of various shapes and sizes — are scattered across the emerald waters. The vision is surreal.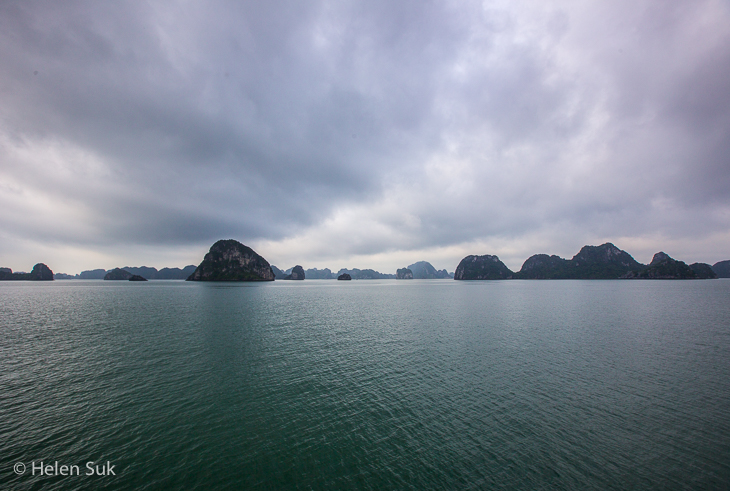 But the secret I discovered about Bai Tu Long Bay is this: it's a newer thoroughfare, located just east of the wildly popular route taken by most boats ("junks" as they're called) in the Gulf of Tonkin, far from the throngs of tourists and the multitude of vessels that sail toward Cat Ba Island and Ti Top Beach.
The decision to take this less-travelled route was a no-brainer for me and my friend Maria of Fiery Tree.
Treasure Junk
Our research led us to Treasure Junk, a traditional wooden vessel operated by a team that strives to minimize its impact on the environment by using biodiesel for fuel, organizing and supporting environmental initiatives like an annual clean-up tour, and not participating in exploitative visits to the caves. Members of the local community also benefit: the tour company trains and hires only locals, and exclusively procures fresh produce and seafood from the surrounding areas. This scored big points for us.
Of course, so too did the route. Instead of sharing the waters with hundreds of junks, our one-night cruise would lead us through the more pristine Bai Tu Long Bay.
So what can you expect from this tour?
From our hotel in Hanoi, we made our way to the Handspan Travel Indochina office (where the Treasure Junk tours are sold) in the Old Quarter at 7:45am.
Search for hotels in Hanoi at Booking.com here.
By 8:00am, we started our four-hour, bumpy journey in an air-conditioned mini-bus, broken by a 15-20 min. stop (with clean bathrooms) along the way.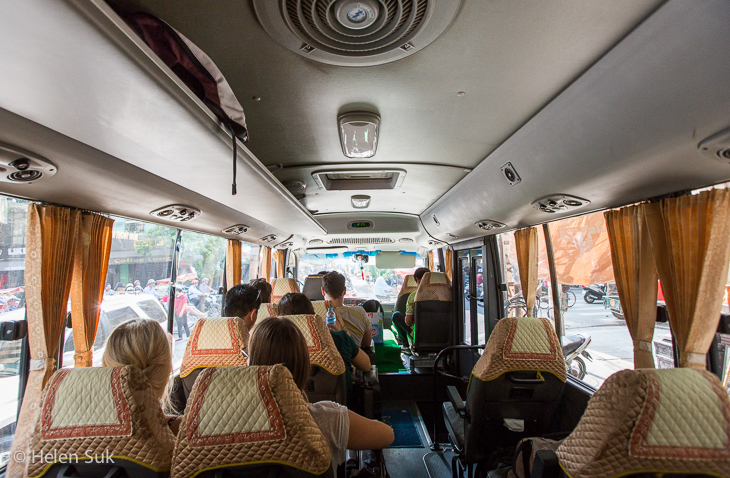 We eventually boarded the Treasure Junk, a traditional yet modern vessel.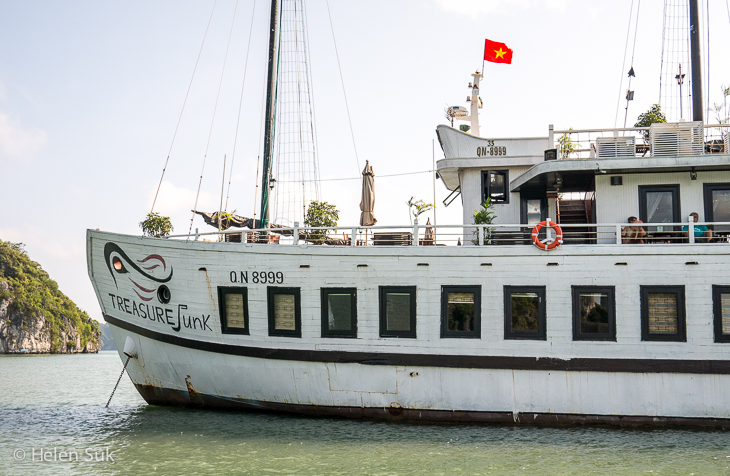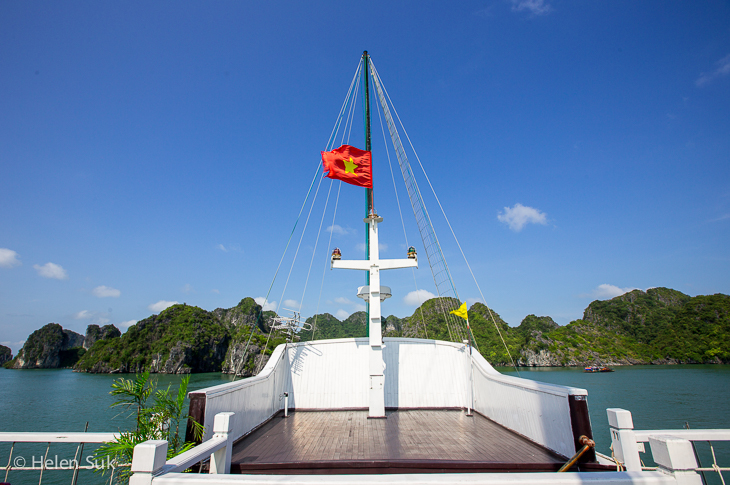 With welcome fruit drinks in hand, we felt immediately at ease as we were briefed on the itinerary. Our one-night tour was more expensive than those offered by other companies but, given the many poor reviews online of the lower-priced boats, the last thing we wanted to do was risk ruining our tour by cutting corners in our budget. We also preferred a smaller vessel for a more personalized experience. With only 14 cabins, the Treasure Junk fit the bill.
Most of the cabins are located on the first floor, while the second floor includes an open-concept dining area, as well as a lounge and bar with an outdoor deck where a set of stairs leads to the top deck.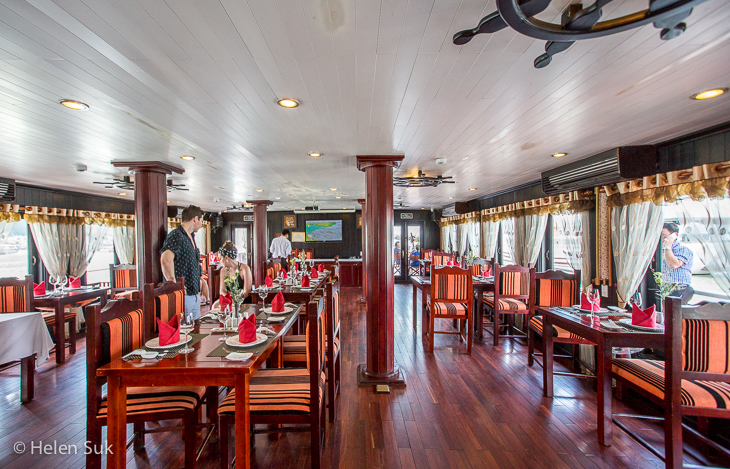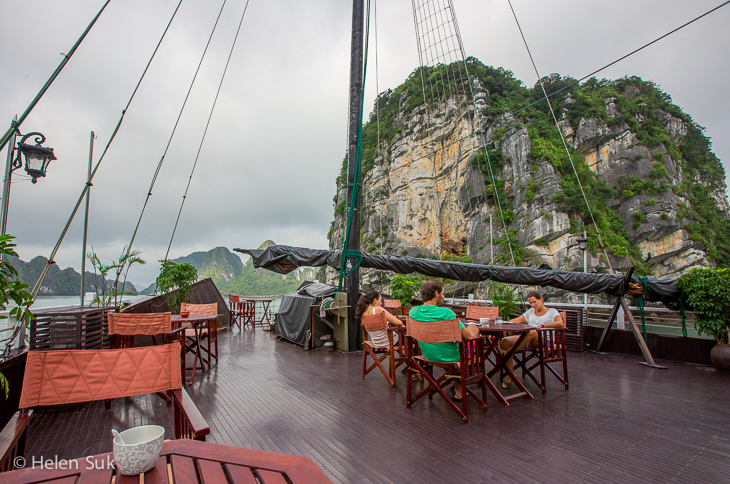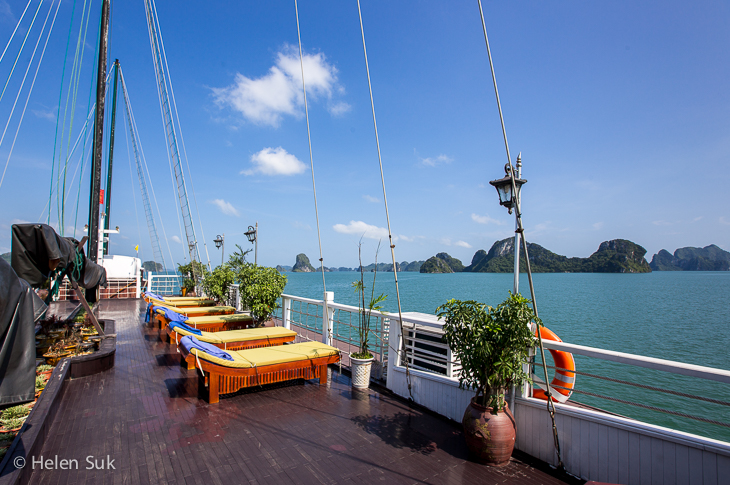 There were lounge chairs for sunbathing on the top deck, but no umbrellas to shade us from the sun. The good news, however, is that they've been installed since our visit.
Maria and I had our own standard cabins (although you can book a suite if you really want to live it up). They're not spacious but they're air-conditioned, comfortable, clean and feature large windows for scenic views. The beds are a little firm, but I like them that way.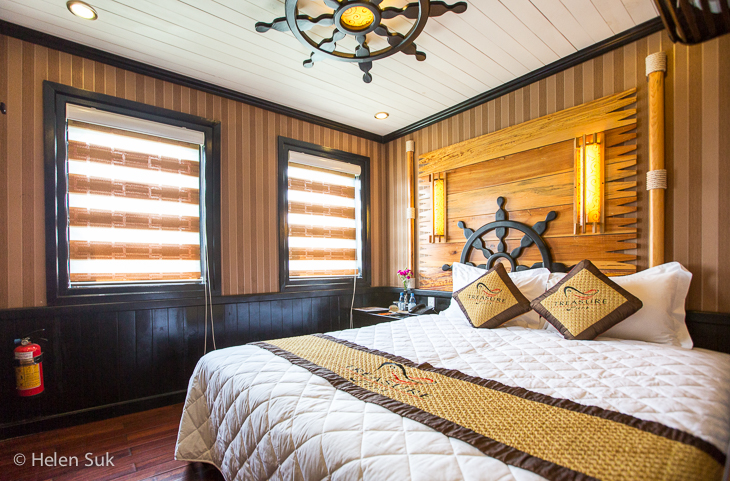 With respect to security, there are no safes in the rooms, but the doors to the cabins include locks and the corridor is equipped with security cameras (an important feature for photographers like me who travel with expensive gear). For added peace of mind, items can also be stored in the safes on the second floor.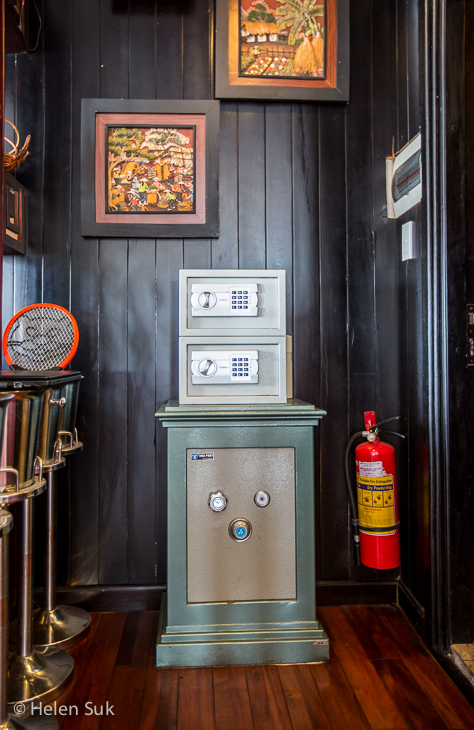 The sleek, contemporary bathrooms are impressive, with features like double shower heads, excellent water pressure, soap pump and toiletry kits (which include shampoo, toothbrushes, cotton swabs and a shower cap).
We loved our cabins, but we came for the natural surroundings. Most of our time was spent on the second-floor deck, soaking in the otherworldly seascape of countless rock formations, which metamorphosed every few hours with the changing weather. The panoramas went from sunny skies one day to grey and moody the next; both views were exquisite in their own way. An overnight journey (as opposed to a day trip) gives you more opportunity to witness these various transformations.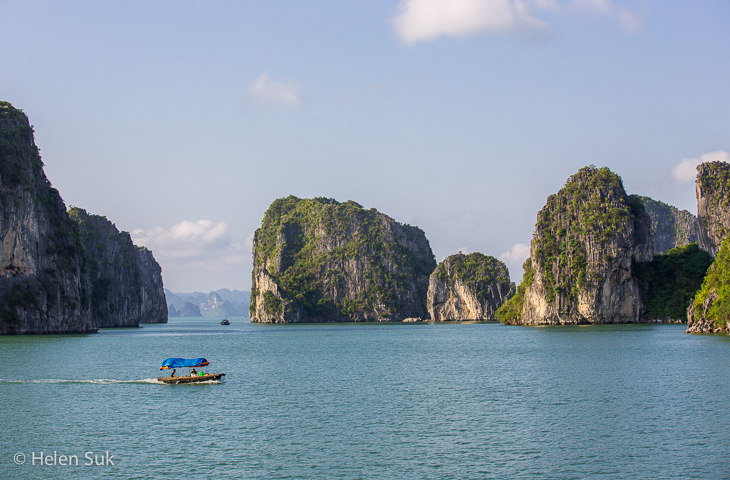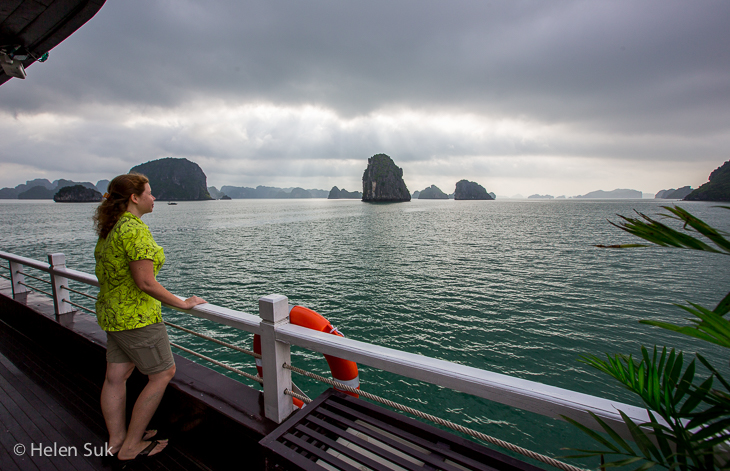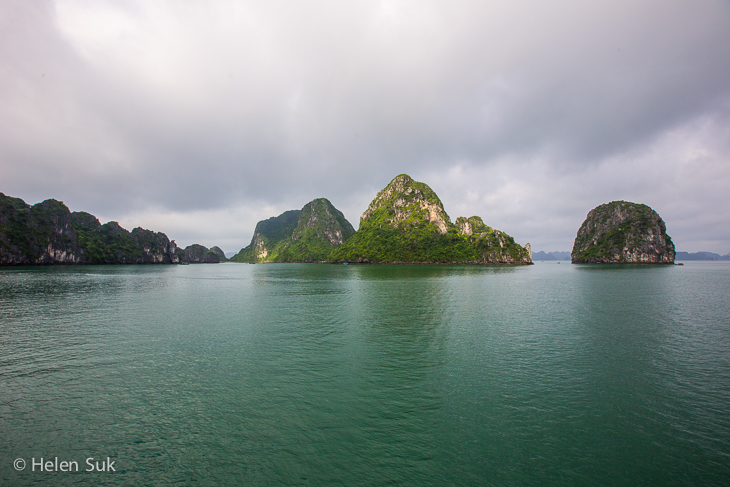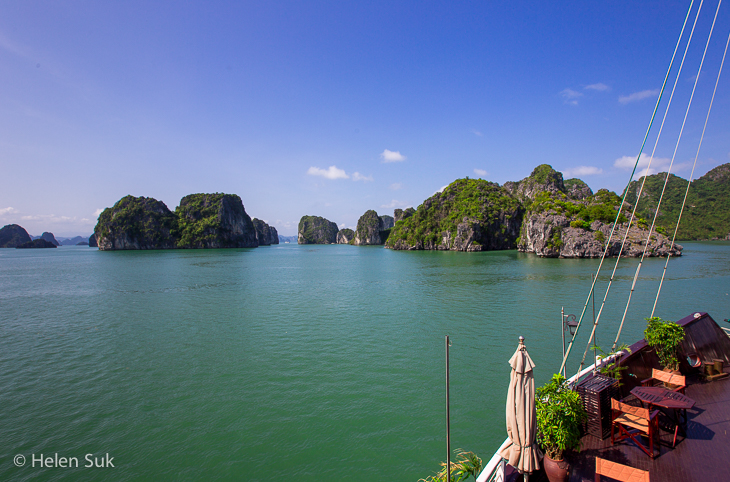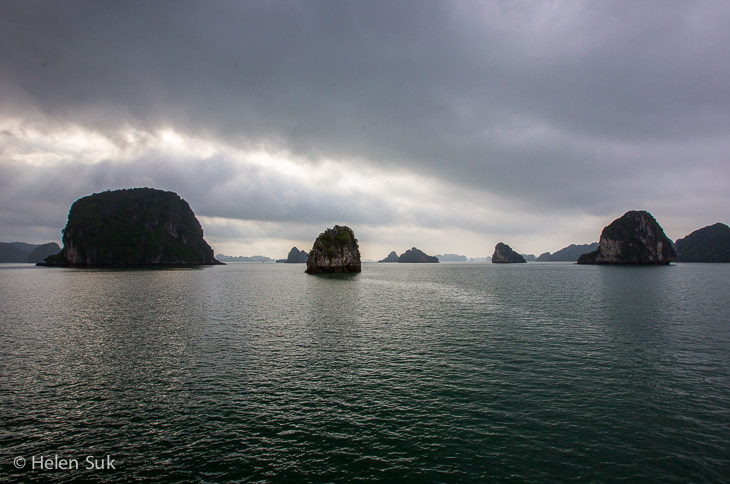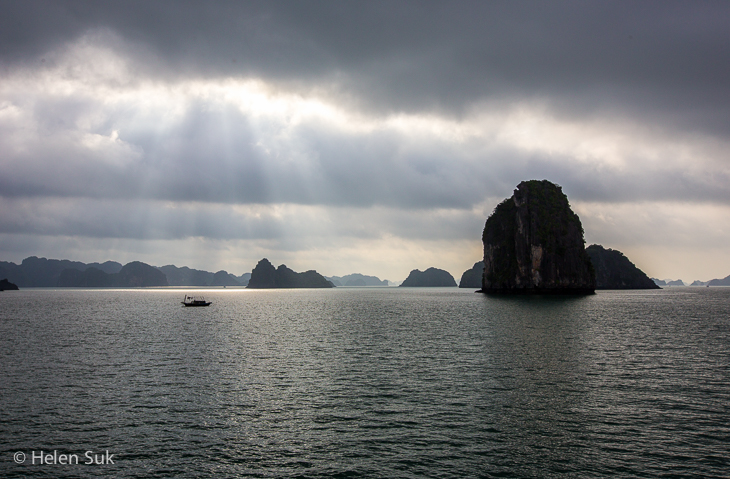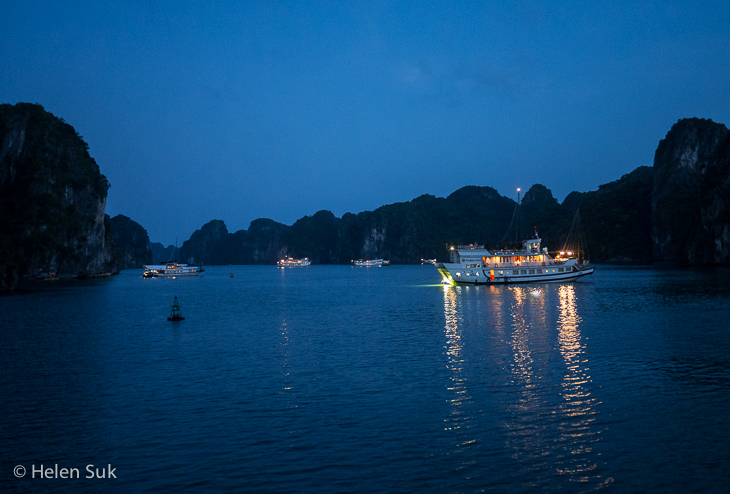 Unfortunately, the cloudy weather didn't give us much of a sunrise or sunset during our tour, but I have no doubt they're spectacular.
There's more to experience than the magnificent views. Kayaking (with a stop at a beach if the tide is low enough) is followed by swimming on day one. A (lazy) alternative to the kayaking is a slow boat ride on the same route. The water was clean enough for swimming which, from what I've read online, isn't the case on the more popular route in Halong Bay. I didn't partake in either activity (I forgot my swimsuit), but Maria did and really enjoyed her experience.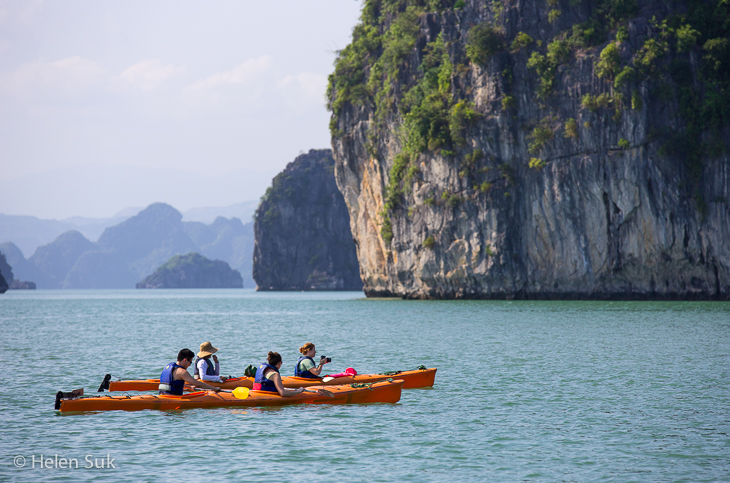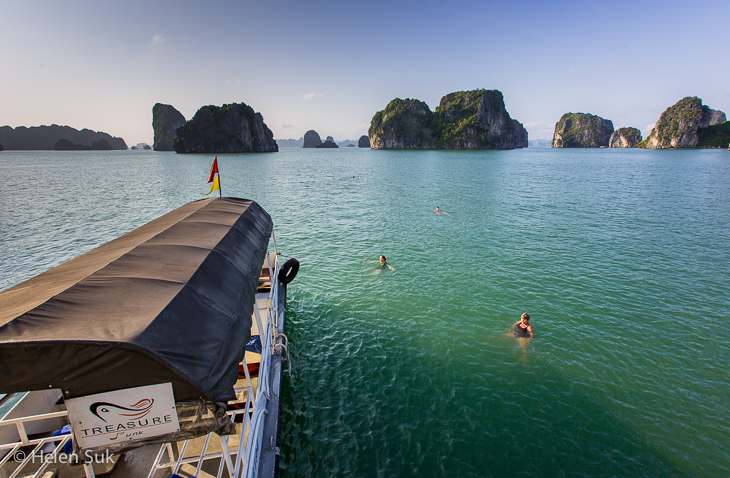 We also participated in a brief, interactive cooking class on the deck and, since May is squid season, we had the rare opportunity to try night-time squid fishing.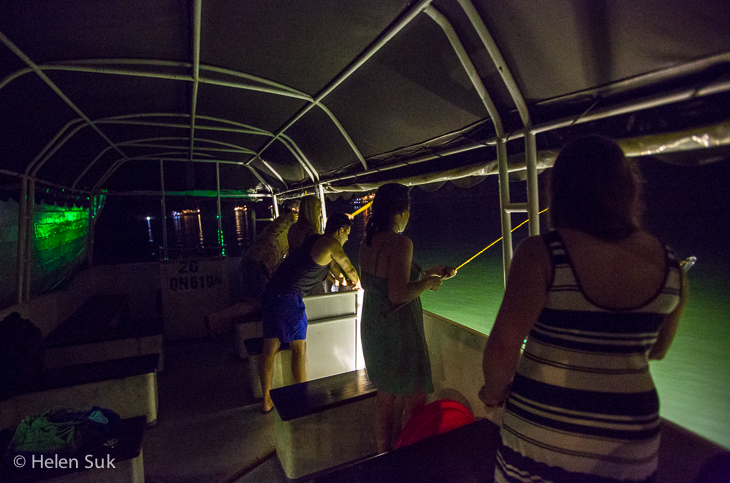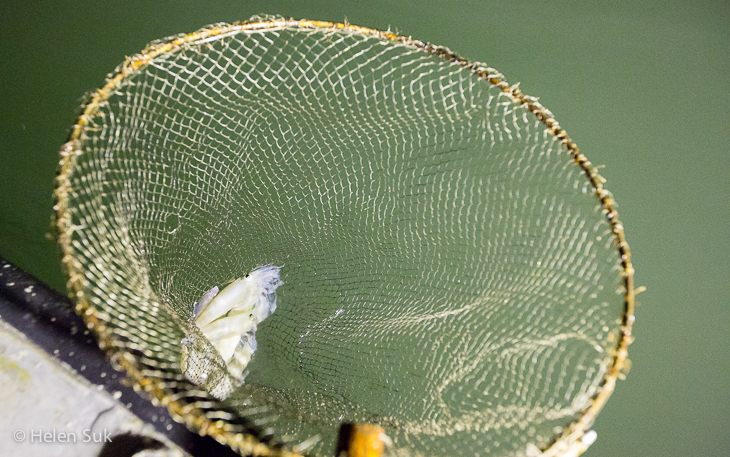 Passengers can also partake in an early-morning tai chi session.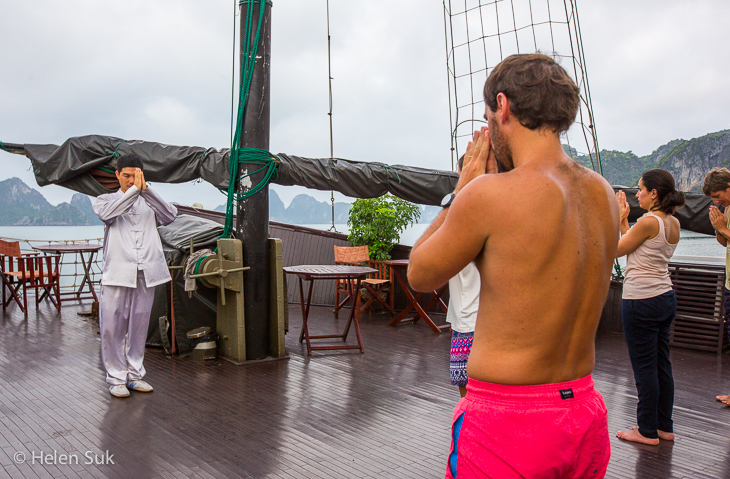 But it was especially enchanting to quietly drift on bamboo boats through Vung Vieng Village, a traditional fishing community of 30 families and floating homes.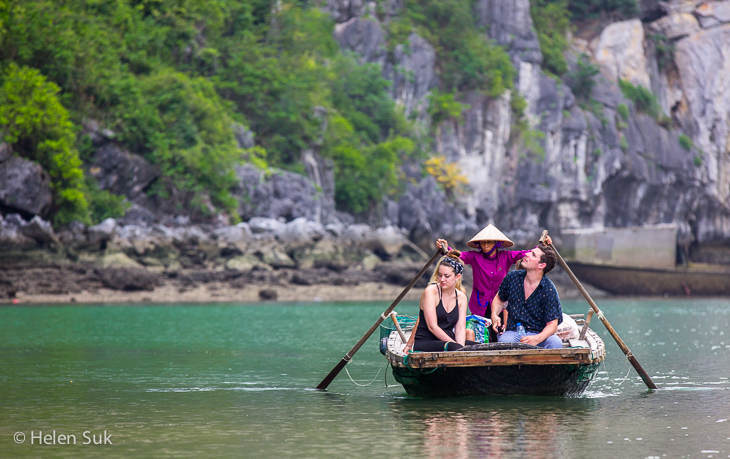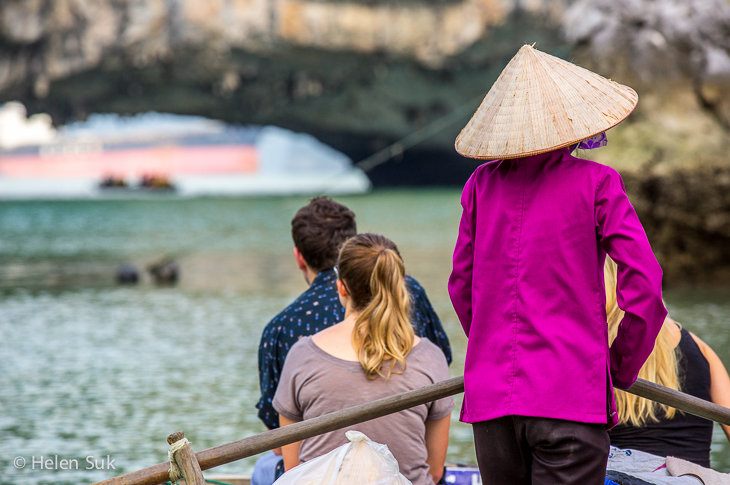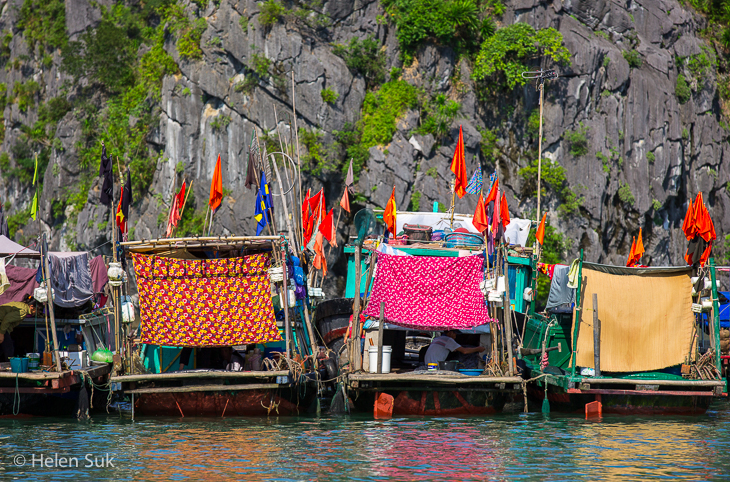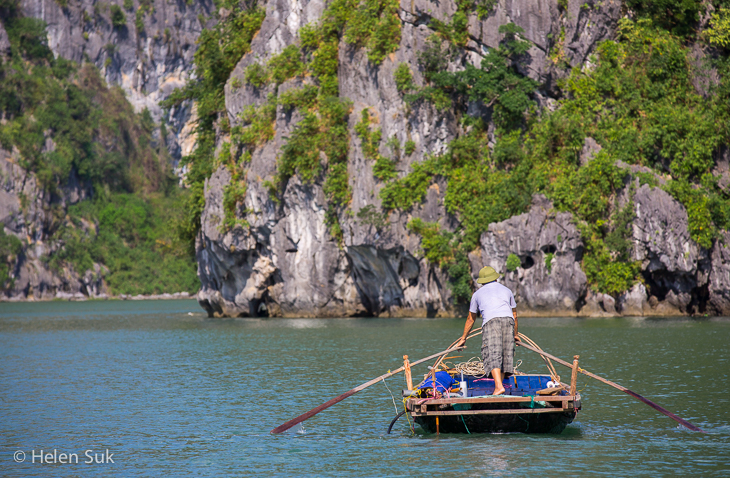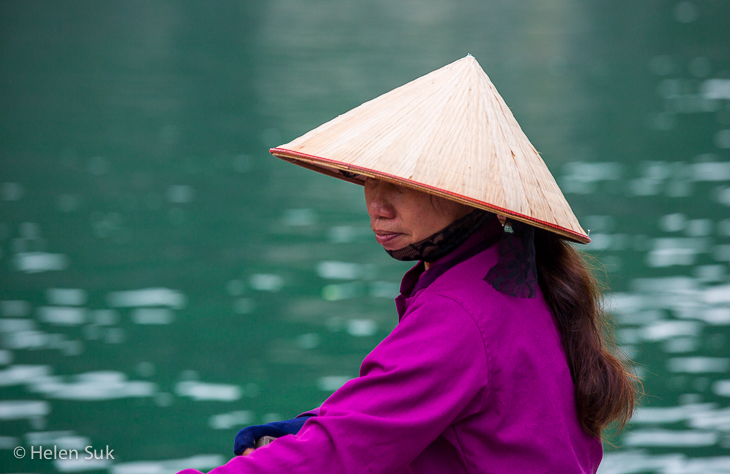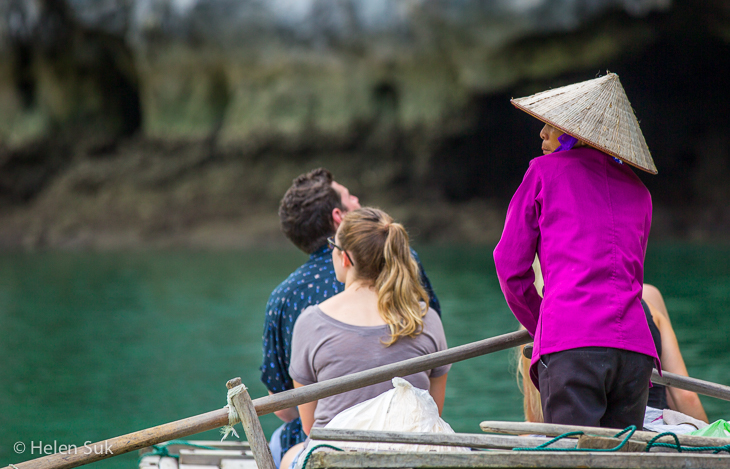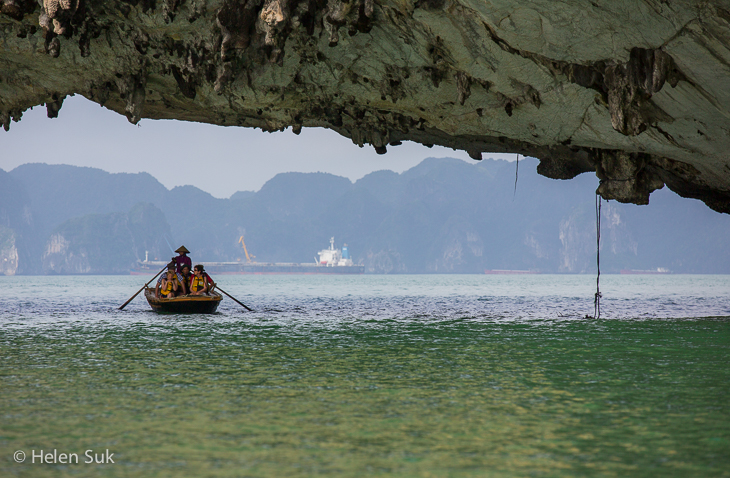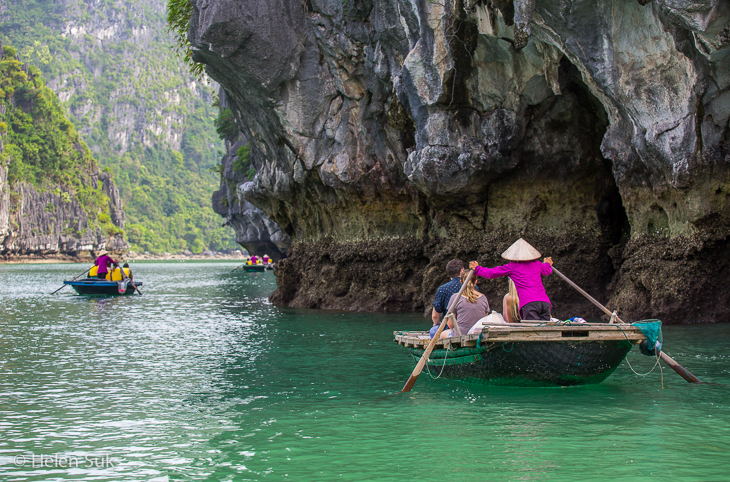 And those with a love for pearls will be intrigued by the pearl farming demo following the boat tour.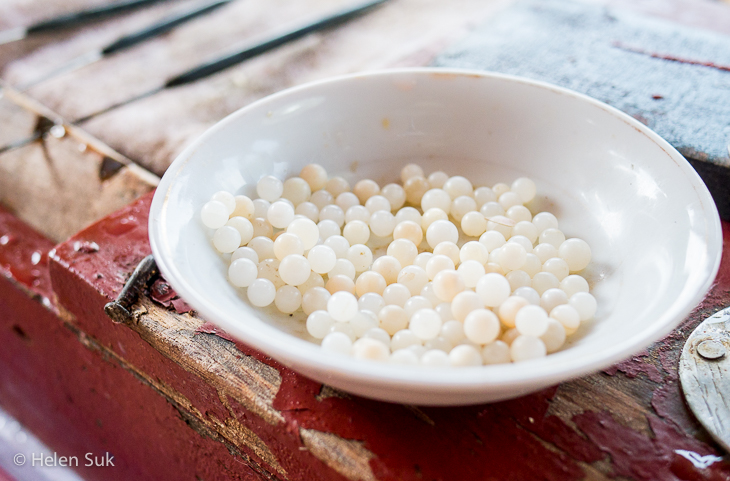 All these optional activities require fuel, of course. The cocktails were a little watered down for our liking, but the Treasure Junk kitchen served up satisfying, seafood-focused fare with a multi-course menu for each meal.
Lunch:
Dinner:
Brunch:
Needless to say, we never went hungry.
In the end, our research paid off. Instead of hundreds of junks, we sailed past only a few in a relatively unexplored area and, instead of a substandard boat with a poorly organized crew, we enjoyed a quality vessel and professional service.
How long Bai Tu Long Bay will maintain its natural integrity will depend on the efforts of both the tourism industry and local government to regulate activity in the region.
Unless you're really strapped for cash, this is not an experience to cheap out on. Chances are you'll visit Halong Bay only once. Make the experience count.
Pin this post to Pinterest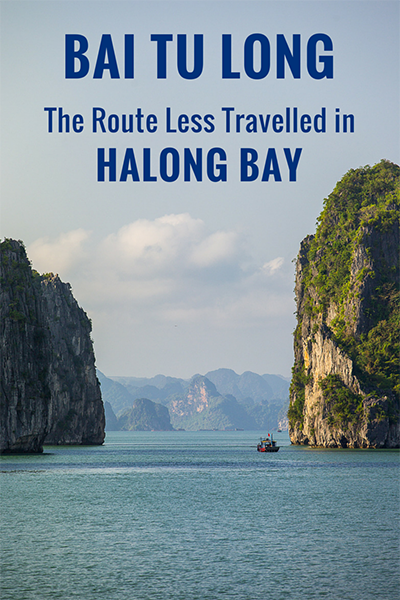 What You Should Know:
Climate: the cool/dry season is October-March, and the hot/wet season is April-September (in May the heat and humidity were intense). Boats will modify their itineraries to adapt to the weather conditions. Click here for detailed information.
Treasure Junk offers day tours (which I don't recommend unless you want to spend 8 hours on the road in one day), as well as one-night and two-night itineraries.
Passengers are free to store their luggage in a locked room at the Handspan Travel Indochina office. (Alternatively, many hotels in Hanoi hold luggage for guests, but not necessarily in a secure room.)
Wifi is not offered on the boat, so be prepared to be disconnected. (You can, however, connect to a network at the pit stop on the drive to and from Bai Tu Long Bay.)
All activities are optional. Don't want to participate? No problem. You're free to relax on the boat instead.
Kayaking: dry bags large enough to fit a DSLR are provided.
All meals are included in the cost of the tour, and can accommodate vegetarian requests. Alcoholic beverages are additional (expect to pay close to North American prices).
A visit to Vietnam requires a visa. This blog post on A Passion & A Passport includes instructions on how to obtain one, as well as a 2-week travel itinerary.
Disclosures: I received a media discount for my tour with Treasure Junk through Bai Tu Long Bay, but rest assured the views expressed in this post are honest opinions of my experience. This post also includes an affiliate link that allows me to earn a modest commission from Booking.com if you click on it and make a hotel reservation (it's the only meagre way I monetize this blog). Thank you for your support!