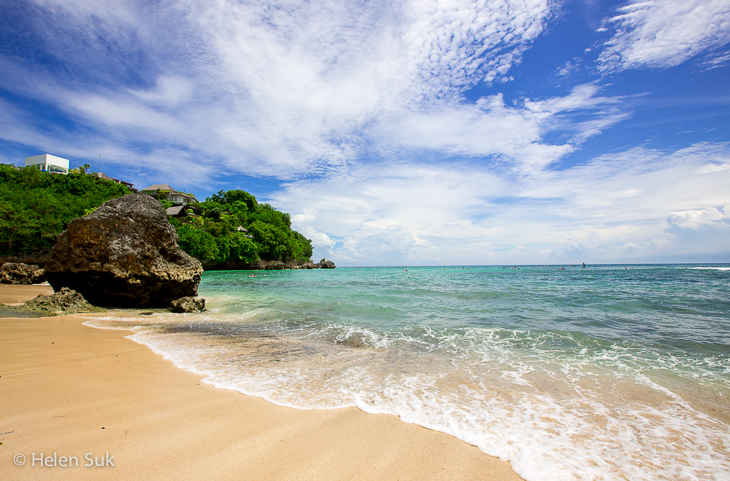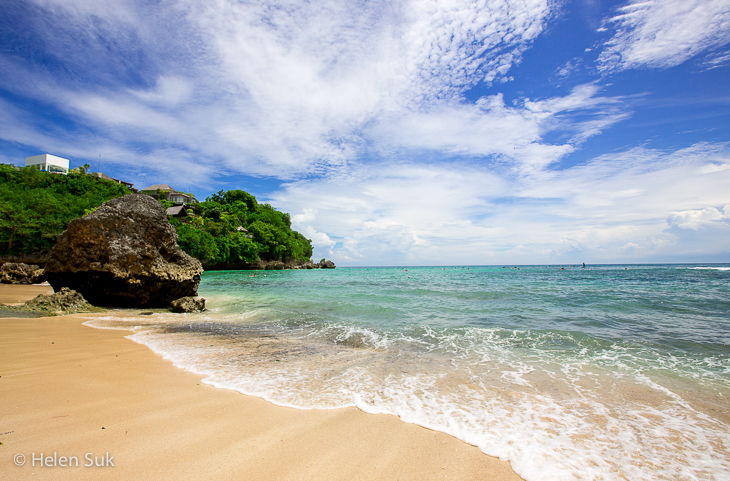 I really don't know how to break it to you. I've read about them. I've seen glossy photos of them. But I just couldn't find the heavenly beaches in Bali so many visitors hope to see.
And this is after skipping Seminyak and Kuta, beach towns that, according to friends and a growing number of visitor reviews online, descended into a mess years ago, crowded with drunken holidaymakers and aggressive touts. As one Ubud local warned me, "Kuta is not Bali".
To make matters worse, December to March is known not only as the rainy season but the "trash season", with wind and ocean currents pushing debris and litter to Kuta's shores (see this article from The Jakarta Post).
But after a glorious week in Ubud, I was longing for an idyllic stretch of sand and the cooling Indian Ocean for relief from the heat and humidity, and so I headed to the beaches of Sanur, Padang Padang and Jimbaran since I was already on the island. They were pleasant and worth visiting for some R&R, but I wouldn't endure an overseas flight for them alone.
Sanur Beach
This village on the southeastern coast strikes a nice balance between local life and the mostly European and Australian tourists — a calm and relaxed alternative, I would imagine, to Seminyak or Kuta.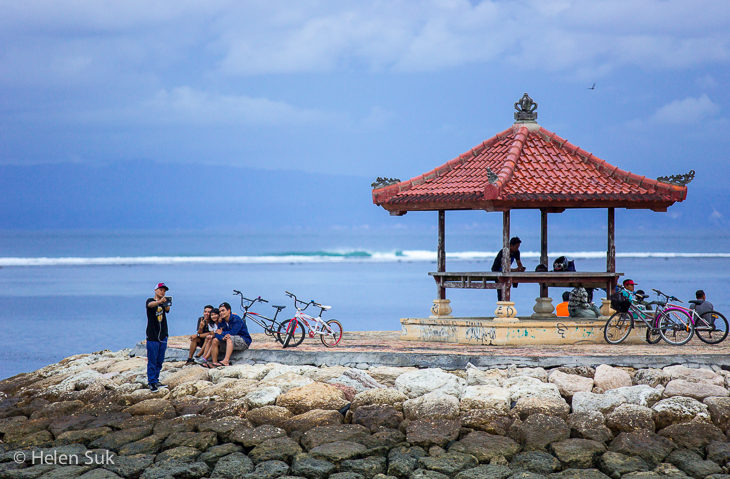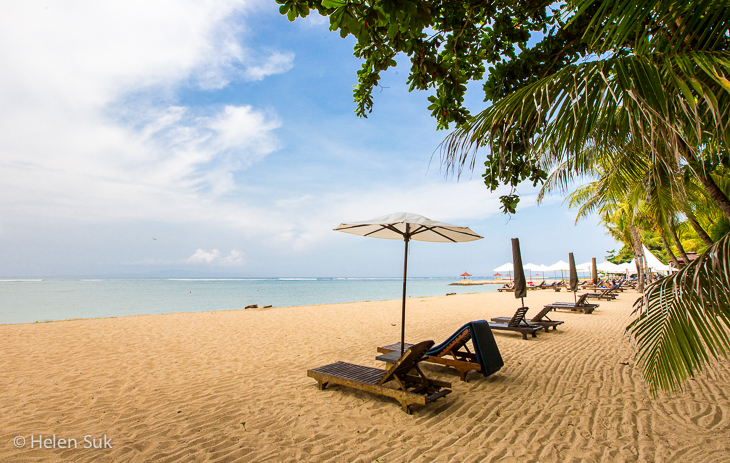 A popular spot for 40+ visitors, Sanur does have a certain laid back charm, even if the beach is mediocre. Expect clear waters but not turquoise, and golden sand instead of white powder. The shore (at least midway on Sanur Beach) is abrasive on the feet because of the rocks and broken shells so, instead of swimming in the ocean I stuck to the hotel pool.
But the traditional boats that line the beach, especially at sunset, make for a gorgeous setting.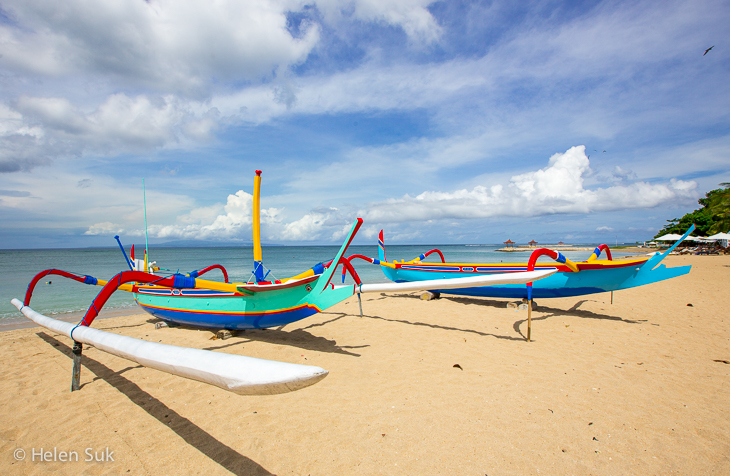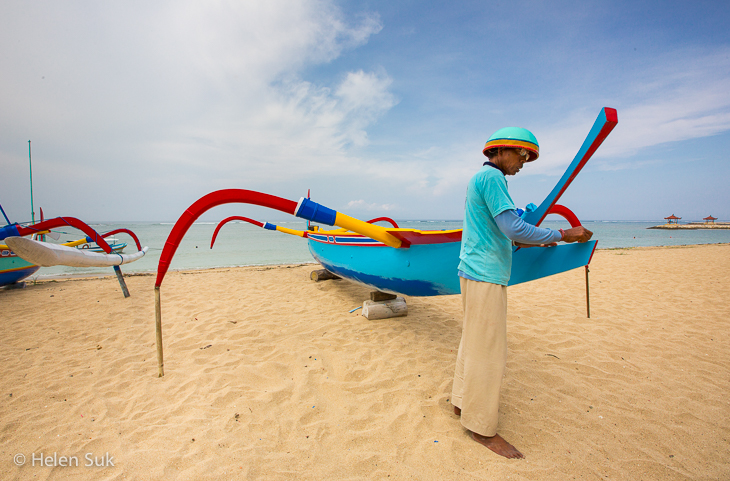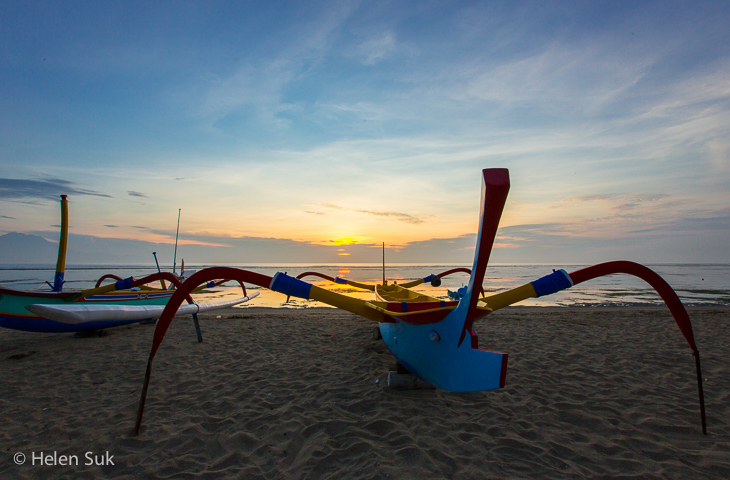 You'll find a few stray dogs roaming around too but they're harmless.
A paved path extends from one end of the beach to the other and it's a pleasant walk.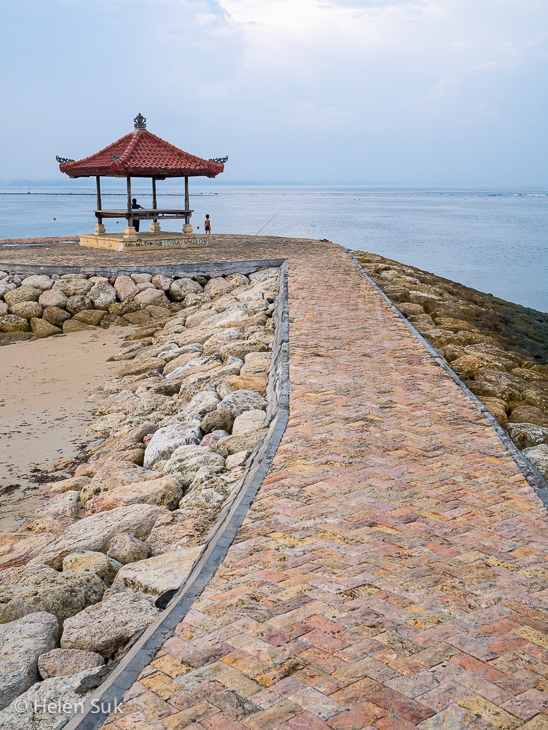 Near the north end beside the turtle conservation project is a small market filled with crafts and clothing, as well as a few food stalls that serve more affordable fare, mostly to locals, like skewered meat and gado gado. The roasted corn slathered with garlic butter is a messy delight, although beware of one of the sellers who tried to charge me 10,000 IDR (she quickly reduced it to 5,000 IDR when she realized I knew what they should cost). A small bowl of chicken noodle soup is 10,000 IDR.
A number of shops, restaurants and bars can be found on the main strip, Jalan Danau Tambligan, but expect to pay at least 40,000 IDR for meals here. Head to the Night Market at Jalan Danau Tamblingan and Jalan Pungutan for a more local experience and bargain prices, like nasi campur for 25,000 IDR and intriguing desserts.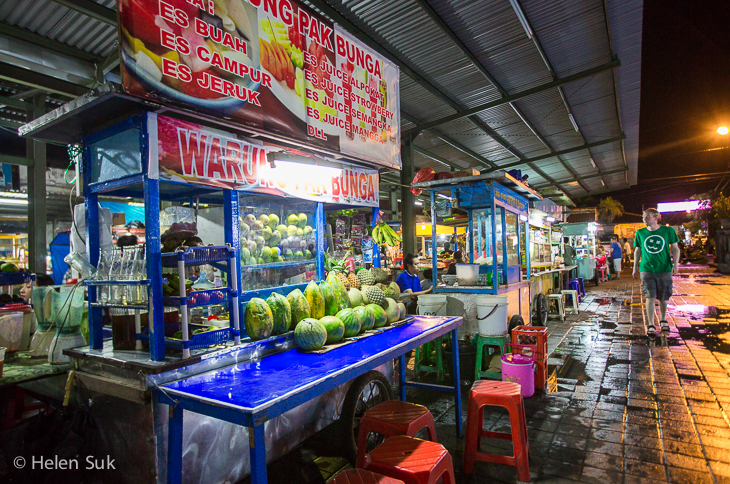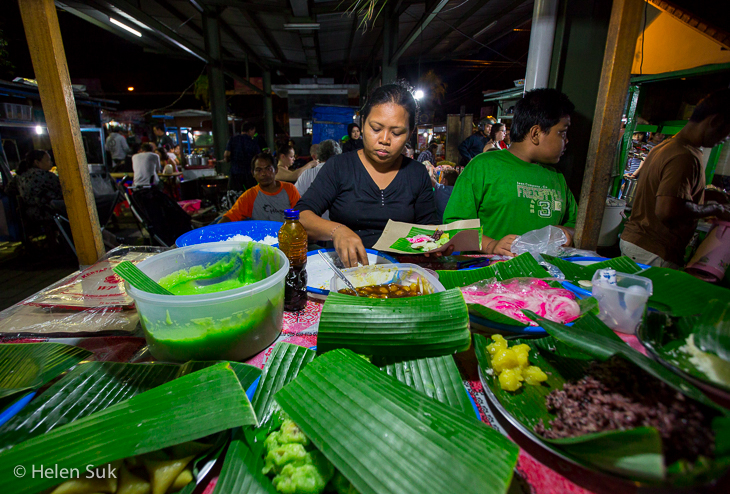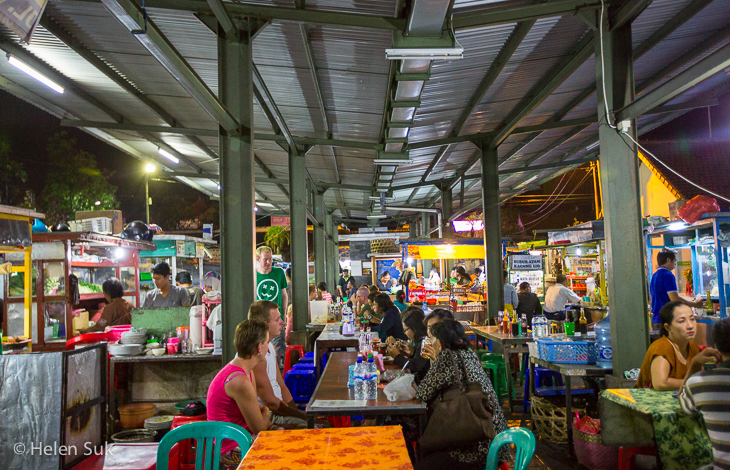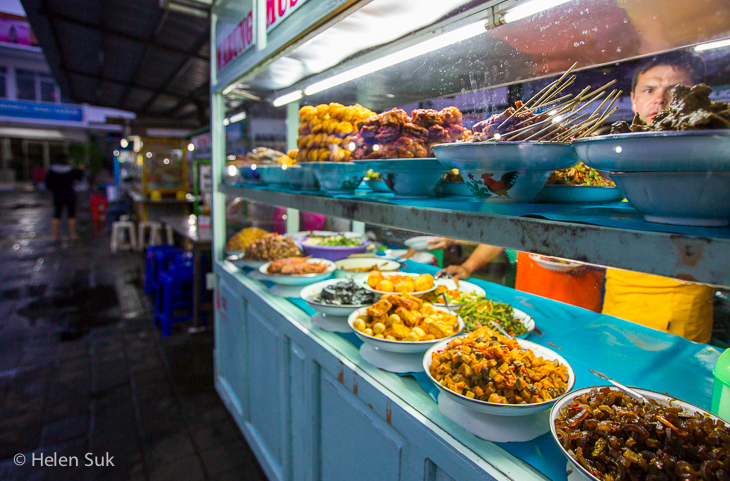 I spent a whole week in Sanur at the lovely Besakih Beach Hotel. The weather wasn't cooperative but I did manage to relax, get some work done, and socialize with both locals and other hotel guests.
For other hotels in Sanur, you can search Booking.com here.
Padang Padang Beach
Located in Uluwatu in the Bukit Peninsula (the southernmost tip of Bali), Padang Padang is a hotspot for surfers, paddle boarders and sunbathers. It was the prettiest beach of the three I visited, complete with white sand and aquamarine waters. Unfortunately, it was also somewhat dirty (but not enough to make me want to leave) and the most crowded, partly because of its modest size.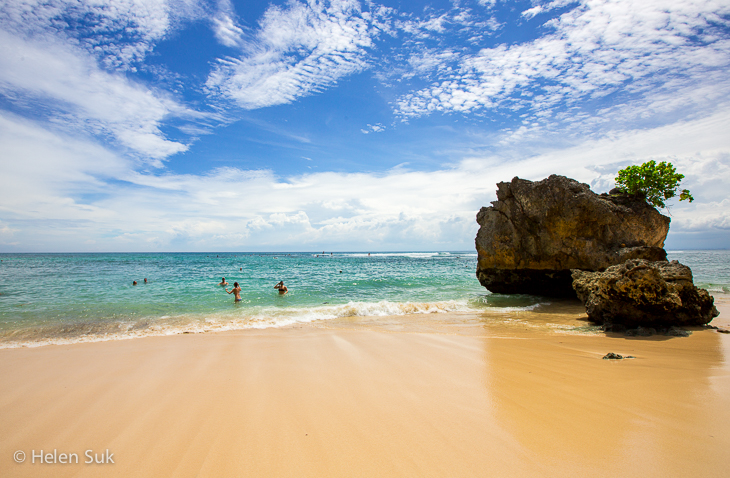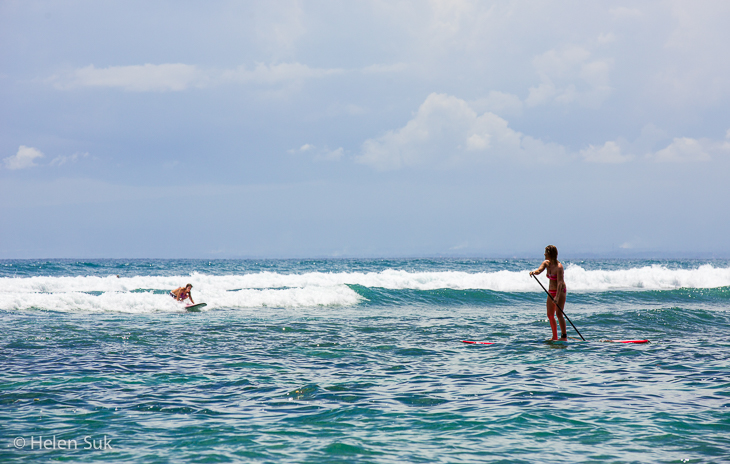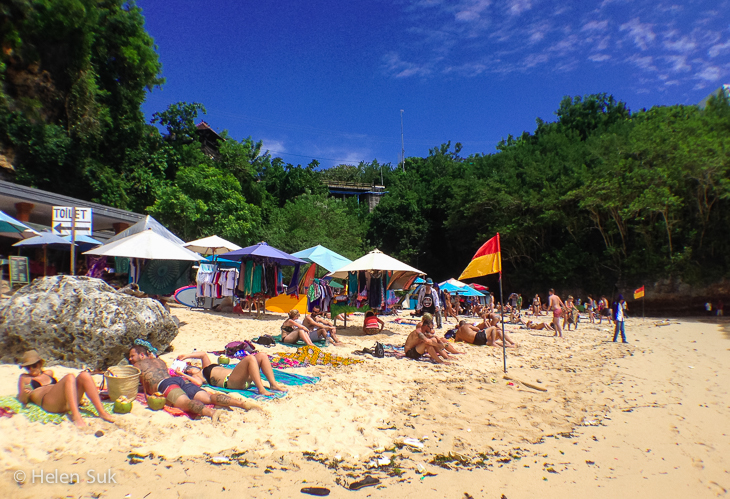 There are, however, quieter pockets on one end of the beach to the right.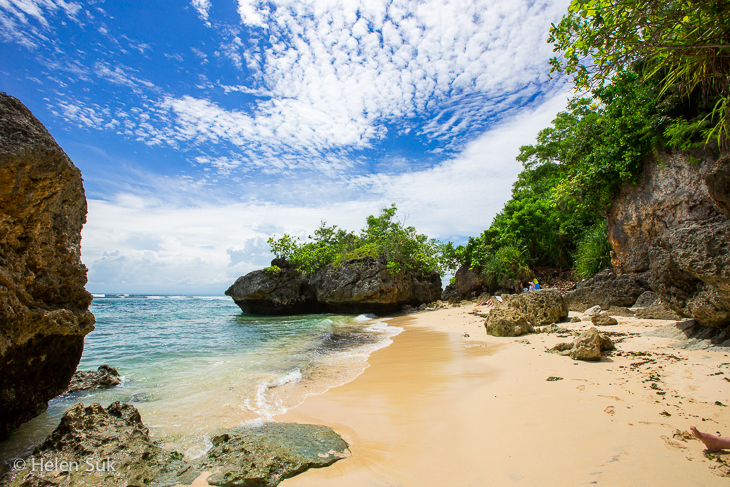 Food and drink are offered by vendors, as well as sarongs. Bathrooms and shower facilities can also be used for a small fee.
A few words of caution: there are no beachfront resorts here, which means you'll have a bit of a walk to reach Padang Padang. Mine was 15 min. from Devata Giri Homestay but the scorching sun sometimes made it feel like 30 (grabbing a taxi is an option if the heat is unbearable). Then you must descend a steep and narrow set of stairs that leads to the beach, passing a group of monkeys along the way. Watch your belongings! These rascals are a cheeky, thieving bunch. Do not let your guard down. As I cooled off in the ocean, one snuck into my bag, rummaged through it and made off with my mosquito repellent before I chased it away.
Dining options in the area are limited. Buddha Soul is a popular restaurant that serves healthy, organic fare at North American prices.
For more affordable, local cuisine, just head to a warung.
Search for hotels in Uluwatu at Booking.com here.
Jimbaran Beach
I stayed in Jimbaran for a few days, but only because it was on my way from Padang Padang to Denpasar. My hotel was located in town and it rained nearly the whole time, but I managed to spend one afternoon on Jimbaran Beach. The stretch of tan-coloured, not-so-smooth sand is long and the water blue-grey — a step up from Sanur Beach but not a leap.
This end of the beach was clean and filled with casual restaurants, local shops and docile, stray canines, far from the luxury resorts located on the other end.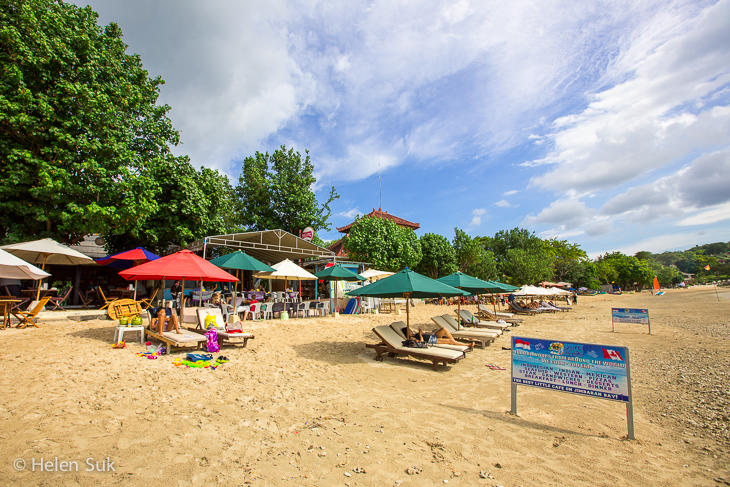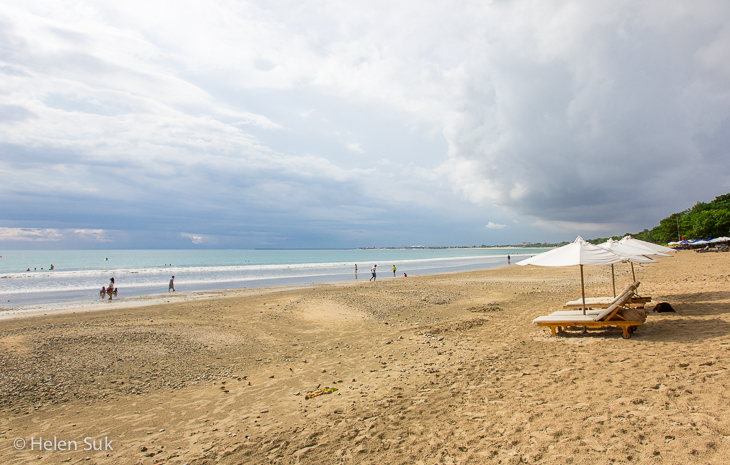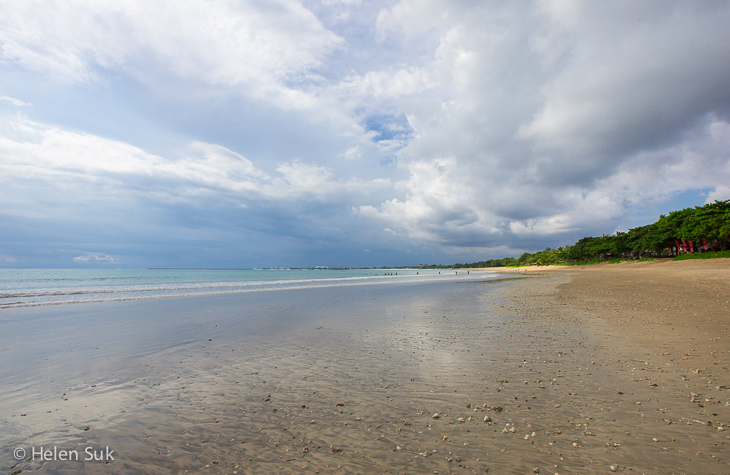 I missed a few things here, unfortunately. Sunset, I imagine, would be stunning. I also regret not visiting Jimbaran Market and the traditional fish market, where you can have your purchased seafood grilled for lunch.
I wish I could say more about Jimbaran but my experience there was limited.
Search for hotels in Jimbaran at Booking.com here.
The Beaches in Bali are Pretty, But…
Travel to Bali for Ubud, the rich culture, spirituality, warmhearted locals, natural beauty (try heading north), even the food, but I'm not sure I would travel overseas to see its beaches. (For another take on Bali's beaches, check out this post by my friend Amber who lived there for 18 months.)
Seasoned travellers know to steer clear of Seminyak and Kuta. But, while pretty, even Sanur, Padang Padang and Jimbaran come nowhere close to, say, Redang Island in Malaysia. Having said that, if you're already in Ubud or southern Bali, these destinations could make a pleasant, two-day jaunt. Just keep your expectations in check.
From what I've read, Nusa Dua is one of Bali's best beaches but I didn't visit so can't comment.
Update April, 2017: There are more beautiful beaches in Bali, according to my readers (see the comments below). You just have to venture off the beaten path to find them.
Pin this post to Pinterest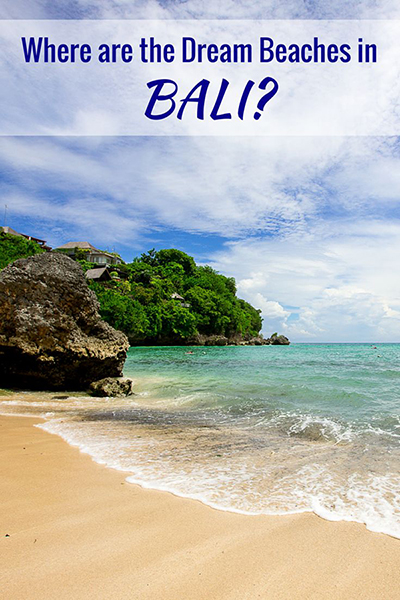 Disclosure: This post includes affiliate links that allow me to earn a modest commission from Booking.com if you click on them and make a hotel reservation. Thank you for your support!