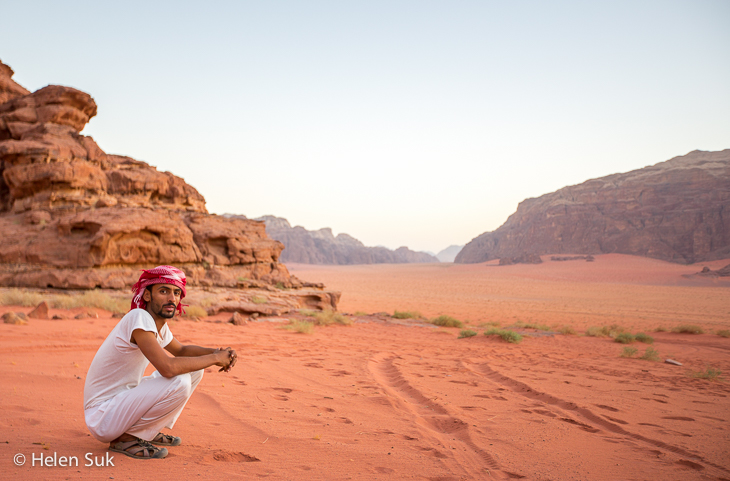 This is Wadi Rum. Valley of the Moon. A surreal moonscape of sandy desert, gorges, mountains and imposing cliffs etched by the natural elements over millennia.
It's the Jordanian wild we all dream about.
But if you haven't heard of it, you may recognize it from the iconic 1962 film, Lawrence of Arabia, in which the legendary British officer T.E. Lawrence joins Prince Faisal in the Arab Revolt against the Germans and Ottomans during World War I.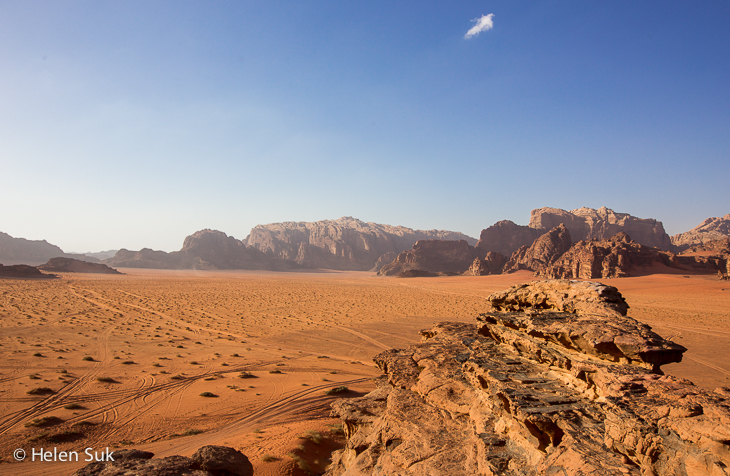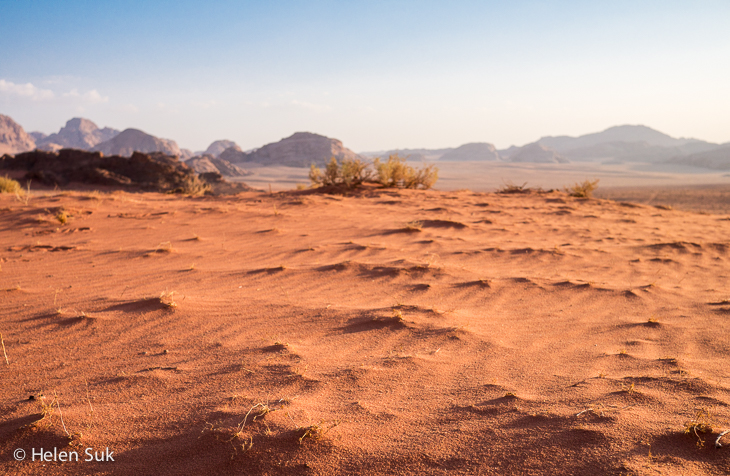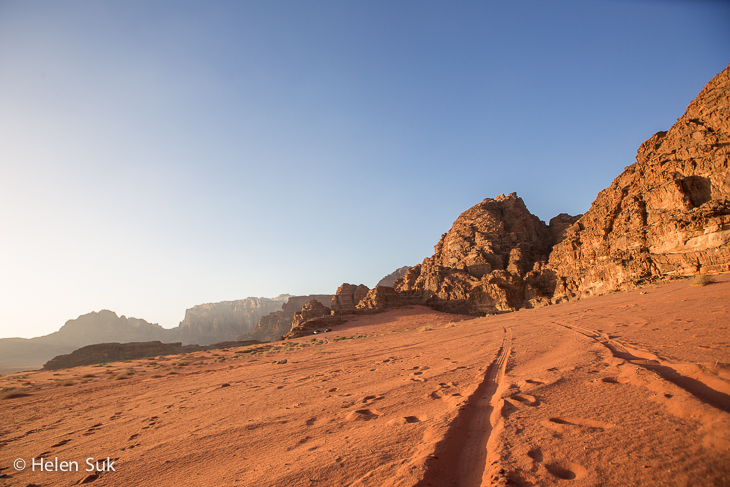 It's a hostile environment of extremes — blistering summer heat and frigid winter temperatures — making this area of 740 sq km unforgiving to humans. Yet the Bedouins have called it home for thousands of years.
Who Are the Bedouins?
The Bedouins are the original inhabitants of the Jordanian desert: pastoralists, hunters and traders. Once nomadic, they've adopted a modern lifestyle to varying degrees in the last few decades.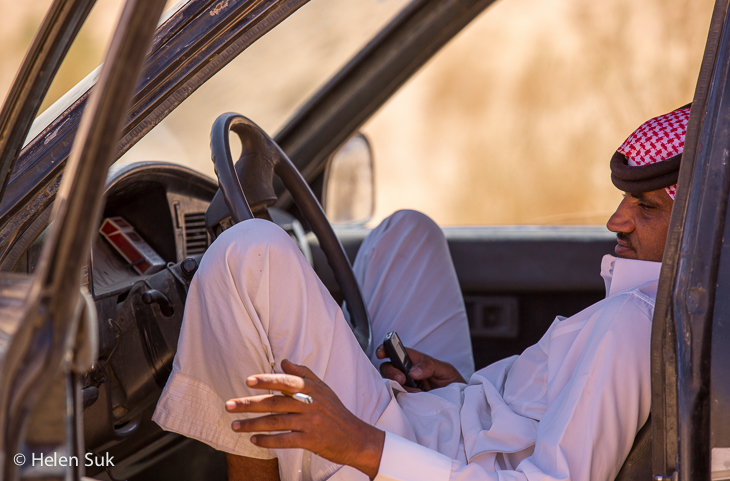 In Wadi Rum, most of the Bedouins are of the Zalabia tribe, a tight-knit family that runs Rum Village, making virtually all of them cousins to each other. I learned to stop asking my guides who people were when they introduced me to someone from a different camp. The answer, of course, was always the same: "he's my cousin".
Tyseer, the owner of Wadi Rum Full Moon Camp, offered me a glimpse into Bedouin life and customs. Born in a cave, he spent much of his life in a tent. Today he is married, a father and the owner of a house in the village where schools were built 40 years ago. Things have changed in the desert: women now give birth in hospitals and while arranged marriages were once law, some Bedouins freely choose their spouses.
I spent my first afternoon with my guides, Abdul and Sultan (you guessed it: cousins to Tyseer and each other).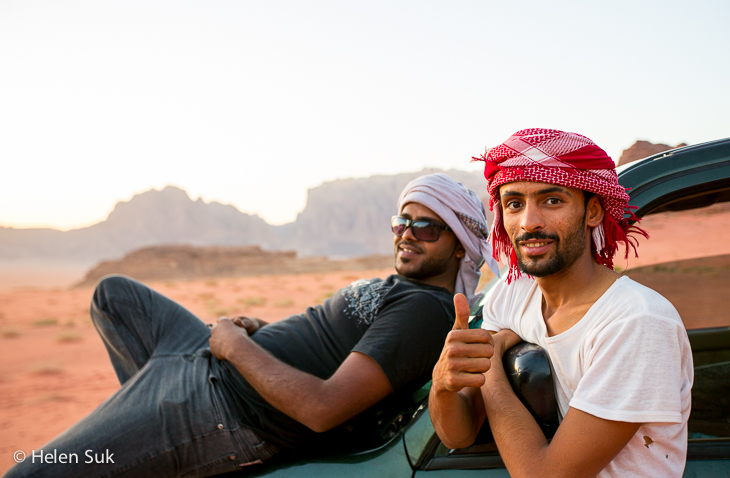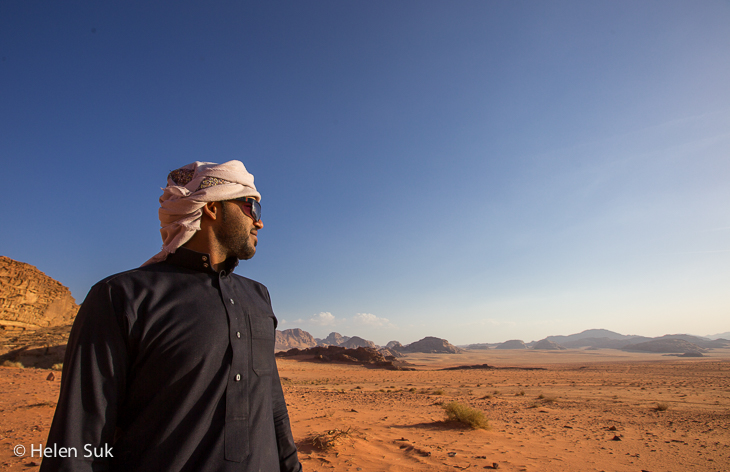 When day turned to night, I asked how they were able to drive the jeep and navigate in pitch darkness with such ease. "Bedouin eyes," Abdul whispered with a touch of mystique. Indeed, the desert-dwellers of Wadi Rum never lose their way.
Wadi Rum Full Moon Camp
While most Bedouins live in or near Rum Village, the tents at Wadi Rum Full Moon Camp are woven in traditional black-and-white style with goat, sheep or camel wool and equipped with modern comforts. In October, my tent was an oven during mid-day, but it made little difference since I spent my afternoons exploring the landscapes.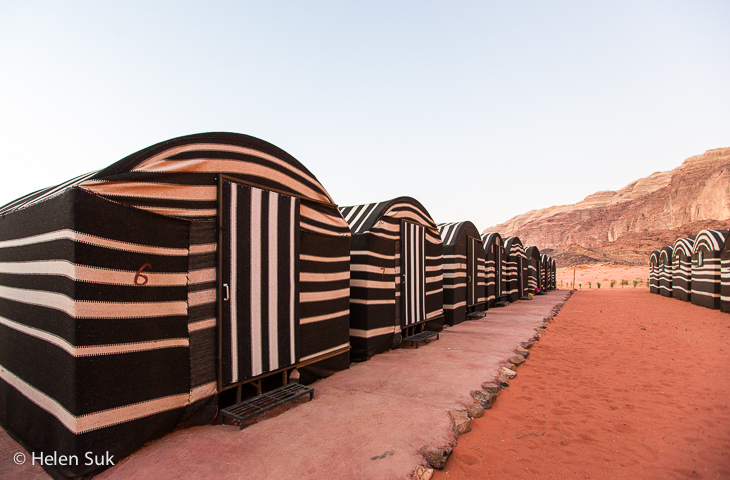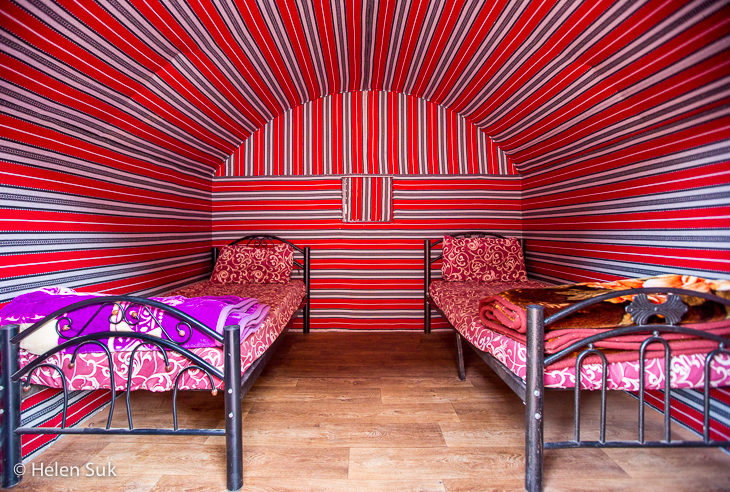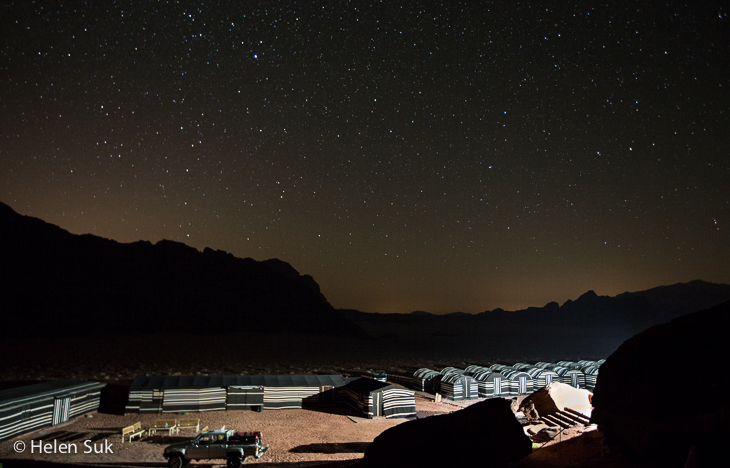 Meals are buffet style — a simple breakfast of hard-boiled eggs, cheese and bread, and a hearty dinner — prepared by a hospitable family of Syrian Bedouins the camp employed two years ago after they escaped their country's carnage.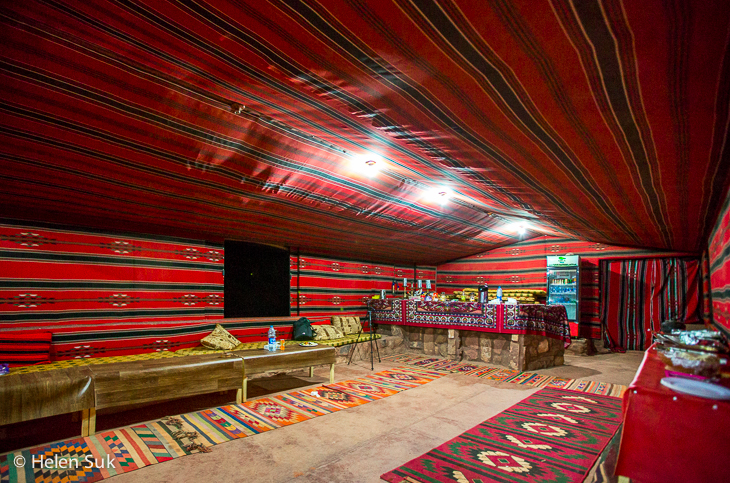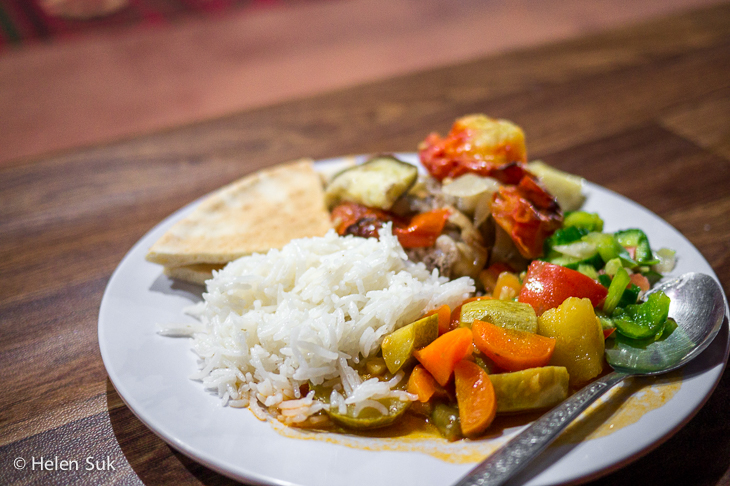 Another guest taught me how to say "the meal was delicious" in Arabic, but I'm certain I butchered my words.
If spending two nights deep in the Jordanian desert isn't magical enough, I joined other guests on the mountain beside the camp around a roaring fire. We lay on our backs on our mattresses and above us, a luminous canopy of stars. It was a night sky complete with the milky way and shooting stars that would leave every astronomy enthusiast worshipping the celestial sphere.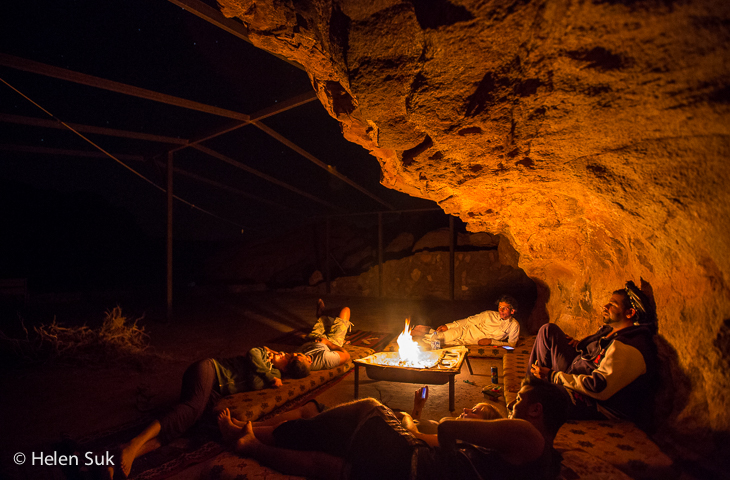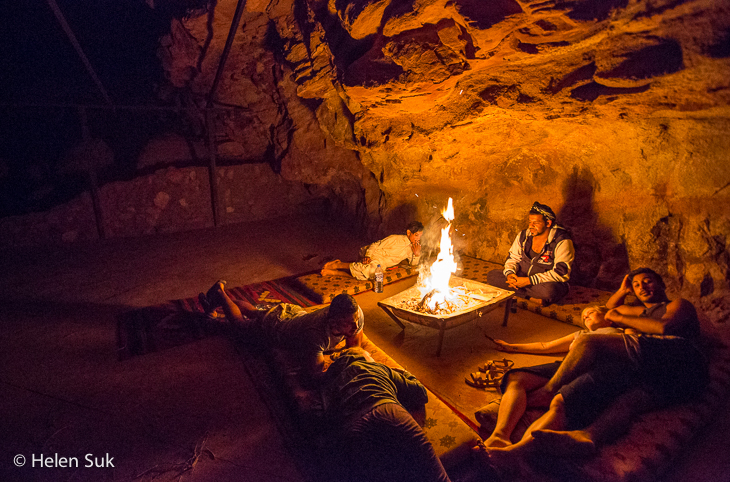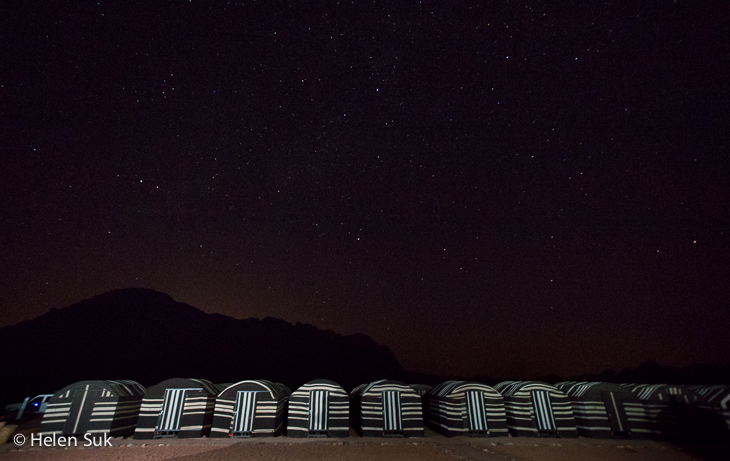 And if I didn't want to call it a night and return to my tent, I didn't have to — guests can choose to stargaze all night until they fall sleep. Wadi Rum by day is one thing, but by night it offers a dazzling show I've seen nowhere else in the world.
The Desert
Mornings and afternoons were spent with my guides (and sometimes other guests) exploring Wadi Rum's sand dunes and rock formations. It's a rock climber's paradise.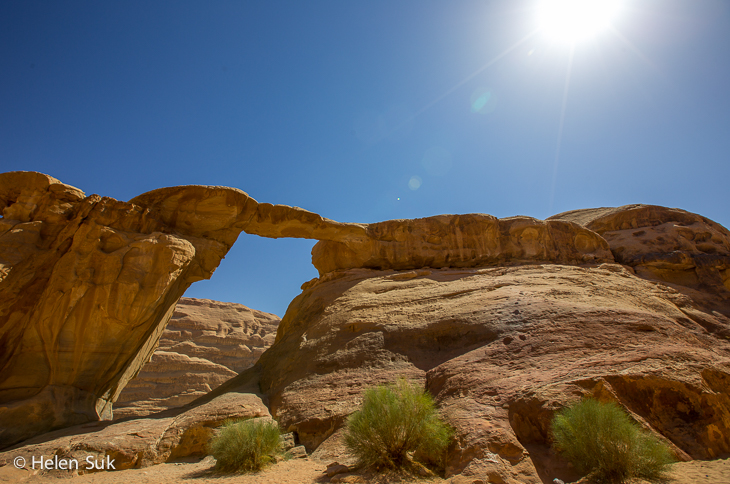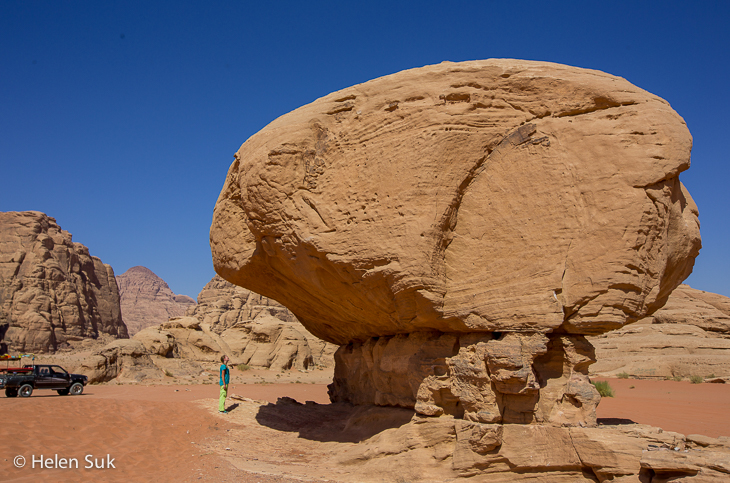 But the sweeping emptiness of Wadi Rum is at its most beautiful at sunset when the mountains and cliffs are struck with a golden glow. Abdul drove me to the best spots to watch the drama unfold. Shadows took their dramatic shapes, growing wider and darker as the sun descended below the horizon.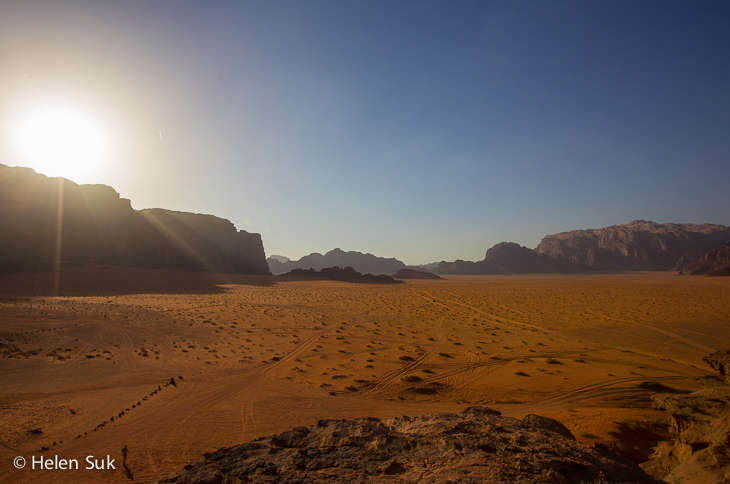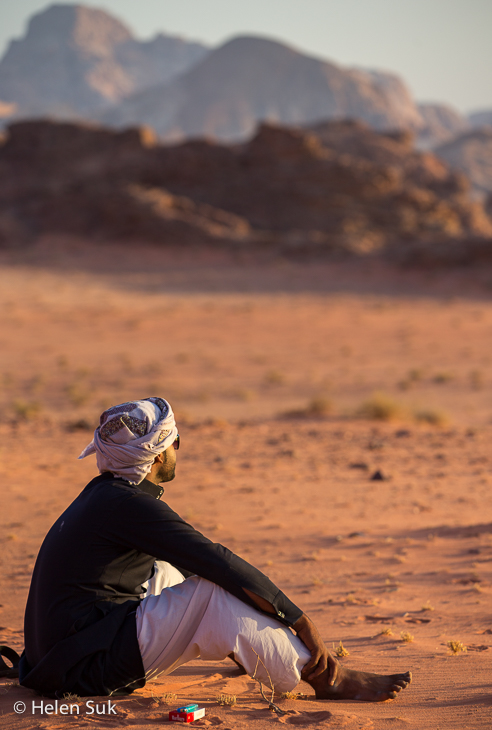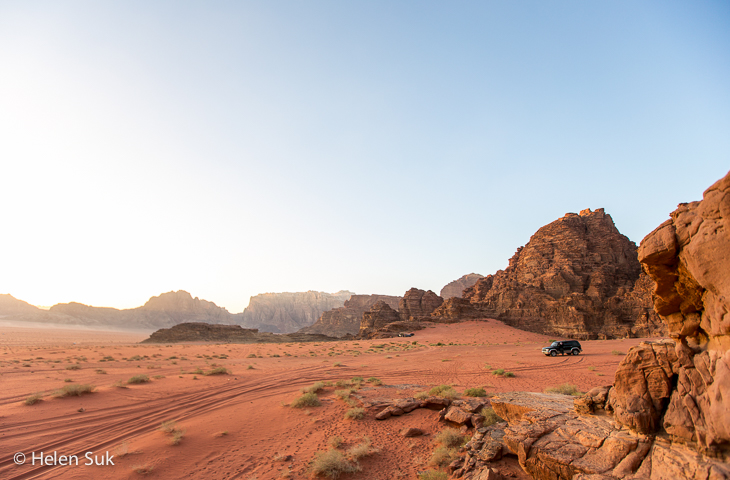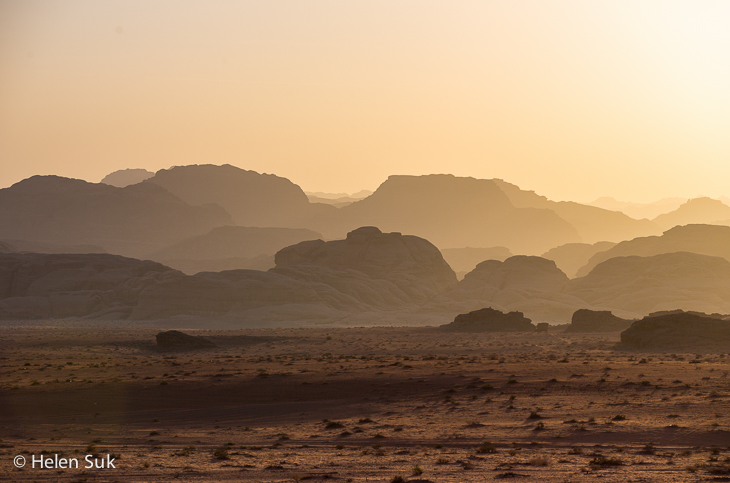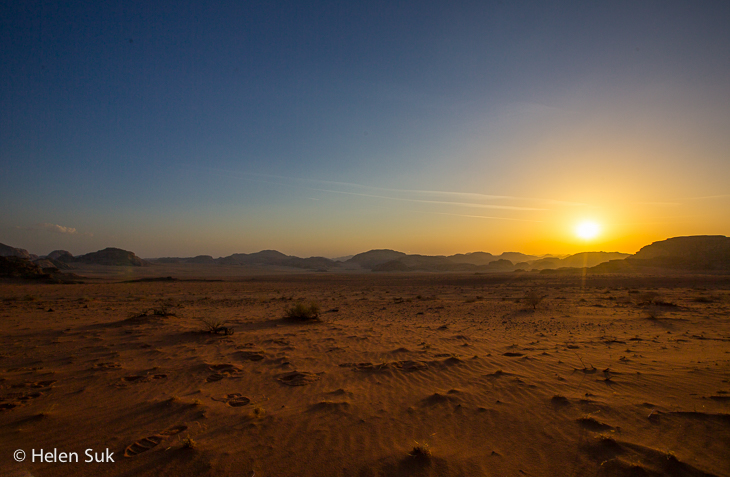 At this hour he told me while leaning against a rock and basking in the warm light that, after leaving Wadi Rum for a few years in the city only to return to his place of birth, it's moments like this that make him feel truly at home.
Pin this to Pinterest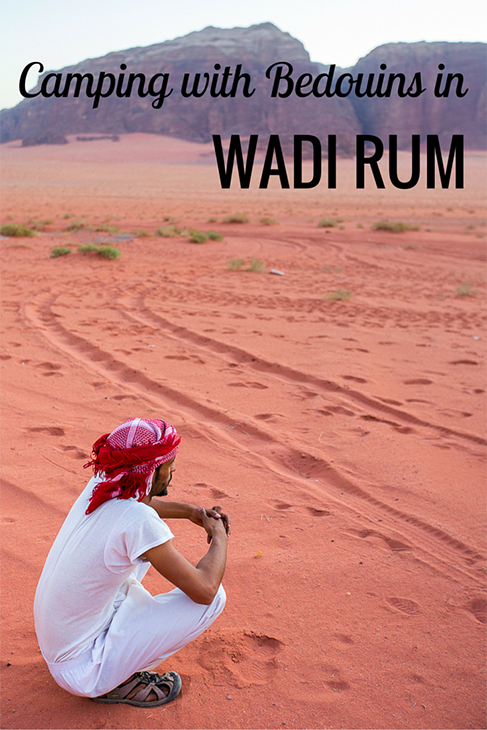 Many thanks to Wadi Rum Full Moon Camp for an exceptional stay. As always, the opinions expressed in this post are my own.