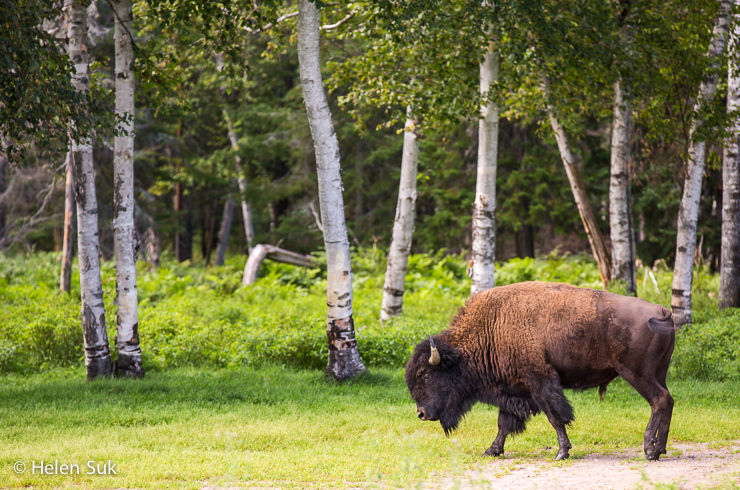 Want to experience a safari in Canada? Then you may want to visit the Zoo sauvage de St-Félicien in Saguenay—Lac-Saint-Jean. At first glance it may seem like any other zoo, and in some ways it is, but it also offers something unique: a Quebec camping experience on the same vast habitat where wildlife roam in near freedom.
We Canadians tend to associate safaris with Africa but we easily forget — or perhaps we just never learned to appreciate — the magnificence of our own wildlife. I didn't give this much thought until my first trip to Africa. I was chatting with native Kenyans over drinks one night after my safaris in Amboseli and the Maasai Mara when the conversation took an interesting turn. One of them began to describe his visit to cottage country in Ontario where he discovered the most intriguing animals (Beavers! Cougars! Porcupines!). Here was a man — accustomed to living alongside lions, elephants and giraffes — expressing the thrill of his wildlife encounters in Canada. I found his enthusiasm peculiar, but it also prompted me to question why I didn't share his excitement. I took the fauna in my own massive backyard for granted, as many Canadians do.
But one Quebec zoo wants to change that.
Walking Adventure in the Land of the Caribou at the Zoo sauvage de St-Félicien
Specializing in the species of the Boreal Forest, an area larger than the Amazon Rainforest between the Arctic and 50th Parallel, the Zoo sauvage de St-Félicien (or "Wild Zoo of St-Félicien") is one of Quebec's largest zoos 287 km north of Quebec City. It includes a traditional pedestrian section (not really my thing) but it's their popular Walking Adventure in the Land of the Caribou package that sets it apart from other zoos. Led by an experienced nature guide, guests (6 years and older) are given the rare opportunity to spend one night camping in the Canadian wilderness, explore the habitat and come face to face with nordic wildlife including black bears, bison, musk oxen, moose and caribou.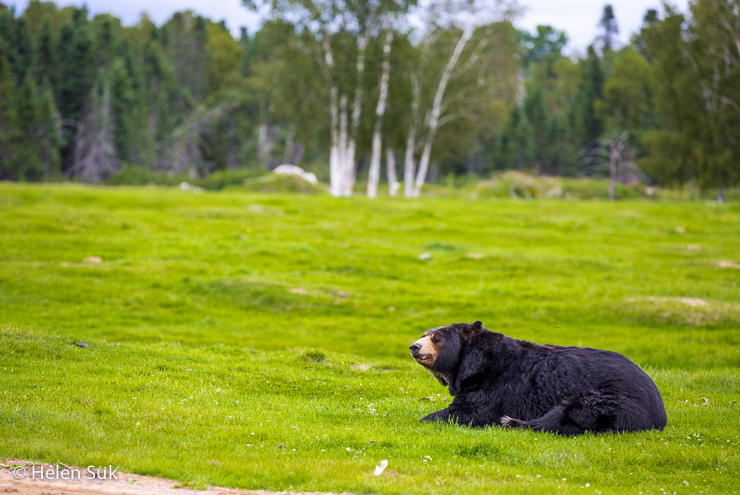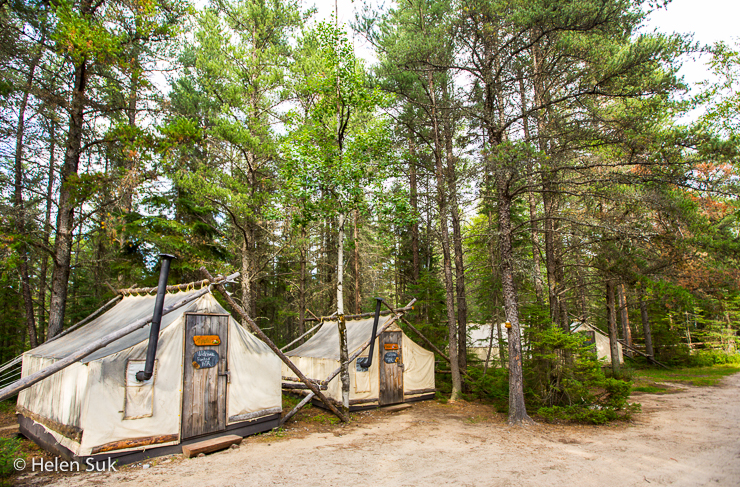 Upon arrival at the reception lodge, my small group was greeted by Audree, our peppy, passionate guide and a Masters graduate in biology whose dream is to work in conservation.
First, we were ushered into a forest-scented theatre for a five-minute film about the flora and fauna of the Borealis (French with English subtitles), followed by a 15-minute, large-format, multisensory film shot entirely at the zoo. The special effects were impressive: one minute I was soothed by a cool breeze, the next minute startled by the hiss of a snake at my feet (of course, there was no snake inside the theatre but I still jumped).
For aspiring veterinarians, the adventure package also includes a backstage pass for a behind-the-scenes glimpse into the zoo's operations.
After the film, we were whisked onto a private vehicle for an expedition into the Nature Trail Park, a landscape of 3.24 sq km (300 acres) and home to over 1,000 animals and 75 species. What I love about it: humans, not the animals, are confined here, a refreshing concept for those opposed to seeing wildlife in captivity. Across the open prairie and forested terrain, the animals roam, feed and reproduce in almost complete freedom.
During our tour, the deer made an appearance, as well as American bison, North America's largest land mammal once hunted to near extinction, and a herd of musk oxen, shaggy and stalky beasts that live mostly in Greenland and the Canadian Arctic.
The vehicle didn't get too close to the animals for our own safety; both bison and musk oxen may charge even into a lake if they feel threatened.
We may have kept our distance, but that didn't stop one bear from approaching us when we stopped at a settler's house and farm for lunch.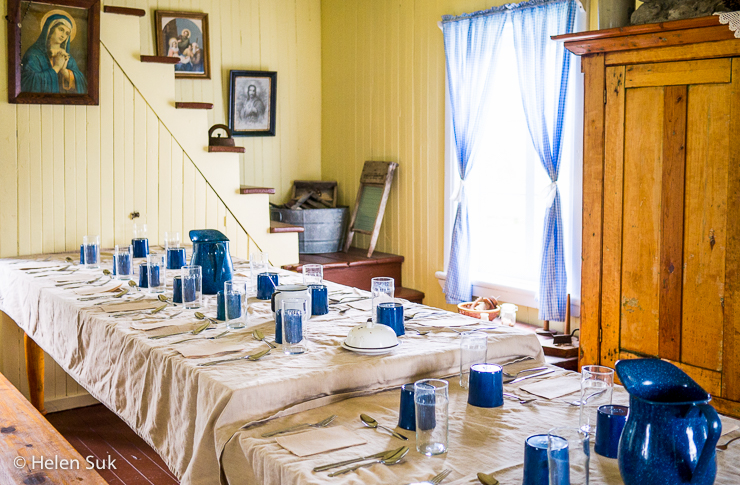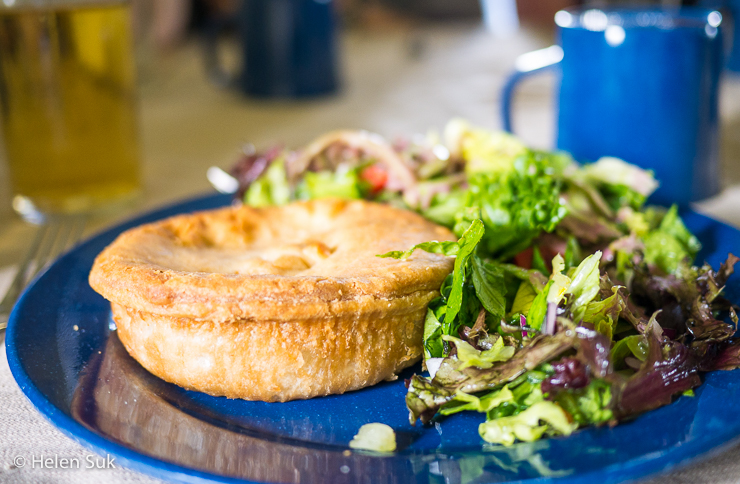 Attracted to the aroma of vegetable soup, chicken tourtiere and blueberry pie, a shy but hungry black bear was seen passing the house — not surprising, given the wild park is inhabited by 20-30 bears.
Back on the trail, we encountered more of the giant fur balls: an entire family right on our path, allowing us a few extraordinary minutes with the curious bunch just mere feet away.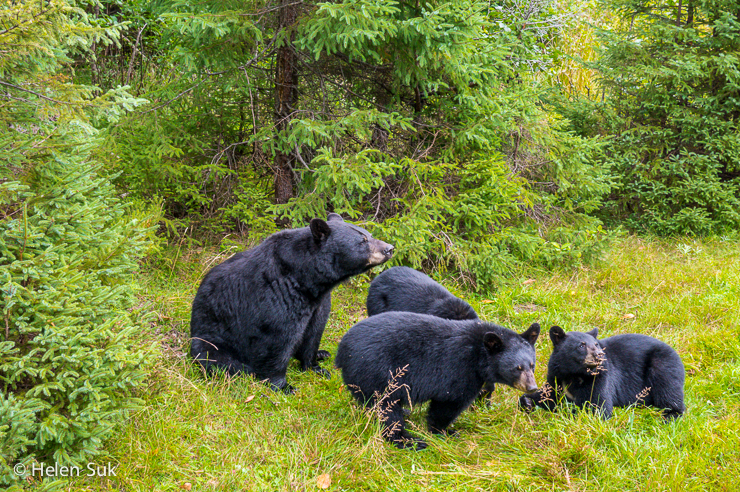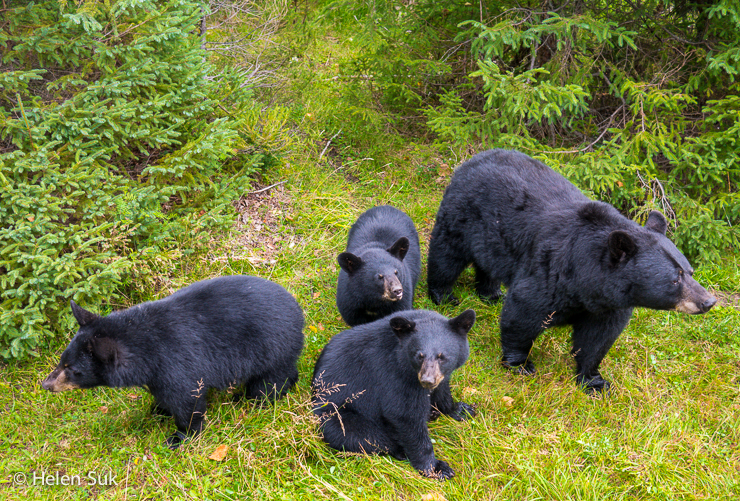 Black bears, the smallest of the three bear species in North America and revered by many First Nations communities, are more defensive than aggressive (unlike grizzlies).
We explored by foot too as Audree educated us on the flora and fauna during a 1.5-hour hike through the woodlands.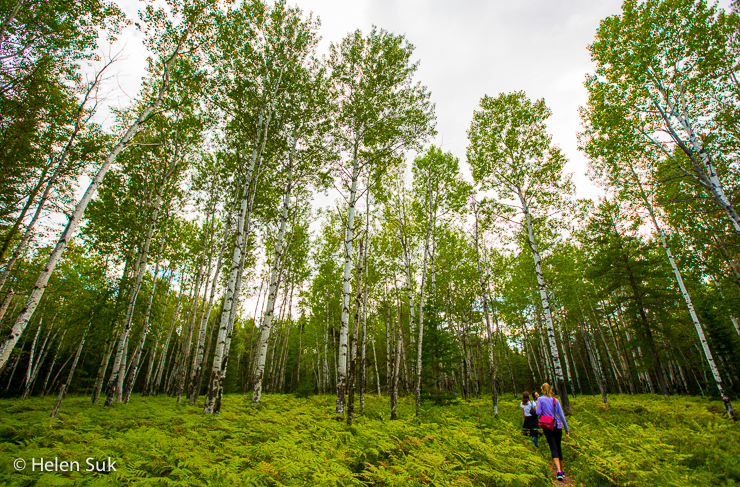 In the distance, we spotted a moose with her baby, an animal until this day I had seen only in the opening sequence of Northern Exposure, one of my favourite TV shows from the 90s.
We observed quietly and waited, hoping they would come a bit closer, but they kept to themselves and we eventually moved on.
For a taste of history, we passed through a reconstructed trading post and native camp before hopping into a canoe for a gentle ride on Lac Montagnais. From the water, we watched musk oxen graze on the plains as the sun set, a relaxing way to end our day before heading to camp.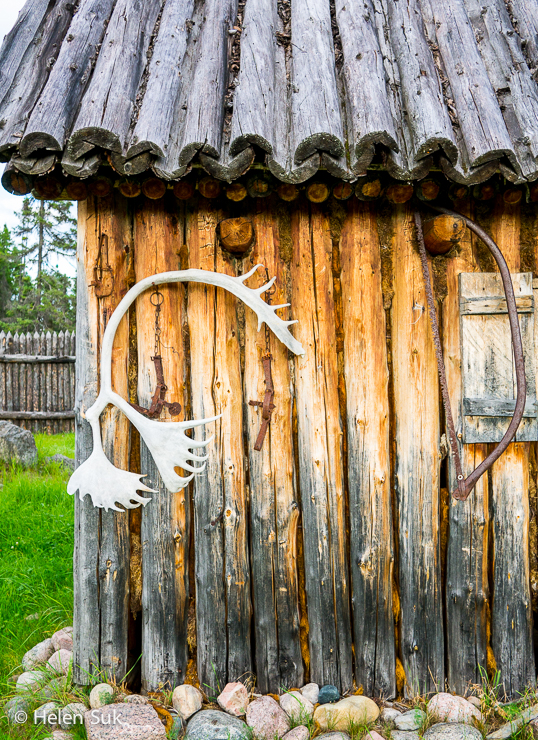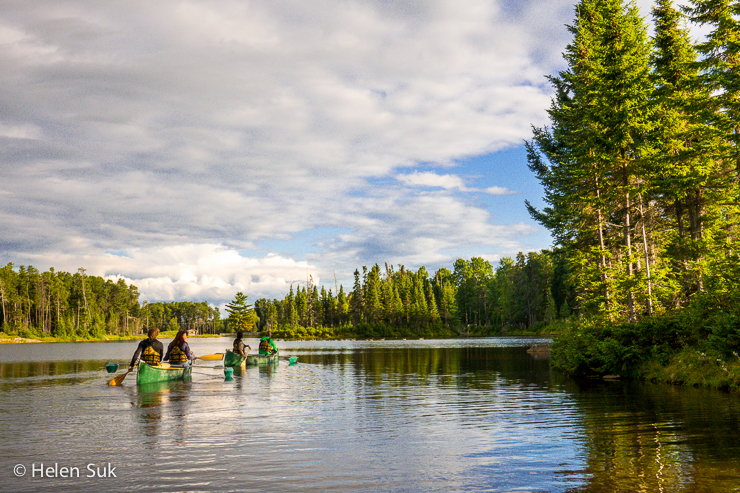 The Camp
The wildlife sightings don't end at the campsite, which is open only to guests of the Walking Adventure in the Land of the Caribou program. True to its name, young caribou strolled through our camp at dusk and in the early morning as they often do, grazing on the foliage.
Visitors were able to camp among a herd of 21 caribou until 19 of them mysteriously died last summer. It was a big loss for the zoo, but it plans to rebuild the herd in the coming years. My heart sank when I heard the news but I feel lucky to have seen the park's two remaining caribou.
Also in the camp are two baby moose that were either orphaned or abandoned by their mothers in the wild. The camp keeps a close eye on them in the nursery where guests have the opportunity to bottle feed them, a favourite activity for kids.
Children also find the Lab Discovery Tent of interest. Animal fur and skulls are displayed with fascinating facts about the wildlife of the Boreal Forest.
Where do guests sleep? The prospector tents, which can accommodate up to three people, include firm but surprisingly comfortable beds of pine needles topped with sleeping bags and sheets (bed-time aromatherapy!).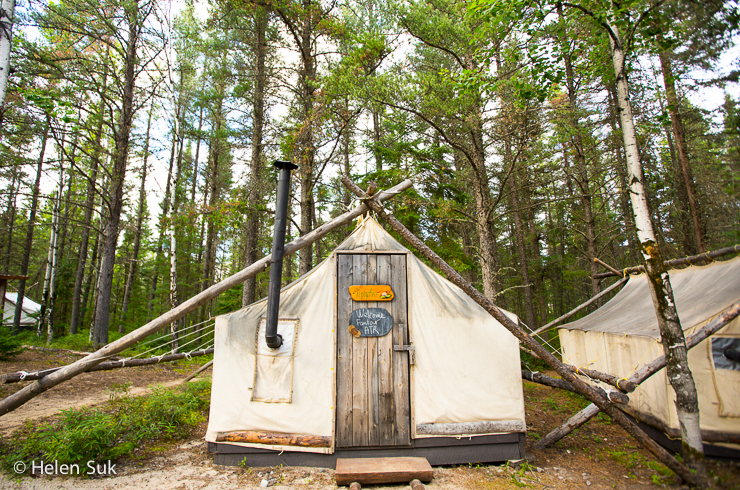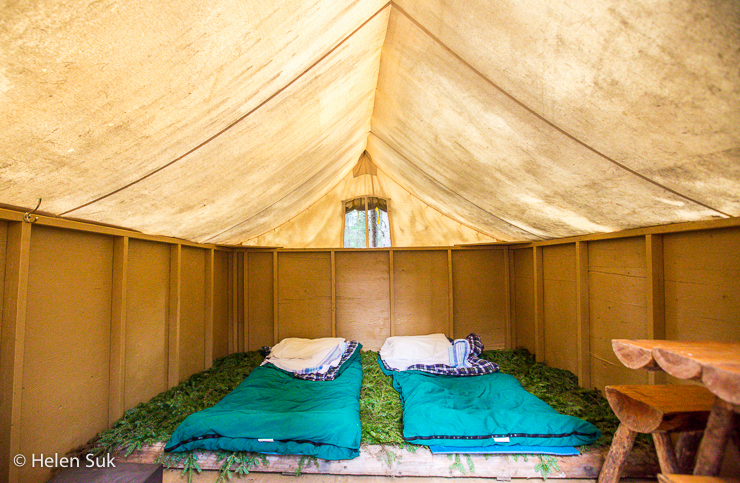 And the caribou adventure is a true outdoor activity — that means no electricity or running water, but there is heat inside the tent, an outside water pump and clean outhouse with a compost toilet.
For dinner, we watched Audree cook our meal over the fire pit: dune pepper-seasoned salmon trout and vegetables which were served with soup and bread inside the screen-protected dining area.
For breakfast, it was hard-boiled eggs, toast, cereal, croissants and bannock, an Aboriginal bread which we cooked ourselves over the open fire.
Where else in North America offers such an experience? The Walking Adventure in the Land of the Caribou at the Zoo sauvage de St-Félicien is no ordinary adventure — it's a fascinating and one-of-a-kind way to get back to nature and up close to animals in their natural environment. It's not glamping and it's no Serengeti, but this is my Canada. It's home to incredible wildlife — and I don't ever want to forget it.
Click here to learn more about the Walking Adventure in the Land of the Caribou package (Note: the Nature Trail Park is also open to non-package visitors.)
Now that you know about this destination, is this Canadian safari something you would do?
Pin this to Pinterest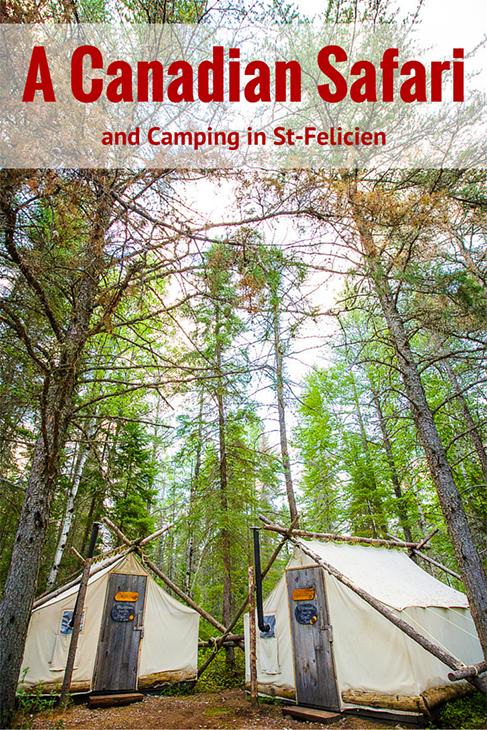 I visited the Zoo sauvage de St-Félicien as a guest of Tourisme Saguenay—Lac-Saint-Jean. As always, all views expressed in this post are my own.