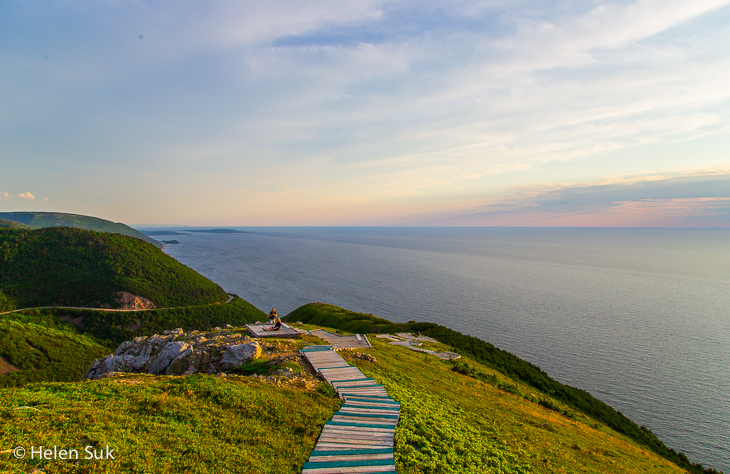 For some reason, too many visitors to Nova Scotia limit their stay to Halifax. Sure, it's an attractive, waterfront city but, after your urban jaunt, I urge you to carve out a few days for Cape Breton Island. A Nova Scotia road trip demands it.
My friend Genea and I spent four days driving the Cabot Trail clockwise last July, careful not to rush the experience in the Cape Breton spirit of simple, relaxed living.
From rugged scenery to mouthwatering seafood, each stop offered us something special.
The Cabot Trail
It's almost a 3-hour drive from Halifax to Port Hawkesbury, the gateway to Cape Breton Island.
From Port Hawkesbury, it takes 1.5 hours to reach Margaree Harbour on the west coast, a good starting point on the famed Cabot Trail.
The Canadian answer to California's Pacific Coast Highway, the Cabot Trail is one of the most spectacular drives in my country, a circuit that hugs the jagged coastline, passing through quaint villages. Photo opps are abound so we took full advantage of all the viewpoints along the way.
It's an epic journey not just for drivers, but motorcyclists and cyclists.
The Cabot Trail also provides access to Cape Breton Highlands National Park, a sublime wilderness of mountains, canyons, boreal forests and wildlife like moose, bears and bald eagles (we had one moose sighting!).
Margaree Harbour
The drive from Port Hawkesbury to Margaree Harbour, our first stop, is uneventful and mostly inland but an easy ride. Some visitors spend the first night in Cheticamp further north but, after 4.5 hours on the road, we wanted a rest sooner than later and decided to lay our heads in this tranquil valley at the mouth of the Margaree River.
As a hotspot for salmon and trout fly fishing, the village attracts many an angler but we were more intrigued by Margaree Harbour Beach where we were dazzled with this sunset, shared with just a few others.

Where We Ate:
The Dancing Goat Cafe & Bakery offers soups, sandwiches and salads. The roast beef sandwich (minus the overly generous spread of mustard), orzo salad and corn chowder were excellent.
Their coconut cream pie was most memorable. This dessert is a favourite in Nova Scotia, found on menus throughout the province. Light, creamy and dreamy, the Dancing Goat served up the most divine coconut cream pie I've ever had.
Where We Stayed:
Duck Cove Inn offers simple, clean accommodations right on the Cabot Trail overlooking the Margaree River.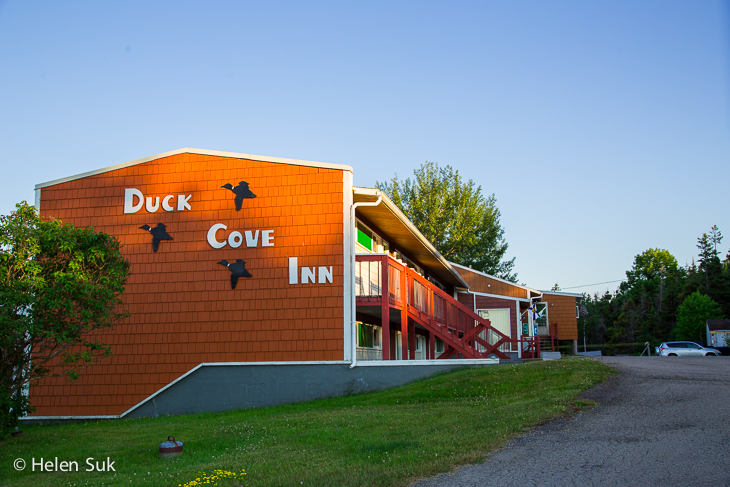 For just a night's rest, it fit the bill for us. Breakfast is not included but a restaurant is onsite (which we didn't dine at).
Pleasant Bay
Continuing north along the scenic coastline, we arrived in the seaside village of Pleasant Bay, a fishing harbour and ideal base for exploring Cape Breton Highlands National Park.
Hiking is a popular activity but Pleasant Bay is perhaps most famous for being the top spot for whale watching on the island (based on my research, however, I chose to whale watch in Digby on mainland Nova Scotia instead).
Where We Ate:
Like most eateries on Cape Breton Island, the restaurant at the Mid Trail Motel & Inn sources their seafood from their own Nova Scotian waters. We ate here twice. The seafood chowder and fish and chips are their most popular dishes; so too are their fish cakes that I tasted after Genea ordered them. I went for the scallops but secretly wanted to steal the round cod patties on Genea's plate.
(Not a fan of mayo? You may want to hold the coleslaw which is soaked in it.)
For take-out, the deep-fried ravioli was a winner.
The Rusty Anchor is the restaurant that keeps its doors open the latest (until 10pm) in Pleasant Bay, which we found out after they reluctantly but graciously accepted my take-out order of seafood chowder when I came knocking on their door at closing.
Where We Stayed:
The cliffside Oceanside apartment at Gulf Breeze is spacious and comfortable, complete with a jacuzzi tub and double shower. It can sleep a small family and the billiards table downstairs in the common room can keep them entertained.
For a morning dose of salty ocean air, I followed the 1-minute path behind the apartment to enjoy a serene view on the edge of the bay.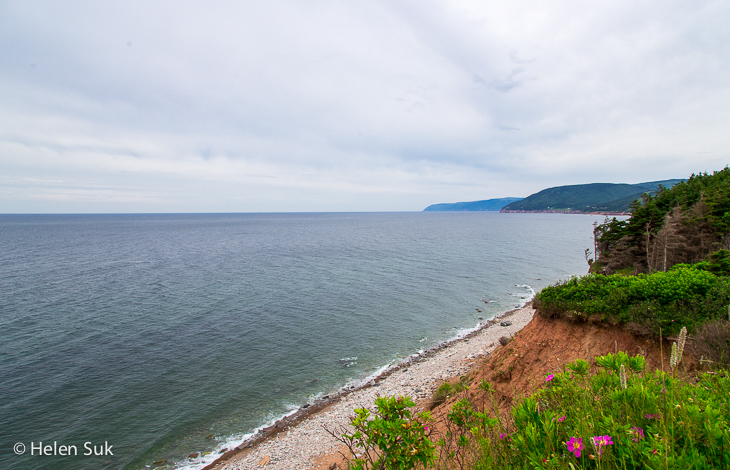 The Oceanside Apartment at Gulf Breeze can be booked on AirBnb. (If you're a first-time AirBnB user, use this referral code to get 45 CAD off your first booking!)
The Skyline Trail
Cape Breton Highlands National Park — the vast, mountainous region extending from the Gulf of St. Lawrence to the Atlantic Ocean — is home to a number of ecosystems and 26 hiking trails, including the famous Skyline Trail (a 20-minute drive from Pleasant Bay). As the spot for sunset viewing, the Skyline Trail is where visitors can capture one of the most iconic images of Nova Scotia.
The loop takes 2-3 hours on foot but, given we were pressed for time and didn't want to risk missing the 9:00pm sunset, we took advantage of the shorter path that leads straight to the viewing platform (at the fork on the trail, veer left).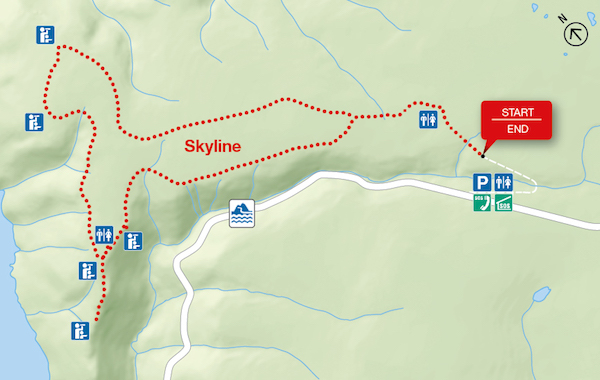 It's an easy, 45-minute hike each way that starts on a wide, open road, through forest then ends at the headland where the mountain meets the sea. A wooden boardwalk opens up to the cliff's edge and a dramatic panorama of the Gulf of St. Lawrence with the winding Cabot Trail behind it.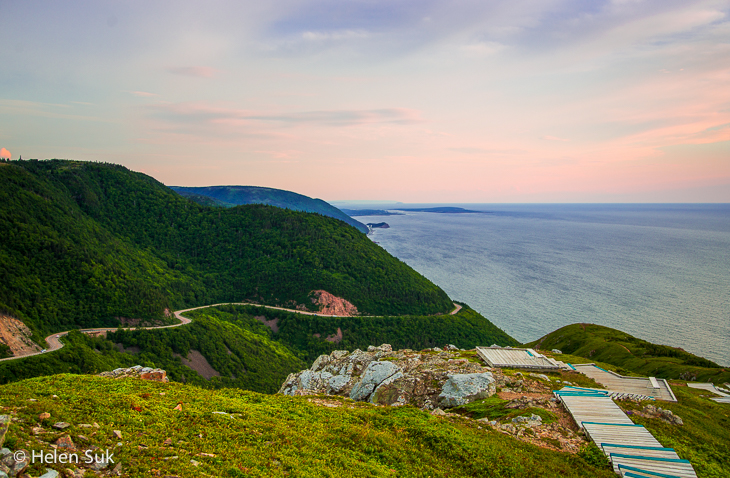 The sun cast a beautiful, golden glow when we arrived but it was short-lived; our hearts sank as it vanished behind a giant cloud.
Then surprise! It unexpectedly reappeared, peeking between the white, cloudy mass and horizon just as we were about to leave, giving us just a brief moment of magic. 
Another pleasant surprise: we shared the lookout with only a few other visitors despite the timing of our visit in mid-July.
Tips:
I can't say whether it's always windy up there, but I couldn't even stabilize my tripod with the gusts we encountered. Pack a light jacket or sweater and be prepared to hold onto your hat!

For sunset: after taking in the multi-coloured light display in the sky, it will take 45 minutes to walk back to the parking lot so a flashlight is highly recommended.

Watch this video about the Skyline Trail created by my friends at The Planet D. They got the perfect sunset I didn't get.
For a closer look at the park's flora and fauna, consider a

guided sunset walk

with a park ranger (offered during the summer months).

Be on the lookout for one of the 1,800 moose that roam Cape Breton Highlands National Park but keep your distance. Remember: this is their home and they're wild animals.
Meat Cove
Meat Cove is a rural fishing community off the Cabot Trail on the northernmost tip of Cape Breton Island — the end of the road. Literally.
From Pleasant Bay, this off-the-beaten-path escape can be reached in 1 hour. It's a bit of a rough ride, punctuated with gorgeous views and hairpin turns on a paved road that turns to dirt and gravel (not a drive I would recommend at night).
The reward is a remote, pristine vista of rolling hills and the seascape below that can be enjoyed on one of three hikes. Two of them are 2-3 hours but as we were tight on time, we trekked the shorter trail (45-60 minutes to the top and back) that one of the locals suggested offers the best view. Indeed, it was a sight to behold. And there wasn't another soul in sight once we reached the top.
The solitude at Meat Cove feels like bliss, worth experiencing as an overnight stay at Meat Cove Campground, an intimate property with both cabins and a campground on the sea's edge (the former were unfortunately fully booked when I planned our trip). This corner of Cape Breton Island is absolutely a camper's paradise.
The small Chowder Hut restaurant offers hungry diners their famous chowder, among other eats.
Tips:
The shortest trail we hiked was mostly uphill so be prepared to work those legs.
The path is also narrow, and the shrubs abrasive on the legs so pants are recommended.
Ingonish
One of the most popular destinations on Cape Breton Island, Ingonish is just over a 1-hour drive from Pleasant Bay or Meat Cove and home to five communities, including the long stretch of Ingonish Beach.
The sandy shore is situated in South Bay, walled in by the famed Keltic Lodge Resort that rests majestically atop the steep cliff on the left, and Cape Smokey National Park on the right.
A boardwalk leads visitors to the sea over a bed of large rounded rocks.
Onsite are change rooms, restrooms, picnic tables and a lifeguard during the summer months.
Ingonish is situated on the east side of Cape Breton Island, which means we started chasing sunrises instead of the sunsets we enjoyed on the west side. We dragged ourselves out of bed at an ungodly hour, but the payoff was a deserted shoreline and intriguing photo opps.
A 1.5-km hiking trail can also be accessed from Ingonish Beach, where those who prefer to forgo the salty waters can swim in Freshwater Lake.
Tip:
Drive up to Keltic Lodge and park in one of the resort's lots for a perspective of the bay from above.
Later, perhaps hike the Middlehead Trail or hit the Highland Links Golf Course, both located beside the property.
Where We Ate:
Unless you're allergic to shellfish, you must take advantage of the summer lobster season. I did. My full lobster dinner at Sea Gull Restaurant was one of the most impressive meals of our Nova Scotia road trip.
Tip:
Request a table at the back of the restaurant for this sea view.
For breakfast, we made a wise choice by stopping at Bean Barn Cafe.
Where We Stayed:
The Sea Breeze Motel is clean, roomy and conveniently located on the Cabot Trail.
Birch Plain
After a 30-minute drive south from Ingonish, we made a pit stop in Birch Plain for one reason only: The Dancing Moose Cafe. The main draw here is their pannekoek, a drool-worthy sweet or savoury Dutch pancake that I still dream about.
The owners of the cafe also operate the Zzzz Moose Camping Cabins where we would have spent the night had one of the four mini lodges been available.
Tip:
When booking a lodge, request Cabin 4 for the best view.
Baddeck
Onward to Baddeck (1 hour from Birch Plain), our final overnight stop on Cape Breton Island and the largest community we passed through on the island.
It's a vibrant, bustling town with a picturesque harbour on Bras d'Or Lakes, as well as historical attractions like the Alexander Graham Bell National Historic Site (Baddeck was the summer home of the famous inventor) and Highland Village Museum.
We popped into a few shops, dined and stopped for ice cream, ending up at the harbour to catch this vivid sunset.
Outdoor enthusiasts can be kept busy in Baddeck with golfing, sailing and kayaking.
For hiking, the most popular option is Uisge Ban Falls, a wooded provincial park with a 3-km (roundtrip) trail along a babbling brook. At the trailhead is a 50-foot high waterfall in a granite gorge. Uisge Ban Falls is a comfortable, shaded hike that took us 1-1.5 hours to complete.
I've also read there's a longer trail along the Baddeck River but it's hard to confirm the details with all the conflicting information I've come across online.
The parking area includes picnic tables and outhouses.
Tip:
Don't forget the mosquito repellent!!
Where We Ate:
We dined at Bell Buoy, a family-run seafood restaurant in the heart of town overlooking the water. The salmon filet was delicious, the Shoreline casserole rich and creamy. Not a fan of vegetables? Their carrot and turnip mash may convert you.
Before heading back to mainland Nova Scotia, we fuelled up at the waterfront Herring Choker Deli — a bakery, cafe and deli 10 minutes west of Baddeck on the Trans-Canada Highway. 
Lunch was enjoyable and kept my pangs of hunger at bay for a few hours.
Where We Stayed:
I was pleased to find a wider selection of accommodations in Baddeck than in other areas of Cape Breton Island, from motels to luxury inns. Our choice was Broadwater Inn & Cottages, an undisturbed, 4-star country inn off the Cabot Trail against the backdrop of Bras d'Or Lakes. The gardens on the 8-acre property make for an enchanting, laid-back setting.
Broadwater Inn & Cottages also has a rich history dating back to 1812 — the family of Alexander Graham Bell's pilot once called this estate their home.
Breakfast in the dining room is complimentary and a great opportunity to get to know both the owner John and the other guests.
Final Thoughts
Just like that, our Cape Breton Island road trip on the Cabot Trail came to an end but our Nova Scotian journey wasn't over (see Part 2 of our road trip around mainland Nova Scotia in this post).
Before arriving on Cape Breton Island, I wondered if it would top my road trip to Tofino but comparing the two would be like asking me to choose between the Galapagos Islands and a safari in South Africa. Both islands offer the best of Mother Nature in magnificent settings in their own special way.
It's a shame though that the west coast attracts most of the tourist attention because Cape Breton Island is drop-dead gorgeous.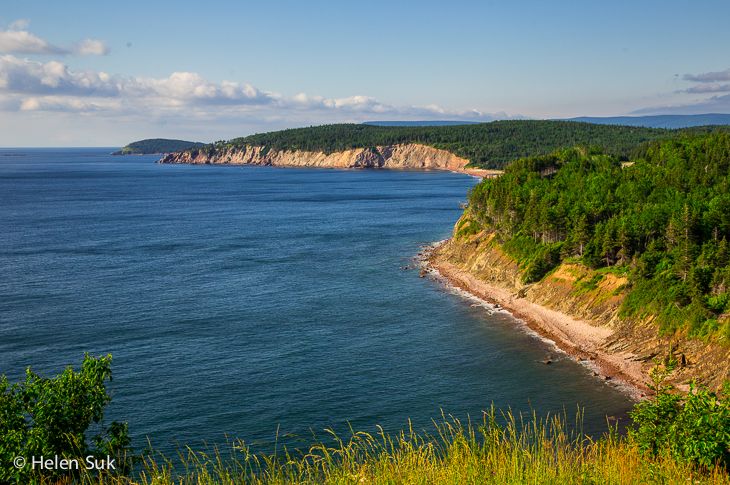 It brought me closer to my country that is so diverse in culture, people and natural treasures. In fact, as a city dweller in flat, land-locked Toronto, I experienced moments of asking myself "this is Canada?" while marvelling at the highland and coastal scenery.
In the coming years, I hope to explore more corners of my vast homeland.
What You Should Know:
Book your Halifax car rental and Cape Breton accommodations well in advance. Prices for vehicles climbed, and hotel options diminished, the longer I waited to book. Remember you can always cancel reservations without penalty later.

Be prepared to be smartphone-independent at times. Our internet was slow or spotty at some hotels. We also intermittently lost our cell phone signal throughout our road trip which led us to lose our way a few times because we relied on our phones as our GPS.

We encountered some construction on the island, sometimes taking us longer than usual to get from one village to another. I'm not sure when it will be completed or if it's ongoing but it would be wise to ask locals about construction sites ahead on the Cabot Trail if you're on a tight timeline.

I was uneasy about booking motels without air conditioning in the middle of July, but Genea and I surprisingly didn't find it necessary. Must be that cool ocean breeze.

I expected seafood on Cape Breton Island to be more affordable than in Toronto but I found prices to be roughly comparable. The difference though is in freshness and quality so I happily ordered my lobster, scallops and fish anyway!

If you plan on hiking, I recommend packing a pair of hiking boots.

Whale watching: my research led me to conclude that Digby is superior to Cape Breton Island

 

as a whale watching destination. A few Nova Scotians — and my awesome whale watching excursion in Digby  — confirmed that for me. Digby is a long drive from Cape Breton Island though so I would've booked a whale-watching trip on the island had Digby not been on our travel itinerary.
Pin This Post to Pinterest

Got any other tips for Cape Breton Island? Please share in the comments below.
Disclosure: My stays at Gulf Breeze and Broadwater Inn & Cottages, as well as my meals at the Mid Trail Motel & Inn and the Dancing Moose Cafe were complimentary but rest assured all views expressed in this post are my own. I also earn a small commission from Booking.com if you click on one of their links and make a reservation through their site at no cost to you (thank you for your support!).