Did you know there's such a thing as chimpanzee trekking? While the internet flourishes with personal accounts about gorilla trekking in Africa, the chimps receive little fanfare as they continue to live in the shadows of their giant cousins.
And that means primate-loving travellers miss out.
Chimpanzee Trekking in Uganda
In Uganda, visitors pay up to 600 USD to spend one hour in the presence of endangered mountain gorillas, the country's most famous wild residents. Yet, for a fraction of the cost, did you know you can spend an entire day observing chimpanzees in their natural habitat?
You can track them for an hour (similar to gorilla tracking) for 150 USD, but there's another, more intimate and immersive option. For 220 USD, the Chimpanzee Habituation Experience (CHEX) takes you on a fascinating adventure in small groups with our closest living relatives through Kibale Forest National Park from the break of dawn until 7:00pm — or until your feet say so.
It's a unique, all-day trek and there's no telling where the chimpanzees will lead you. Their movements are unpredictable —whether it's uphill, downhill or on even ground, you follow the agile group, sometimes at challenging speeds through dense vegetation, for rare, up-close encounters.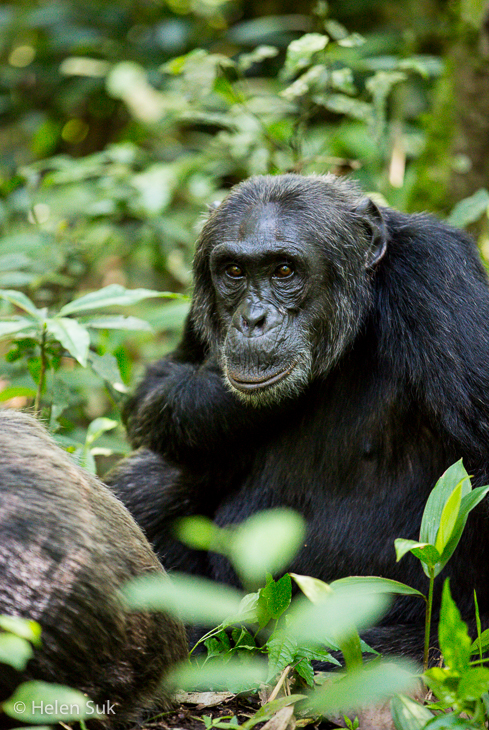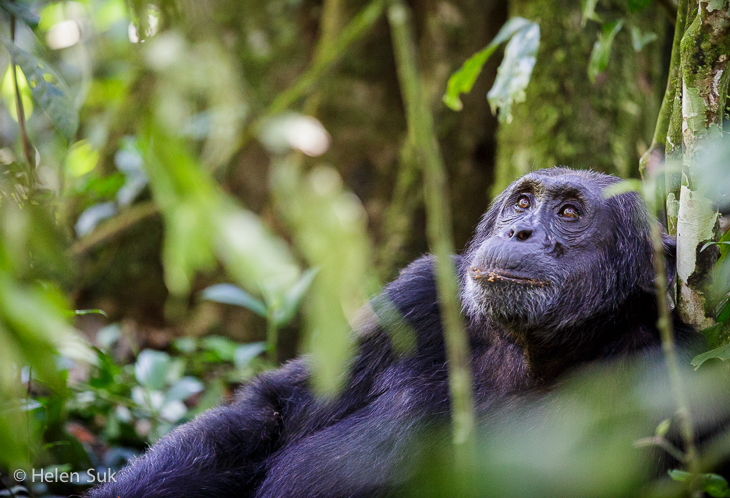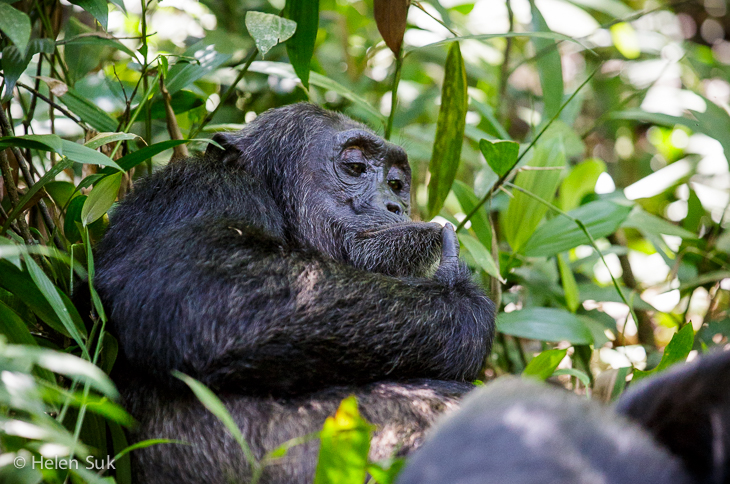 Kibale, a tropical forest of varying altitudes in southern Uganda, is home to 1,500 chimps, the highest concentration in Uganda, as well as the most diverse (13 species in total) and densest population of primates in East Africa. Vervet monkeys, olive baboons and red colobus monkeys are also found in these woodlands, making the forest a primate-lover's dream. And, with 350 species of birdlife, Kibale will satisfy bird enthusiasts too.
But, like most visitors, my friend Jill and I arrived at Kibale for one reason only: to get up close and personal with a group of chimpanzees as they go about their daily lives in the wild.
The Day of the Trek
With packed lunches from our hotel, we arrived at the park, groggy-eyed, at 6:00am. We knew our group would be intimate (a maximum of four) but, on this day, it was just the two of us and our Uganda Wildlife Authority ranger, Robert. Armed with a Russian AK-47 comfortably hanging over his shoulder (facetiously referred to as his "girlfriend"), he gave us the lowdown:
His firearm isn't for the chimps. Instead, rangers shoot it into the air to fend off aggressive elephants and buffalo because, in this rainforest, they're not used to human company as they are in savannah parks.
Habituation, the process by which wild animals become accustomed to the presence of humans, can take up to two years for chimpanzees. Three habituated communities are found in Kibale: two for research and one for visitors.
Distance must be kept between us and the wildlife.
Loud talking, eating near the chimpanzees, littering, flash photography and monkey imitations are not allowed.
By the end of the briefing, we were eager to get moving. Who knew how long it would take to track them?
But only a few minutes passed before Robert detected signs of chimp life, high up in the canopy of trees where they nest and feed.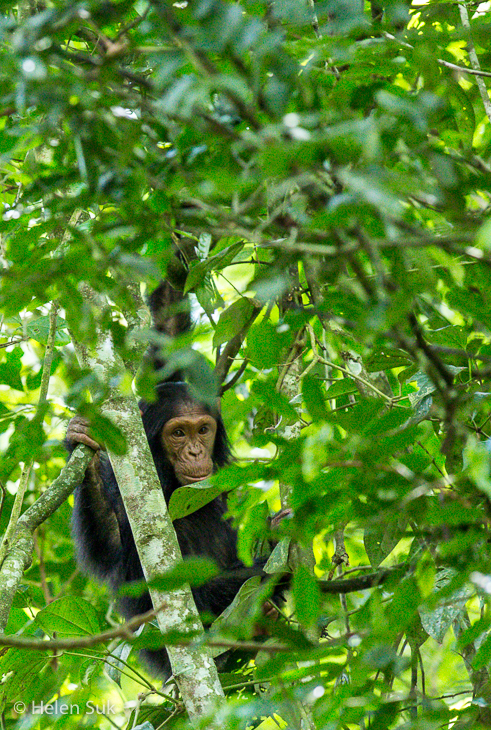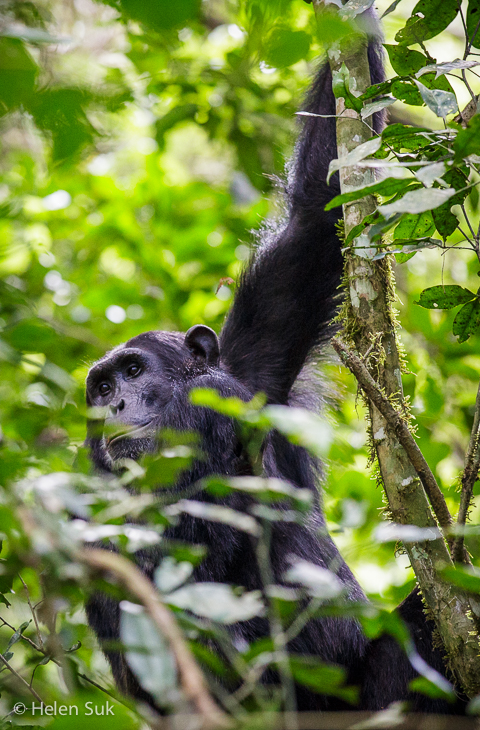 It's a typical day for this group of 20 or so great apes. They build their nests in a different location each night and, by morning, they can be seen foraging and noshing on figs. As we moved in closer, Robert warned us: beware of the falling fruit. One by one, we heard the thump of figs dropping on the forest floor around us.
But we were more concerned about getting caught in a rainfall of urine (we had already showered the night before, thank you very much). There were some close calls — enough to make us manoeuvre back to safety on the dirt road until our friends finally climb down the trees.
It took three hours for the troop to finally descend from their nocturnal nests but, from what we were told, that's an unusually late start to their day. Tracking chimpanzees requires patience, and good things come to those who wait.
The reward? The extraordinary opportunity to observe a whole spectrum of their natural behaviours: babies as young as eight months old clumsily swinging from the tree tops, the social "Mr. Black" relaxing on the forest bed with arms folded behind his head, and an intimate grooming session (a form of primate social bonding) between two males. One of them, we were told, had lost its eye in a competitive clash with another male.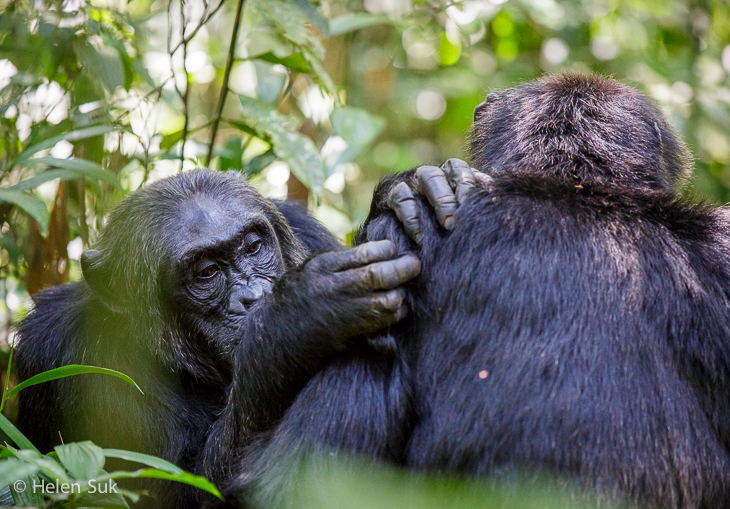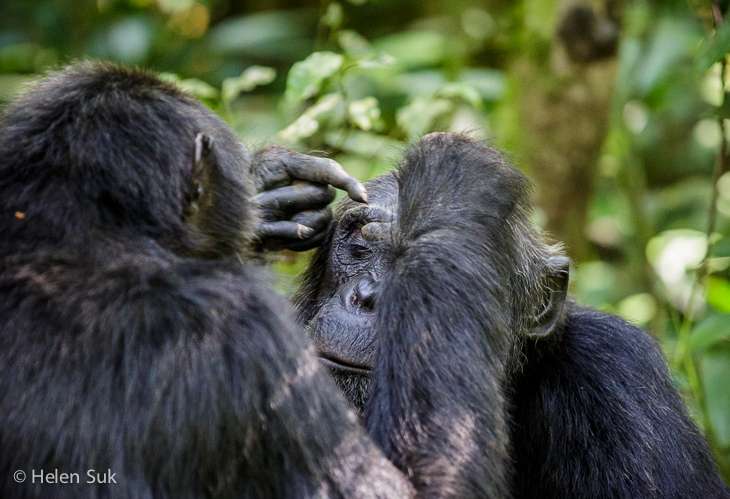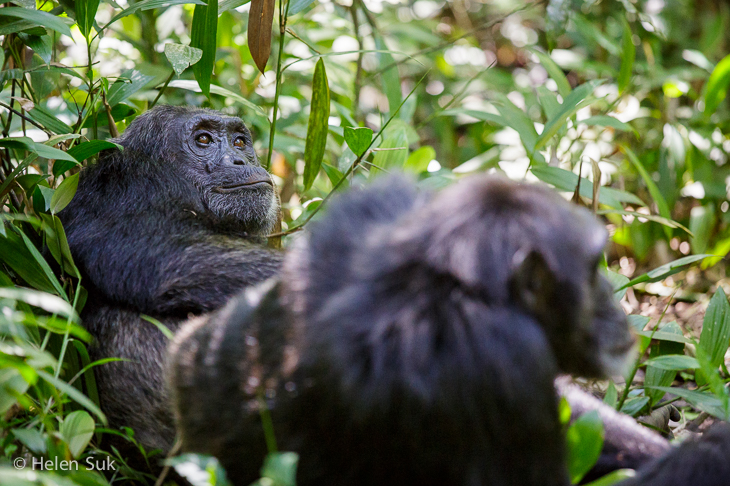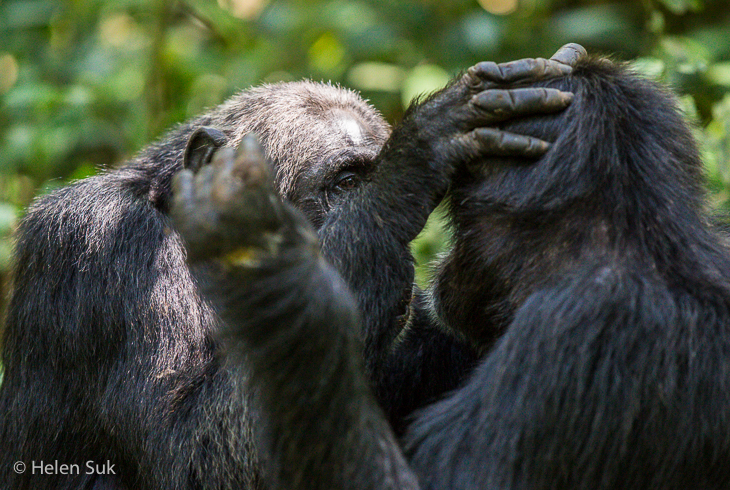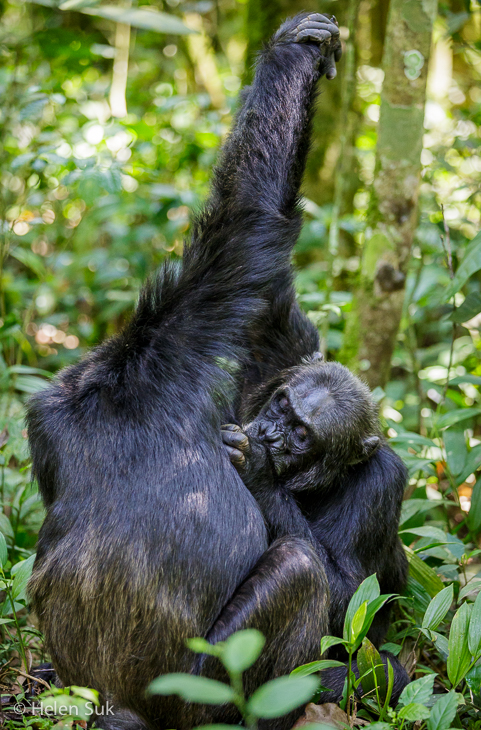 And these chimpanzees are a raucous bunch. Every now and then, the stillness of the forest was abruptly broken by mayhem, an alarming, deafening cacophony of hoots and shrieks between one community and another in the distance. Robert explained they could be signs of conflict or discipline.
Quick-footed and erratic, chimpanzees can be difficult to keep up with. By mid-afternoon, we were exhausted from a hike that had increased in intensity as we raced through the forest up hills and through mud, pausing only when the chimps chose to rest.
But then we spotted something remarkable, an eerie reminder of how quickly these primates can transform themselves into savage hunters. Clinging to a tree was a male and, hanging from its mouth, its recent kill: the carcass of a small duiker (a type of antelope). It was a rare sighting even for Robert, who was equally captivated and astonished.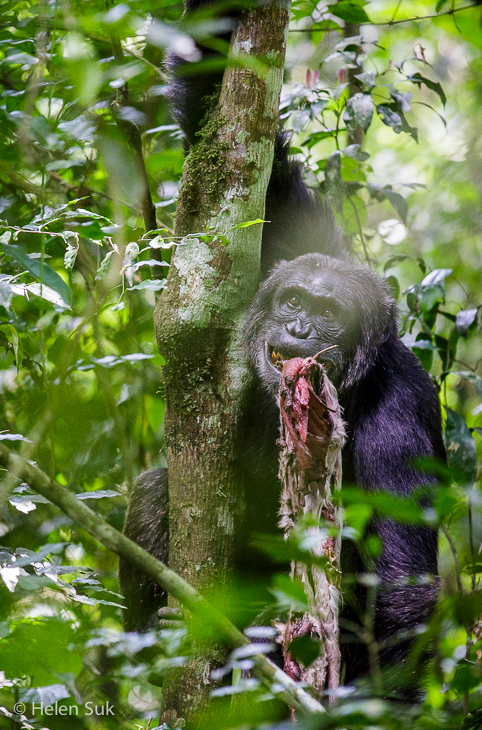 Chimpanzees are known to occasionally hunt smaller animals, including other primates — a little-known fact I never learned from the Discovery Channel.
While we observed a second chimp carrying another piece of the kill, others begged from the ground.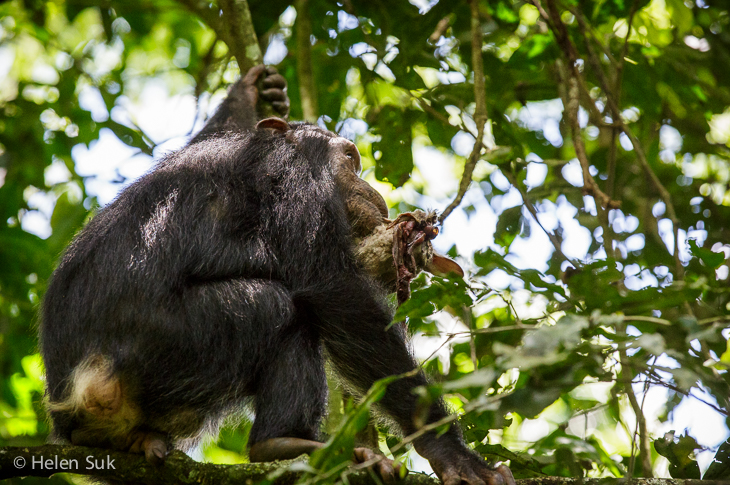 All eyes were on the seemingly smug hunter, including those of this male who plonked himself down next to him on a tree limb, patiently lingering in the hopes of an offering.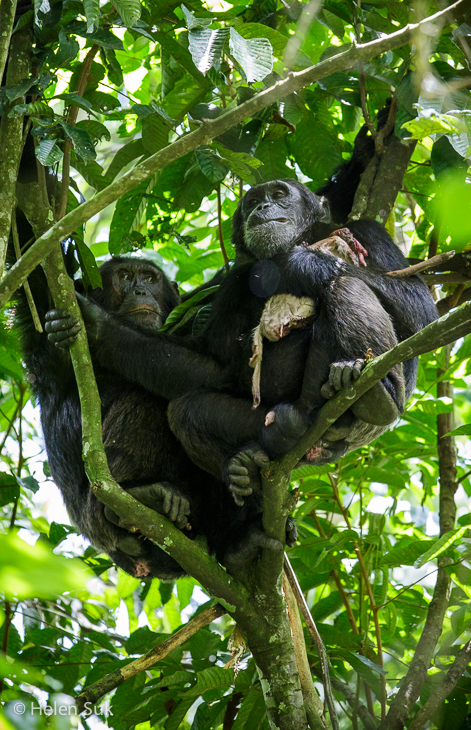 At one point, in a human-like, charitable gesture, the hunter extended his arm to the face of his mooching peer, grabbing his chin between his fingers as if to say, "stick around, my friend, and just maybe I'll throw you a scrap." It was like observing children in a kindergarten classroom grasp the delicate art of sharing. It was, no doubt, the highlight of our adventure. Had we opted for the one-hour chimpanzee trek, I'm certain we would have missed out on these rarely seen interactions.
After 6 1/2 hours in the forest, exhausted yet thrilled, we called it a day.
And what a day it was.
Pin this post to Pinterest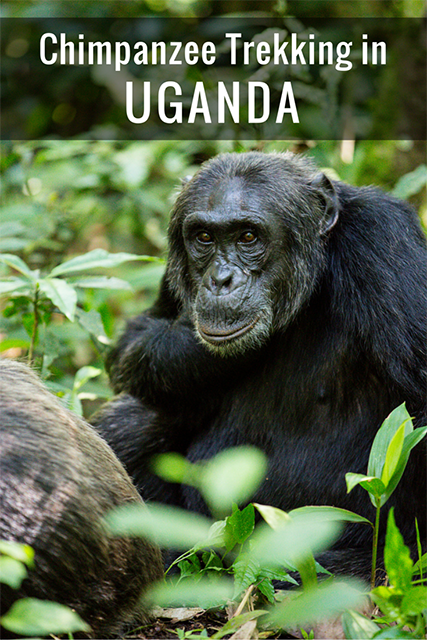 What You Should Know:
The best time for chimpanzee trekking in Uganda is during the low-season months of March, April, May and November when there are fewer tourists, but keep in mind this is also the rainy season.
CHEX permits must be booked in advance (the earlier, the better).
To prevent transmitting human-borne diseases to the chimps, anyone who is ill (with the flu, for example) is not allowed in the park.
A day pack will be required to carry your lunch. (I recommend placing it in a plastic bag in case the food leaks through the paper bag.)
The weather is unpredictable, so rainproof gear, including boots with strong traction, is recommended, especially during the low/rainy season when the slopes are muddy. If needed, a heavy-duty rainproof poncho can be rented for 10,000 USh.
Don't forget insect repellent!
The foliage can be prickly — a long-sleeved shirt and long pants will protect your skin.
Wear hiking gaiters or tuck your pants into your socks/boots to prevent ants from climbing up your legs.
With respect to photography, chimpanzees can be challenging to shoot in the dense, shaded forest. Add to that their tree-top lounging habits and swift movements, and you'll fumble with your camera if you're not prepared. Use a telephoto lens and increase your ISO to capture sharp images of them in action.
Planning your own trip to Kibale Forest National Park to see the chimps? You can check lodging options at Booking.com here. (Disclosure: if you click on this link and make a reservation, I'll earn a small commission – at no cost to you. Thank you for your support!)