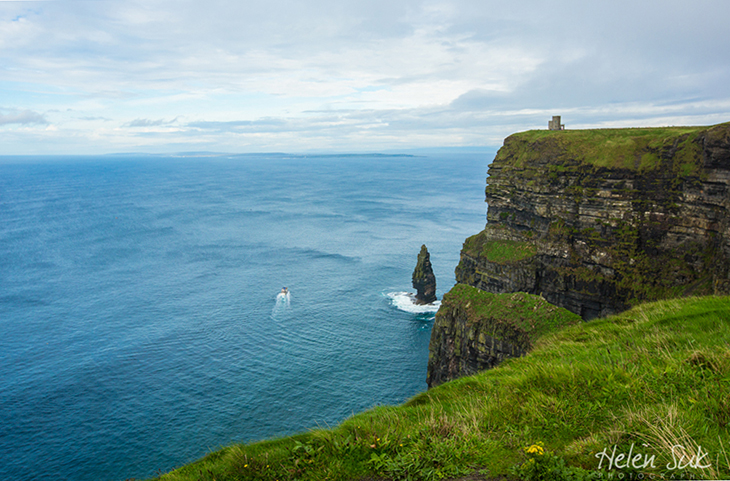 Across 8 km on Ireland's western seaboard lies a natural wonder that feels like the edge of the world. Each year, up to one million visitors make their way to stand atop the Cliffs of Moher, Ireland's exalted and top natural attraction, and I'm about to be one of them.
Doolin
To get there, I travel first to Doolin, a seaside village conveniently situated just 8 km from the cliffs, and a worthy destination in itself. Rumored to be the inspiration for J.R.R. Tolkiens' Lord of the Rings, it's a tranquil setting of folkloric fantasy with cozy cottages, country B&Bs and shopkeepers well-stocked with Irish crafts and hand-knitted sweaters.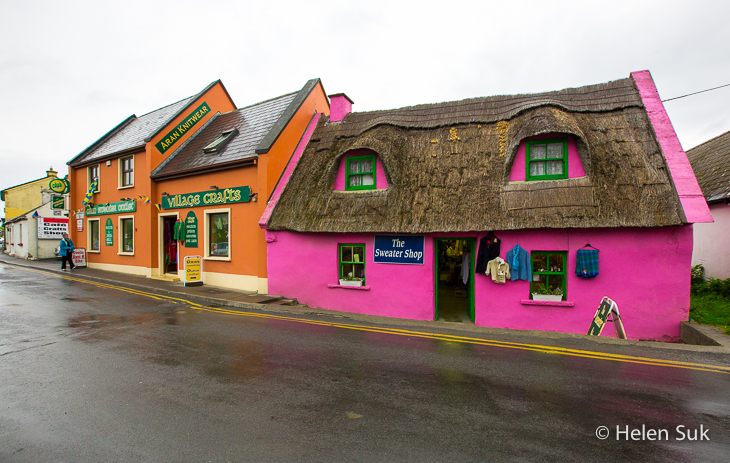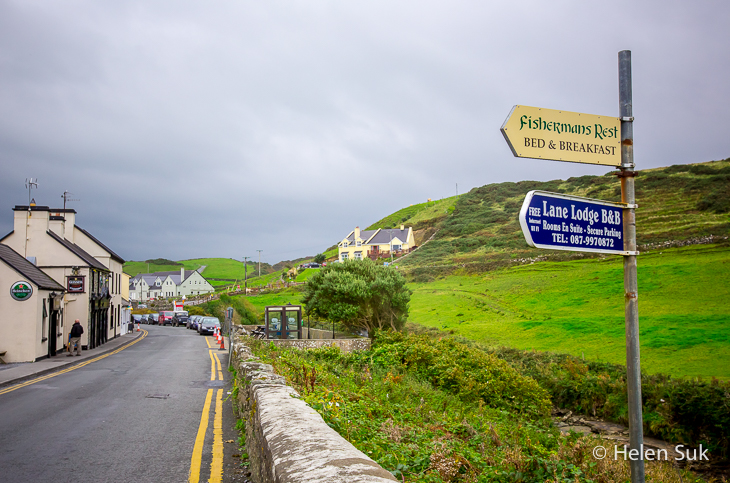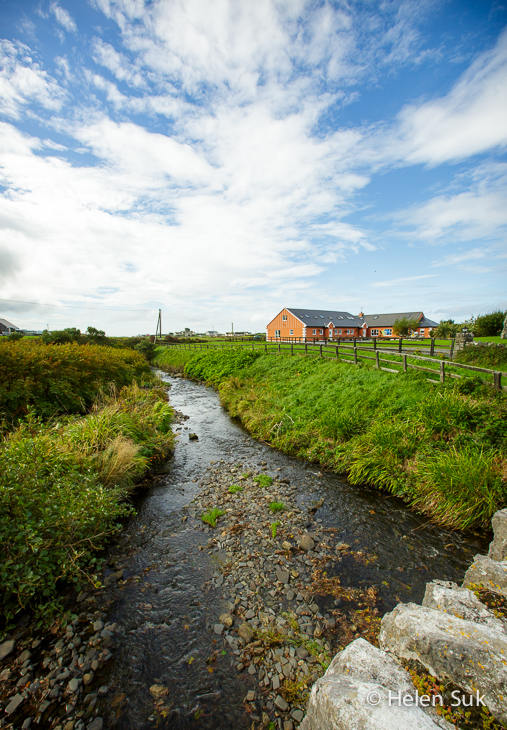 But, when day turns to night, Doolin becomes Ireland's lively capital of traditional music, where nightly pub sessions entice visitors with their euphonic sounds of tin whistles and fiddles.
I spend one night at Aille River Hostel, a 300-year-old converted farmhouse that caters to the budget-minded traveller. If you assume the only accommodations offered by hostels are six-bed dorms, think again. Situated on the banks of the Aille River after which it's named, this establishment offers not just shared dorms, but private and family rooms with ensuite baths. It's simple but homely and – most importantly – clean. I have my own quiet room overlooking the river.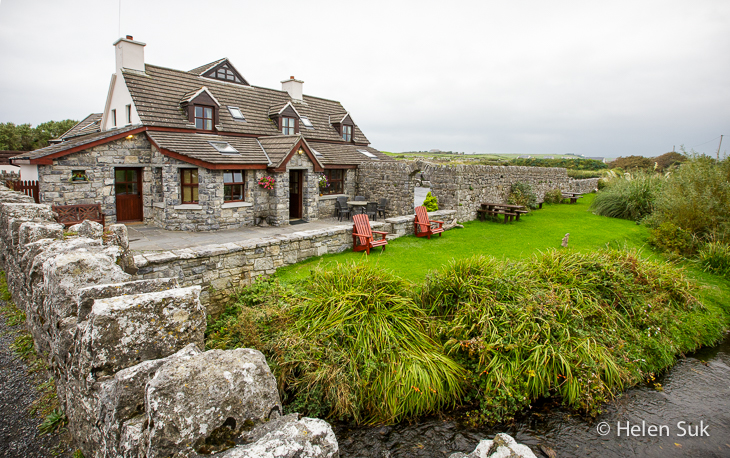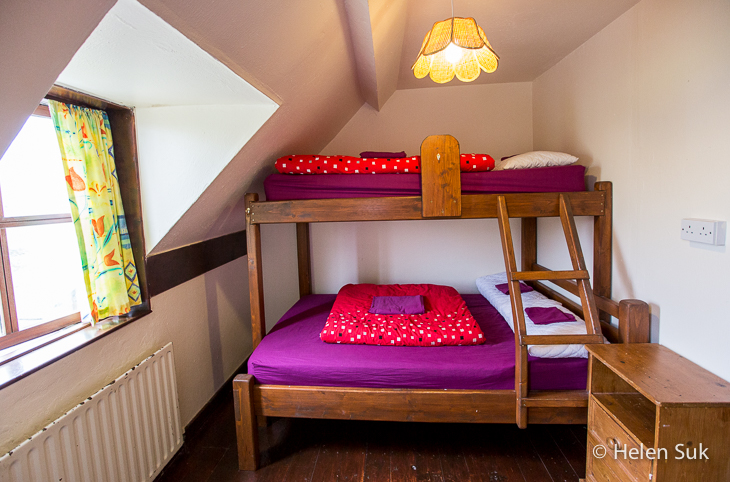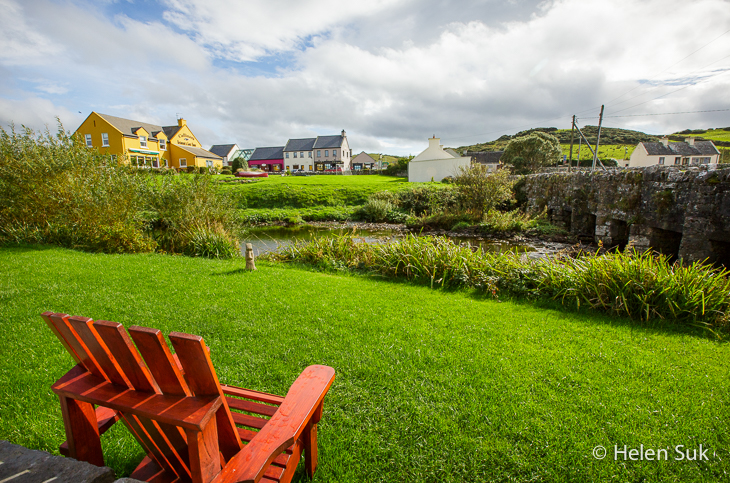 And on those cool, damp nights, the turf fire in the common area is a toasty and welcome escape.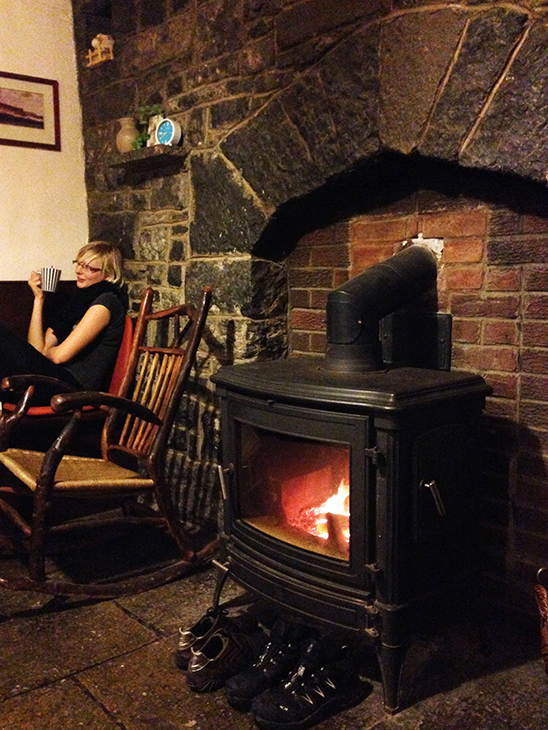 The Cliffs of Moher
Once enamored by Doolin's charm, it's easy to visit the Cliffs of Moher which, for many, becomes the climax of their west-coast travels. For the active, it's a two-hour hike. For a quicker, relaxed journey, it's a 15-minute drive by car or bus.
When I arrive, I expect to jostle swarming crowds but instead I'm met with a sparse gathering of tourists quietly scattered across the trail. Above, the grey clouds shift with each minute, offering momentary glimpses of the blue sky, then the pitter-patter of rain. And then I see them.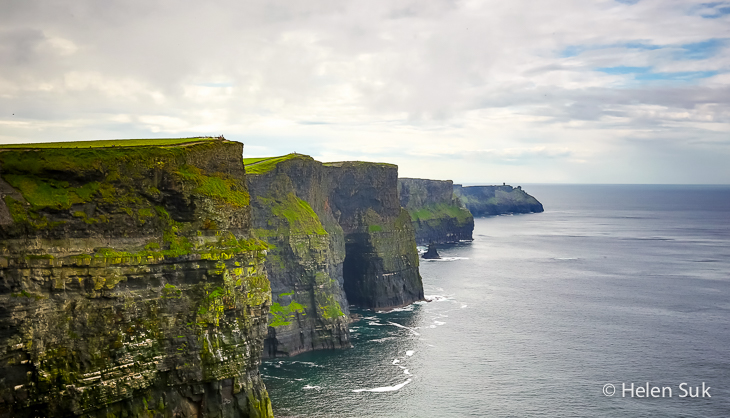 Shaped by Mother Nature over 300 million years, the Cliffs of Moher arrest me. At their highest point near O'Brien's Tower, they rise – mightily but peacefully – 702 feet above the crashing surf. Nothing but my own presence can capture this: the sheer scale of the commanding formations, the caress of the wind on my skin or the scent of the wild Atlantic.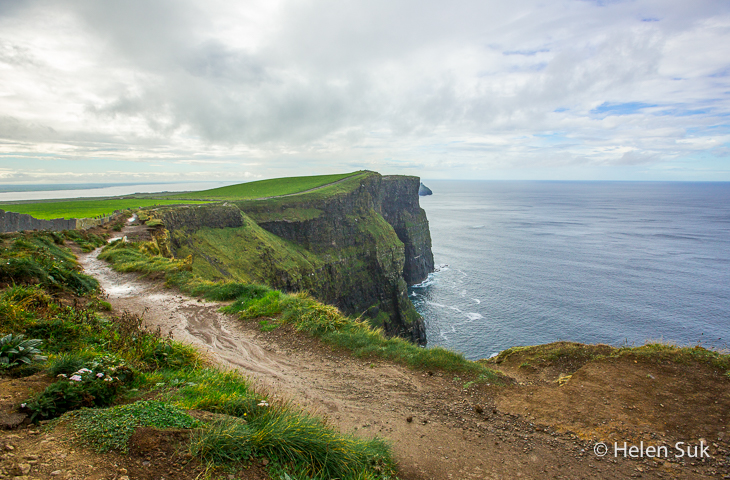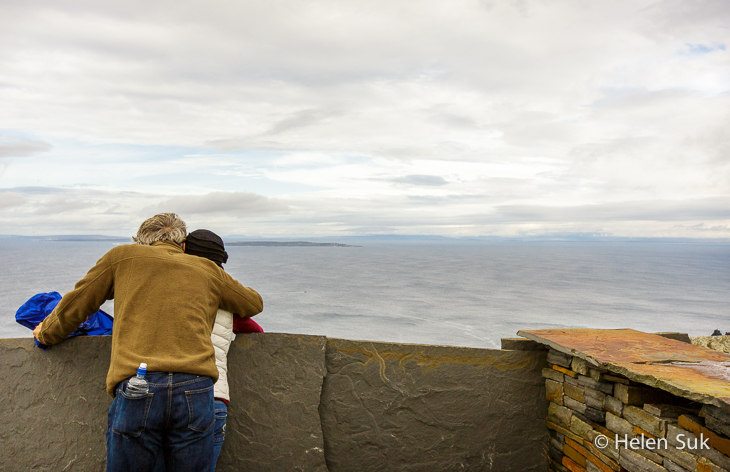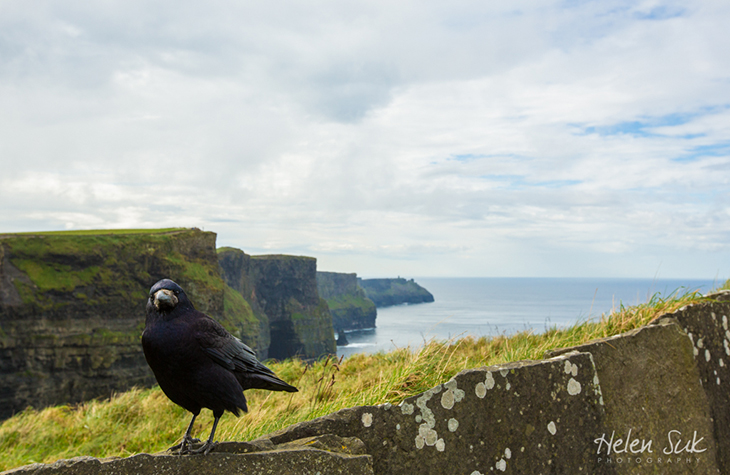 But there's a lingering melancholy here too, the vestige of those who, by either a tragic misstep or agonizing choice, never left. Their footprints may have washed away, but their lives have not been forgotten.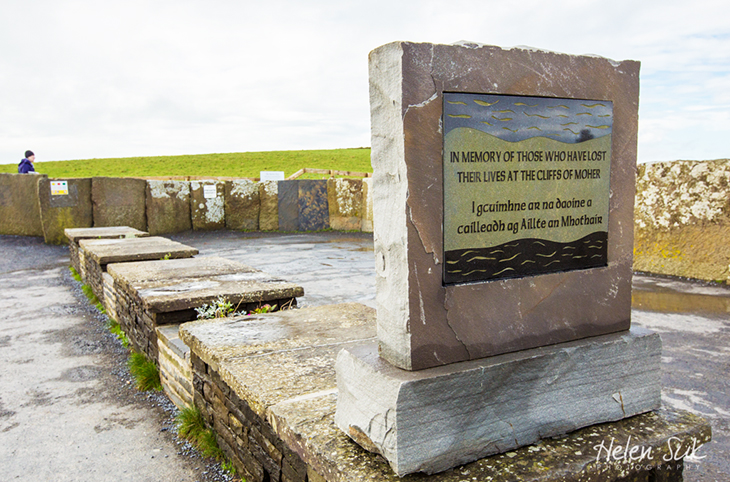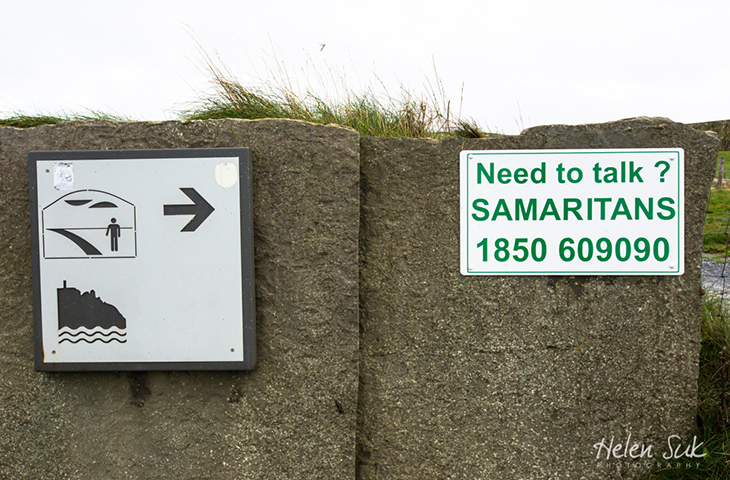 It's strange how a place can stir feelings of such inspiration, calm and sorrow all at once. As I face the towers of jagged rock, it hits me: they're real. And I'm standing on top of them, as close as I may ever get to the edge of the world.
Pin this to Pinterest

What you should know about Doolin:
– There are no ATM machines.
– A flashlight is handy for night-time pub-hopping; the roads are dark and not all are lined with sidewalks.
What you should know about the Cliffs of Moher:
Admission: €6 for adults; €4 for students, seniors and visitors with a disability; free for children under 16. Access to O'Brien's Tower is an additional €2 for adults and €1 for children.
Getting to the Cliffs of Moher without a car:
First, get to Doolin:
From Galway:
Bus Eireann operates a daily service to Doolin with multiple departures a day. Note: rides vary between 1½ to 3 hours, depending on the number of stops.
Search for hotels in Galway here.
From Dublin:
You'll have to make your way to Galway by either train or bus, then a bus to reach Doolin (see above). Bus Eireann operates a daily service (usually every hour) from Dublin to Galway. Journeys range from 5:20 to 6:35 hours. For a shorter and more comfortable ride, CityLink and Gobus both offer an express, daily service (2:30 hours) every hour. Irish Rail operates a daily train service from Dublin to Galway (2:15-2:30 hours) every 1-2 hours, but a CityLink or Gobus is more economical and will get you to Galway almost as quickly.
Search for hotels in Dublin here.
From Limerick:
Take a bus or train to Galway. CityLink offers daily, frequent bus service (1:20 hours). Bus Eireann offers daily service each hour (1:20-2:20 hours). Irish Rail operates a daily service with multiple departures a day with varying durations, but it is more expensive. Upon arrival in Galway, hop on the bus to Doolin (see above).
Search for hotels in Limerick here.
From Doolin to the Cliffs of Moher:
– Bus Eireann offers multiple, daily departures to the cliffs (a 15- to 36-minute ride).
– If you wish to take a taxi, it's best to schedule it in advance.
Transportation Resources:
Bus Eireann | CityLink | Gobus | Irish Rail
Note: There is no direct bus or train service to Doolin from either Dublin or Limerick.
Disclosures: My accommodations in Doolin were provided courtesy of Aille River Hostel, but rest assured all opinions expressed in this post are my own. This post also includes affiliate links that allow me to earn a modest commission from Booking.com if you click on them and make a hotel reservation. Thank you for your support!