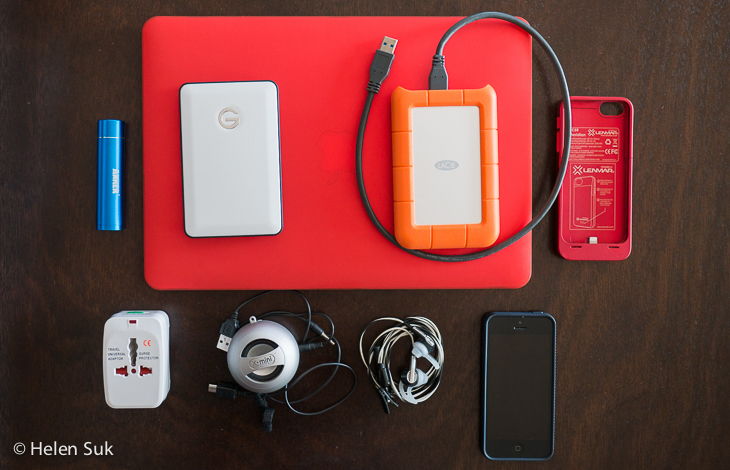 *Updated November 2017*
The proliferation of quality electronic devices over the years has been matched by a steady rise in my travel gear, particularly recently as I've taken my freelance and blogging work with me on extended overseas trips. Some are essential for my journeys; others just fall into the "nice to have" category. But they all have this in common: they allow me to travel more efficiently or with more pleasure. Here's a list of my favourite electronic devices and accessories for the modern-day traveller:
Macbook Air
Before heading off on my long-term travels, I sold my Macbook Pro and replaced it with the lighter, slimmer MacBook Air (13-inch). Of course, it's not as fast or as powerful as the Pro, but it performs well, whether I'm publishing blog posts, writing freelance articles or editing photos in Adobe Lightroom.
Does my laptop need to be an Apple product? No, but I've been using MacBooks for some time now, and I'm both familiar and comfortable with their operating system. On the rare occasion I've encountered a problem, I've simply booked an appointment at the closest Apple store to rectify it. (I realize this isn't much of a solution when I'm nowhere near an Apple store, but I'd likely face the same dilemma with any other laptop.) Of course, my Macbook Air also makes syncing with my iPhone seamless.
Laptop Case and Keyboard Protector
I always purchase a laptop with the intention of selling it when I'm ready to upgrade, which is why I keep it as clean and scratch-free as possible. The Mosiso laptop case protects the machine's exterior, and their silicone keyboard protector prevents dust and food crumbs from falling between the keys (you can buy both the case and protector as a pair as well).
Also, I'm not sure how much of a deterrent this is to thieves, but I bought a conspicuous, bright red case to spot my Macbook Air more quickly if someone attempts to sneak off with it.
iPhone
It wasn't until the last six years or so that I started travelling with my iPhone. Terrified it would be stolen (or lost as punishment for my own carelessness), I left it at home and just made do with a $20 second-hand, unlocked smartphone purchased from Craigslist, and internet access provided by hotel computers.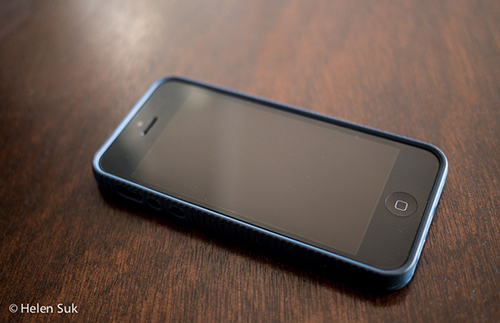 Today, however, is another story. With a more robust camera lens (I love mobile photography), more sophisticated functions and a flurry of useful, travel-related apps on the market, I can't imagine travelling without my iPhone now. Unlocking it also allows me to use local SIM cards that provide me with data at affordable rates or, in some countries like Thailand, at unbelievably low cost.
Astro Mini External Battery Charger
So you know how your smartphone battery drains more quickly as it ages? Yeah, that. I plug this little lipstick-shaped device (made by Anker) into my iPhone when it's down to 2% power to give it new life — one full charge, to be exact. Amazing, right? I can't tell you how handy it is when my iPhone battery is about to expire and I'm nowhere near a plug or I've forgotten my charger. After the Astro Mini resuscitates my iPhone, I recharge the external battery by plugging it into an electrical socket when I return to my hotel room (it takes about 3-4 hours). Then it's ready for my next "oh god, my phone's about to die" moment when a pod of dancing dolphins suddenly leaps in front of my boat in the middle of the Indian Ocean.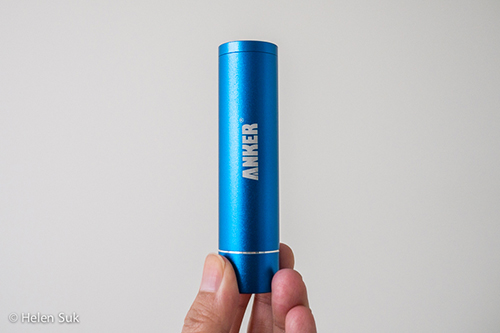 The Astro Mini also works for tablets and even GoPros, although it doesn't give them a full charge. Anker does, however, make larger, more powerful portable battery packs for such devices (or for multiple smartphone charges) like this one.
Smartphone Battery Case
I use my iPhone a lot, particularly because I'm an avid iPhoneographer (view my mobile photography in my Instagram feed here). I use a Lenmar battery case that does exactly what the Astro Mini does but with the benefit of allowing me to continue shooting photos with my iPhone without a battery pack dangling from it.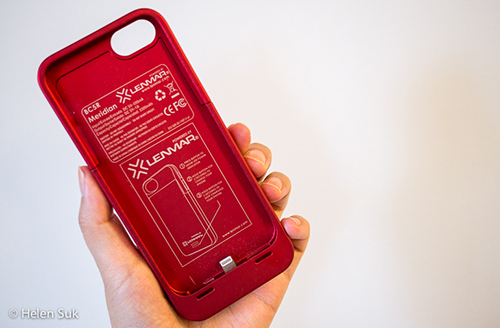 To charge my iPhone, I just insert it into the Lenmar battery case, press a button and voila: it starts charging to 100%.
Portable Speaker
So it's not exactly a necessity, but by plugging the super lightweight X-mini Capsule Speaker into my smartphone or laptop, I get better sound quality with surprisingly good bass for such a small device. The battery lasts up to 12 hours and can be charged with a USB cable (included).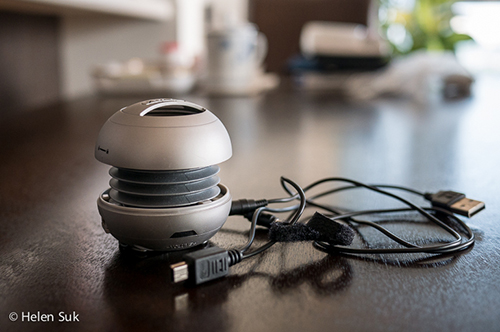 To store the speaker, I just collapse it into a ball that fits into my hand and throw it into a packing square. And if it gets stolen? It's so inexpensive, I won't loose sleep.
Prefer wireless? There's also a Bluetooth version.
Bose Headphones
I have unusually shaped ears. Standard earbuds just don't stay in them, but the Bose SoundTrue In-Ear Headphones comfortably fit my ears like a glove, thanks to their unique shape. And, of course, they deliver superior Bose sound quality.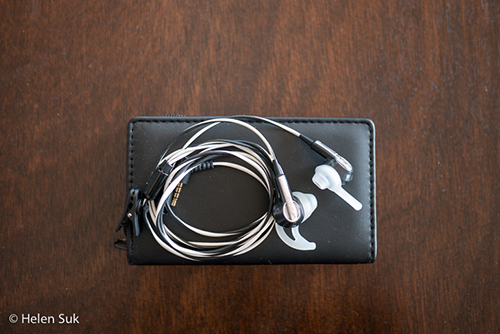 Prefer wireless? Bose offers a few options.
Eventually, I want to upgrade to the noise-cancelling headphones. (Both headphones are also available for non-Apple devices.)
E-reader
It took me some time to finally transition from books to eBooks. There's something to be said for flipping pages, reading black-inked print on paper after tedious hours in front of a computer screen, and sharing my favourite books with friends. But the beauty of e-readers is their ability to carry hundreds — or, depending on the e-reader, thousands — of eBooks in one thin, compact device that fits into my handbag. The last thing I want is to read from another computer screen so I have the simple Kobo Aura with anti-glare, e-ink touch technology which mimics the paper reading experience and minimizes eye strain even in sunlight (the U.S. equivalent would be the Kindle).
Portable Hard Drive(s)
Back up, dear reader. Back. Up. It took a couple heart attack-inducing scares for me to invest in portable hard drives to protect both my data and photos. Now that I've taken photography to a whole other level, they've become critical to my peace of mind. These days, they're remarkably small and lightweight. If, god forbid, my hotel floods or goes down in a blaze, my laptop goes on the fritz or my portable hard drive is stolen, I will never lose my photos (note: I keep my laptop and portable hard drive in two separate places). I use this G-Technology G-Drive and these two by LaCie (a solid brand): a Rugged and Rugged Mini.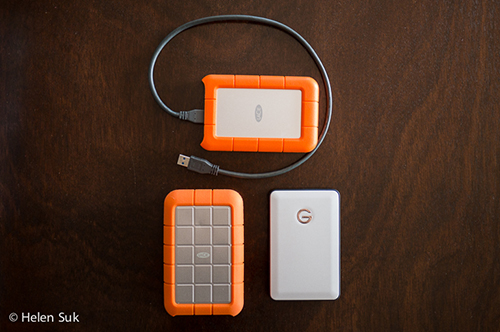 All have fast 3.0 USB speed and offer password protection, and the LaCie Rugged hard drives offer the added feature of shock, rain and pressure resistance.
(Click here for my post on my favourite photography gear and to find out more about my photo back-up process.)
Universal Adapter
If you've been anywhere outside your home country, you'll understand that a universal adapter is essential for converting power outlets. This one works in over 150 countries. Keep in mind, however, the adapter only changes the shape of the plug to fit the outlet — it does not convert the electricity. For that, you'll need an electrical converter or transformer for your device in addition to an adapter. Confused? This article explains.
Pin this post to Pinterest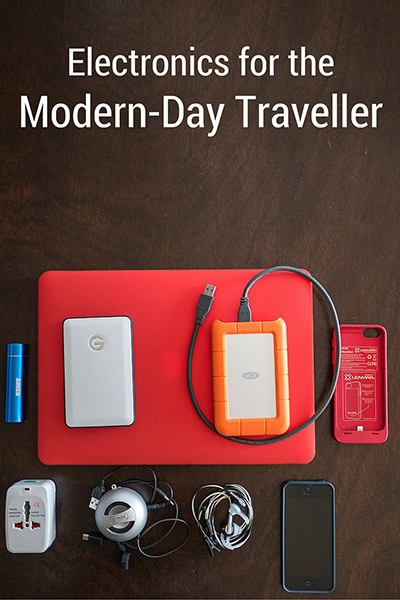 Do you have your own must-have travel electronics? Is there anything you would add to this list?
Disclosure: I make a small commission from Amazon if you make a purchase through the links on this page – at no cost to you. Thank you for your support!