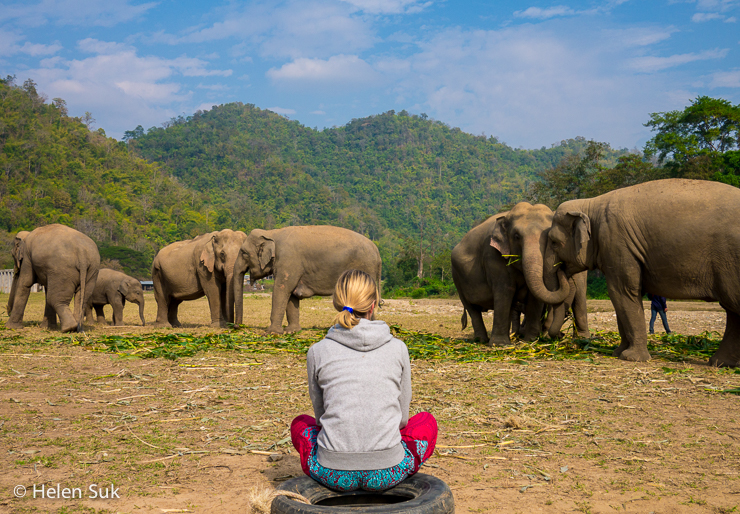 Spend enough time in Thailand, and you'll learn about the dark side of elephant tourism: chains, bullhooks, torture. But Elephant Nature Park, a popular rescue and rehabilitation centre for the country's national animal, offers an experience more ethical than — and arguably just as thrilling — as elephant riding and shows.
Before reading on, I urge you to read about the plight of the endangered Asian elephant in my previous post, The Ethics of Riding an Elephant in Thailand for important context — what you learn will likely deeply trouble you. Highly revered but abused with disturbing frequency, many elephants in Thailand live a tragic and contradictory existence. Despite their iconic cultural status, depth of emotion and complex social lives, they're often torn from their wild herds and forced to work long, gruelling hours for human thrill, carrying tourists on their delicate backs and painting pictures of daisies — both unnatural activities for elephants that are often tortured behind the scenes to comply.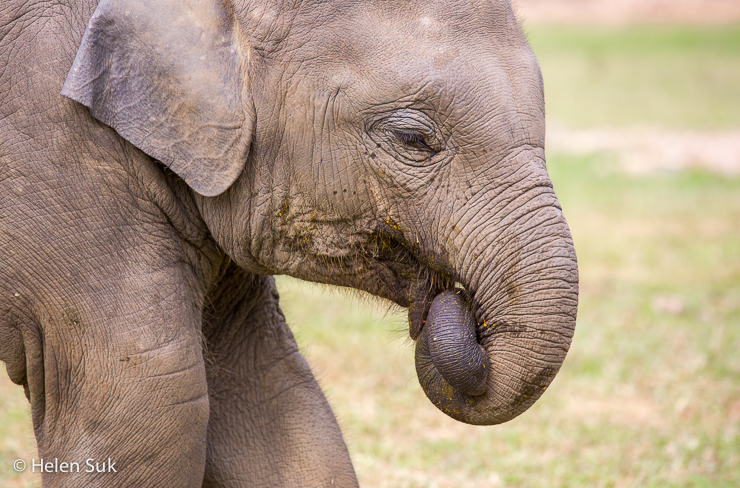 Knowing this, I wanted a more responsible and meaningful encounter with the grey giants during my three-month stay in the northern city of Chiang Mai, so I spent a day at Elephant Nature Park. Recognized as one of the few ethical elephant sanctuaries in Thailand, the rescue and rehabilitation centre is where visitors can get up close and personal with the pachyderms without riding on their backs or cheering them on as they perform inane tricks. To be honest, I had hoped to observe the park's elephants in a more natural setting, but my time there was still one of my most unforgettable days in Thailand.
About Elephant Nature Park
The park is a vast, peaceful area situated in Mae Taeng Valley, created to closely resemble the elephant's natural habitat where they roam in near freedom. They arrive from both Thailand and neighbouring Myanmar, rescued after years of abuse in tourism, circuses and the logging industry (banned in Thailand but still legal in Myanmar). Some are blind. Some suffer ongoing physical and mental disorders, despite escaping the cruelty.
Unfortunately, there isn't enough protected forest in the country where they can be released after rehabilitation so they live out the rest of their lives in the park where they're fed, bathed and able to reclaim some of their natural behaviours. The elephants are not forced to give rides or paint. There are no bullhooks, sharp metal devices often used in elephant camps to control the animals.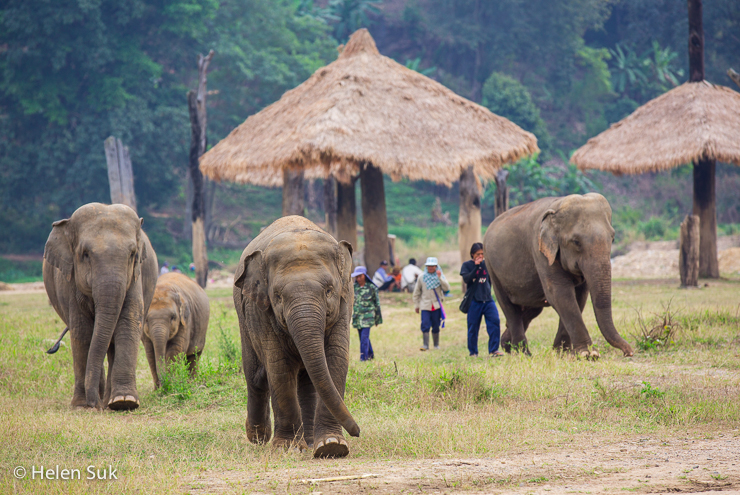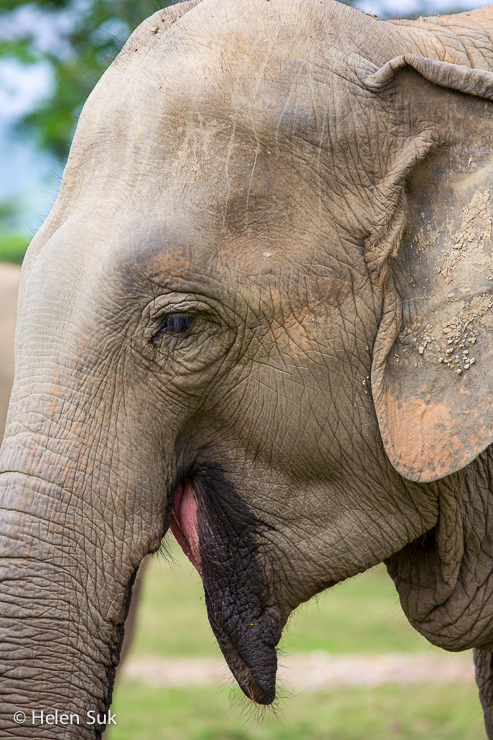 Poached from their families, the elephants at Elephant Nature Park are given a second chance: the opportunity to establish new social groups as they would in the wild. Adult females even become surrogate mothers and nannies to orphans.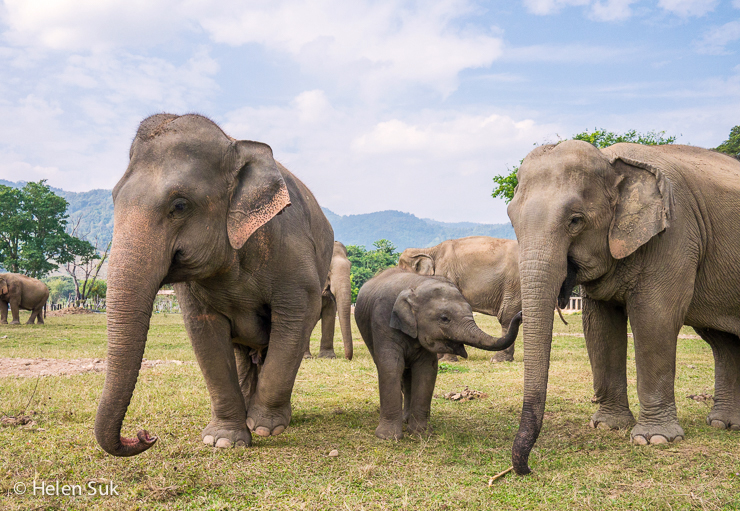 Affectionately known as the "Elephant Whisperer", the park's co-founder, Lek Chailert, is a tiny woman with a big heart who's devoted her life to saving and rehabilitating her beloved giants. She's also the founder of the Save Elephant Foundation, leading the movement to end the practice of elephant trekking and shows in the tourism industry. You may have heard of her: she's been honoured by Hillary Clinton, Time Magazine and the Humane Society of the United States for her tireless commitment to elephant conservation.
At Elephant Nature Park, Lek has built a wildly successful operation, proving that tourists will happily visit an elephant attraction even if they can't ride the elephants.
---
---
It takes 70 staff members and 250,000 USD/year to run Elephant Nature Park and care for the animals, a costly operation. This is where tourists come in: for a fee, visitors can spend a day or volunteer for up to a week at the park.
What to Expect
I opted for the single-day visit with friends (for their accounts, check out their posts here and here). The park's drivers picked us up from our apartments in Chiang Mai (we were living in the city but visitors can be picked up at their hotel) between 8:00-8:30am.
Search for hotels in Chiang Mai at Booking.com here.
During the 90-minute van ride, we were briefed by video on the park's do's and don'ts for our safety and for the well-being of the elephants. Among the rules: do not hold their trunks, stand in front of them or overcrowd them. They're huge, sensitive beasts and wild. Some are physically and psychologically scarred for life, so respect their space. Elephants that are too aggressive are kept away from visitors.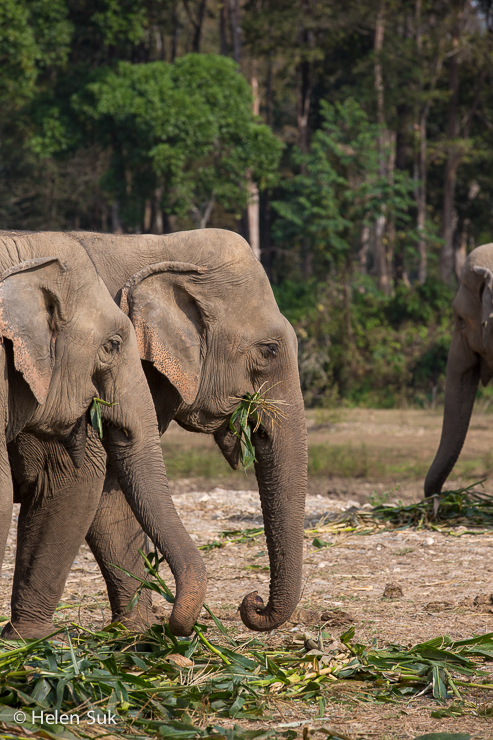 We were also shown a video about the sanctuary and the Asian elephant's dire situation.
On the day of our visit, there were 42 elephants, each with a distinct personality. 50-year-old Sooksai, the newest addition, had just arrived after a 1000-km truck ride.
Elephant Nature Park is also home to other rescued four-legged creatures so we encountered hundreds of cats and dogs, as well as a herd of water buffalo.
We spent our day with our guide, Koy, not just observing the elephants up close, but interacting with them. From a concrete viewing platform, we had the rare privilege of feeding them.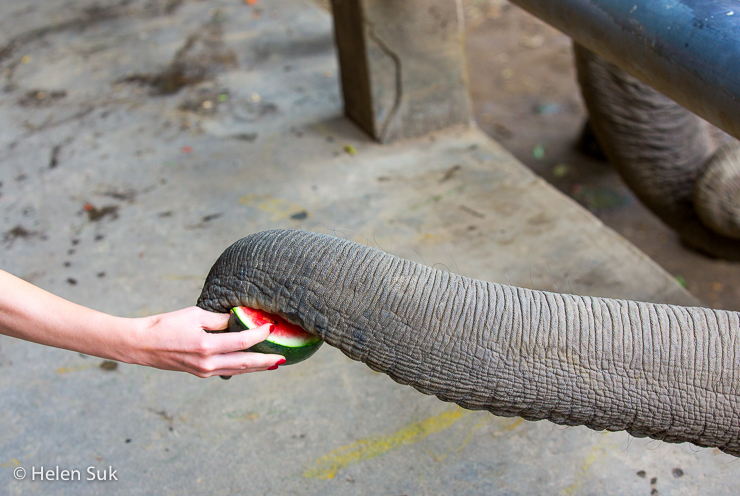 Like humans, they can be picky eaters — some made it clear they preferred one fruit over another, plucking a piece of pumpkin from my hand with its dexterous trunk only to immediately drop it and pick up watermelon instead.
We watched them feed with their herds and the youngsters clumsily play with one another. We caressed their prickly skin and soothed them, whispering words of affection and awe.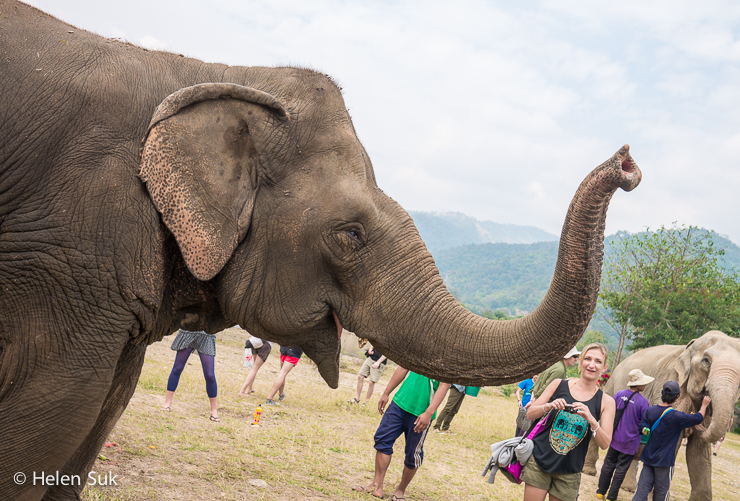 For many visitors, the most memorable and rewarding time comes during bath time. During the ritual, I watched my friends walk into the river shin-deep and help cool an elephant by splashing buckets of water on her as she fed on fruit.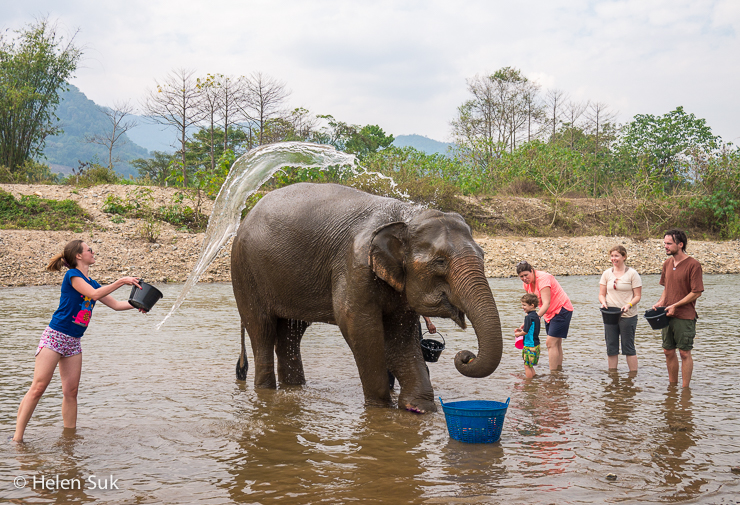 I missed out on the experience — by the time I had finished snapping my photos of the action for about 7 minutes, the elephant had decided it had enough and wandered out of the river. "Wait!" I wanted to cry out and race after her but, after a life of misery and abusive control in the tourism industry, why should she?
The one-day visit also included a vegetarian buffet lunch, coffee and snack breaks, as well as free time to spend as we pleased.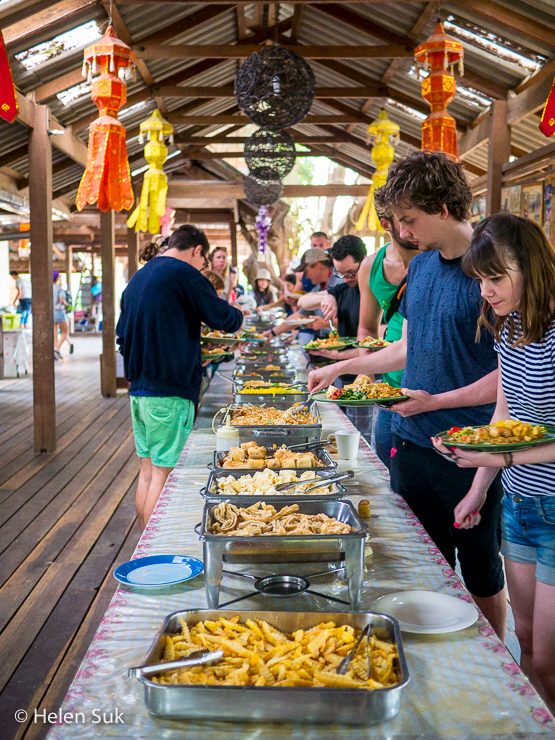 We were driven back to our apartments in Chiang Mai between 5:00-6:00pm.
Elephant Nature Park offers a unique glimpse into the world of elephants and I was thrilled to finally experience it. It teaches the value of conservation, a reminder that we share our earth with others. It instills deep respect and compassion not just for elephants but all non-human creatures that belong in the wild.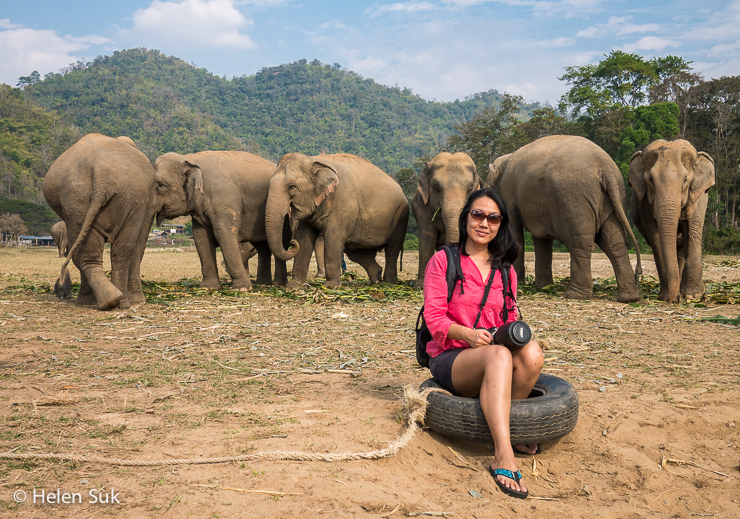 If you don't arrive at the park as an elephant lover, you'll surely leave as one.
Is Elephant Nature Park a True Sanctuary?
I'm not sure how to answer this. It's undeniably a commercial operation and, at times, it felt that way. Our group of about 10 was one of many at the park on the same day. There were a lot of people, possibly up to 100, which was disenchanting at times.
And Elephant Nature Park is intended to be a place where elephants can live out their lives as closely as they would in their natural environment, which made me wonder whether groups of tourists should be hand-feeding them, bathing them and surrounding them for photo opps (as fun as it was). During a recent exchange of Facebook messages with the park's staff, I asked whether it's healthy for a group of 6-10 visitors to be near an elephant. He replied, "the mahout knows where to place them [people] so that the elephant is not agitated."
And are the elephants truly free? Not exactly. They're still confined to the property and enclosed at night. I had also read the park sometimes uses chains. I asked a few more questions over Facebook and was informed chains are used on the elephants but only to administer medical treatment. At night, the elephants are kept in enclosures for their own safety; otherwise, they could destroy surrounding farm crops and face human retaliation.
Do I Recommend It?
Yes. It's no elephant utopia but, in Thailand, it's one of the closest places to it. It also proves an elephant tourist attraction can be wildly popular without resorting to grossly exploitative practices. There is nowhere in the wild to which the elephants can be safely relocated, so places like Elephant Nature Park (a fairly large area) are the alternative where tourism provides the substantial funds necessary to care for and protect them. Bullhooks are strictly forbidden, and the elephants are gently trained to obey basic human commands with positive reinforcement (the motivator: food), not force or the threat of force.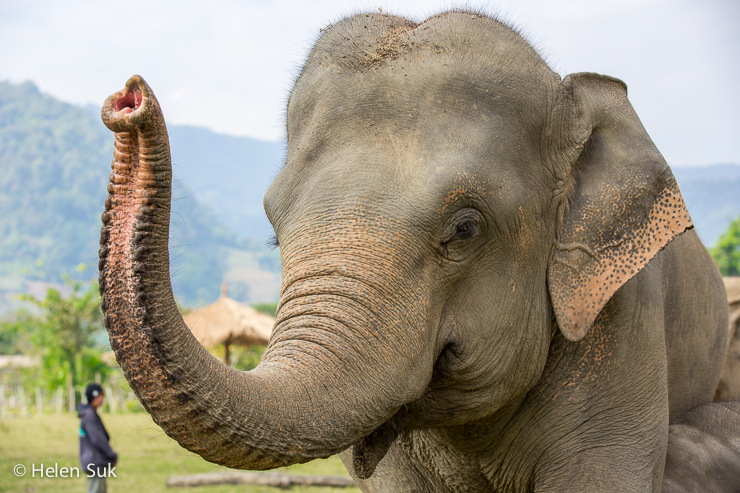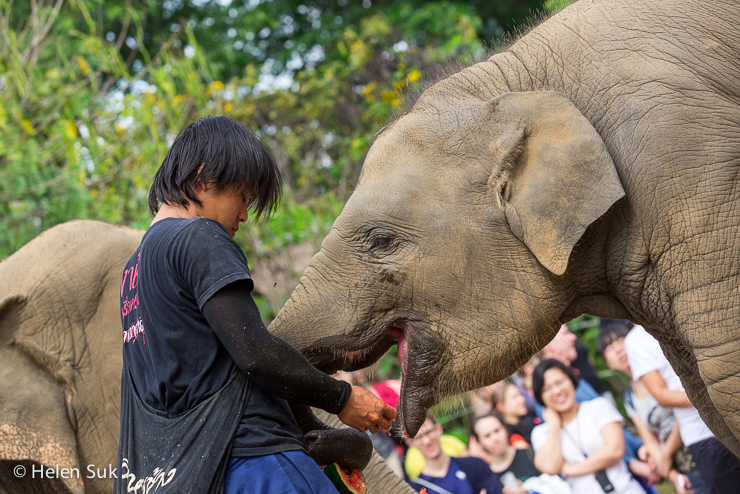 If I were to visit Thailand again, however, I'd book a stay at Boon Lott's Elephant Sanctuary in Sukhothai, another reputable elephant refuge in the country. It's comparable to Elephant Nature Park but with much fewer guests so I would expect the experience to be more intimate.
Tips for Your Visit
Visits to Elephant Nature Park can be booked online.

Reservations should be made well in advance as spots fill up quickly, especially during high season (Nov-Feb).

Wear shorts and pack a small towel (remember your feet will be submerged in the river during bath time), but respect local customs by leaving your string bikini at your hotel.
Don't forget sunscreen and a hat!
For more time with the animals, consider volunteering at the park for up to a week. Read this post by Amanda of A Dangerous Business to find out what to expect during your stay.
Choose Wisely and Responsibly
Sadly, places like Elephant Nature Park are rare. Animal cruelty in elephant tourism is alarmingly common not just in Thailand but across Asia. To see a shift to more ethical elephant attractions, we can demand them instead of mindless entertainment and the vacuous selfies that flood our social media feeds.
How?
Do your research (beyond TripAdvisor), and be wary of places that call themselves "sanctuaries" and "rescue centres".

Spend your tourist dollars at places that genuinely care about elephant conservation and protection.

Call out mahouts when you witness abuse at elephant trekking camps and shows.
Don't know where to start? See this page on the Elemotion Foundation website for a list of well-respected elephant attractions in Thailand (as well as Cambodia and Sri Lanka). 
Pin this post to Pinterest

If you've been to Elephant Nature Park, I'd like to read about your experience so please share it in the comments section below. And if you have recommendations for other ethical elephant attractions in the world, I'd love to know about them too.
Disclosure: This post includes an affiliate link that allows me to earn a modest commission from Booking.com if you click on it and make a hotel reservation in Chiang Mai (it's the only meagre way I monetize this blog). Thank you for your support!