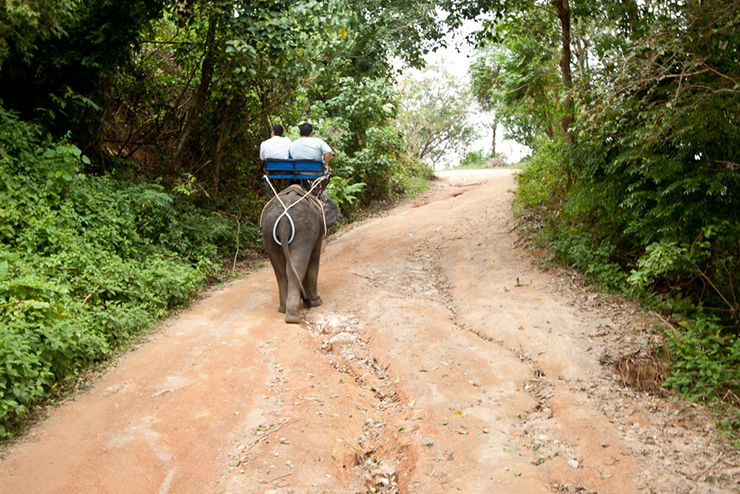 If only every visitor to Thailand with the bucket-list dream of riding an elephant knew the torture many of them endure to make that dream come true. Or to paint them a colourful picture. Or to give them that massage on the beach. It's the dark side of elephant tourism and, in Thailand, virtually inescapable.
After my travels through Africa, I've grown to love and respect the world's wildlife, elephants especially: their unique anatomy, their majestic stature, the depth of their emotional lives. They are magnificent creatures. I've had the privilege of encountering them in Kenya (Amboseli, the Maasai Mara and David Sheldrick Wildlife Trust), South Africa (Sabi Sands and Timbavati game reserves) and Uganda.
To observe them roam freely in their natural habitat as a guest in their kingdom has been one of my most powerful, humbling travel experiences.
The Plight of the Endangered Asian Elephant
It's hard to imagine elephants more endangered than African elephants, but their smaller cousins in Asia are. As a result of growing human settlements and logging activities, Asian elephants have lost 85% of their habitat, often leading to human-elephant conflict. Bulls in Asia are also poached for their tusks, although on a smaller scale than in Africa. It's estimated that the Asian elephant population has declined by at least 50% since 1900.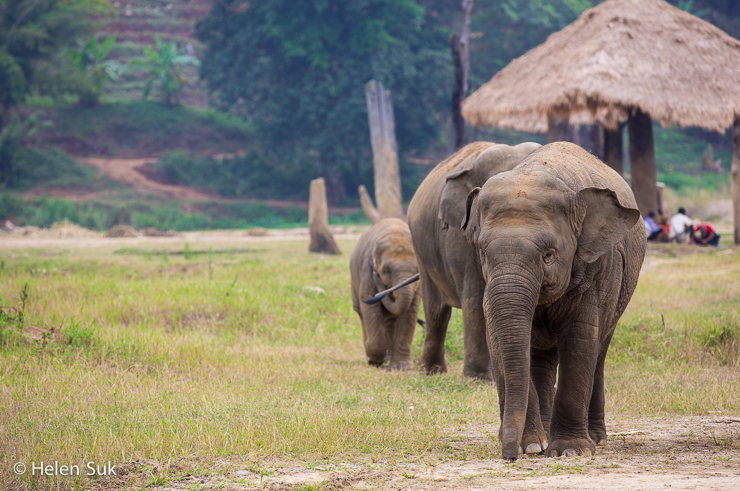 A cultural icon highly revered for centuries and the national symbol of Thailand, Asian elephants have served in warfare and transportation. They've also been instrumental in the logging industry until it was outlawed in 1989. Desperate to find new sources of income after the ban, elephant owners in the logging trade either sold their animals or put them to work in tourism.
We see pachyderms all over Thailand today, painting pretty pictures with their trunks (so talented!) and carrying tourists on their backs for the many elephant trekking camps in the country (a wild ride!). We squeal at the sight of adorable baby ellies on the streets, begging for money (awww, how can we say no?). Internationally, they're bouncing balls and doing headstands in circuses (wow!).
The Disturbing Reality of Elephant Tourism in Asia
Here is the disturbing reality: such practices, as benign as they appear to the eyes of the unsuspecting tourist, are often shockingly cruel. Elephants have been known to go mad or die under their miserable working conditions, sometimes from distress.
That's right, distress. These giants are extraordinarily intelligent with a brain three times the size of a human's — the largest among the world's land mammals. They share the rare ability with great apes and dolphins to recognize themselves in a mirror. They are emotional, empathetic and known to experience PTSD.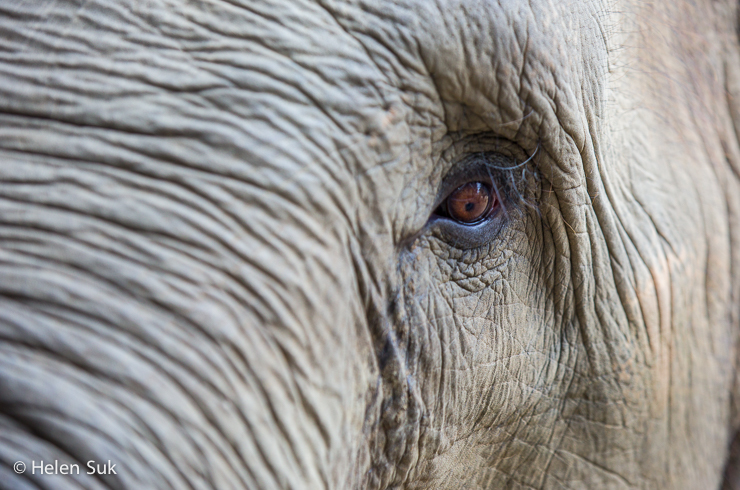 They live in highly developed and tightly knit social groups where births are celebrated and the deceased are mourned. Their bonds are exceptionally strong; to tear an elephant away from its herd is to inflict separation trauma on both the captured elephant and its family.
---
Elephants never leave a member of their herd behind. Led by a matriarch, elephant herds lead complex and social lives—and show immense affinity. When elephants who knew each other as young encounter one another years later, they will recognize each other and touch trunks as a greeting.
---
One misconception is that elephants in captivity are "domesticated", a highly dubious claim. Last February in Koh Samui, a male elephant turned on its mahout (handler), threw off a tourist from its back, then trampled and gored him to death with its tusk in front of his daughter. This is not the first of such incidents to occur. 
You may ask: but elephants can be trained by humans — doesn't that make them domesticated? Asian elephants are wild but can be tamed, not domesticated; this is an important distinction. In Thailand, many are broken in by phajaan, a well-known, longstanding form of torture to crush their spirit into submission. During his investigations in neighbouring Myanmar, photojournalist Brent Lewin visually documented the cruelty by capturing this award-winning image in 2011.
Baby elephants are the most profitable and therefore most vulnerable to this brutal ritual. If not born in captivity, they're illegally poached from the forests of Thailand or Myanmar (where logging is still legal). Family members that attempt to save their young are met with death. The baby elephants are then forced into a small wooden crate with their legs tied, and stabbed with sharp objects like a bullhook in highly sensitive areas like the ears, trunk and feet (bullhooks are also commonly used in circuses around the world, including North America).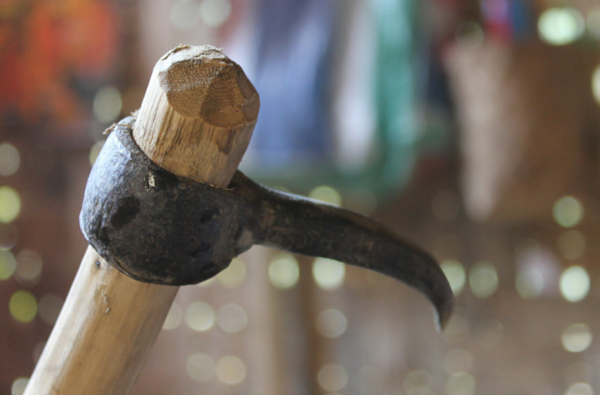 A bullhook. Photo credit: Diana Edelman of D Travels 'Round.
They're beaten until bloody, dehydrated and starved. In the wild, they're taught valuable social skills by their matriarchs. But after days of isolation and phajaan, their family bonds are extinguished and the mahouts, the elephants' "saviours" who finally release them from the enclosure to feed and hydrate them, gain full psychological control. That is, if the little ones survive the process.
Warning: this video contains disturbing footage.
The torture doesn't end here though. Once elephants are able to turn a profit for their mahouts, they're often chained, deprived of food, water, veterinary care and the social contact so integral to their well-being, and forced to work long hours in summer temperatures peaking to 104ºF (40°C). To put this in perspective, elephants are the world's largest land mammals. In just one day, in the wild, they drink up to 50 gallons (189 litres) of water and spend 16-18 hours just feeding, consuming 200-600 lbs (91-272 kg) of food (source: The National Elephant Center). The cost of meeting their dietary requirements alone is enormous. How many mahouts would you guess can afford that?
Elephant abuse made headlines last April when a Change.org petition was circulated after Sambo, a female elephant in Cambodia, died of a heart attack while ferrying tourists on her back in extreme heat at Angkor Wat. These incidents are not uncommon.
Is Riding an Elephant Ethical?
It may satisfy our craving for adventure and feed our egos (who doesn't want to feel like royalty for a day?) but, unbenownst to many travellers, elephant riding itself is often harmful. Despite their gigantic size, these beasts are not bred to be ridden like some horses, and their backs are surprisingly delicate. Carrying people on them can lead to permanent spinal injuries and deformities. The friction from the heavy iron or wooden benches strapped on their backs weigh up to 200 lbs, causing blisters and infections. The unnatural terrain of hard, sizzling pavement burns their feet. Many elephants in Southeast Asia are forced to give rides under these gruelling circumstances for up to 12 hours a day.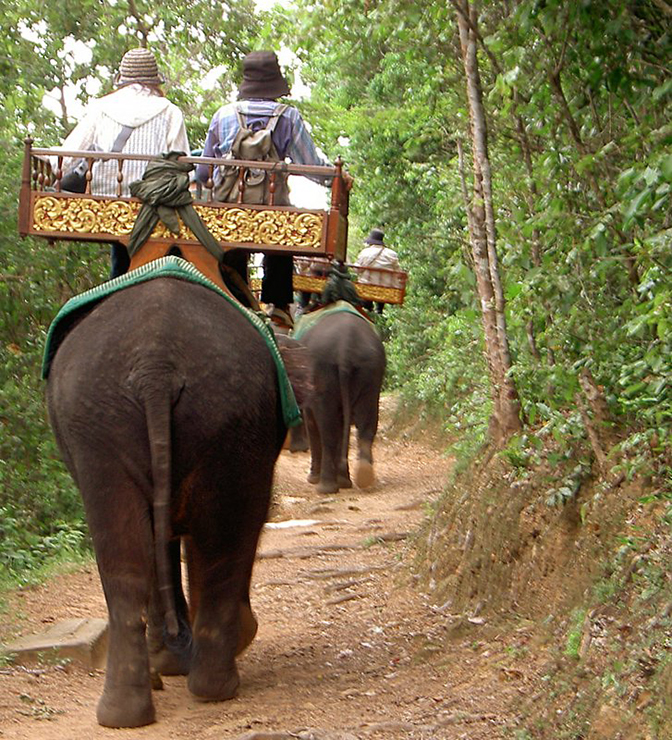 Photo credit: Terisa Folaron, Flickr Creative Commons (CC by 2.0).
Is elephant riding ever ethical? One person sitting on the bare neck of the elephant is less harmful or (depending on who you ask) not harmful at all. In the ongoing debate, a common claim is that brute force is required to make an elephant carry humans, while a minority asserts that a kind, respectful mahout can train it to do so with gentle, positive reinforcement.
Some experts also maintain elephant torture is not as common as animal rights activists claim and that an outright ban on elephant trekking is misguided. Given the Asian elephant's dramatically shrinking habitat and threat of poaching, they argue, human populations must find realistic ways to not just co-exist with them but protect them in a way that is viable for the local economy as many mahouts live in poverty and have families to feed. The tourism industry, it is believed, can provide the financial means to achieve those goals. 
Some also contend that the use of bullhooks can amount to abuse but the mere sight of the tool should not cause alarm, pointing out that some mahouts carry them only for safety and emergencies. 
After evaluating both sides of the debate, I asked myself: would I ride an elephant on its bare neck?
No.
It may be the less harmful (or harmless) alternative to riding on its back, but I think we can all agree it is unnatural behaviour and inherently dangerous to ride a massive, wild, potentially deadly animal, as we've learned from the past deaths of both mahouts and tourists after being attacked by working elephants that snapped. What do you think would happen if you tried to climb onto the back of an elephant in the wild?
Riding elephants is not a necessary activity for their conservation. There are more ethical ways for tourists to get their elephant fix like a day at Elephant Nature Park, an elephant rescue and rehabilitation centre in Chiang Mai that allows those in the elephant tourism business to earn a living.
How Elephant Abuse is Hidden
But the elephants look like they enjoy it, right? They don't appear to be overworked and the mahouts promise you they're well-treated. Unless we're animal experts, how can we as average tourists know what an elephant is feeling simply by looking at it? There are telltale signs of suffering like visible scars, infections and behaviours like swaying side to side (a sign of distress), but the dark side of elephant tourism is, of course, typically hidden from view. Many elephant trekking camps in Thailand operate under the guise of sanctuaries and rescue centres when in fact they are not (the practice of "greenwashing" is widespread), and it's well known that some mahouts hide a knife or nail in one hand to stab the elephant's trunk to control its behaviour, unbeknownst to onlookers who are too delighted by the tricks it's performing to notice what's really going on.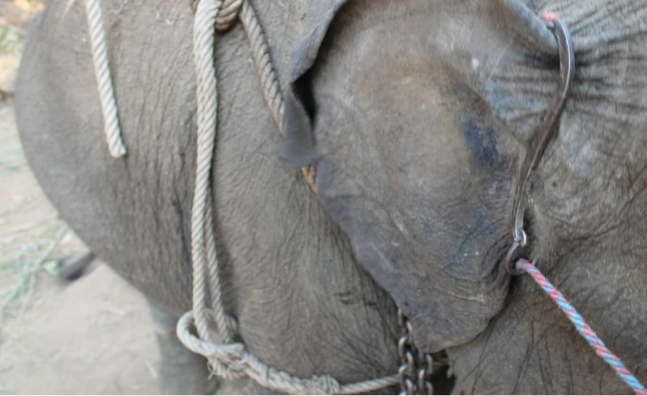 A metal hook roped behind the elephant's ear. Photo credit: Diana Edelman of D Travels 'Round.
Don't be fooled: this happens to elephants that give people massages on the beach and paint pictures too. Diana Edelman observed during her years working in responsible elephant tourism how these elephant "artists" were among the most tortured she had witnessed.
And those baby elephants begging on the streets? The practice is now banned in Bangkok and Chiang Mai but that doesn't stop some mahouts from engaging in it illegally. These calves are socially isolated at a time when they need their herd the most, and forced into an urban environment where they suffer respiratory problems from the pollution, impaired vision or blindness from the bright lights, and collide with vehicles. In the wild, elephants are believed to use their feet to detect vibrations of other elephants in the distance so imagine the intense confusion and sensory overload they must feel in the chaos of high-traffic streets on a daily basis. It is a miserable existence that, at worst, leads to death.
No matter which acts, however cute, elephants perform for the amusement of tourists, most Asian elephant experts agree it is highly likely they do so in response to violence — the bullhook — or the fear of violence. 
---
The only way a human being (approx. 1/60 the weight of an elephant) can rank above an adult elephant is either through fear, learned helplessness, or in rare cases through respect based on companionship and trust… Instruments such as bullhooks are successful in "correcting" or "guiding" an elephant only because the animals have learned to be fearful of the consequences of not following instructions. The fearfulness is based on the experience of pain being inflicted.
---
It's too difficult to know with certainty the extent of a tour operator's mistreatment of their elephants, but Thailand is a country notorious for animal cruelty (also be wary of tiger temples). I would advise extreme skepticism.
It's Up to Us
Elephant abuse is shockingly common not just in Thailand but across Southeast Asia, India and Sri Lanka, and it will be as long as we fuel the demand for elephant trekking and entertainment in the name of selfies and thrills.
There are more ethical alternatives in Thailand like Elephant Nature Park and Boon Lott's Elephant Sanctuary where the animals are rescued and given the opportunity to reclaim some of their natural behaviours.
Visitors can interact with them in meaningful ways by feeding, bathing and walking with them — without supporting their gross exploitation. Unfortunately, such places are rare. Read this post for a full account of my experience at Elephant Nature Park.
The good news is the travel and hospitality industries are starting to evolve. A growing number of tour operators — Intrepid Travel and STA Travel, among others — have refused to support unethical practices by removing elephant trekking and shows from their travel itineraries. Last year, the resort Nikki Beach Phuket faced a social media backlash after parading a baby elephant with drunken revellers at a raucous pool party, prompting an announcement that they will no longer rent elephants as props for a good time.
We're seeing a growing awareness of the dangers of, and widespread cruelty in, elephant trekking and shows in Thailand but there's still a long way to go. As long as elephant tourism continues to thrive in a country where animal exploitation is largely unchecked, so too will the abuse. The power lies within us to create the demand for more humane elephant experiences.
Will you join this effort?
Additional Resources
The Human Cost of Elephant Tourism — A recent article in The Atlantic that explores both sides of the elephant tourism debate.
Elemotion Foundation — This nonprofit's mission is to protect and improve the lives of endangered Asian elephants. This page explains what to look for when searching for an ethical elephant experience, and this page provides a list of reputable elephant-focused attractions in Asia.
Asian Elephants in Peril — An episode of Earth Focus about the dangers faced by Asian elephants in Indonesia and Thailand.
The Crush: "Crushing" of an Elephant's Spirit — In addition to reading the article, I highly recommend watching the short film at the bottom of the page.
Pin this to Pinterest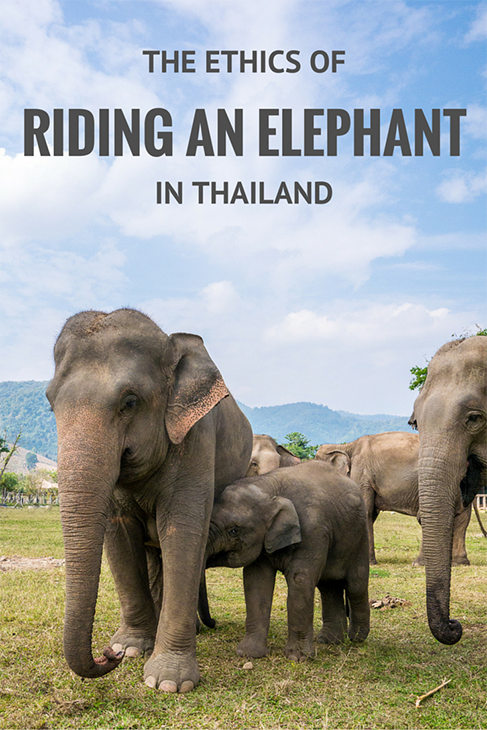 I'd love your feedback. Would you ride an elephant in Thailand or elsewhere in Asia? Were you aware of elephant abuse in tourism? If not, how would it influence your decision to ride one, if at all, now that you are?
Featured photo credit: Kevin Tao, Flickr Creative Commons (CC by-ND 2.0).