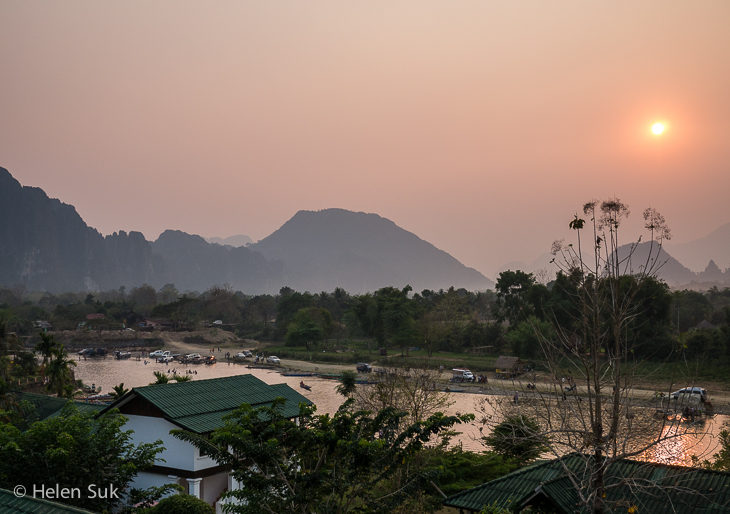 For decades, Laos has lived in the shadows of Thailand and Vietnam. Since opening its doors to visitors in 1989, it's emerged as a worthy travel destination in its own right, yet still doesn't see the buzzing throngs of visitors as its neighbours do. Those who do venture here, however, are rewarded with the simple, laid-back charm for which Laos is known.
History of Laos
The history of this now communist nation is both tumultuous and tragic. The Lao people today are among the poorest in Southeast Asia, having seen Japanese occupation, French colonization, three decades of conflict and, during the Vietnam War, a barrage of U.S. bombs on their soil (almost as many as the total dropped by all countries during World War II). Yet, they're also considered to be some of the warmest and most genuine people on the continent.
What has become of this once isolated backwater? I wanted to find out, so I travelled to Laos last month from Chiang Mai not only to renew my Thai visa, but to explore this country so often overlooked by travellers to Southeast Asia.
Vientiane
Vientiane, the largest city (and location of the Thai embassy), was my first stop and, apart from the food scene, uneventful.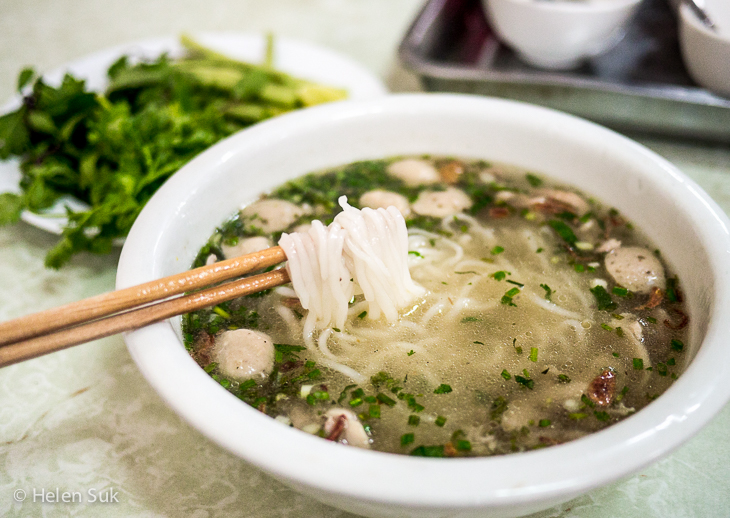 The twisting, pot-holed roads in Laos, on the other hand, make for an interesting adventure (or unbearable, depending on your stomach). One of my bus journeys was the worst I've endured — ever. It was seven gruelling hours of non-existent air conditioning in 35°C heat on an old, shoddy vehicle with long cracks in the windshield and windows that, of course, didn't open (I'm from Canada, remember). In one way, I was lucky on this particular journey (not on my first Lao bus ride, however) — no one vomited. Take this as a warning: the "VIP" buses here are sometimes nothing like the name implies and will test your limits. The Lao bus system is among the most abysmal, if not the most abysmal, in Southeast Asia.
But things started to look up when I arrived in Vang Vieng and Luang Prabang.
Search for hotels in Vientiane at Booking.com here.
Vang Vieng
After a bumpy, four-hour bus ride from Vientiane on a winding route through mountains (this ride was actually tolerable, but not for one poor passenger who ended up spewing her last meal into a bag), I arrived in the sleepy town of Vang Vieng.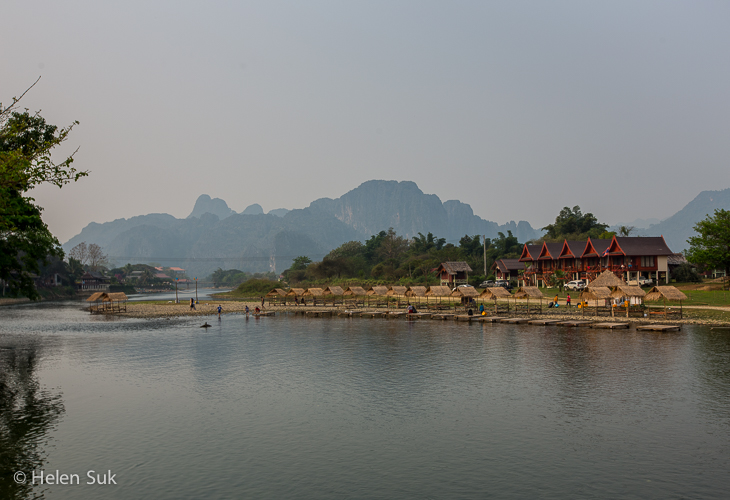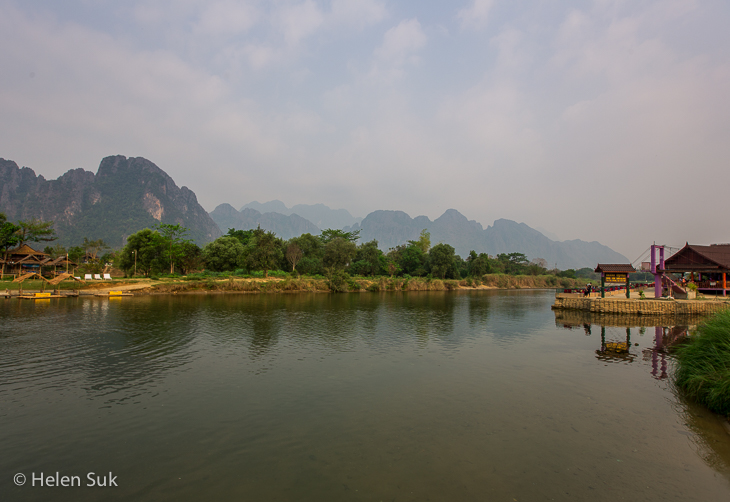 Once party central for young backpackers who would tube down Nam Song River while indulging in opium, magic mushrooms, and buckets filled with lao-lao whiskey and potent cocktails at riverside bars along the way, Vang Vieng has, to some extent, reclaimed its tranquil vibe. Alarmed by the number of alcohol-related injuries and deaths in and around the water, measures have been taken in recent years to transform the town's reputation for drunk hedonism to one of outdoor adventure. Now, visitors come for hiking, caving and kayaking. As for tubing, rules have been implemented to deter drinking before floating down the river.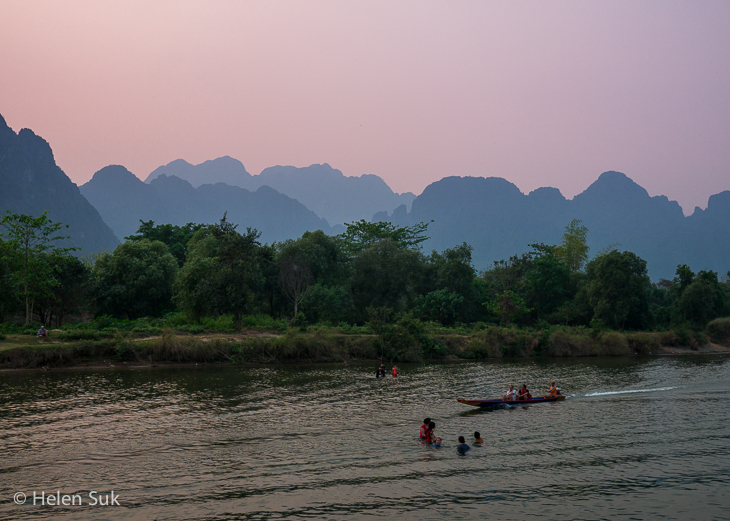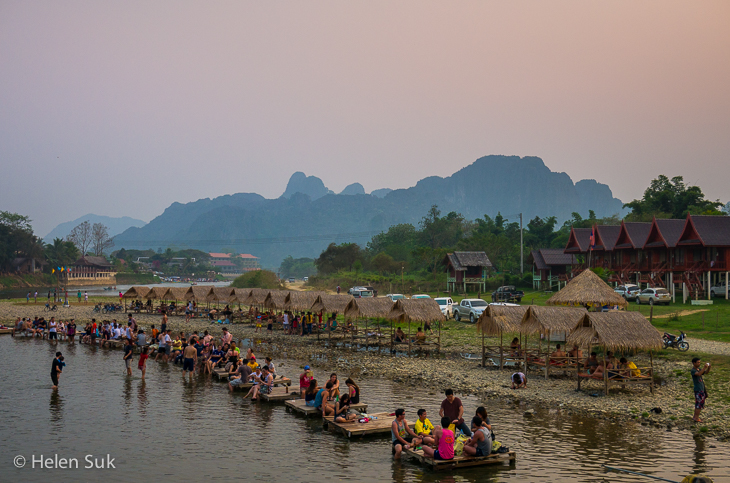 With towering limestone cliffs, Vang Vieng has become a hotspot for rock climbers too.
Add the river, lush rice fields and picturesque mountains, and this town offers one of the most pristine, scenic landscapes in Laos.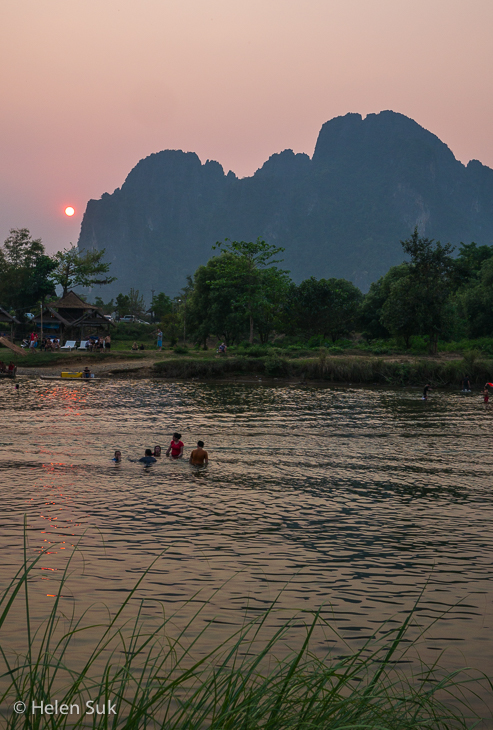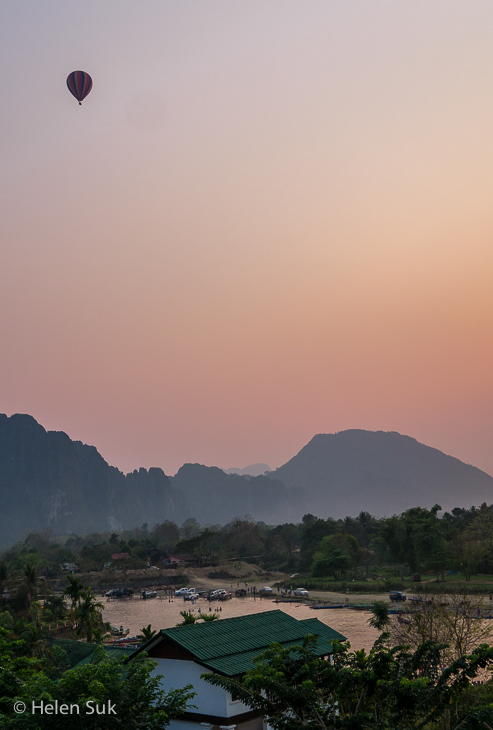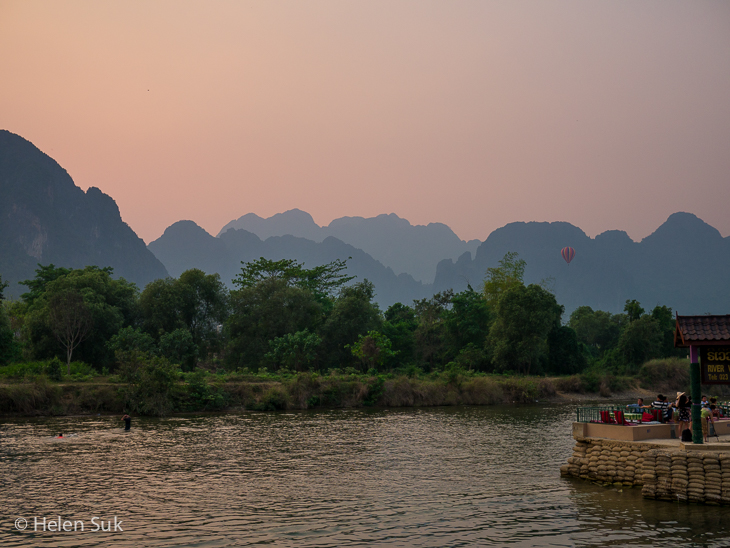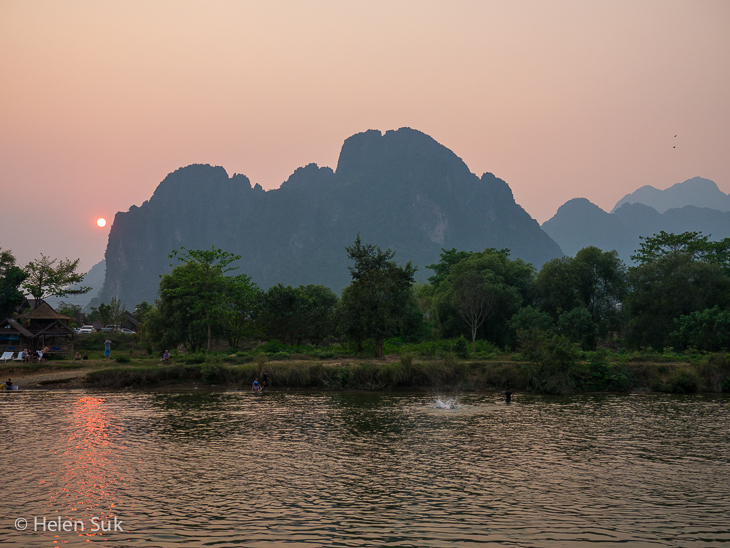 Vang Vieng is also a convenient pit stop to break up the long overland journey from Vientiane to Luang Prabang.
Search for hotels in Vang Vieng at Booking.com here.
Luang Prabang
Laos' quieter, second largest city is the well-preserved, cultural heart of the north. Designated a UNESCO World Heritage Site in 1995 largely for its architecture — a rich blend of traditional Lao wooden houses and French colonial buildings — Luang Prabang would be the city I'd visit if I could squeeze only one place in Laos into my itinerary.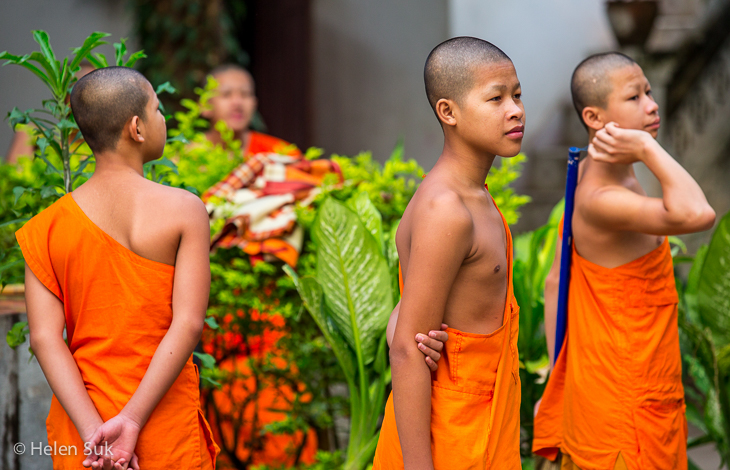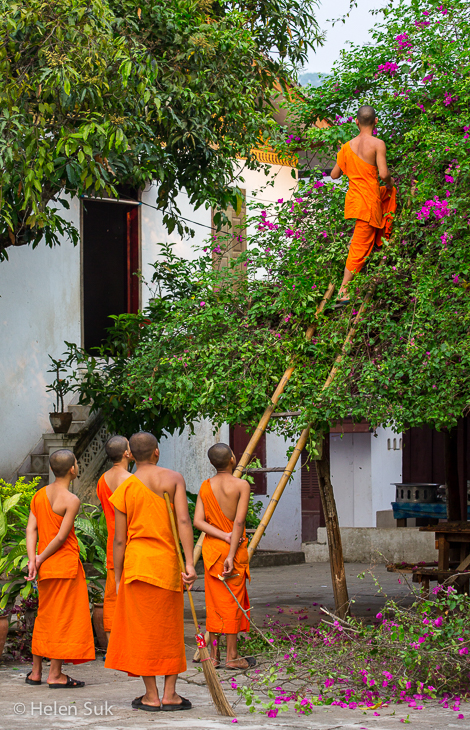 Situated on the Mekong and Nam Khan Rivers, it would be remiss to skip a slow boat ride on the Mekong at sunset. As the tangerine sun lazily disappears behind the mountains, it's a peaceful experience to float along the body of water that is a lifeline to Southeast Asia.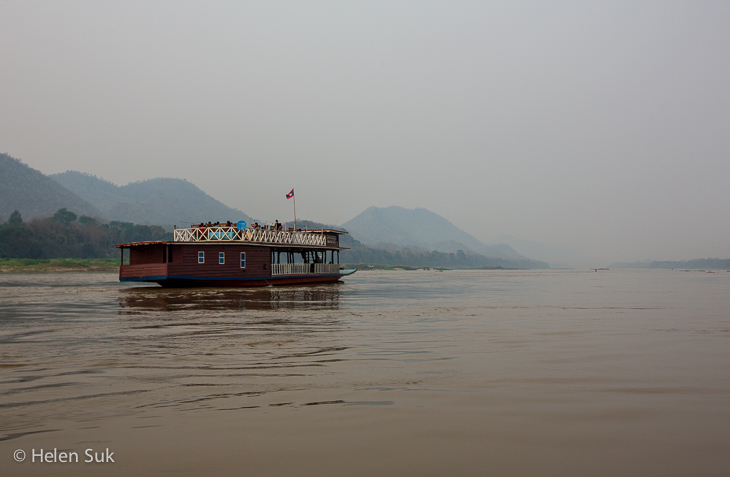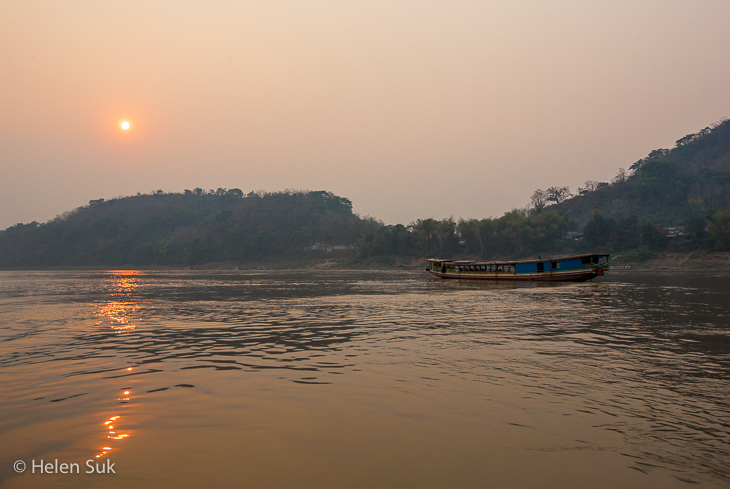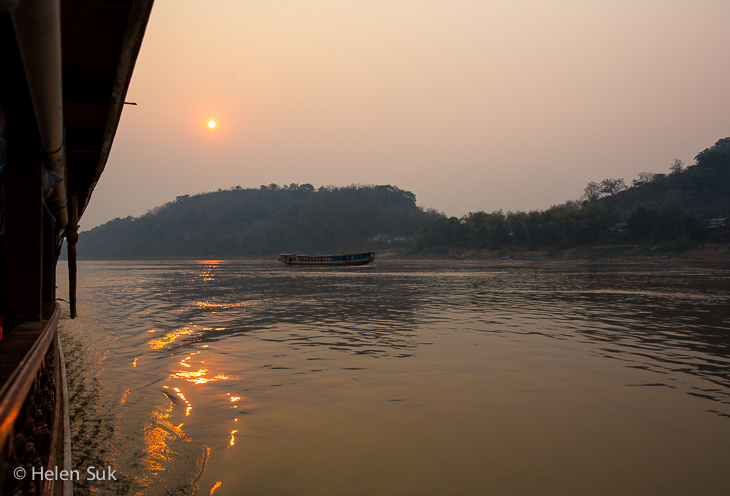 While on land, I didn't stray far from the Mekong. Meals at the riverside provided a serene view of the boats floating by.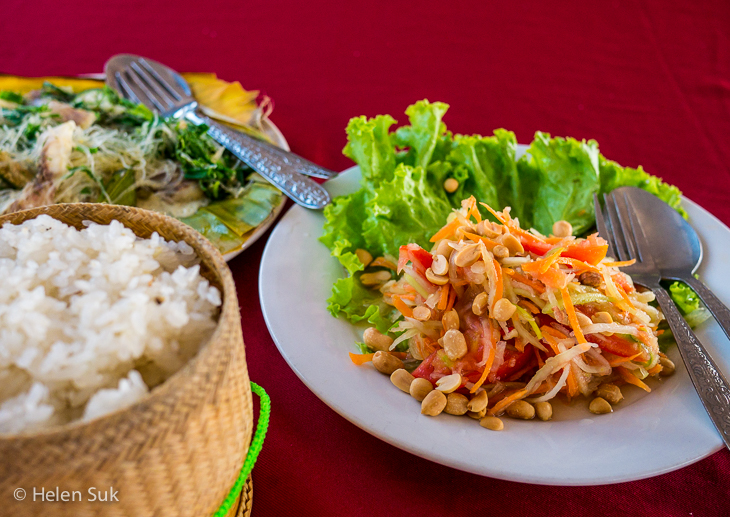 The city is also filled with the aroma of coffee and freshly baked baguettes from the quaint French cafes and restaurants that line streets.
Of course, I spent a few hours discovering the Buddhist temples too. Wat Xieng Thong (or Vat Xieng Toung) is the most significant and most beautiful of them all. Highly ornate with sparkling golds, reds and greens, the details of this monastery are splendid.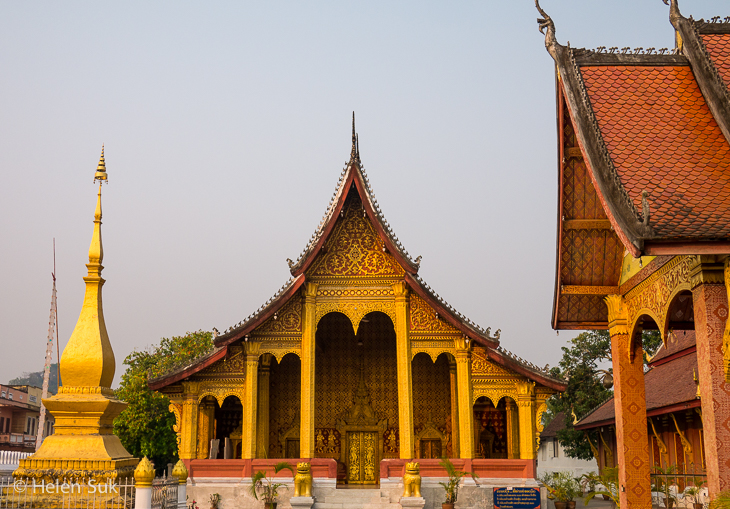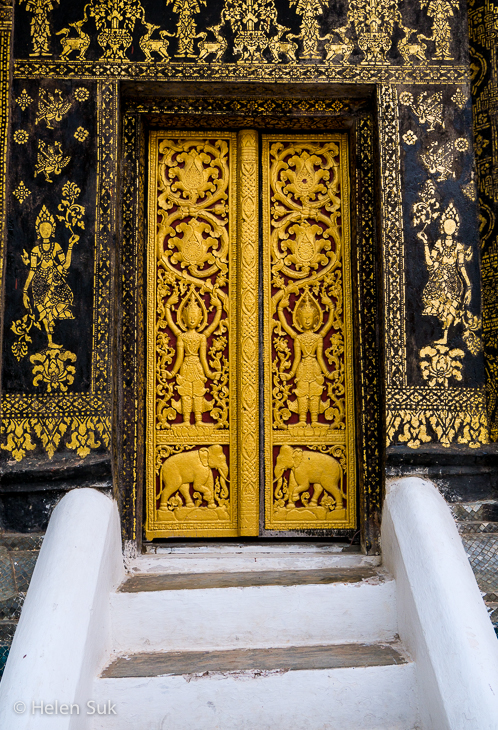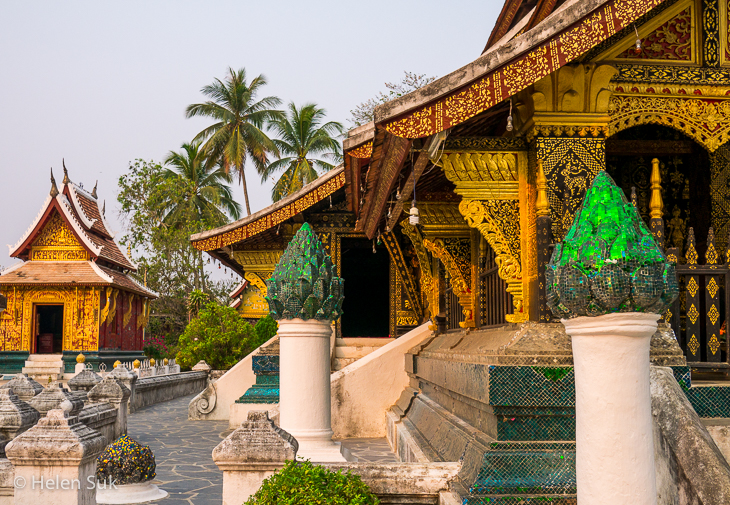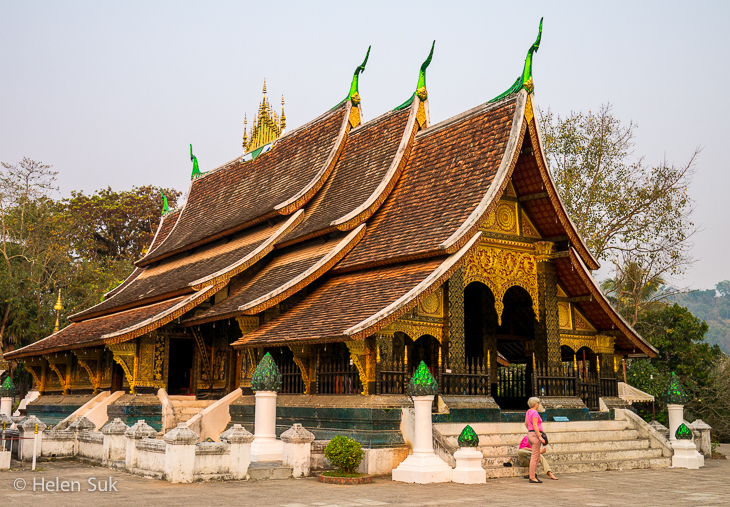 In the evenings, I biked to the night market (many guest houses conveniently offer bicycles for guests' use), where I picked up a few small crafts as I bounced from one colourful stall to another.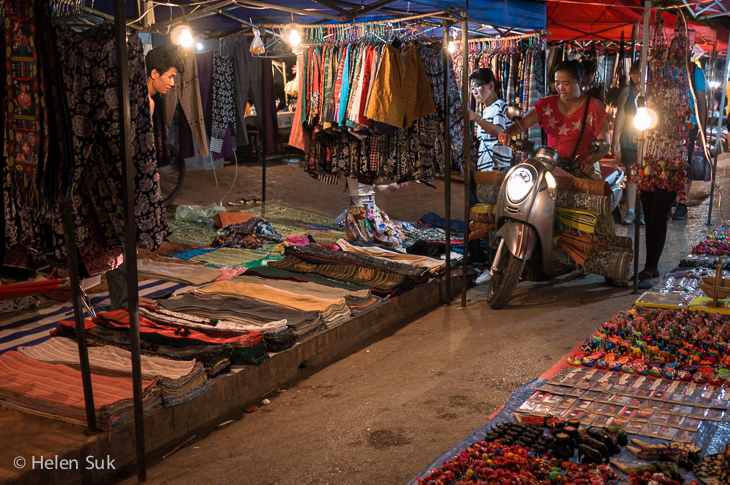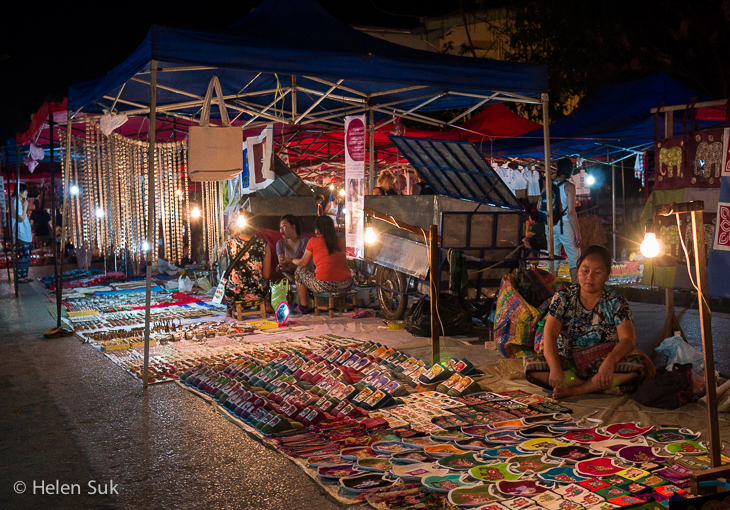 I couldn't stay up too late though if I wanted to awake the next day at the crack of dawn. Anyone who personally knows me is well aware that I am not a morning person, but the sacred Lao ritual of tak bat was worth waking up at 5:30am for.
Every morning at 6:00am, hundreds of saffron-robed monks emerge from the temples in single file and pour onto the streets to collect alms of rice and fruit from both locals and tourists. The atmosphere is hypnotizing. They walk in meditation and receive their gifts in silence. The purpose of this centuries-old ceremony: to feed the monastic community and provide spiritual redemption to alms givers.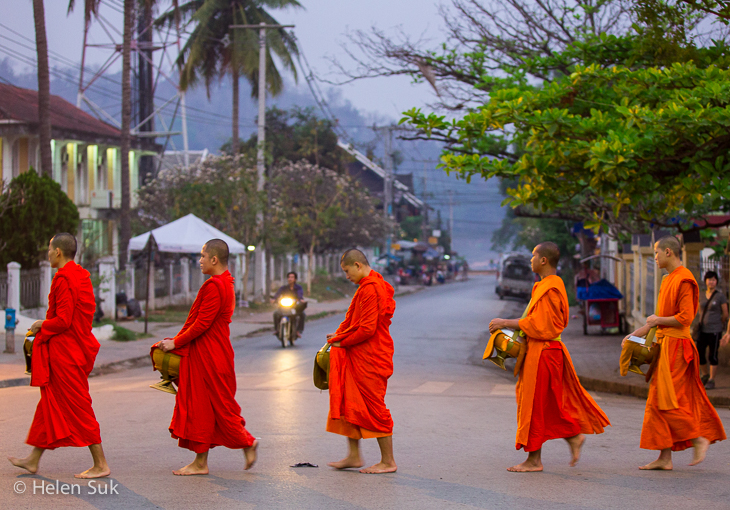 It's the enduring, iconic image of Laos and the city's main attraction — but it's brought challenges to the community too. Disrespectful tourists snap flash photos in the faces of the monks, disrupting the ceremony. Some unwittingly purchase spoiled rice from street vendors seeking to cash in on the ancient tradition, causing illness among the monks (rice should be purchased from the market instead). My guess though is that the countless unwashed hands dishing out lumps of sticky rice add to the problem. Women bare their shoulders and cleavage as they give alms when they're expected to dress modestly as they would when entering a temple. To counteract the problem, the Luang Prabang tourism website offers these guidelines (also displayed across town) to educate visitors on how to preserve the dignity of tak bat.
Thankfully, I have a telephoto lens, although I still didn't capture the images I was hoping for. But I take comfort in knowing I respected the sanctity of the ritual.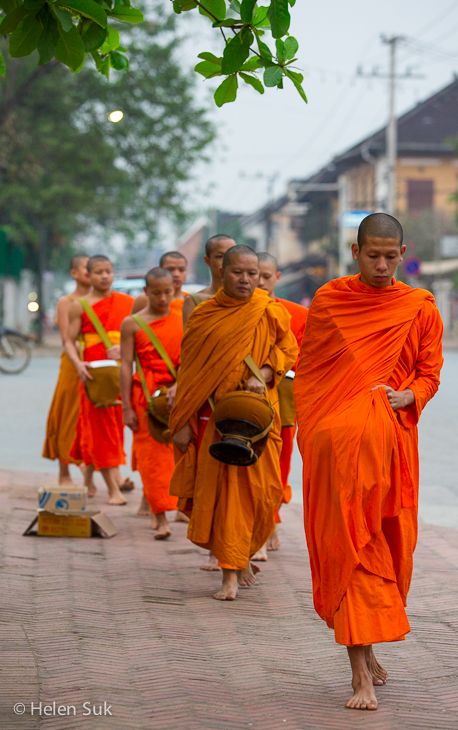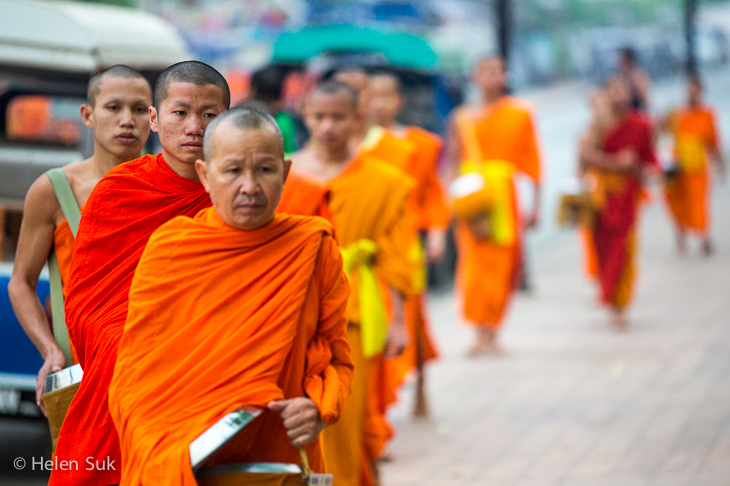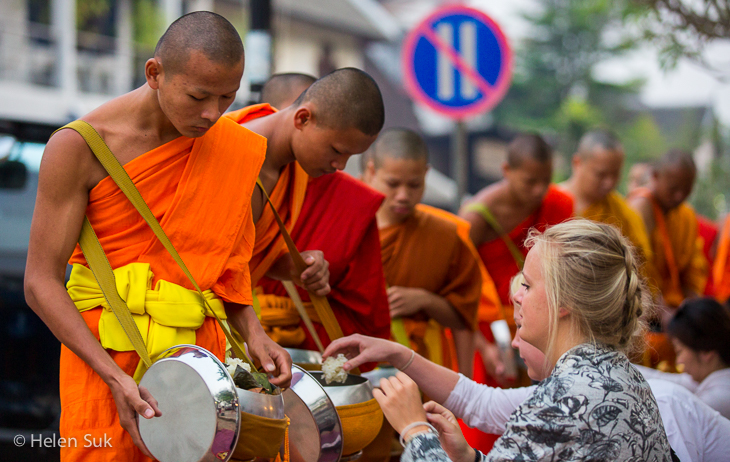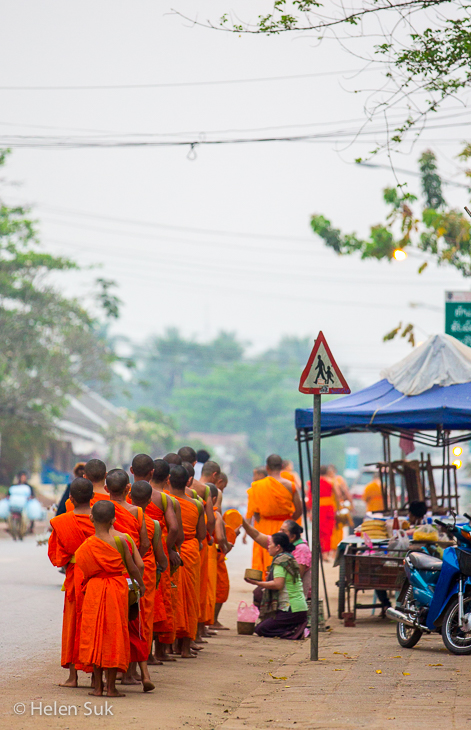 Search for hotels in Luang Prabang at Booking.com here.
Will Laos eventually lose its magic and become another Southeast Asian country contaminated by mass tourism? I hope not. But, in case it does, now would be the time to visit. Just fly or even take a cramped minivan instead of ride those dreaded buses.
Pin this post to Pinterest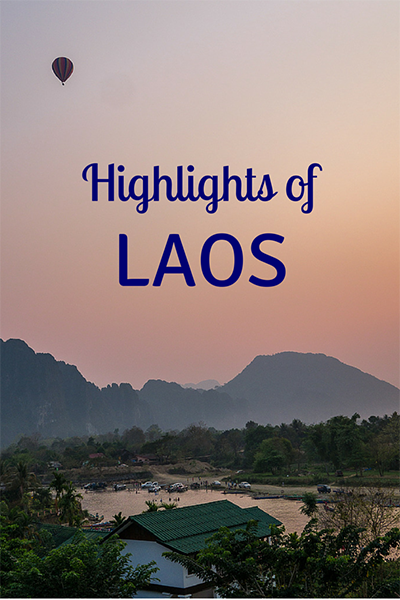 Disclosure: This post includes affiliate links that allow me to earn a modest commission from Booking.com if you click on them and make a hotel reservation (it's the only meagre way I monetize this blog). Thank you for your support!