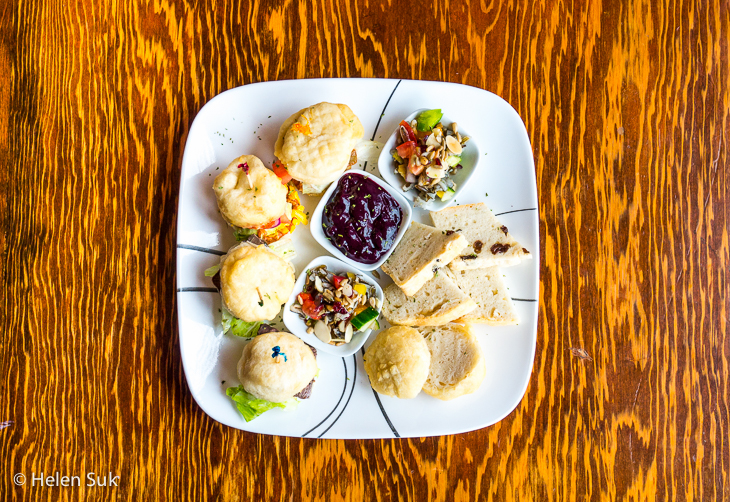 Something's happening in this city's food scene that's more Canadian than BeaverTails, even more than poutine. Indigenous restaurants in Toronto are rightfully staking their claim in the culinary landscape, led by First Nations restaurateurs determined to decolonize their food and share it with not just their own, but anyone with the desire to delve more deeply into the history, culture and flavours of Canada.
In collaboration with Expedia.ca, I've put together a list of restaurants where you can sample this once underrepresented cuisine throughout the entire city of Toronto.
Tea N Bannock
It all began here in the east end when Tea N Bannock opened its doors five years ago as the first Indigenous restaurant in Toronto.
It's also a museum. Inside, birch tree branches hang from the ceiling. Fur, antlers and First Nations artwork adorn the walls, as well as a pint-sized, fringed ceremonial dress once worn by the restaurant's Cree manager, Tina Ottereyes.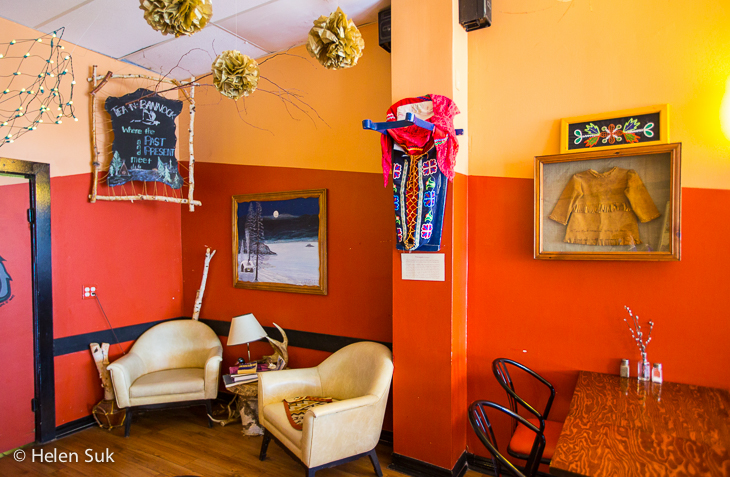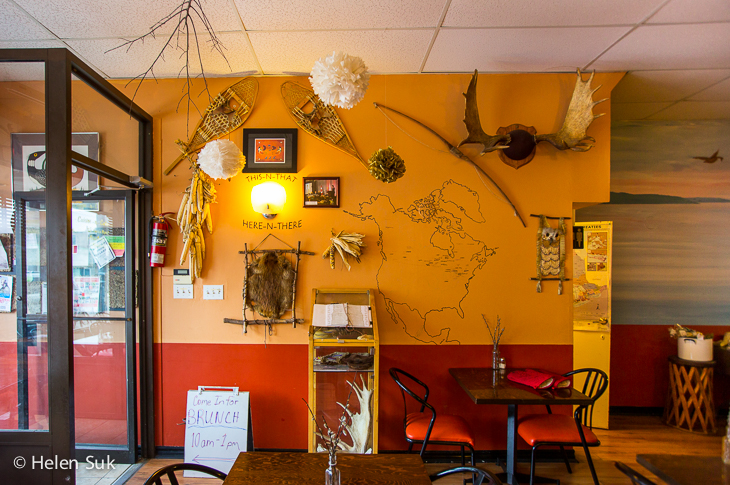 Off to the side, a table displays traditional ingredients like popcorn and wild rice (a grass with more nutritional value than brown rice).
Even if the staff aren't related to one another, there's a warm, family atmosphere here, complete with soothing Indigenous flute music.
Tea N Bannock's rustic and cozy setting sets the stage for what's to come, although reading the menu may leave some scratching their heads and asking what Klik, a canned luncheon meat similar to spam, has to do with the traditional foods of the First Peoples of Canada. The restaurant offers pre-contact foods from different nations such as game meats and berries but, some would argue, this is a narrow interpretation of Indigenous cuisine. More than half of the restaurant's customers are Indigenous and many of them dine at Tea N Bannock for a taste of home, including post-contact comfort foods they grew up eating on the reserves such as fry bread, the fried version of bannock (Indigenous flat bread) that became a common staple. Created out of systematic displacement and the forced abandonment of their traditional diets during the colonial era, the First Peoples had no choice but to make do with government-issued food rations that consisted of cheap ingredients such as flour, sugar and lard. Industrial canned meat and other processed foods were adopted later. They're unhealthy and bear the markers of a cruel, painful history, so it's no surprise some in the Indigenous community would like to see them removed from their food vocabulary and kitchens.
They would be pleased to know though Tea N Bannock's most requested dishes are not bologna or Klik meat but salmon and trout, with bison burgers being their biggest hit.
Also on the menu: Three Sisters soup (a common Indigenous soup made with squash, corn and green beans), the stew of the day (elk, deer or bison) and desserts like butternut squash pie.
Tea lovers can sip Mohawk tea produced on the Tyendinaga Reserve and medicinal Labrador tea handpicked in northern Canada.

Pow Wow Cafe
A casual eatery that's taken Kensington Market by storm in less than a year, Pow Wow Cafe is where Chef Shawn Adler shares his Ojibway roots with a fry bread recipe handed down from his mother. For him, it's reminiscent of the summer pow wows he attended with his family as a youth.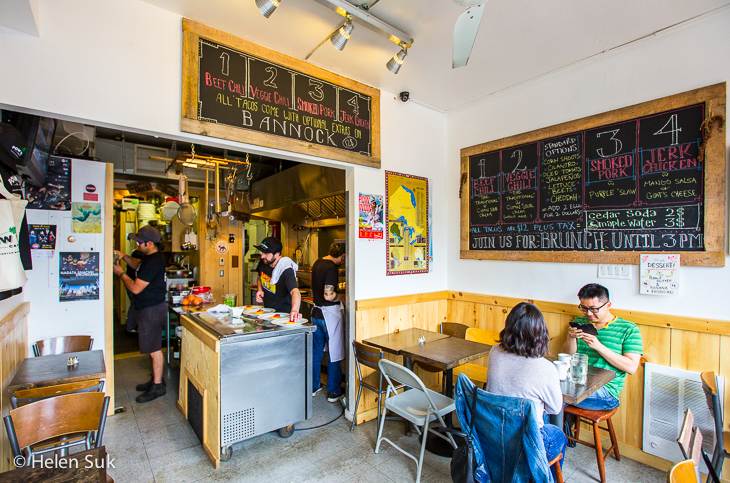 The fritter-like bread serves as the foundation for his famous Ojibway-style tacos with a twist, topped with a heap of beef or veggie chili, mixed greens, shredded cheese, sour cream and a sprinkle of floral petals. Smoked pork and jerk chicken can be ordered as the protein instead of chili.
To "brunchify" a taco, Adler tops it with two fried eggs and adds home fries and sliced fruit on the side. The poached eggs with smoked salmon and goat cheese cream sauce is a customer favourite.
Other tantalizing brunch dishes with fry bread include the new Pow Wow Platter with scrambled eggs, duck breast bacon and a venison sausage patty, while the corn pancakes are served with kernels of corn mixed into the batter, crowned with a medallion of maple-whipped brown butter.
Pow Wow Cafe is an intimate spot with an open kitchen and small outdoor patio. Customers spill out the door on weekends so either get there early or bring your patience.
NishDish
NishDish may seem out of place in the heart of Koreatown, but chef and long-time caterer Johl Whiteduck Ringuette was greeted with a huge reception at the eatery's opening celebration in April that brought together community Elders, musical artists and dancers.
It's a no-frills, mini marketeria specializing in traditional Anishnawbe breakfast and lunch fare made with healthy ingredients sourced from First Nations, Inuit and Metis producers.
With a daily rotating menu dictated by the demands of the catering business, every day is a surprise at NishDish. One day you might find carrot ginger soup, bison omelette and Arctic char on the list of offerings, and sweet potato soup, venison stew and elk sausage the next.
Smaller dishes can be combined so the cornbread, dandelion salad and salmon corn cakes together can create a complete meal.
Breakfast or lunch can be followed by cedar tea, or an Anishnacano or Creespresso brewed with Mohawk roasted coffee from Kanesatake First Nation in Quebec.
NishDish is a cultural, educational and community initiative as much as it is an eatery and catering business. The food emporium's interior showcases Indigenous art, including the ceiling's 13 moon calendar created by the same artist responsible for the birch tree motif on the exterior, Ren Lonechild.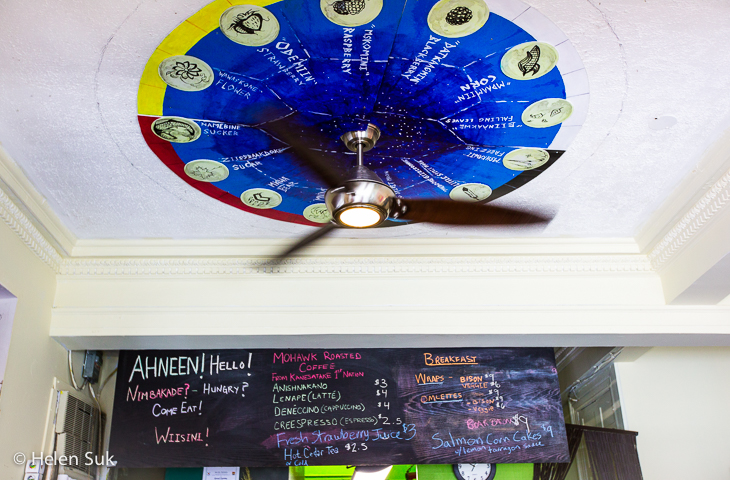 A small selection of Indigenous products from moccasins to earrings are on display for purchase, supporting First Peoples artisans.
Whiteduck Ringuette also works with Native Child and Family Services by mentoring youth with the goal of reconnecting them to their cultural roots, and teaching them culinary skills and the ropes of the restaurant business. By reclaiming First Peoples food sovereignty, he's elevating Indigenous cultural and food literacy for everyone, most importantly in his own community.
Ku-Kum
The most recent addition to the Indigenous culinary scene in Toronto, Ku-Kum (meaning "grandmother" in Cree) opened just this month in the mid-town area as the only fine dining restaurant representing First Peoples cuisine. The inspiration behind it: the years Chef Joseph Shawana spent on the Wikwemikong Unceded Reserve on Manitoulin Island as a child, surrounded by the earth's bounties and nourished by the meals cooked by both his mother and grandmother.
The emotional connection to his food culture and the matriarchs of his family runs deep, and the atmosphere in Ku-Kum shows it. The bright space is packed with symbolic meaning. Colourful wall murals painted by artists Monique Aura and Chief Lady Bird, for example, honour female energy and the gifts of the earth.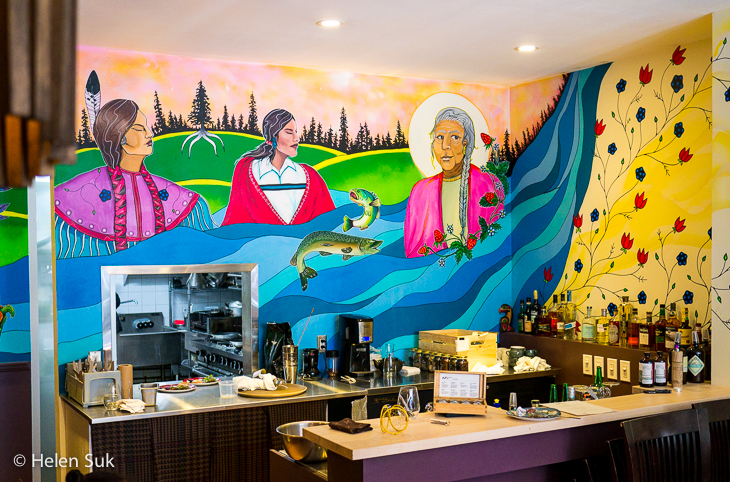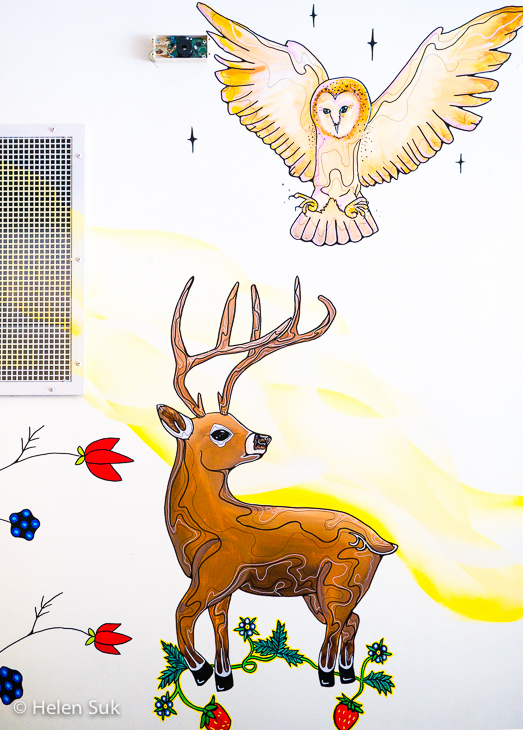 The restaurant offers a la carte items, as well as an eight-course tasting menu with a focus on fresh, local ingredients sourced from Indigenous providers.
Features include whitefish, pike and game meats like pheasant, but their most intriguing offering? Seal tartare.
For dessert, Saskatoon berry ice cream and sweet grass creme brûlée can complete a meal.
Indigenous Restaurants in Toronto Offer True Canadian Cuisine
In a city that boasts every ethnic restaurant imaginable, it's time Canadians explore Indigenous restaurants in Toronto and truly celebrate the founding cultures of our national heritage that have gone unnoticed for far too long. The tagline for NishDish says it succinctly: "Your friendly neighbour, since always." Food simply doesn't get more Canadian than this. (Just don't be disappointed your meat wasn't hunted by bow and arrow or your wild rice foraged by canoe.)
Time to do away with the neglect and stereotypes, and embrace good, satisfying food made with deep pride.
Pin this Post to Pinterest