With 26 endemic species, the Galapagos Islands are home to some of the most abundant and diverse wildlife in the world. They attracted the attention of Charles Darwin, who sailed through the islands on the HMS Beagle in 1835. He spent only three weeks on shore. Nearly 25 years later, he published 'The Origin of Species', a book that would revolutionize how we understand life on earth. Without question, the most extraordinary experiences of my Galapagos journey were my encounters with the wildlife that were so remarkably close, it still mystifies me that I was actually there.
Upon my arrival in Puerto Ayora, I booked an affordable, last-minute, one-week cruise on the Millenium yacht, a spacious, 16-passenger, first-class catamaran (find out how here). For the most part, the guide, crew and food were outstanding, and I averted motion sickness with a healthy supply of scopolamine patches and Gravol (read this post for a complete Galapagos packing list). I can't say enough about the amazing group of fellow passengers with whom I was lucky enough to share the journey.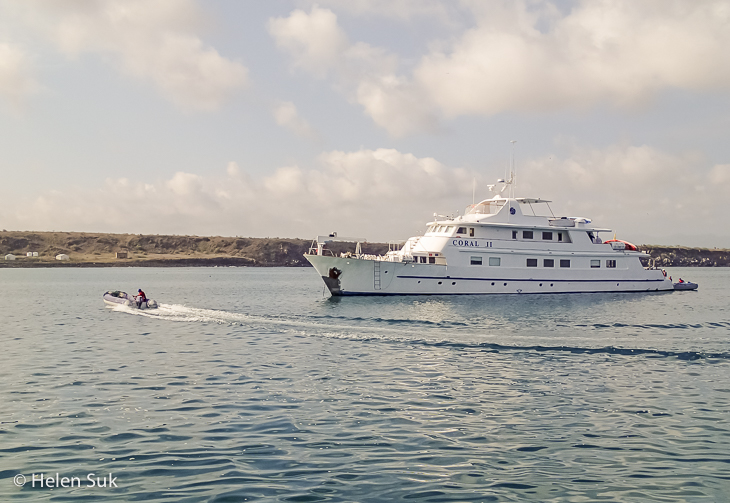 We set off into the South Pacific ocean. First landing: North Seymour Island. Instead of risking damage to my DSLR and telephoto lens with salt water, I took my first zodiac ride from yacht to land with my waterproof point-and-shoot – a decision I later regretted. North Seymour is home to blue-footed boobies, swallow-tailed gulls, land iguanas and sea lions, but the island's feature attraction is its large population of breeding frigatebirds that I would rarely see for the rest of the cruise. Male frigatebirds are immediately recognizable by their red gular pouches that inflate like balloons to attract a mate.
Darwin's curiosity was originally piqued by the geology of the Galapagos Islands and captured only later by the diversity of the wildlife. On Santiago Island, century-old solidified lava has resulted in a stunning, barren landscape of black ruggedness.
At the ocean's edge, it's contrasted and dotted with the glow of orange-red Sally lightfoot crabs.
Below sea level, the Galapagos archipelago is an aquatic kingdom. Imagine how much more inspired Darwin would have been had he plunged into the ocean with a snorkel. Bartolome Island is famous for the eroded lava formations of Pinnacle Rock, but the snorkelling is equally alluring. I found myself surrounded by parrot fish and schools of yellow tail damsel fish, and I was about to put my new waterproof camera to the test!
I got spooked by a whitetip shark that suddenly appeared from behind then swam past me in the shallow waters. I missed that photo opp but I did snap this shot of the world's only tropical penguins. Because of the warm waters, the little Galapagos penguins were scarce in March. The few that were around were bobbing on the surface of the ocean or zooming past me underwater with such velocity, I didn't stand a chance to capture them in action.
The next morning, we pulled up at Las Bachas Beach at Black Turtle Cove on Santa Cruz Island.
March is nesting season for the sea turtles and the beaches were lined with a series of fresh tracks leading to their nests.
At Las Bachas, we spotted one female flapping sand over the eggs she had just laid. What a privilege to witness! When we returned 30 min. later, she had already slipped back into the ocean. To nest, females return to the same beach where they were born.
Then we came across another sea turtle that appeared immobile, half-way between her nest and the ocean.
When we returned later, she still hadn't moved. It was clear she was either ill or injured. Sea turtles live in the water and only females briefly come on land to nest – surely she would perish without her oceanic habitat. Forbidden from touching the wildlife, we reluctantly left – survival of the fittest would take its natural course. All we could do was hope that she would eventually make her way back to sea.
The next day we landed at Cerro Dragon (Dragon Hill) on Santa Cruz Island where I captured these images of flamingos in the lagoon and the island's unspoiled landscapes before the sun fell.
What an incredible way to start my cruise through the islands, but there was much more wildlife to see in the coming days. The series continues here.