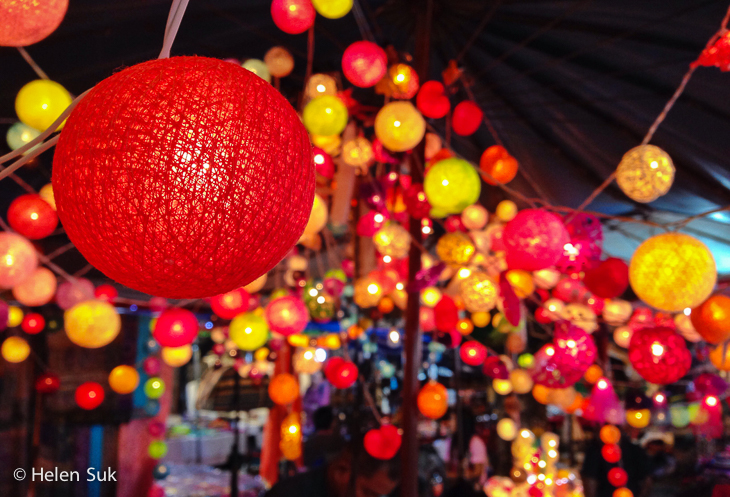 A few years ago, I spent three months living in Chiang Mai as a digital nomad to escape the Canadian winter, focus on my blog, and freelance as a travel writer and photographer.
Thailand — Chiang Mai especially — is known the world over as a haven for location-independent entrepreneurs and for good reason. If you're curious to know why, and what expat life in Chiang Mai is like (both the ups and downs), keep reading.
The Ups of Living in Chiang Mai
Low Cost of Living
With rent, food and transportation at just a fraction of the costs in North America, it's easy for Americans and Canadians to live comfortably in Chiang Mai, particularly for expats whose online businesses are in their infancy. The city can provide a much-needed financial safety net.
A breakdown of costs during my time there looked something like this:
250 USD per month for a spacious, furnished studio apartment, complete with air conditioning, a TV, cable, utilities and internet! The kitchenette was small but I rarely cooked.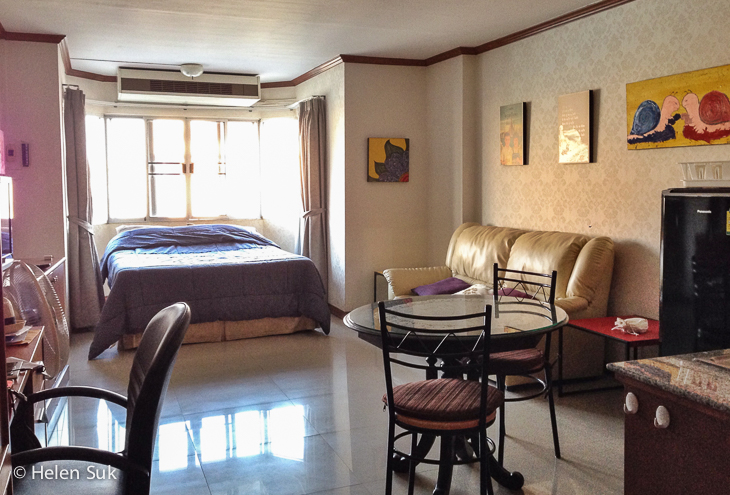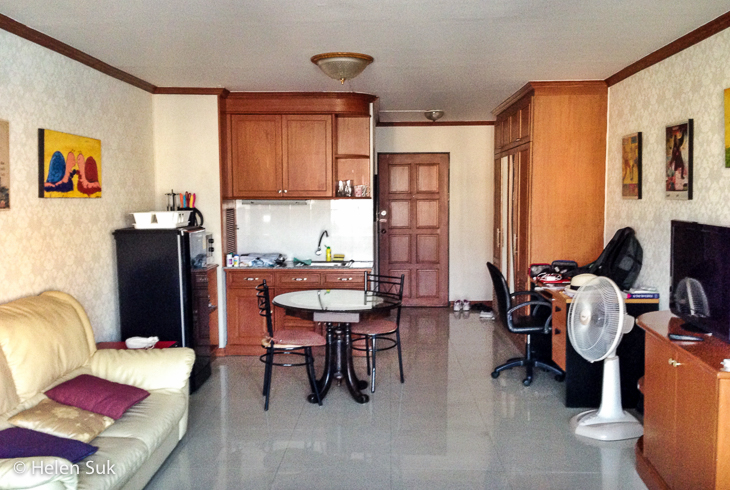 An apartment like this would fetch over 1200 CAD (900 USD) per month in Toronto, where real estate prices and rent are skyrocketing right now.
(I used Chiang Mai Properties and this helpful post to find my apartment.)
1-3 USD for local meals. You guessed it: I made little use of my kitchen because eating out was so affordable. Thai meals are delicious but smaller than what you would be served in North America so if you have a large appetite, double those prices. I, however, adapted to the smaller portions, dropped about 10 lbs. (hitting the local gym 3-4 times a week also helped) and realized how gluttonous I was back at home. We North Americans live in a culture of excess and Thailand put that into sharp perspective.
Expect to pay close to North American prices for Western meals and lower your standards — the quality is not what you'd find back at home unless you dine at higher-end restaurants and hotels.
1.15-3.50 USD for cocktails in a bar or restaurant. Local brands will help keep your drinking costs low. I don't drink beer but if you do, they'll cost 1.75-3 USD.
3.50-4.50 USD for a Thai massage. You can get a massage every week without emptying your wallet!
.60-3.50 USD for transportation within the city. The cheapest mode of transportation is the songthaew, a red pick-up truck that picks up and drops off passengers like a bus, except it doesn't have a fixed route or fixed stops. Instead, it stops for passengers who flag it down.
Tuk tuks, three-wheeled open-air vehicles, are more expensive but direct and the quickest way to reach a destination. The cost depends on your negotiating skills.
40 USD for a dental cleaning and filling. Dental services in Chiang Mai are inexpensive and their quality is on par with what you'd get at home. In addition, my dentist in Toronto had recommended a crown for several years but I held off because my private dental insurance didn't cover most of the cost. I finally got it in Chiang Mai in a clean, modern clinic by a dentist who was fluent in English for 290 USD. That's less than half of what I would have paid in Toronto, even with my insurance coverage!
It's no wonder nationals of other countries routinely visit Thailand for dental work.
The same can be said for the hospitals in Chiang Mai: affordable and excellent in quality. I didn't require medical attention while I was there but Chiang Mai Ram Hospital is a private facility that's highly reputable among expats.
The Climate
In the height of winter, Toronto sees snow storms and temperatures dip to -20°C (-4°F). Contrast that with a comfortable 20-25°C (68-77°F) during the cool, dry season (November to February) and it's a no-brainer. Hello, sunshine!
(It's another story for the other seasons though. Keep reading.)
High-Speed Internet
Thailand enjoys some of the fastest internet speeds in Southeast Asia (not so for Bali, another expat hub). Many digital nomads flock to Chiang Mai because their livelihoods depend on strong, reliable wifi in cafes and coworking spaces (don't forget to use a VPN on open networks).
Chiang Mai is Safe
Violent crime in Chiang Mai is rare. Having said that, women should take the same precautions as they would at home. I often walked the streets alone at night but mostly on main streets that were busy and well-lit. Women should also keep a close eye on their drinks in bars and clubs. All foreigners, regardless of gender, should be vigilant with their belongings in crowded markets.
The Culture Shock is Minimal
If you're venturing outside North America for the first time, Chiang Mai can strike a manageable balance between the comforts of home and the experience of a foreign destination. The local population is generally welcoming and accommodating to expats. English is spoken by many Thais, and English words can be found on many menus in restaurants and cafes. You can enjoy most Western amenities and a Western quality of life.
Because of Chiang Mai's large expat community, you're also likely to connect with other foreigners with ease. There's even a Facebook group for the city's digital nomads, a forum where you can network with other expats, and join get-togethers and other events when homesickness settles in.
Chiang Mai is Less Chaotic and Cheaper Than Bangkok
With a population of over 8 million, Bangkok is a massive, concrete jungle, too large for my liking. Despite being the second largest city in Thailand, Chiang Mai, on the other hand, is home to a significantly smaller population (1 million) and takes only about 20 min. to drive from one side of the city to the other. You won't find the same traffic congestion, heat and smog as you would in Bangkok. The pace is more relaxed, attracting artists and musicians more than foreigners wanting to live out their hedonistic fantasies. That's not to say there's no nightlife; it's just tamer in Chiang Mai. There are also over 300 temples scattered across the city, which is surrounded by mountains and valleys like Doi Suthep. The same can't be said for Bangkok.
The Downs of Living in Chiang Mai
The Hot and Rainy Seasons
With the good comes the bad, of course. The dry season is comfortable. Temperatures and rainfall rise a bit in March but the heat reaches its peak in April. I'm not gonna lie — it is oppressive and, for me, unbearable even though temperatures are milder in northern Thailand than in Bangkok.
How did I cope with the extreme heat and humidity? I sought relief wherever the air conditioning was. I worked in cafes, coworking spaces and my apartment. Every April, both locals and foreigners cool off during the Songkran Festival, the world's largest waterfight that lasts multiple days.
I left Chiang Mai just before the celebrations, but I experienced it during my previous trip to Thailand and it's bucket loads of fun.
The rainy season is July-September so expect monsoon rains. You'll be wet. A lot.
Sex Tourism
While sex tourism in Bangkok slaps you in the face, it brushes your cheek in Chiang Mai. It's a seedy reality in Thailand. The sight of inebriated or "lonely" Western men with Thai women less than half their age wrapped around their shoulders is inevitable in the tourist-saturated areas. It's also something I can do without. To avoid it, I lived outside the city centre in the Nimmanhaemin (or Nimman) neighbourhood, where digital nomads are more common than sex tourists and "sexpats".
The Transience
The beauty of the expat community in Chiang Mai is its sheer diversity. I made wonderful friends from all walks of life, of all ages, from different countries and with different professional pursuits.
We all eventually parted ways but I still stay in touch with some of them. That's the thing: friendships are, for the most part, fleeting in Chiang Mai. It's a city of transience for foreigners. Everyone inevitably continues on with their journey in another destination so you must get used to saying goodbye almost as quickly as you say hello. The silver lining, however, is that you'll end up with friends scattered across awesome locations around the world.
Pin this to Pinterest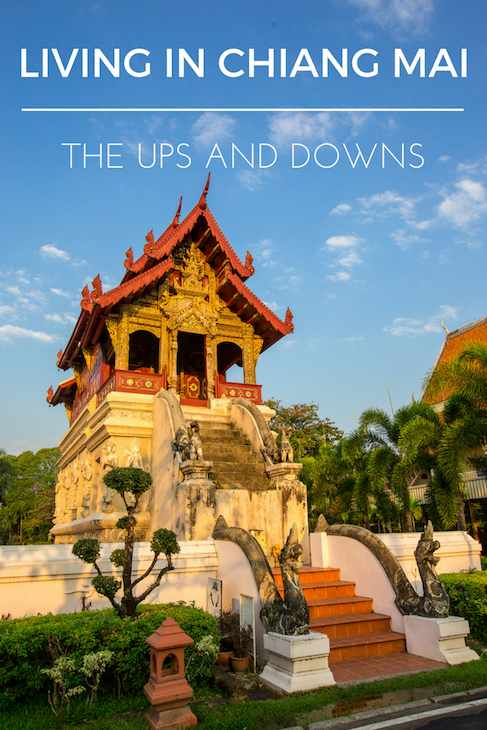 Are you thinking about living in Chiang Mai? Have a question? Ask away. The Tieland to Thailand blog is also an excellent resource.
If you've already lived in Chiang Mai, tell me about your experience. What did you love or hate about it?