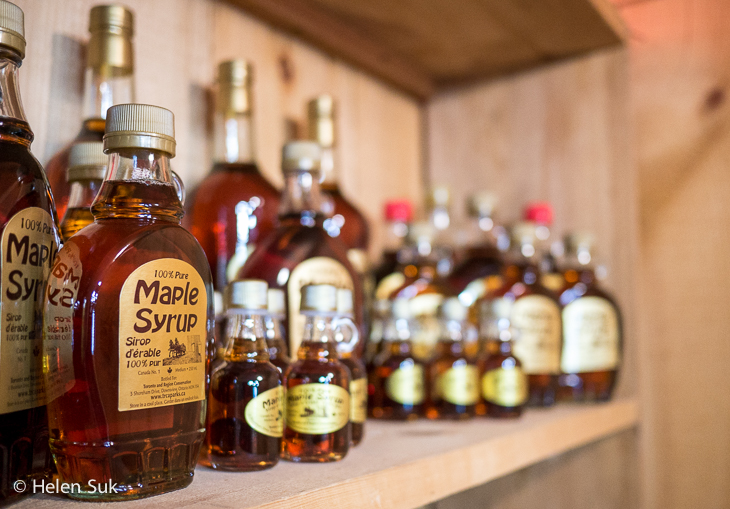 *Updated March, 2017*
Ah, maple syrup. It's the most iconic of Canadian foods and we Canucks can't get enough of it. If you're heading to Toronto and craving a taste of this beloved flavour of our national heritage, it's maple season so you're just in time! Check out Expedia.ca's travel guide to my hometown and come visit for delicious eats because I've collaborated with them to bring you this round-up of places to sample maple syrup in Toronto. This food favourite is available right from the source, from a retailer or in one of the city's dining establishments where chefs are honouring it with a creative flair.
Maple Syrup in Canada
First, let's look at some interesting facts. A 100% natural sweetener collected from the sap of maple trees between winter and spring, this liquid gold doesn't just add flavour and complexity to our favourite dishes, it's full of health benefits (54 antioxidants!), making it a healthy alternative to white sugar. That's good news for us Canadians because we're practically swimming in it — 76% of the world's maple syrup is produced in our country (the overwhelming majority of it in Quebec). Thanks to the First Nations, maple syrup is just one of our many national blessings.
Bannock
Owned by local favourites Peter Oliver and Michael Bonacini, the duo behind the popular O&B fine dining empire, Bannock serves up modern Canadian comfort food in a clean, casual setting. Maple lovers will be tempted by cocktails like the maple sugar-rimmed Mighty Canuck with vodka and maple lemonade or A Canadian in Manhattan, a concoction of Crown Royal Maple, sweet vermouth and cranberry bitters.
Chef Joel Lyons makes use of maple syrup year round but he does even more with our cherished ingredient for Bannock's Sugar Shack Brunch weekend promo every March. In 2016 when the restaurant launched the event, diners filled up on the Maple Grand Slam, a hearty, beautifully presented brunch with venison sage mini sizzlers, sapsucker griddlecakes, pork belly bacon, beans and poached eggs. 
To satisfy their customers' sweet cravings, they served decadent Maple Brioche Doughnuts with maple custard, sea salt and bacon jerky, as well as maple taffy for table sharing.
What will they offer this year? Check out their website for the details.
Parlor Foods & Co. – CLOSED (so sad)
You've got to love what chefs Brett Howson and Jason D'Anna have brought to the city with Parlor Foods & Co. — a rustic, Canadiana-themed restaurant with the feel of a modern cottage.  Here, they're doing something unique: smoking maple syrup in-house and selling it by the jar.
They also pay homage to the aromatic elixir by featuring it in their dishes and libations, showcasing its versatility. Their signature cocktail, the Smoked Maple Manhattan, mixes their smoked maple syrup with Crown Royal whisky and vermouth. For the hungry, the menu includes Shishito Poppers, tempura-fried and roasted green peppers filled with cream cheese, drizzled with maple syrup and served with a side of yogurt raita dip.
The smoked maple syrup also makes an unexpected but flavourful pairing with the handmade Charcuterie platter that's almost too pretty to eat. Meats like duck prosciutto and sopressata are cured in their cellar, and even the giant slab of wood on which the charcuterie is served is their own creation.
Lastly, the Parlor Ice Cream is maple through and through. Maple syrup isn't just splashed into the bottom of the bowl, it's crystallized and sprinkled on top of the maple-flavoured ice cream.
St. Lawrence Market
St. Lawrence Market isn't just one of the world's best food markets according to National Geographic, it's home to an abundance of maple products from cream-filled cookies to herbal tea. Of course, shelves are filled with bottles and cans of pure maple syrup too (Aunt Jemima's syrup is a mockery so don't go looking for it here). Head downstairs in the south building to find them at several vendors, including Aren't We Sweet and Giftworks. Both carry the Jakeman's brand of maple syrup which has been produced by the Jakeman family in Ontario since the 1870s.
On Saturdays, you can also find a merchant in the Farmer's Market in the north building (temporarily relocated on the Esplanade south of the south building until 2020) where you can buy maple syrup directly from the source.
Black Creek Pioneer Village
For one week in March, visitors to this rural heritage site in northwest Toronto can step into the shoes of the early settlers during the annual March Break Adventure by immersing themselves in the maple syrup-making process of the 19th century among authentically restored buildings and farms. Children and adults alike can watch demonstrations of tree drilling and tapping as they take a self-guided walk on the Sticky Trail, try their hand at drilling themselves at one of two interactive stations, then watch staff in period costumes boil the sap during the Maple Syrup Show and sample the finished brew. Maple syrup artefacts and products are showcased in the Sugar Shack, and guests can purchase everything from maple fudge to maple BBQ sauce in the gift shop. Check it all out on the Black Creek Pioneer Village website.
Sugarbush Maple Syrup Festival at the Kortright Centre
Further north on 325 hectares of woodlands in Vaughan, the Kortright Centre for Conservation takes part in the annual Sugarbush Maple Syrup Festival in March, the largest celebration of maple syrup in the Greater Toronto Area. Activities for the family include sugar bush demonstrations, maple syrup samplings and wagon rides.
For the night owls, visitors can join Maple Syrup by Lamplight, an educational, guided evening hike with a fire-side tasting (two nights only; advance booking required).
The Kortright Centre also offers a whole menu featuring fresh maple syrup (pancakes with pulled pork bathed in maple BBQ sauce, anyone?), as well as a wide variety of maple products in their gift shops.
Tickets for the festival can be purchased onsite or online.
Tip: arrive before 10:30am to avoid the line-ups.
Sugar Shack TO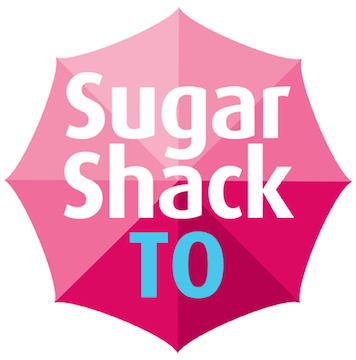 Started in 2016, this Quebec-style sugar shack on Sugar Beach (Queens Quay and Jarvis) hits Toronto's waterfront for one weekend in mid-March. It makes sense, considering Quebec is the maple syrup capital of Canada.
Head to the pink umbrella-lined beach for maple taffy on snow, maple syrup cooking demonstrations, food trucks, ice sculptures, skating and live French-Canadian music.
The best part: admission to Sugar Shack TO is free!
Hungry now? So am I. If you have a favourite place to taste or buy maple syrup in Toronto, I want to know. Leave your suggestions below so I can check it out!
Thanks to Parlor Foods and Bannock for the maple tastings, and to the Kortright Centre for a great day in the Sugar Bush.
Pin This to Pinterest