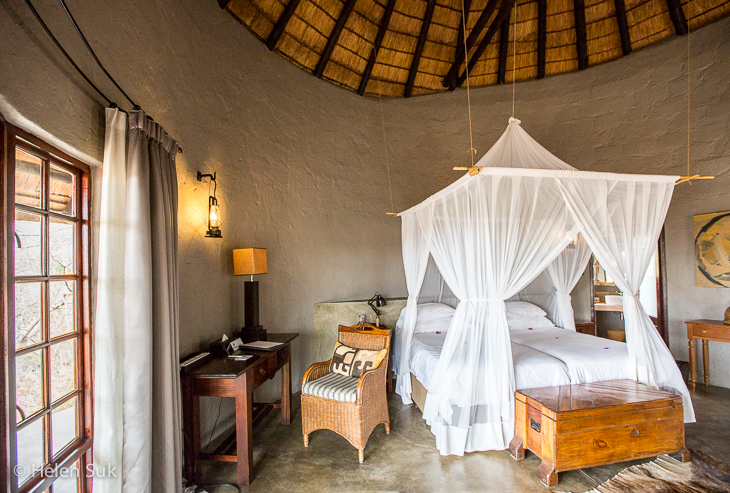 I was grateful for the deception. Officially, Motswari Private Game Reserve is a four-star property but, after my two-night stay, I learned exactly why this deluxe safari lodge enjoys a five-star reputation.
Not surprisingly, it's a family-run operation. Here, you get the best of South Africa's Timbavati wilderness with a level of personalized hospitality that keeps some visitors coming back year after year. In fact, I've been told, the lodge has hosted repeat guests every week for the last two years because of the lasting bonds they forge with their guests.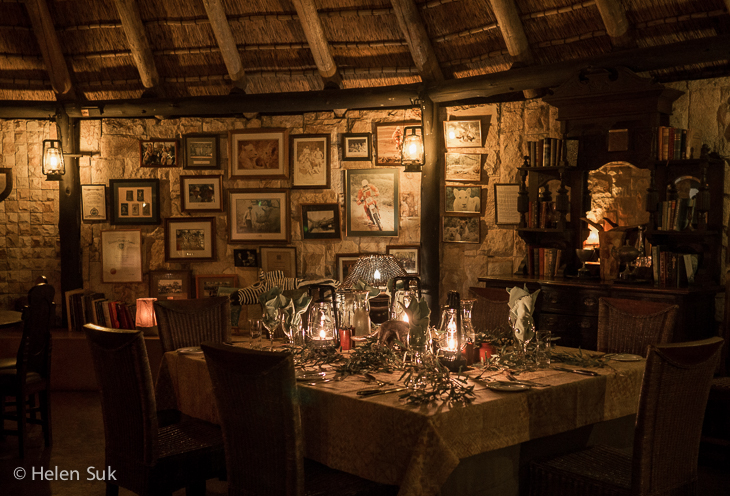 Motswari is luxurious, but doesn't try to impress with gratuitous extravagance. Instead, it offers something more endearing: an inviting atmosphere of camaraderie that lives up to their "come as a visitor — leave as a friend" motto. You'll feel that family warmth as soon as you check in at reception, where you'll be graciously welcomed like a guest in your neighbour's home by both management and what seems like the entire on-duty staff. And those same smiling faces will be there to bid you farewell and wish you a safe journey when you reluctantly reach the end of your stay.
Granted Gold Class status by the Heritage Environmental Management Company and accredited by Fair Trade in Tourism, South Africa (FTTSA), Motswari (a name that means "to serve and protect" in the Setswana language) also embraces the principles of responsible tourism: community growth, environmental sustainability and wildlife conservation.
The Lodge
Motswari may be popular for its thoughtful hospitality, but let's not downplay its physical features. Tastefully furnished with natural materials (stone, bone and wood decor can be found throughout the property) and original works of wildlife art, the lodge harmoniously blends with its wild surroundings.
You can relax comfortably in the library or the spacious, open-air lounge and bar while overlooking a river — a source of replenishment for visiting animals — which means game-viewing begins even before you climb into your land rover.
But wildlife can be found roaming freely on the grounds of the lodge itself.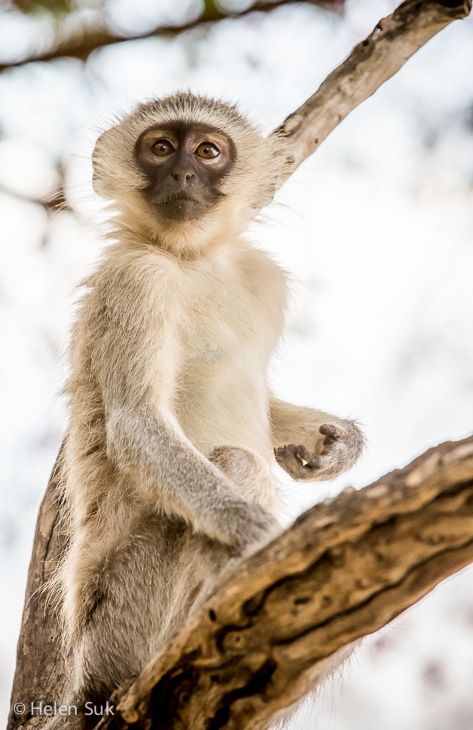 During my two-night stay, nyalas grazed and strolled past me just a few feet away as I sipped a glass of wine or lunched in the lounge.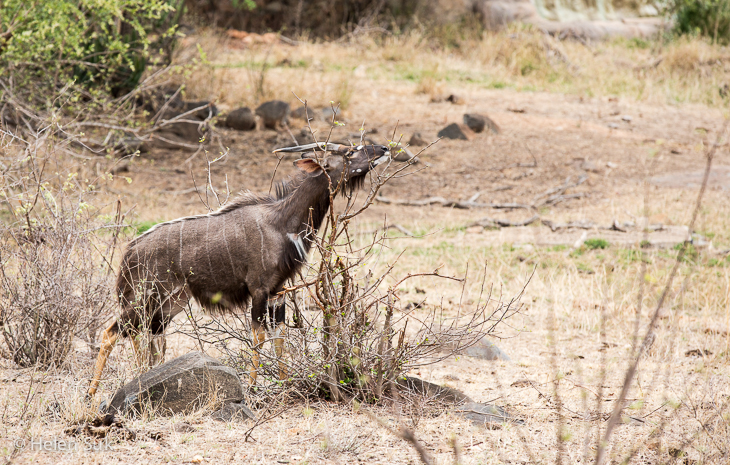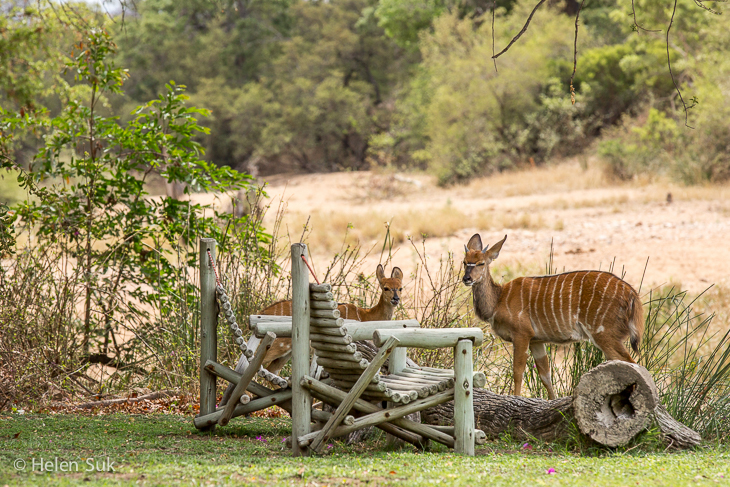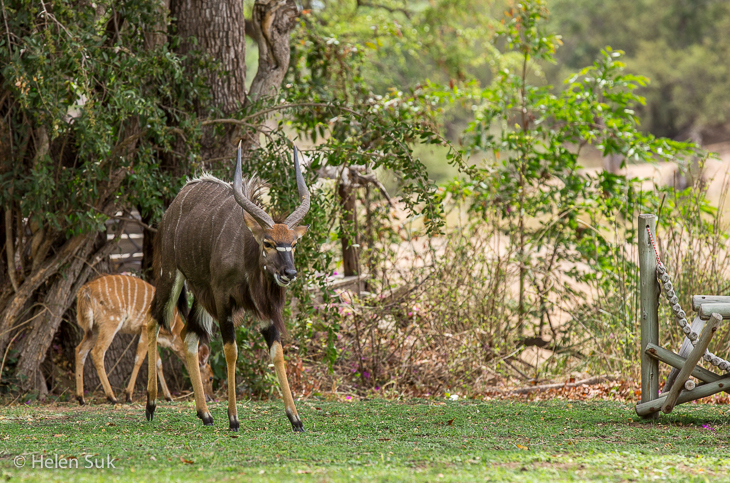 And, on sultry summer days, you can take a refreshing dip in the infinity pool facing the river.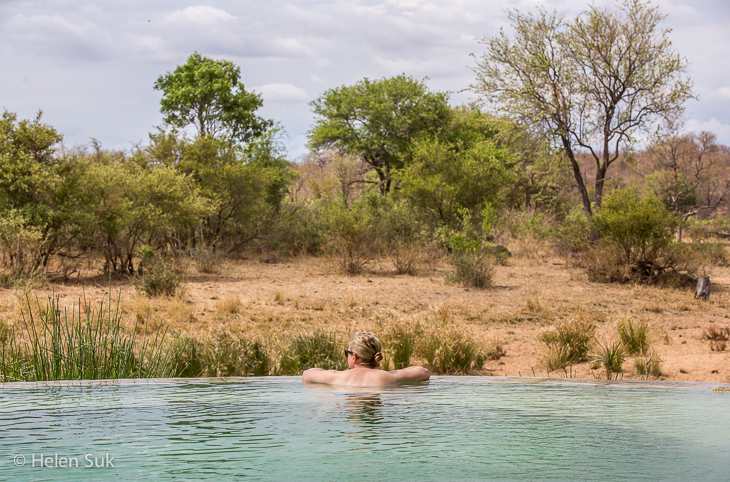 With the right timing, you may even spot roaming wildlife while you blissfully soak under the African sun.
There are, however, two facilities you won't find here, but they're far from dealbreakers. Instead of a fitness centre and spa, you'll get exploratory walks in the bush and the tranquility of the pristine wilderness.
The Accommodations
With only 15 bungalows and a maximum of 30 guests at a time, the Motswari guest experience is intimate and peaceful. Each suite includes a terrace with enticing views of the bush. In fact, shortly after entering our suite, this elephant quietly emerged from the thicket in the distance — a greeting we don't get everyday.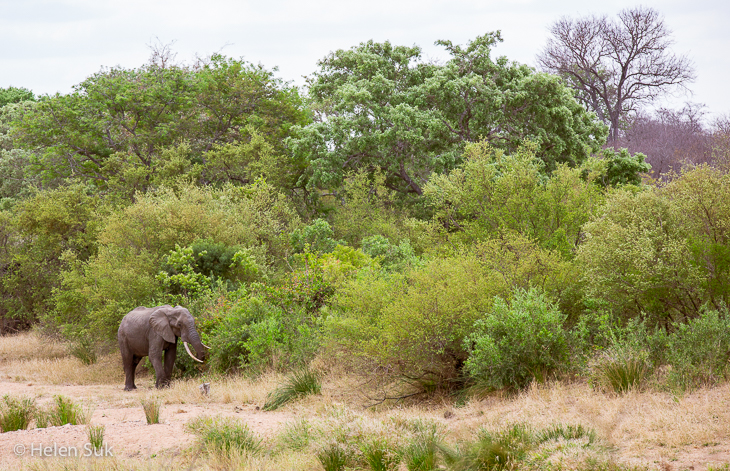 We learned quickly to keep our cameras close by at all times because the wildlife could appear suddenly out of nowhere at any moment, like these nyalas in front of our chalet.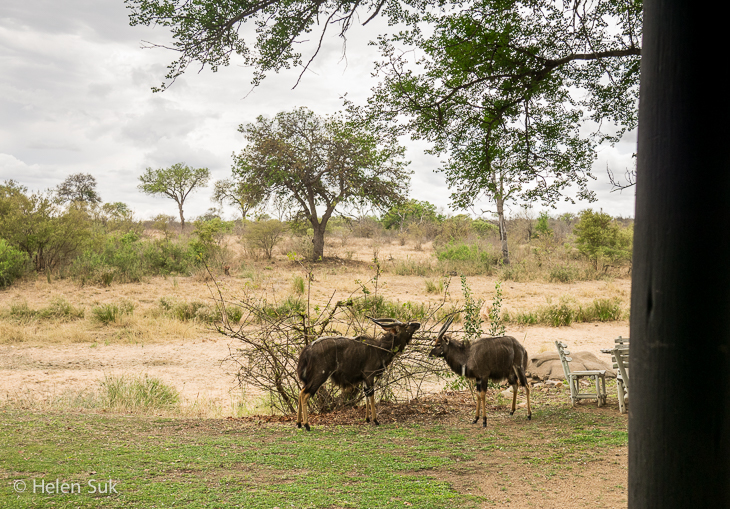 Inside, the air-conditioned suites offer nature-inspired elegance and modern comforts, and some with even an outdoor shower.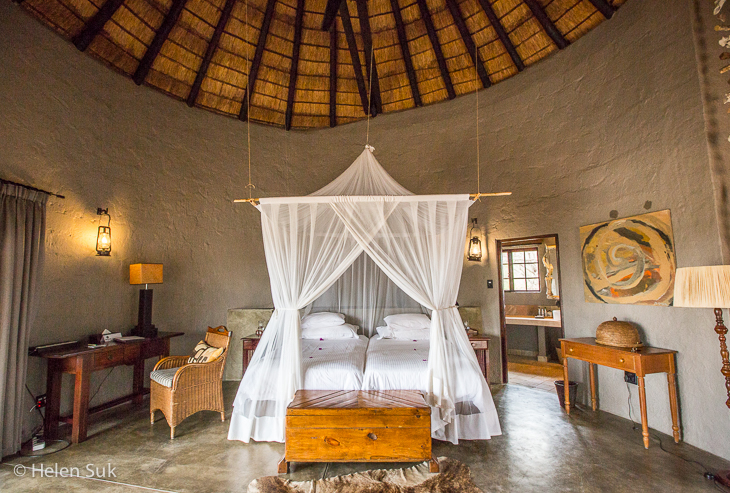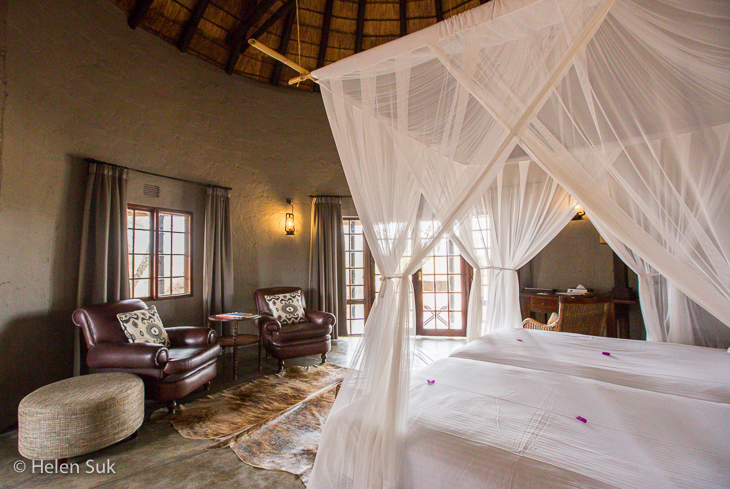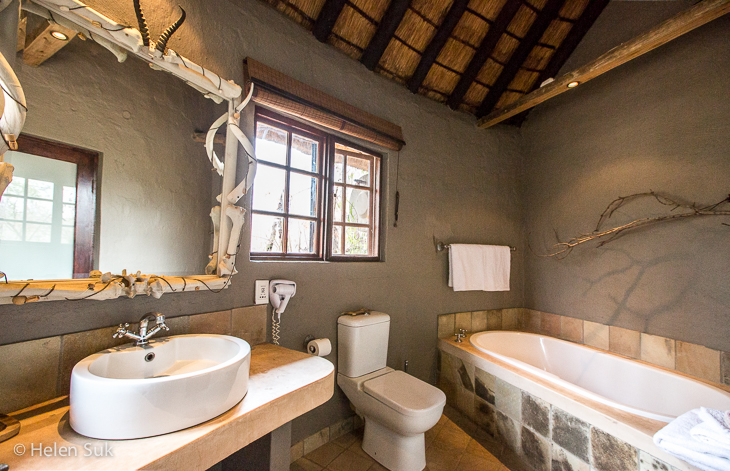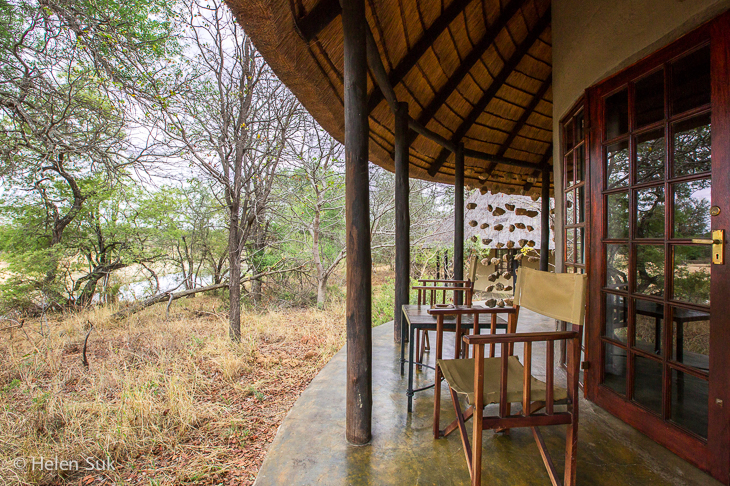 But you won't find a TV (if you do feel a need to channel surf, I'd question whether you should be on safari at all) or in-room wifi (time to get back to nature!), which can be accessed in the library.
And, since you'll be on unfenced property and animals can saunter through at any time throughout the night, you'll need an escort to get from the common areas to your suite.
One piece of advice: you can't be selective with your wildlife encounters in the African bush. Spray your bed and mosquito net with insect repellent to keep pesky insects and spiders at bay.
Dining
From breakfast to dinner, the cuisine at Motswari game lodge is superb. In fact, my meals at the lodge were the best I had in South Africa. Served in the lounge, open-air boma or at a scenic location in the bush, the dishes were varied (suitable for both carnivores and vegetarians), fresh, healthy and flavourful.
Bonus: the room rate includes soft drinks, local beers and house wines.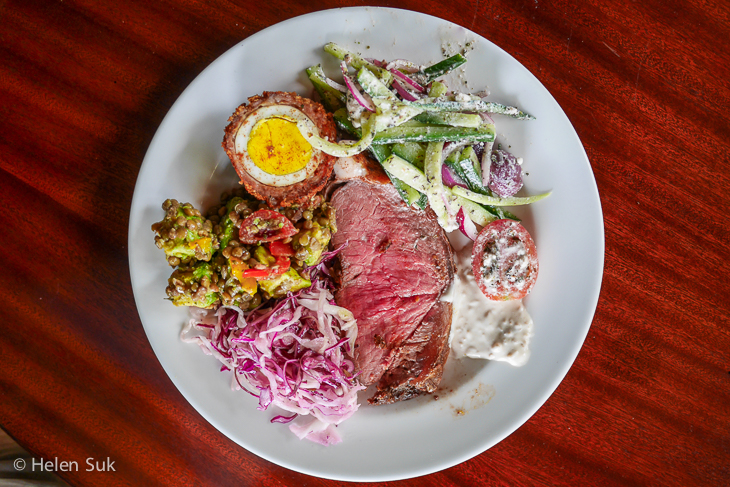 In the afternoon, we were enchanted by the choir lunch presentation when the kitchen staff and servers filed into the lounge while singing traditional song and effortlessly balancing platters of food on their heads. (Curious? Here's a YouTube video of the performance taken by another guest.)
Not only were we spoiled by the kitchen, we were accompanied by our safari guide, Shadrack, each night at the dinner table where he engaged us with stories about life in the bush. And Assistant Manager Godfrey was found visiting each table, checking in on guests to ensure all their needs were being met during their stay.
We especially appreciated that Godfrey joined us at our table one night and entertained us with more fascinating tales when Shadrack was under the weather and turned in for the night early.
The Game Drives
Located in the game-rich Timbavati private game reserve adjacent to Kruger National Park, Motswari delivers on its promise of exhilarating, close-up wildlife encounters, from the twice-a-day, extended game drives to the mid-morning bush walks. Click here to read the full post about my safari experience (and find out why you should not skip a game drive).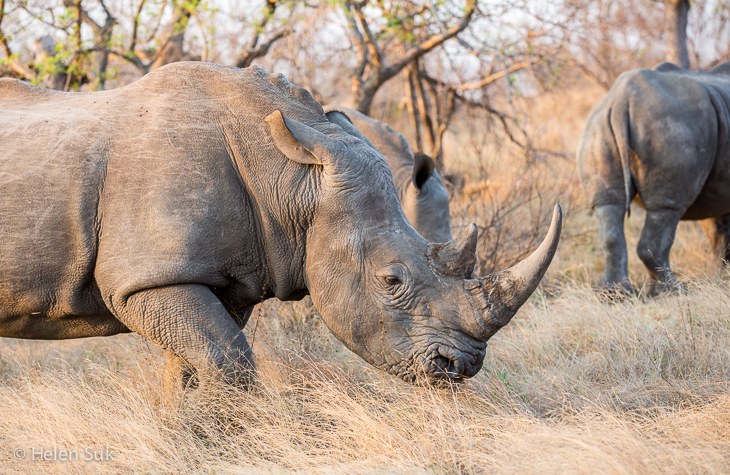 What else can I say about this lodge? Motswari is one rare jewel — a modern, nature-based sanctuary in the heart of the South African bushveld that gave me one of the most epic and memorable stays of my life.
Much gratitude to Motswari Private Game Reserve for hosting my stay.
Pin This to Pinterest