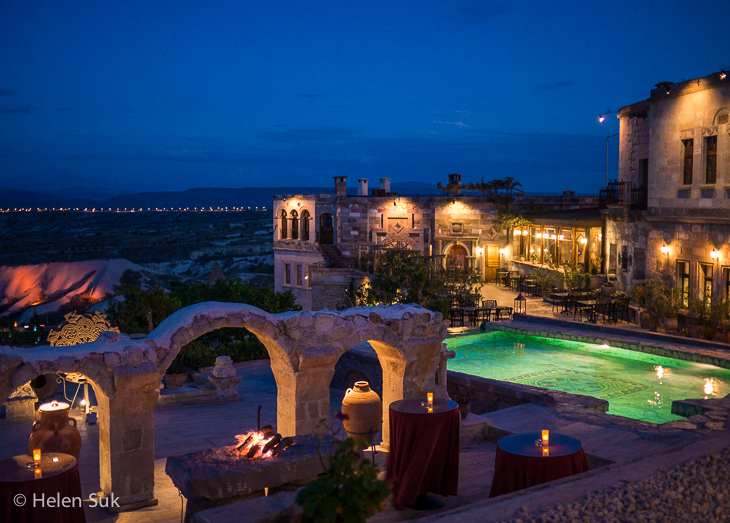 Perched on the slopes under Uchisar Castle, the highest geographical point in Cappadocia, is a luxury cave hotel like no other. Hotels built from thousand-year-old caves and dwellings are a dime a dozen in this region of historical and geological treasures, but the Museum Hotel stands out. Only here can you be spoiled by five-star luxury with the extraordinary views afforded by its location.
Turkey's sole member of the prestigious Relais & Châteaux association of luxury hotels and restaurants, the Museum Hotel has received international accolades, including Best Small Hotel in Europe and Best Hotel Architecture in Europe by the International Hotel Awards in 2013. 
And forget Ben Stiller's Hollywood blockbuster film series: you can have your own night at the museum — literally. Rare and priceless artifacts registered with Nevşehir Museum make up the decor throughout the public areas and 30 unique rooms and suites, transporting you to an ancient past — a splendid complement to the meticulously restored caves once inhabited by the Hittites, Persians and early Christian Romans. 
The Property
Arriving at the Museum Hotel, you can't help but feel overwhelmed by its ambience and sheer beauty.
In the elegantly designed reception area, you'll be greeted with VIP treatment by staff in traditional costume, then led to the impressive outdoor terrace where you'll sip your welcome pomegranate drink.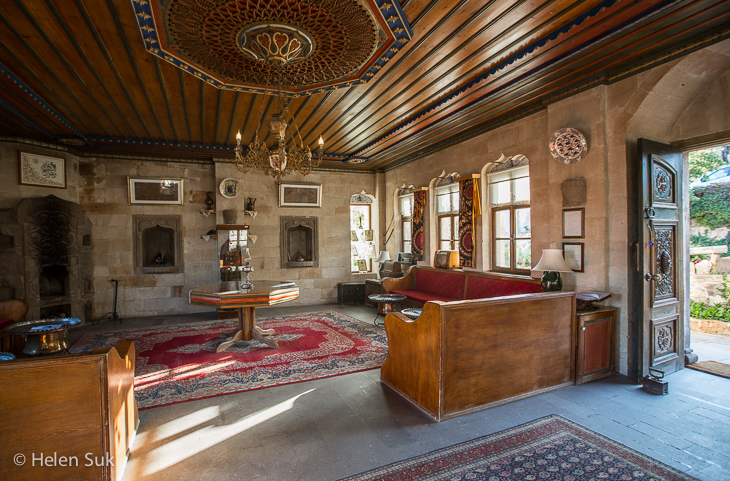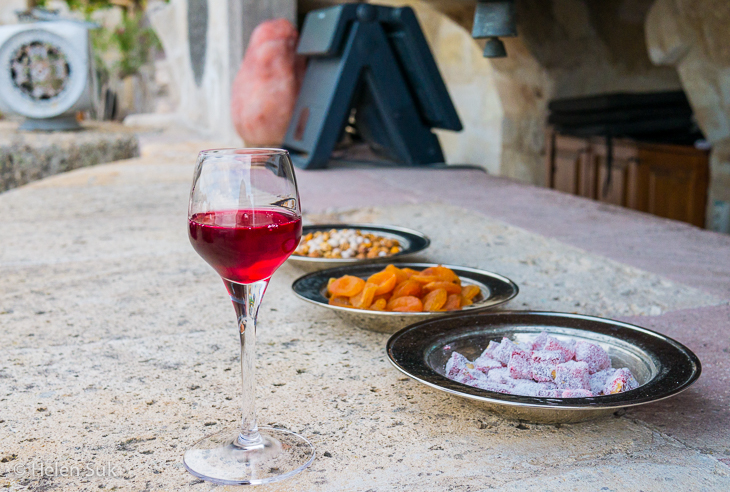 You won't know what to marvel at first: the imposing stone arches, dazzling Roman-style infinity pool or the magnificent Cappadocian landscape that changes by the hour with the direction of the sun. With its unique vantage point, the hotel offers an unrivalled 180° panorama of the dramatic rock formations and valleys below, as well as both sunrise and sunset viewings.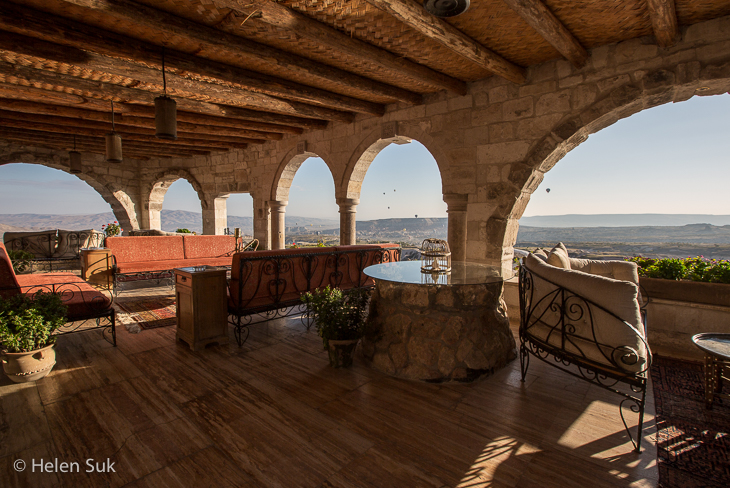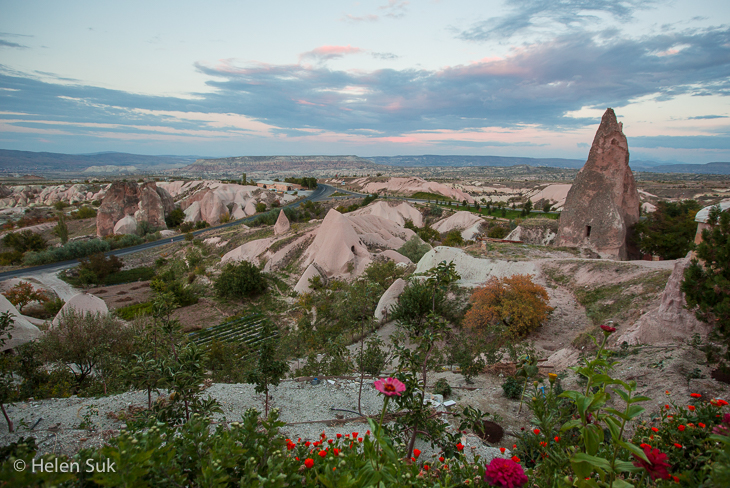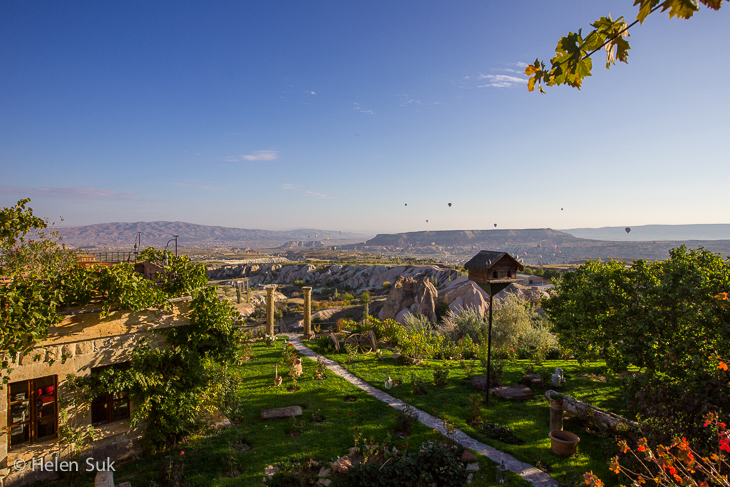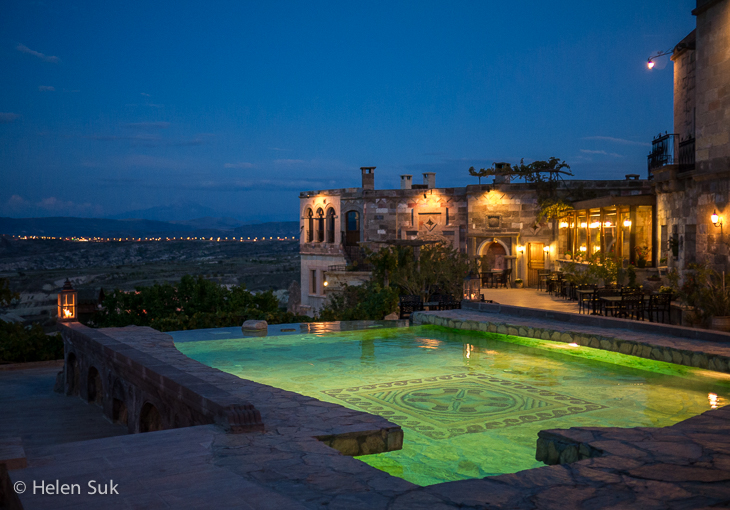 Rise and shine early enough, because you won't want to miss the scene of multicoloured hot air balloons floating through the sky in the warm glow of the morning light. You will, after all, be staying at a premier location for this sunset experience. (Read my post about my epic hot air balloon ride here.)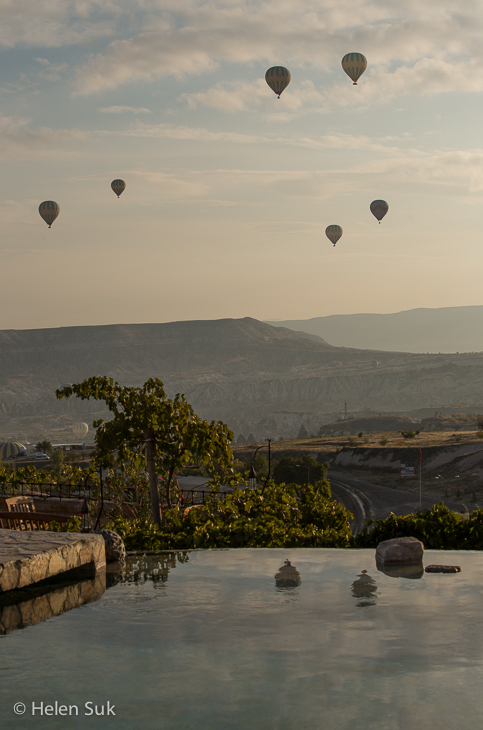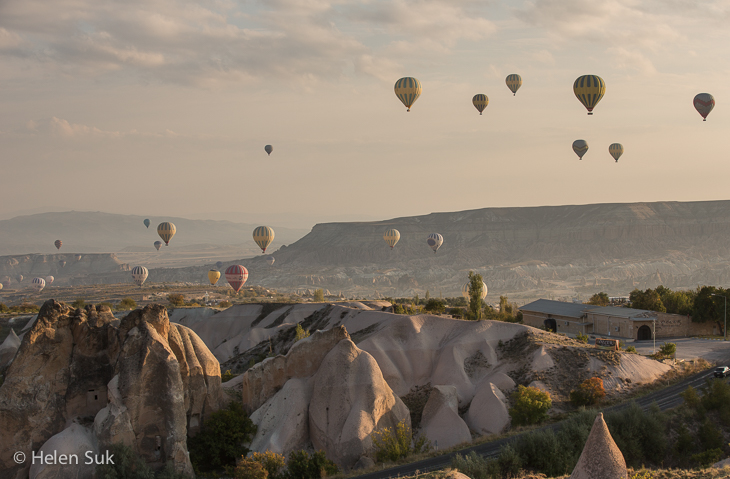 When you're not gazing far into the horizon, the perfectly manicured gardens offer some eye candy on the ground: lush greenery, vibrant flowers, as well as the resident doves, peacocks and the most peculiar-looking pigeons I've ever seen.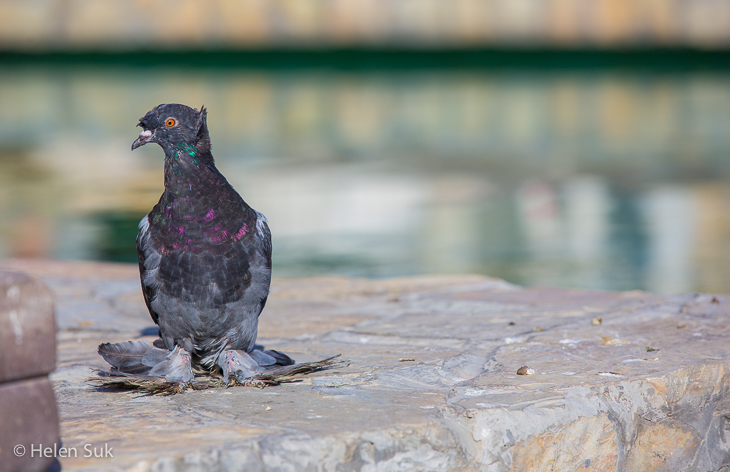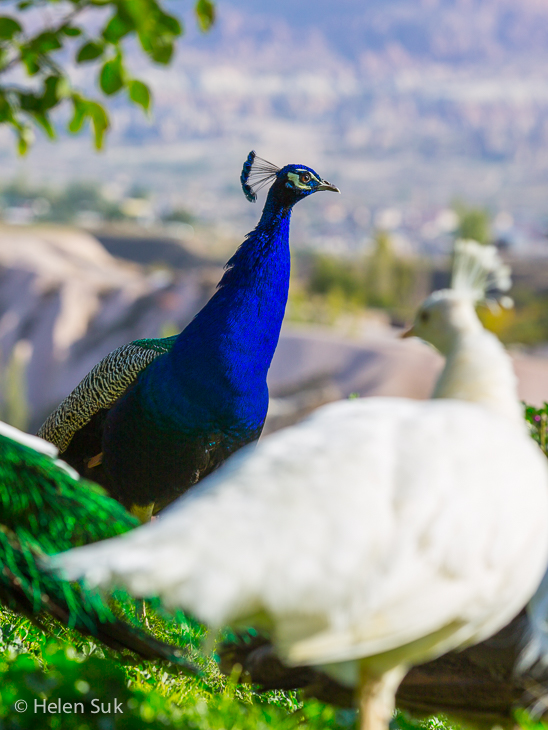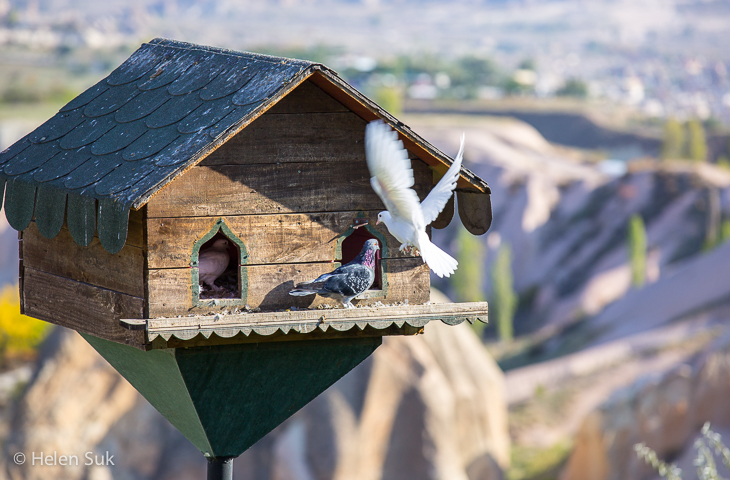 The hotel's interior proves Cappadocia is as striking underground as it is from the sky. After four years of excavations and renovations (completed in 2002), this is no primitive, Flintstone dwelling. The Museum Hotel is an opulent, architectural wonder with walls skillfully carved out of ancient volcanic rock. And with the priceless antiques around every corner, it is, indeed, a living museum that breathes history and culture. It's easy to get lost in the tunnels but, thankfully, they don't feel cold, dreary and damp; they're dimly but warmly lit and extravagantly decorated.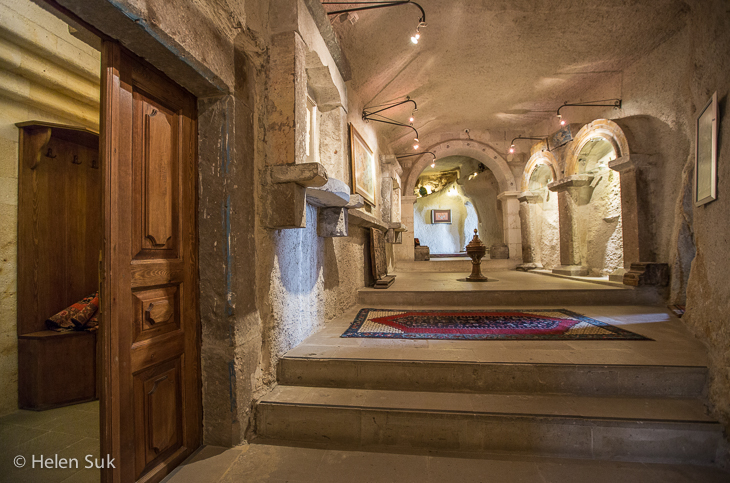 The Accommodations
From the carefully selected furniture to the valuable antiquities and fine textiles, each cave suite at the Museum Hotel is designed with its own distinct character, but they all offer the same modern amenities: wifi for each device (the signal was spotty at times but, with such incredible surroundings, it hardly mattered), LCD TV, L'Occitane toiletries and even a pillow menu. With the exception of the Harem suite ("harem" meaning "secret"), all the rooms and suites are built with windows. And wine lovers will be intrigued by the wine taps offered in some of the suites.
My cousin Paul and I were graciously upgraded to the dreamy Selale Suite, an Imperial suite so spacious and lavish, I thought the reservations staff had made a mistake with my booking. From the private garden, the entrance led us through a bare stone tunnel to the luxuriously appointed bedroom, and another tunnel to the bathroom with heated floors, an enormous jacuzzi tub and — wait for it — a waterfall, wrap-around marble fish pond and private massage chamber.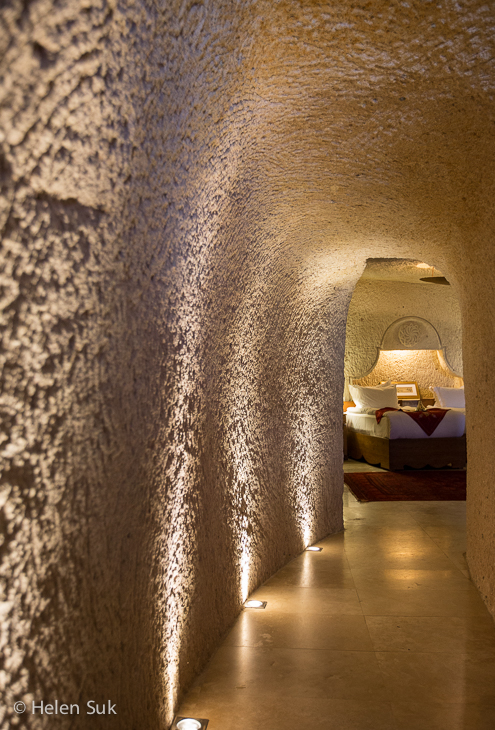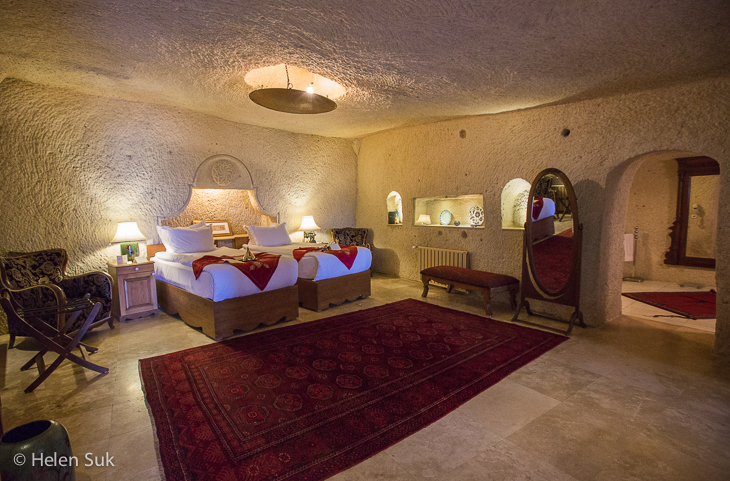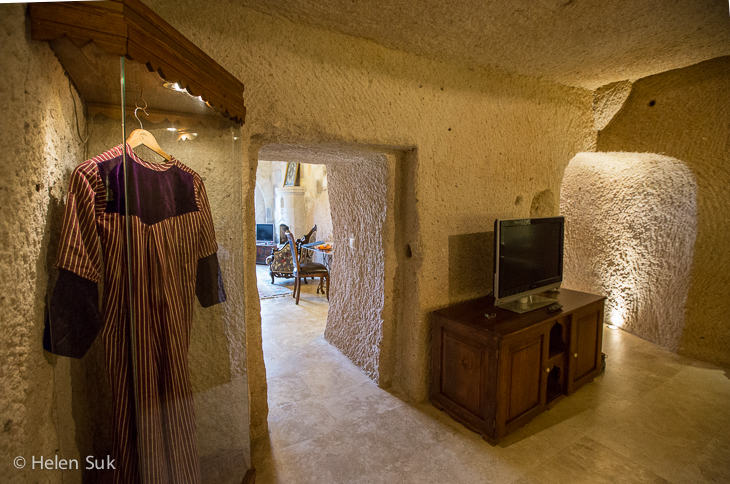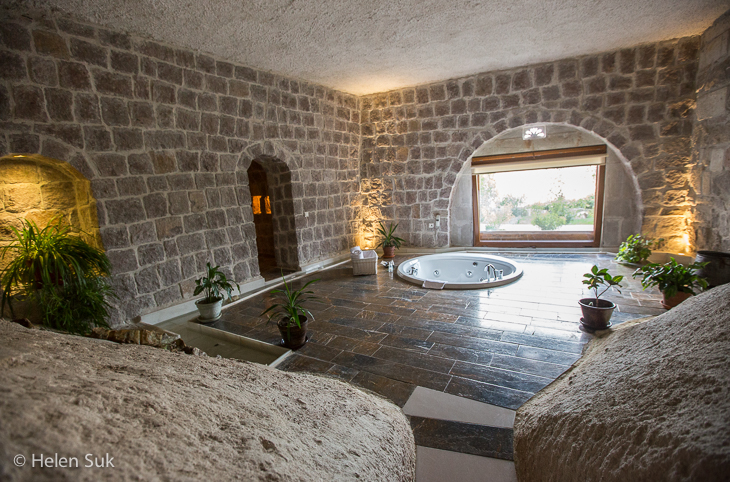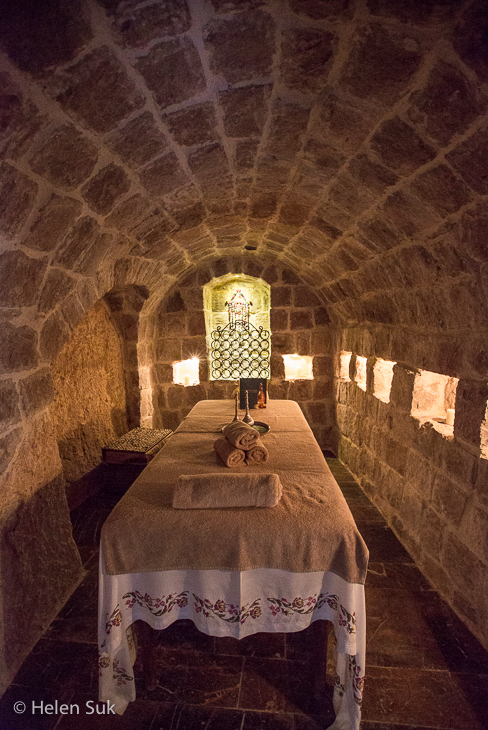 But, being a curious guest, I explored the mansion and peeked into the other accommodations, where I found the same natural elements, historical touches and attention to detail that make the Museum Hotel an award-winning property.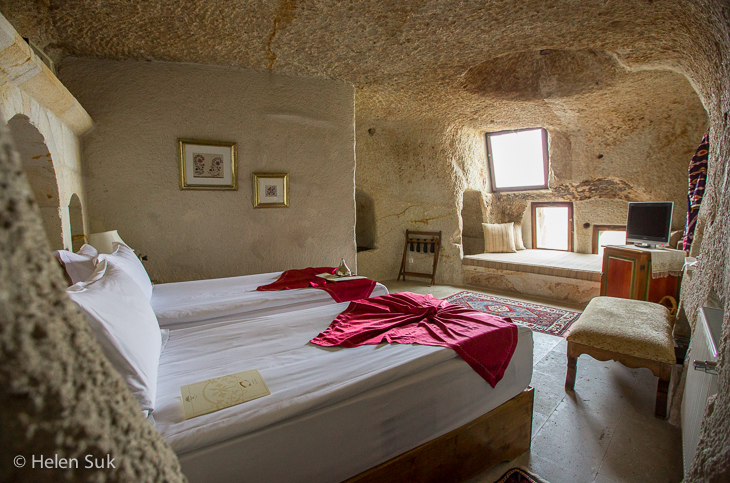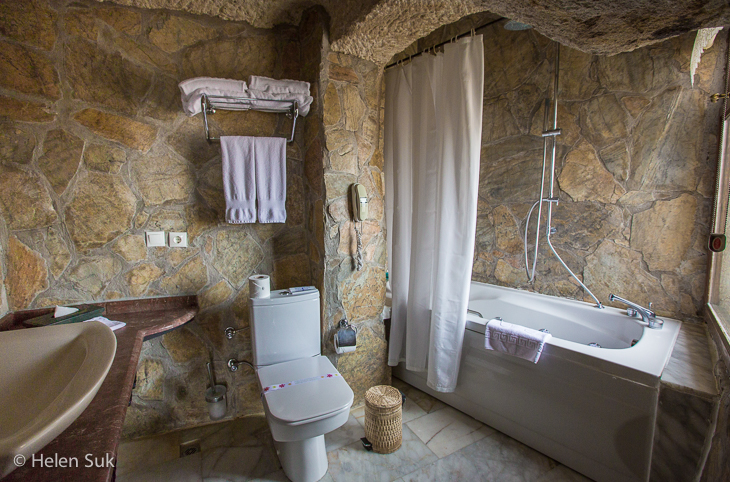 And take this from a claustrophobe: at no time during my stay did I feel a shred of anxiety or panic — not in the tunnels, my suite or any of the other rooms. With that said, you can request a room particularly designed for those who are claustrophobic.
Rooms start at 300 Euros per night.
Dining
It pains me to write this because every aspect of my stay at the Museum Hotel was sublime — except my dinner at Lil'a restaurant. It fell surprisingly short.
The dining room is sophisticated in decor and offers a fantastic view.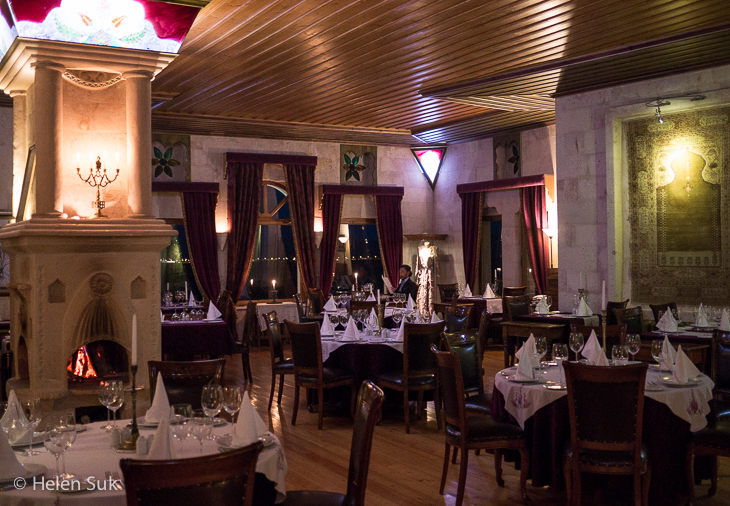 With its award-winning and rare Turkish cuisine made with the finest ingredients and produce from its own organic garden, Lil'a promises an unforgettable, world-class gastronomic experience. The quality of my meal, however, didn't reflect the distinguished status of the hotel. For example, my Cokertme main of grilled filet steak slices, garlic yogurt and shoestring potatoes should have been more flavourful and hotter in temperature.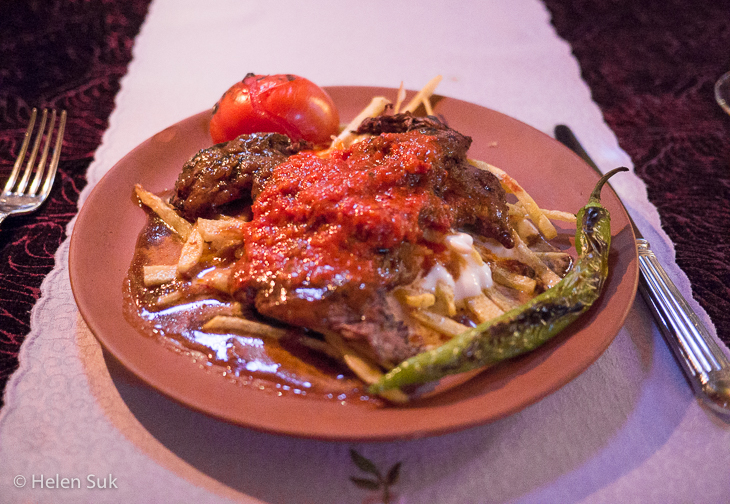 It's bewildering. The online reviews of the restaurant are full of praise, including the one shared by other guests during my stay who had nothing but positive words to say about their dinner the following evening. I'm convinced that I dined in Lil'a on an off night when the restaurant was simply not at the top of its game.
Thankfully, the hotel takes the feedback of their guests seriously and seeks to continually raise the bar. How an establishment responds to constructive criticism reveals their level of commitment to guest satisfaction and service excellence. In this case, the management team listened attentively and asked for every detail to identify the areas of improvement, and our candid conversation led to profuse apologies and an invitation to return.
While my dinner didn't make the grade, the buffet breakfast, in contrast, did. It was outstanding — quite possibly the best I've had in any hotel. Both the variety and quality of the offerings were fabulous.
What made it extra special though was the made-to-order gozleme, my favourite Turkish dish: a traditional pastry of thin dough stuffed with a choice of fillings and cooked over a griddle.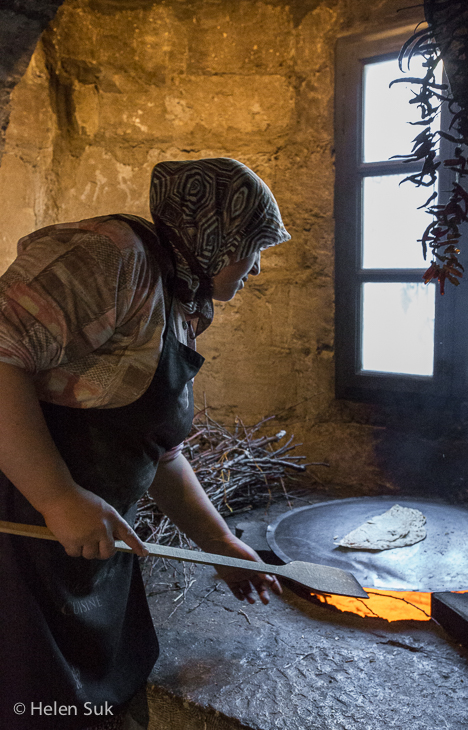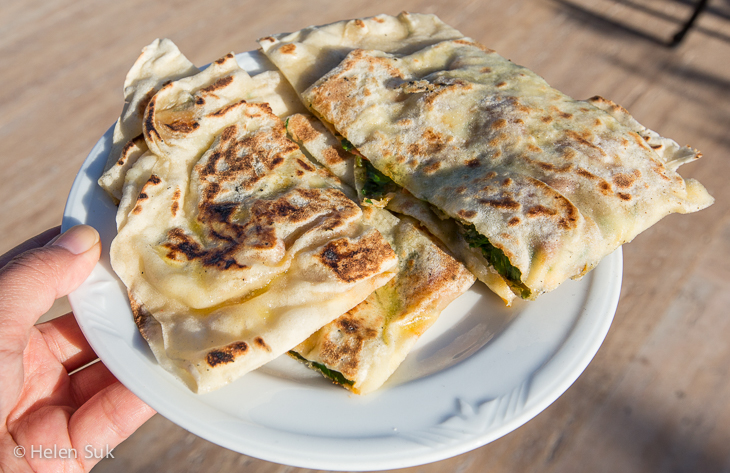 The Barber
Did you know Turkish barbers are renowned for their skill and precision, employing traditional techniques like singeing stray ear hairs? Every morning on the terrace, you can watch one in action or — better yet — male guests can take your turn in the barber's chair. They can enjoy a haircut or meticulous shave against the setting of a golden sunrise and balloon-filled sky.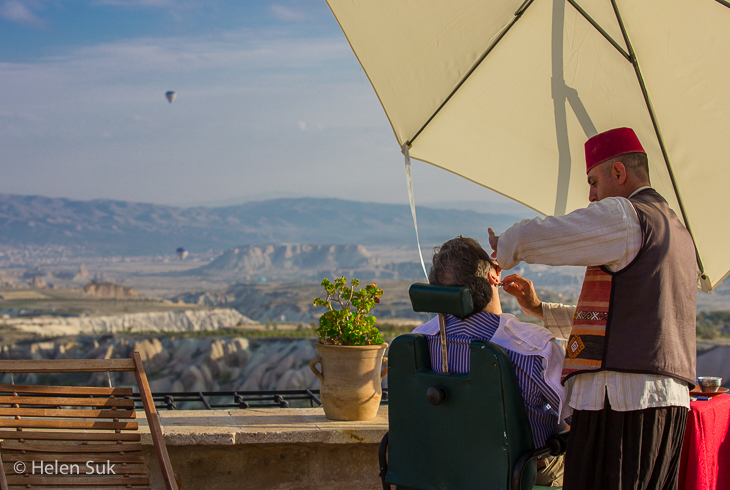 The Spa
After a day of sightseeing, you may want to pamper yourself with a spa treatment (Cariye's Secret or Sultan's Pleasure, anyone?) in the privacy of your cave or, during the summer, on the massage terrace with — you guessed it — a dramatic view of the Cappadocian landscape.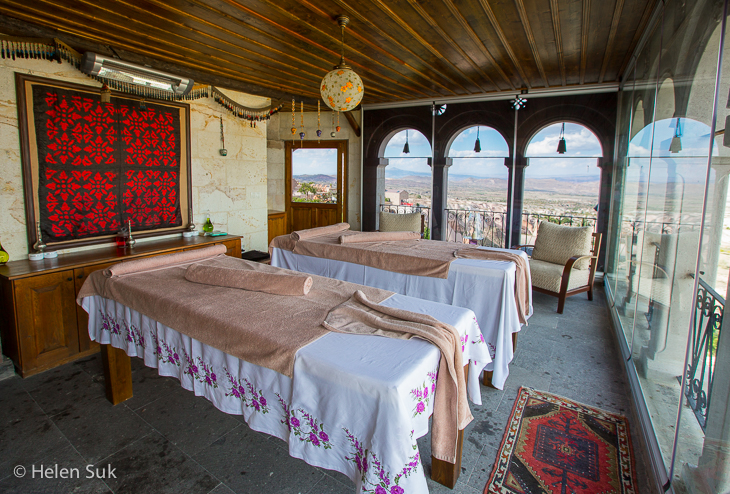 Unique in Every Way
The Museum Hotel is a one-of-a-kind experience, far more than just a place for upscale rest and relaxation. Despite the one snag in the restaurant, my stay was magical and I'm doubtful I'll ever stay in a hotel that can match the superb setting, architecture, and historical and cultural treasures I found here.
Book a stay at the Museum Hotel on their website or Booking.com here.
Disclosures: I received a complimentary stay at the Museum Hotel but rest assured all opinions expressed in this post are my own. This post also includes an affiliate link that allows me to earn a modest commission from Booking.com if you click on it and make a hotel reservation. Thank you for your support!
Pin this to Pinterest