If you haven't heard of or had the blissful pleasure of visiting Nordik Spa-Nature, you, my friend, are missing out. It's the spa Ottawa residents and visitors in the know indulge in for serious R&R therapy because it's in Chelsea, Quebec, a mere 15-minute drive from Canada's capital city.
Envious? You should be.
*Since photos are not permitted on the property, all images in this post are courtesy of Nordik/Photolux*
Why You Need to Visit Nordik Spa-Nature
This year-round Nordic spa is expansive — the largest spa in North America, in fact. Think a bigger and better Scandinave Spa. Sprawled across the village inside and outside are 10 baths (hot, cold and temperate), seven saunas, two steam rooms, an infinity pool overlooking Ottawa and Gatineau Park, a lounge, restaurant and relaxation areas.
You can see the layout of the property here.
The 10 Baths
So what's up with the hot and cold baths, you ask? Nordik Spa-Nature is based on the ancient Nordic practice of thermotherapy, that is, the cycle of alternating between hot and cold. Also known as heat therapy, it brings numerous physical benefits, including: boosting the immune system, relaxing the muscles, improving blood circulation, eliminating toxins and toning skin. It's good for the mind too as it alleviates tension and stress, leaving us more balanced.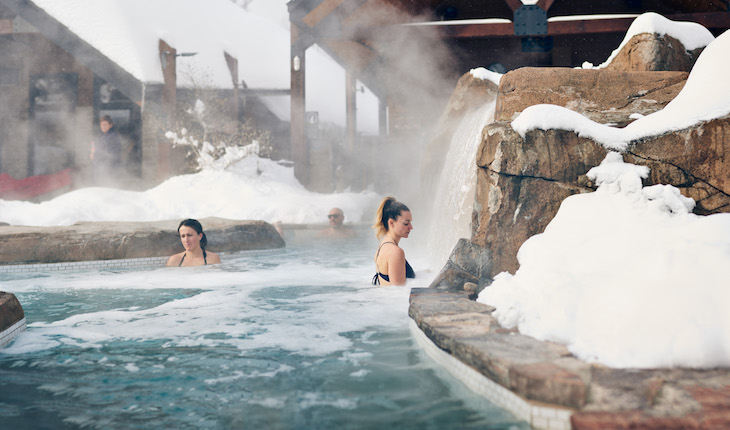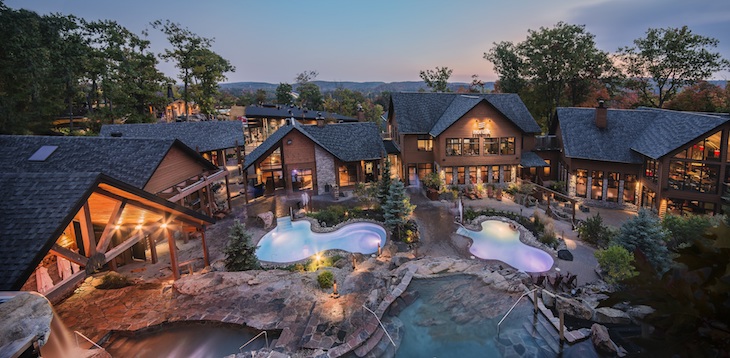 I didn't experience the full benefits of the thermal cycle though as I merely dipped my toe in one of the cold baths (an amateur, clearly). Most of my time outside on that cold November night was spent in the steaming Näkymä infinity pool — with a glass of bubbly in hand.
The Seven Dry Saunas
From the tiny Barik 2 cedar sauna to the three-tiered Finlandia sauna that seats up to 60, you'll experience more sauna styles than you knew existed.
One thing to keep in mind: the saunas vary in temperature so if you don't want to be overwhelmed, start with the Aromi sauna (60-65°C). If, however, you like it hot (like I do!), head straight for the Maa or Russian-style Banyä sauna (95-100°C).
No matter which saunas you enter, you'll be in for some serious purification and regeneration.
Sauna Rituals
Up for something more multisensory? Consider one of these two sauna rituals:
Aufguss Ritual:
Each day, every two hours between 11:00am-9:00pm, a gong rings through Nordik Spa-Nature, signalling visitors to enter the Finlandia sauna for the Aufguss Ritual. Meaning "infusion" in German, this 15-minute Finnish performance is led by a sauna meister (yes, it's a real job) who pours water infused with natural essential oils over the hot stones, releasing a rush of health-enhancing, scented vapours. Swinging a towel to music, the meister fans everyone inside as the heat intensifies.
Banyä Treatment:
For a more intense experience, you can book a one-hour Banyä Treatment (offered daily for $65) in the Banyä sauna. Based on a 1000-year-old Russian tradition, this ceremony involves being gently but firmly swatted with a brush made of water-infused branches to stimulate circulation and the sweat glands.
The Two Steam Rooms
At a temperature of 45-50°C, the Mediterranean-inspired steam rooms in the Vaporo building aren't as warm as the dry saunas but breathing in the moist, naturally scented air is energizing.
One room is steamed with pure eucalyptus oil, the other orange. Both have restorative properties so you'll want to breathe that air deep into your lungs.
The Källa Treatment
Nordik Spa-Nature offers one experience other spas in North America don't: the Källa Treatment. This involves meditatively floating in an underground, saltwater pool that offers therapeutic properties similar to those found in the Dead Sea. The high concentration of salt (12%) won't let you sink even if you wanted to.
I've had the privilege of floating in the Dead Sea in Jordan but that requires an overseas flight. The Källa Treatment is the next best thing! It's a rare, surreal experience. In fact, the only other saltwater pool of this kind is in Switzerland.
I floated in the pool with about five other guests but I imagine it wouldn't be as comfortable or as peaceful when it's at its capacity of 20 people. I recommend entering when there are less than 10 people in it. The entrance to the pool will tell you how many guests are in it at a given time.
Before the treatment, don't forget to dab any scrapes or cuts on your skin — no matter how small — with the petroleum jelly provided at the entrance to the pool. Otherwise, you'll feel the intense sting. And ,whatever you do, do not touch your eyes!
The Källa Treatment can be added to the thermal experience for $40.
Massage and Body Treatments
Of course, what's a spa without massage therapy? Nordik Spa-Nature offers nine types of massages. My Swedish massage left me invigorated but I'd love to experience it again in one of the elevated, outdoor wooded pavilions among the trees during the summer.
From facials to exfoliation, the spa also offers a variety of body treatments for both men and women.
Make a Day of It
Make Nordik Spa-Nature a full-day or all-night affair because it will be hard to leave. Eventually, you'll get hungry but not to worry. While still cocooned in your bathrobe, you can break for coffee in the cafe, a drink in the lounge or a meal in the restaurant.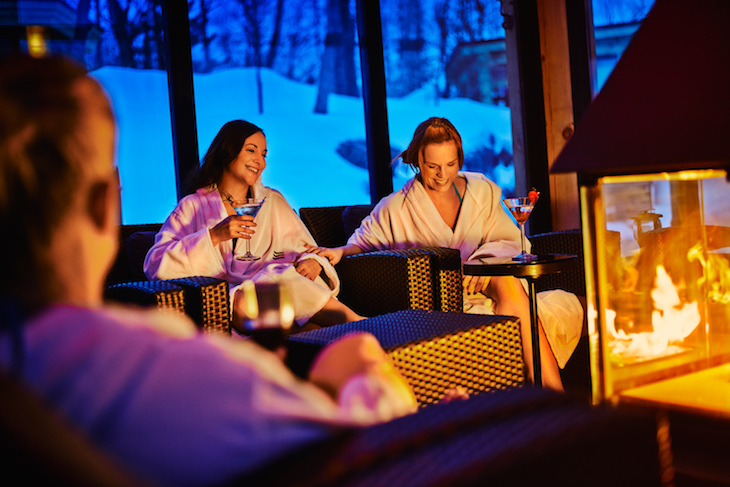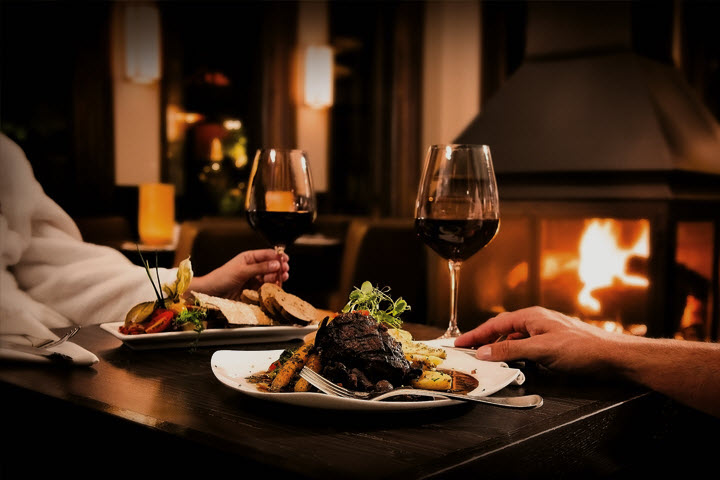 In the end, all your troubles will have melted away and you'll leave in a heightened state of being. I did.
Upcoming Nordik Group Developments
Here's some promising news: Nordik Group (the owners of Nordik spas), one of Canada's favourite wellness empires, is poised for expansion. To add to its flagship location in Chelsea, Quebec and facility in Winnipeg, Manitoba, plans are underway to open a third spa in 2019 in Whitby, Ontario, just one hour east of Toronto. Highly anticipated by spa lovers, the Whitby location's Facebook page already has over 4,000 likes. The spa won't be quite as large as the Chelsea property once the first phase of development is complete, but who knows what the second phase will bring!
In addition, a 60-room hotel at the Chelsea Nordik Spa-Nature is slated to also open in 2019 which is sure to attract more travellers whose current options for accommodations at the spa are only two large cottages that are more suitable for large groups. In the meantime, you might as well overnight in Ottawa and explore the city's attractions (look out for my upcoming post on Canada's capital!).
What You Should Know:
Opening hours: 9:00am-11:00pm Sun-Thurs; 9:00am-midnight Fri-Sat.
The rate for the thermal experience with access to the baths, saunas and steam rooms: $55 Mon-Thurs; $65 Fri-Sun.
Bring a swimsuit, slippers and bathrobe (or rent a robe at the spa for $12).
Respect the spa's three areas: one for silence, the second for whispering and the third for socializing.
This is a wildly popular spa that can get crowded so consider visiting on a weekday or weeknight. It also helps to book your massage or body treatment during peak afternoon hours. I was there on a Sunday and it definitely quieted down in the evening.
During your thermal experience, keep your valuables in your locker (a waterproof wristband lock will be provided upon arrival). It's tempting to keep your smartphone in the pocket of your robe but with so many visitors wearing white, it's not uncommon for someone to accidentally take another's robe after emerging from a bath or sauna. It's easy to make this honest mistake. Both my friend and I had our robes taken but we're thankful we didn't lose any valuables.
Photos are prohibited once you enter the spa (another reason to keep your phone in your locker!).
Searching for a hotel in Ottawa? Check rates at Booking.com here.
Have you been to Nordik Spa-Nature? If not, is this an Ottawa spa you'd want to experience? Share your thoughts or tips below!
Pin This Post to Pinterest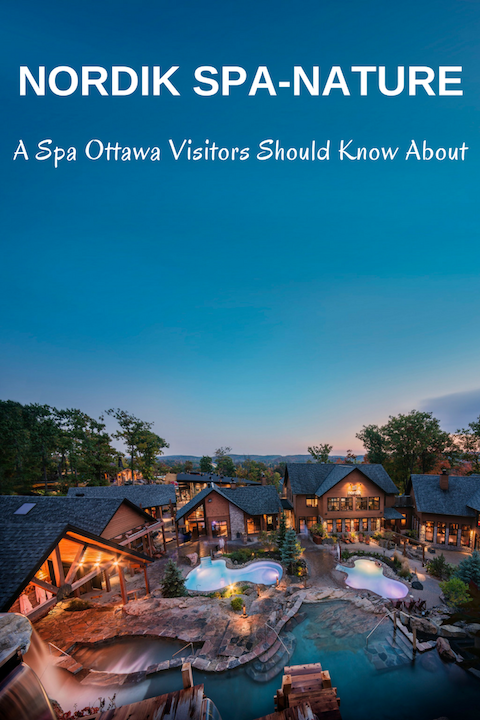 Thanks to Ottawa Tourism for making this experience possible. Rest assured all opinions expressed in this post are my own. I earn a small commission from Booking.com if you click on one of their links and make a reservation through their site at no cost to you (thank you for your support!).