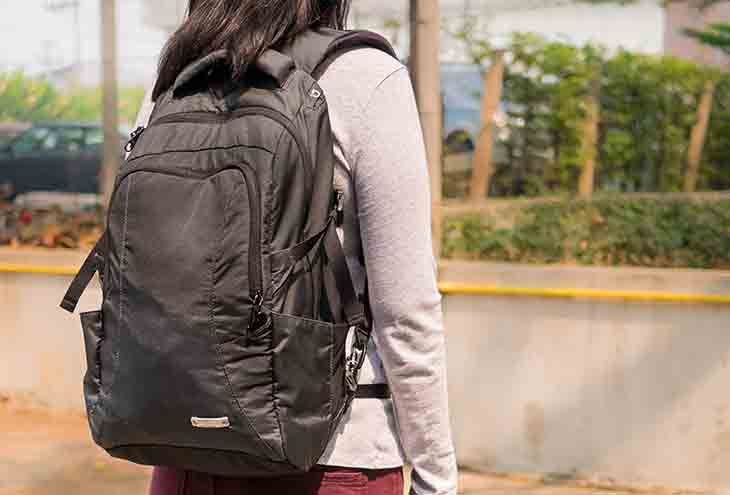 Update February 14, 2017: Sadly, this Pacsafe backpack appears to have been discontinued, but the Pacsafe Venturesafe 25L GII Anti-theft Backpack looks comparable (minus the removable pouch).
After four months of travel through Thailand, Laos, Turkey and five African countries, I can finally offer my take on the Pacsafe Ultimatesafe 22L Anti-Theft Backpack.
If you've ever talked to me about travel gear, you'll know I'm a huge fan of Pacsafe products. I may have even motivated you to buy one. From suitcases to wallets, this brand helps travellers outsmart thieves who would love nothing more than to get into your belongings.
I'm already a proud owner of the Slingsafe 250 GII handbag and Carrysafe camera strap, so when the company sent me the Pacsafe Ultimatesafe 22L Anti-Theft Backpack to review, I was elated.
Three months later, I can't imagine travelling without it.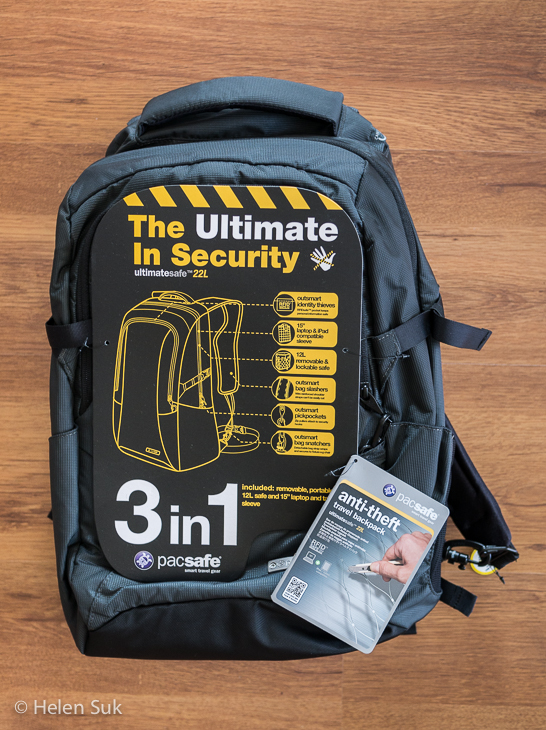 Size
The backpack comes in two sizes: 22L and 32L. I went with 22L since I wanted one that isn't too bulky to use as both my carry-on bag and daypack for exploring.
Here's what I can I fit in the main compartment:
13-inch MacBook Air
Canon 5D Mark III DSLR (stored in a padded cube that I purchased separately)
Sweater
Notebook
Wallet
Snacks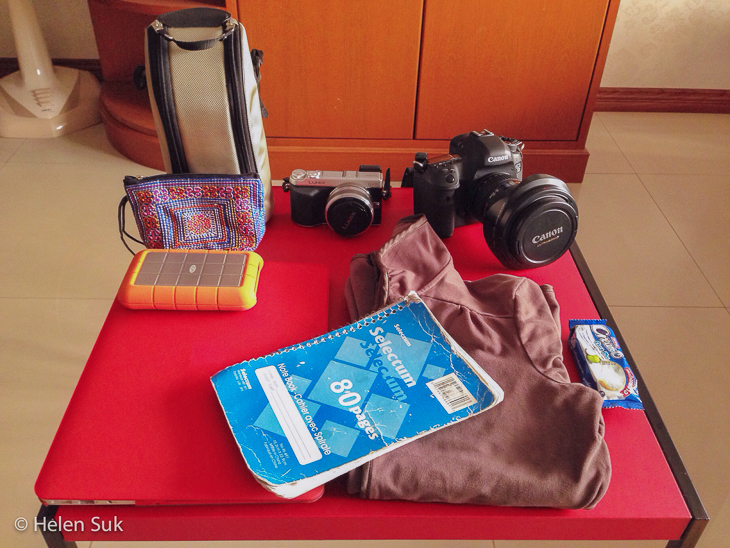 In the smaller compartment, which includes three pockets, I can fit all the things I typically carry in a small purse: my iPhone, battery case, earbuds, sunglasses, tissue pack, lip balm, TSA-approved toiletries, etc.

Quality
Thanks to its high-quality design, this nylon backpack is both durable and ergonomically comfortable (but, should something go wrong, Pacsafe products come with a five-year warranty).
The panel that rests against my back is well-padded so none of the contents in the bag poke into me.
Included is a removable, padded sleeve with a side pocket for a tablet or 15-inch laptop (or both).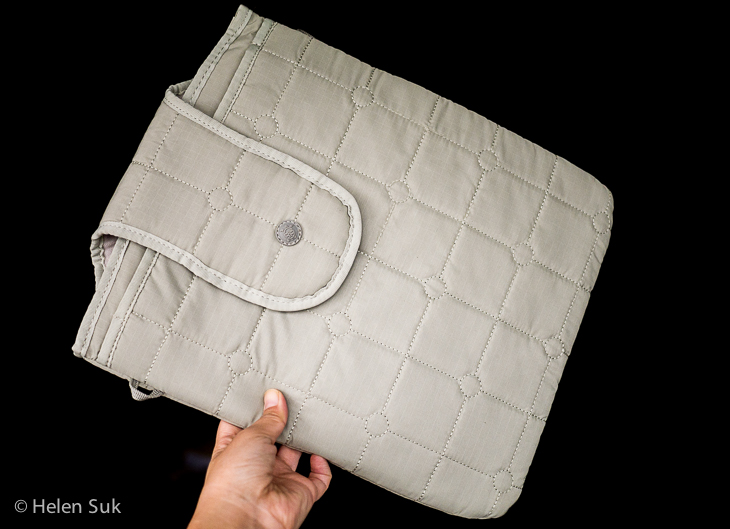 The shoulder straps are amply cushioned and made with soft fabric that's smooth against the skin. They're adjustable and also padded so they don't cut into my shoulders when the backpack is heavy (which is often).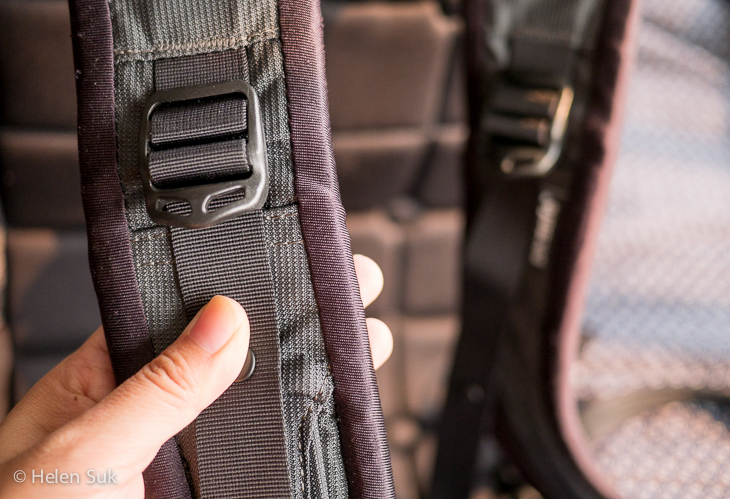 But the waist belt is merely a thin nylon strap — a bit of a disappointment, but I rarely use it and just stuff the two ends into the side pockets, which carry a water bottle and small items.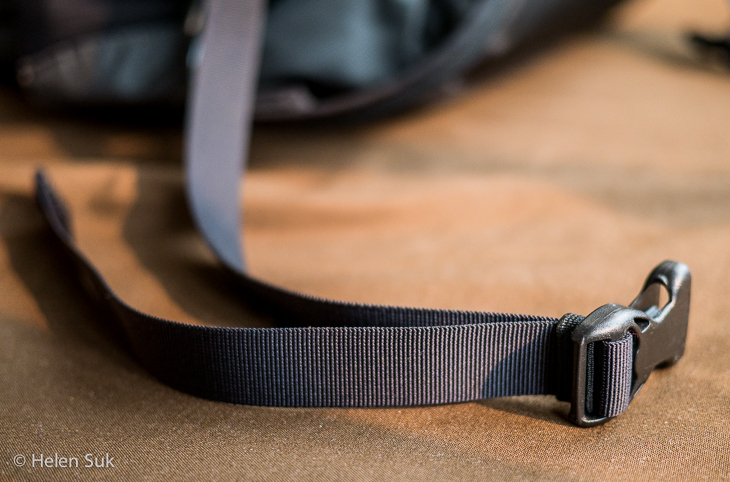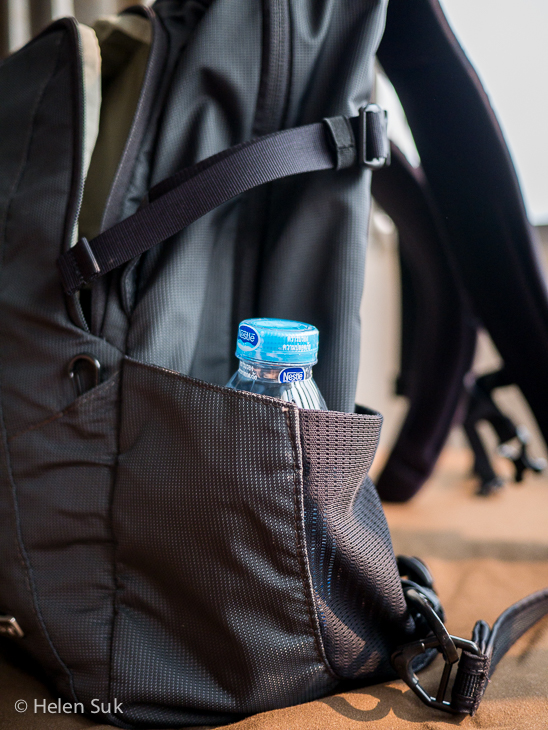 The padded top handle is convenient for a quick grab-and-go.
The zippers function smoothly.
Anti-Theft Features
Now for the good stuff.
The smaller, outside compartment is protected by Pacsafe's patented eXomesh technology: a lightweight, slash-proof, stainless steel wire mesh built into the material to prevent slash-and-run theft.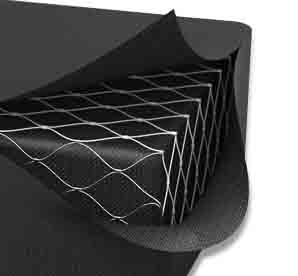 The backpack comes with a removable 12L pouch made with the same eXomesh protection for added peace-of-mind. It's bulky so I don't keep it in the main compartment, but it can be used, for example, to lock the bag to a secure fixture in your hotel room with the stainless steel, slashguard cable and padlock. Think of it as a portable safe.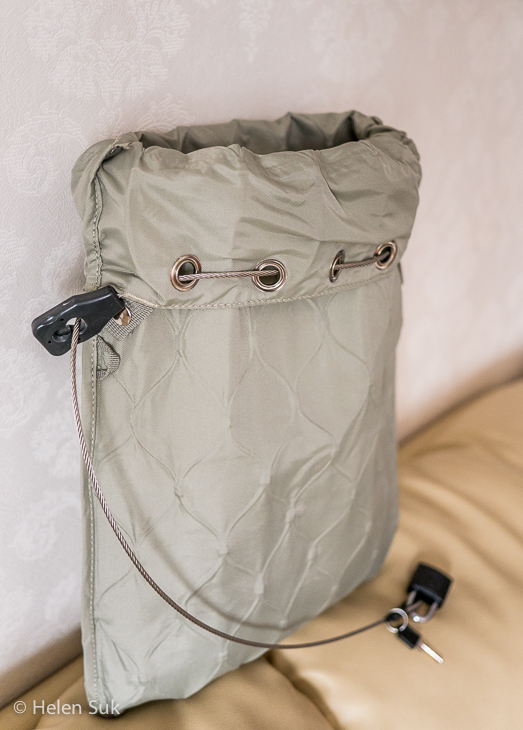 I can lock the main compartment of the bag with a small zipper lock (not included with the purchase). I carry expensive camera gear so, for me, this is important. It's an inconvenience to lock and unlock it every time I open it, but there's just no way around that.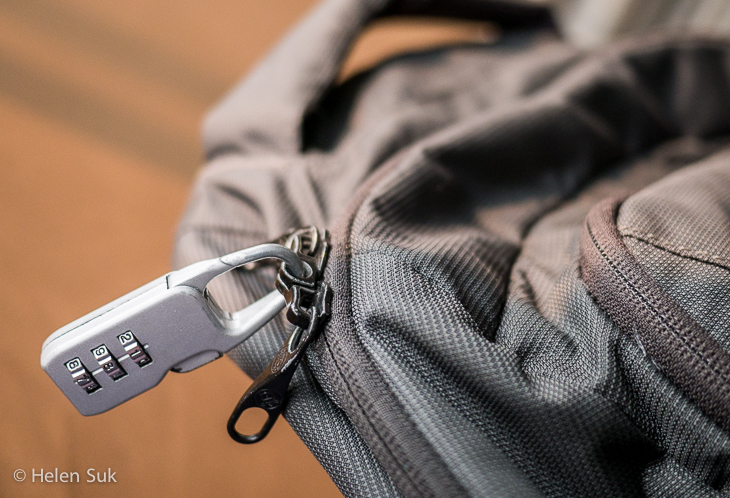 The smaller compartment of the backpack includes an inside key/wallet ring, as well as an outside zipper puller. When I zip the compartment closed, I clip the zipper to a secure hook, which functions as an annoying impediment for pickpockets. They'd have to fumble with it to get into my bag.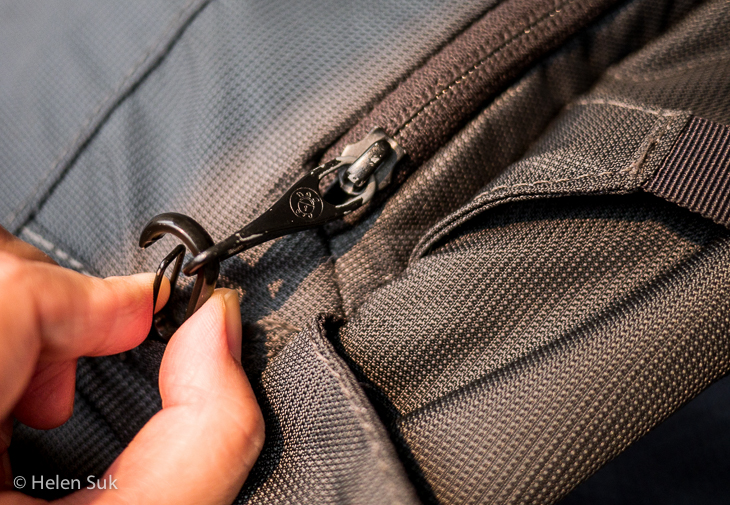 Did you know thieves can now steal your identity with an RFID reader from up to 10 ft. away? They can scan your bag and steal personal information from the micro-chips on your credit cards, ID cards and passport. Pacsafe has responded by including a pocket in the smaller compartment made with RFID-blocking material that protects your most sensitive data.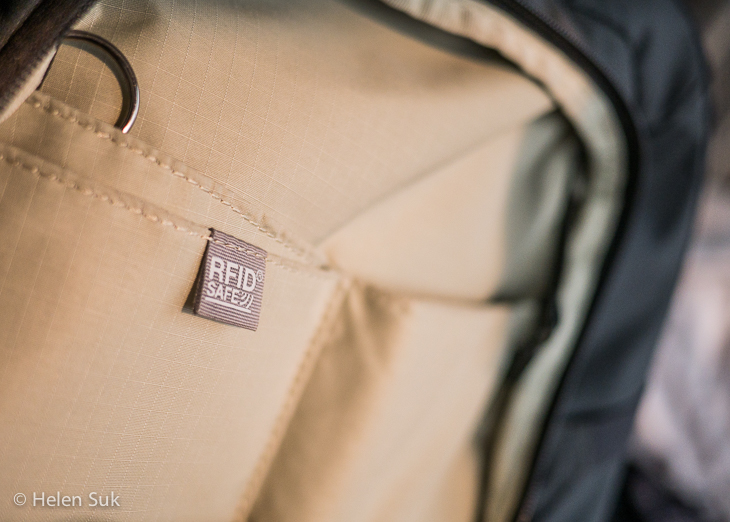 The shoulder straps are constructed with slash-proof wire. In addition, one strap includes a turn-and-lock security hook that can be unfastened and locked to a fixture to prevent bag snatchers from taking off with my backpack.
I use this feature at restaurants and cafes by securing the bag to my chair. Twice I've had my purse stolen from right under my nose in this kind of setting, so I always exercise caution. (Thieves can be frighteningly good at what they do.)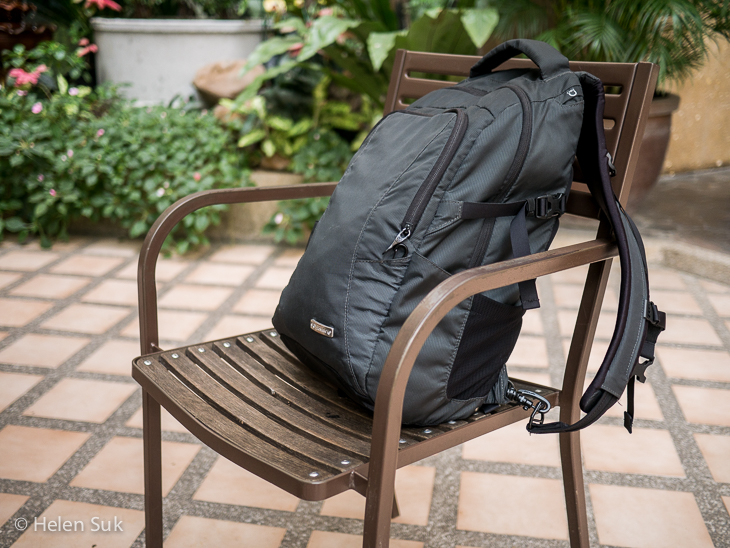 Suggested Improvements
As much as I love this backpack, I think there's room for improvement:
I'd like to see the eXomesh technology integrated into the side and bottom panels.
It could really use some protection from the natural elements. (For now, I suggest purchasing a generic waterproof cover.)
The waist belt would be more comfortable with light padding in the strap.
Performance of the Pacsafe Ultimatesafe 22L Anti-Theft Backpack
So no one made off with my backpack, but were any of its contents stolen during my three months of travel? So far, so good.
There was, however, one close call. Night was falling in Rwanda and, as I was shooting a photo, I turned to find a young man standing suspiciously close. On the edge of Lake Kivu, few people were around and there was absolutely no reason for him to be two feet behind me. He was with two teenagers who were watching in the distance. As soon as I became aware of their presence, they slowly walked away. Was the man attempting to sneak into my backpack? I'm certain he was. Had he already tried? That, I don't know.
But, had I been using a different backpack, I would have spent my travels in paranoia: repeatedly glancing behind me, worrying about who's standing too close and checking if the zipper has been opened. Even if thieves don't try to pickpocket me, the backpack replaces my worries with peace of mind when I'm on the road. And that's kind of freeing.
Pin this Post to Pinterest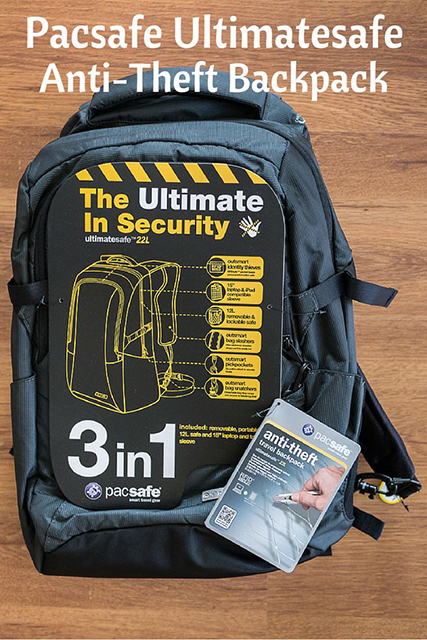 How else can you keep your valuables safe? Read my post on travel safety essentials.
(Thanks to James Schipper of Live Collar Free for the featured photo.)
Disclosures: I received the Pacsafe Ultimatesafe 22L Anti-Theft Backpack for review purposes, but rest assured that all opinions (both positive and negative) are my own. I also make a small commission from Amazon if you make a purchase through some of the links on this page (it's the only meagre way I monetize this blog; thanks for your support!).