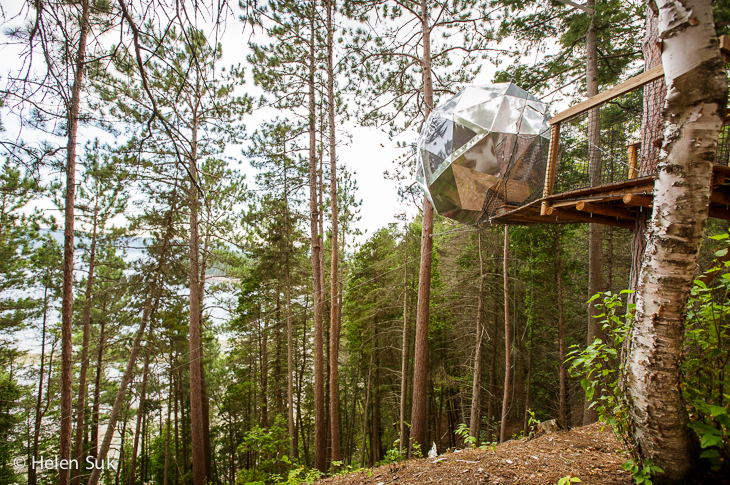 In Canada, there's camping. Then there's Parc Aventures Cap Jaseux.
In Saguenay—Lac-Saint-Jean, Quebec, nature lovers and adventure seekers can experience an outdoor adventure like no other. Located in a rich ecosystem on the shores of Saguenay fjord, this ecotourism destination offers splendid scenery, rare accommodations and an extraordinary playground for adults and little ones alike.
I had the opportunity to visit the park last month, and it left me wondering: how do Canadians outside of Quebec know nothing about it?
The Cap Jaseux Setting
It may not be as famous as its Norwegian counterparts, but Saguenay fjord is the largest fjord in Quebec and one of the longest in the world, stretching from the city of Chicoutimi, across the Canadian Shield to the St. Lawrence River. With imposing cliffs rising above the waters, the fjord provides the dramatic setting for Parc Aventures Cap Jaseux, about 2.5-3 hours north of Quebec City.
The Accommodations
Most unique about the park are its accommodations: the dome, tree houses and suspended spheres.
The Dome
Since the dome was occupied by other guests during my visit, I didn't get the chance to scope it out (there's only one). This igloo-shaped structure measuring 20 feet in diameter is constructed with glass, allowing guests to behold Saguenay fjord and sleep under a starry sky. This article is in French but includes excellent images to give you a sense of what it's like.
The Treehouses
For the young at heart seeking a more rustic experience, the park offers units that bring guests closer to nature — and the sky. Built 8 metres above ground, the tree houses come with basic comforts, a balcony with a barbecue and superior views of the fjord.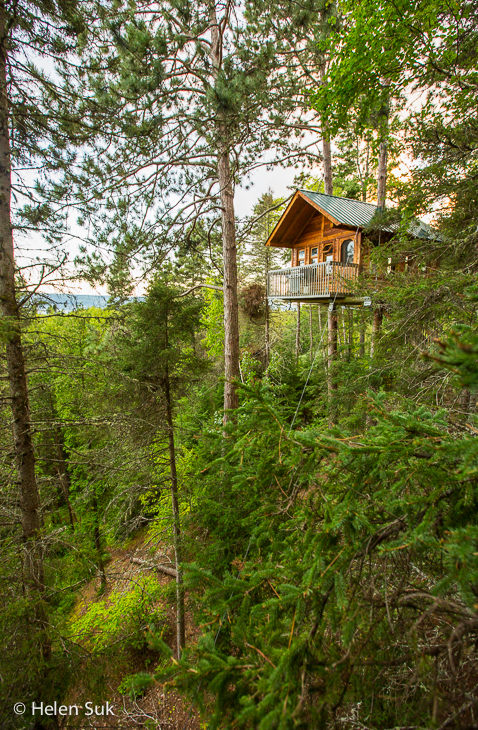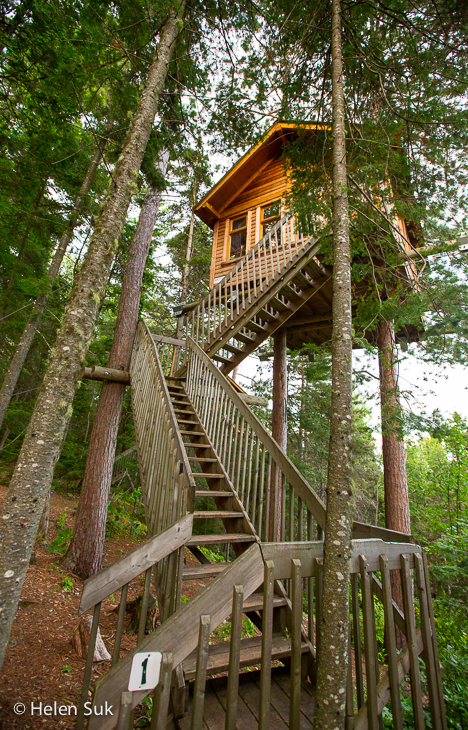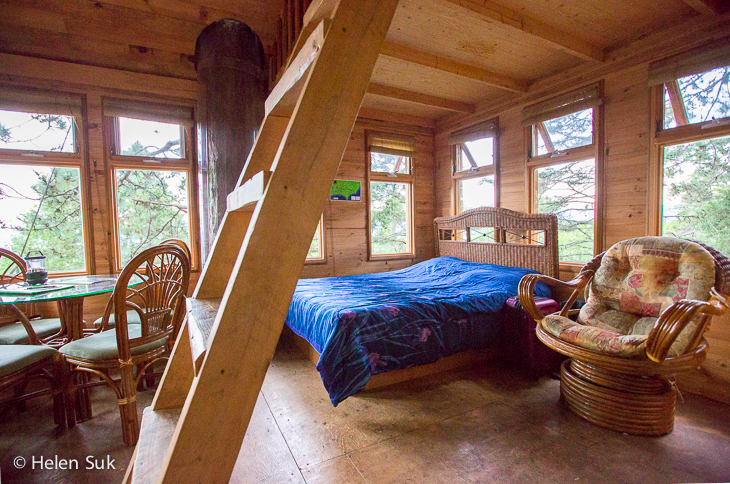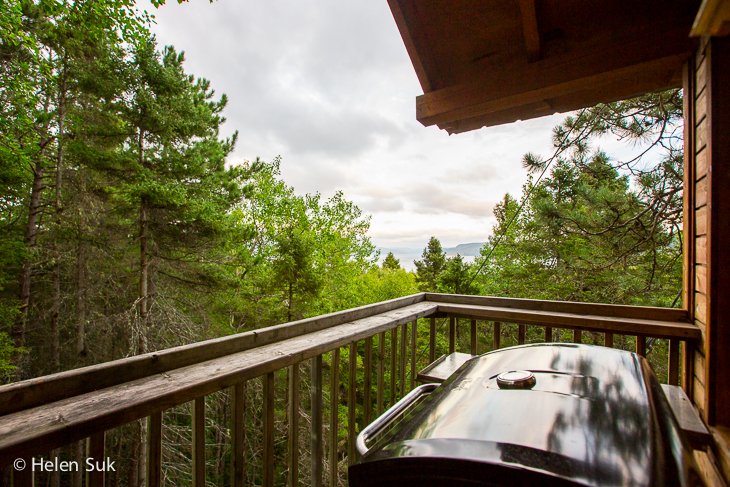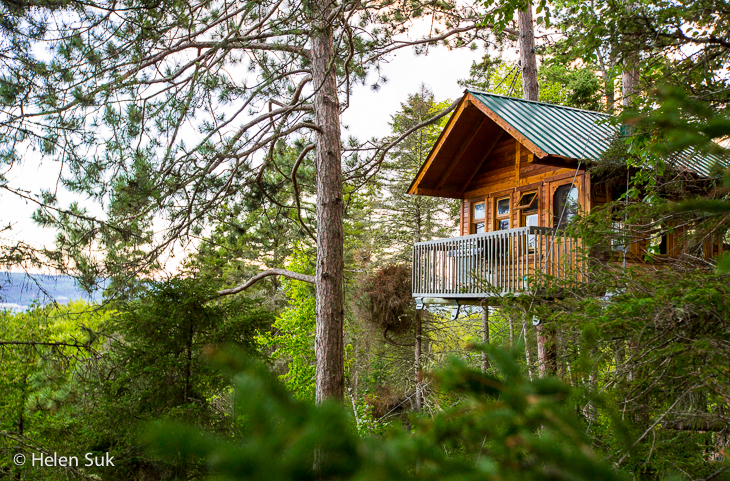 They'll inspire the kid in everyone.
The Spheres
I slept in one of the two spheres, the park's most unusual accommodations. These giant, fiberglass bubbles are suspended in a private wooded area overlooking the fjord. Inside, space is tight, but the main attraction is their novelty. My overnight experience was surreal.
Built with silver reflective material, one pod hangs like a disco ball in the forest.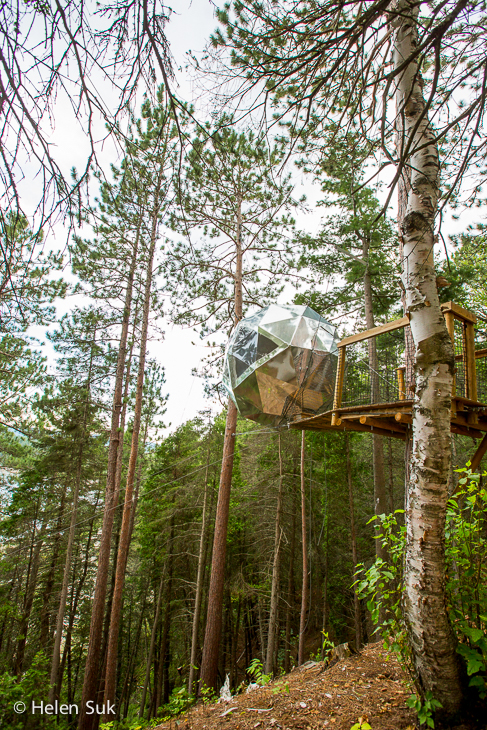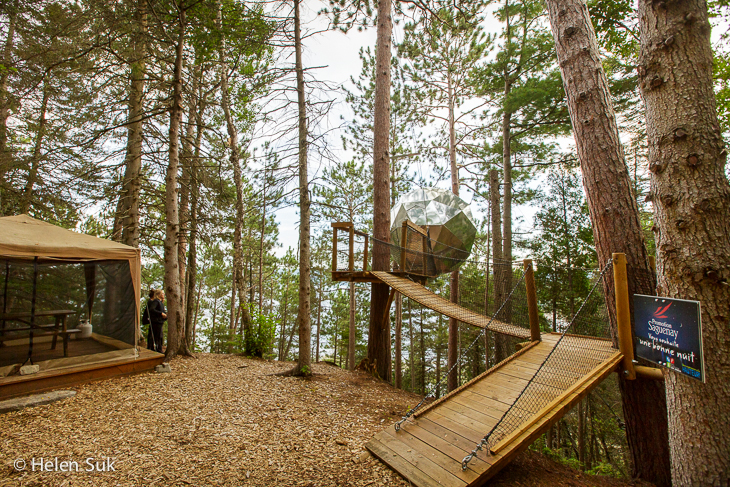 In contrast, the second sphere is camouflaged to blend with its natural surroundings.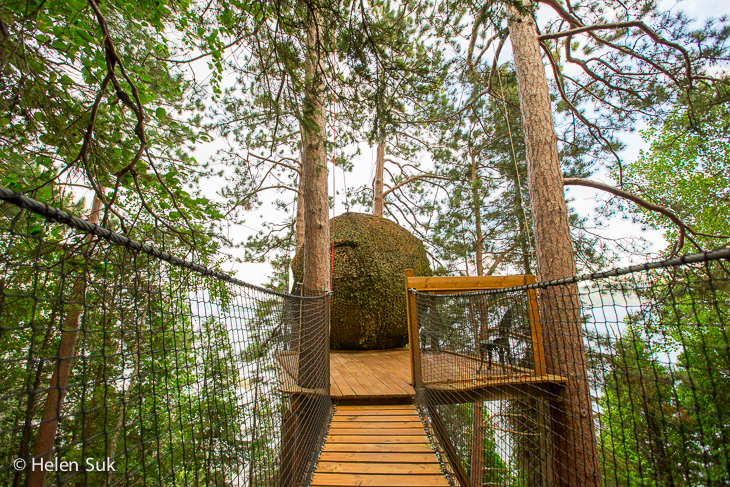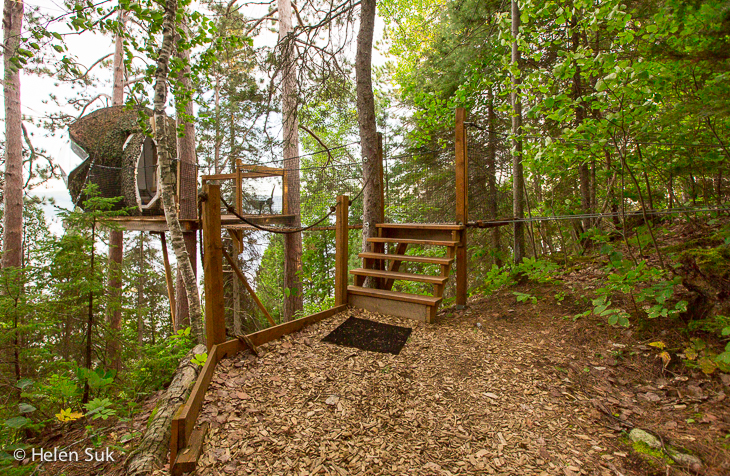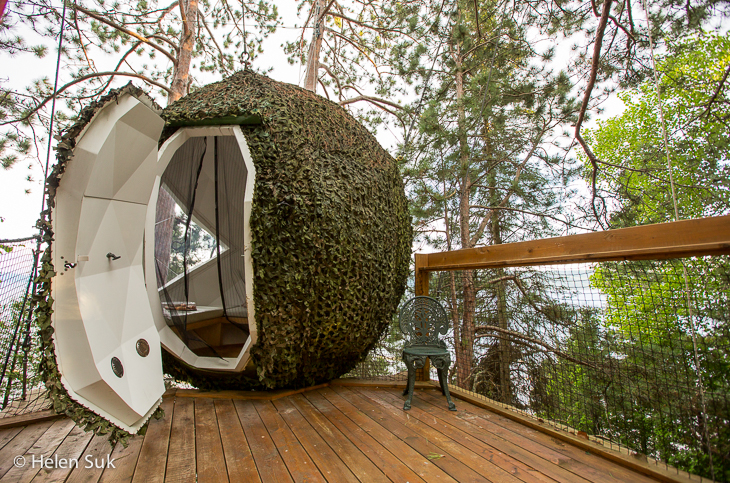 A few things to keep in mind for the dome, tree houses and spheres:
They're snatched up quickly, so it's best to make a reservation at least seven to eight months in advance for a summer stay.
They all offer privacy.
They're equipped with dishes, utensils and cooking supplies, but not with running water, electricity or bathrooms. There is, however, a battery-powered lantern inside and water pump outside. The toilet (quite possibly the nicest outhouse you'll ever use) is nearby. Further away, guests can also use the new sanitary block (near the park's entrance) for access to flush toilets and showers.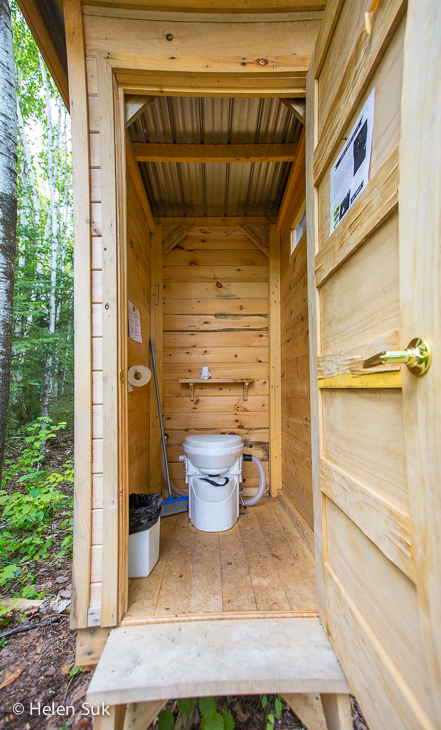 Food: a breakfast tray can be ordered in advance for 12 CAD/person, and I highly recommend dining at La Vieille Ferme, the farm-to-table restaurant at the entrance to the park featuring regional cuisine (they can also prepare vacuum-sealed meals to take back to the park). A supermarket is also close by.
As of writing, rates for all three types of lodging are 235 CAD/night during the summer, and 215 CAD/night during the spring and fall.
The park also offers traditional log cabins and campsites at lower rates.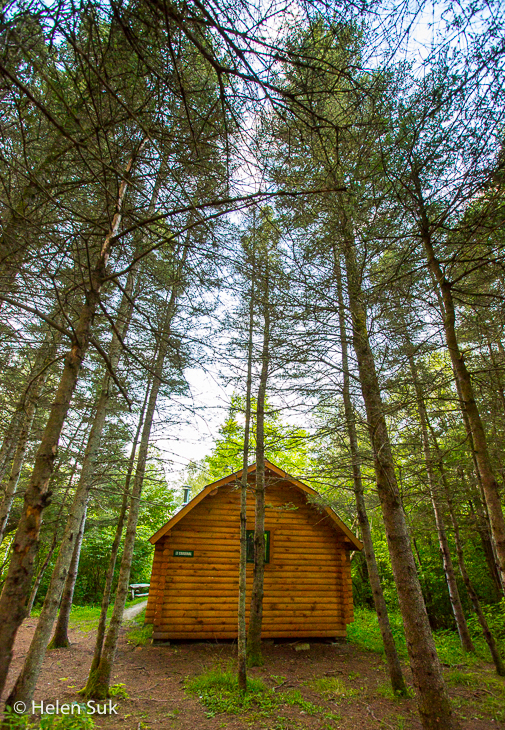 Activities
Parc Aventures Cap Jaseux isn't just for slumber, it's adventure central. Visitors can take part in all the activities one would expect to enjoy in the great outdoors: beach relaxation, hiking, ziplining and sea kayaking on the calm waters of the fjord.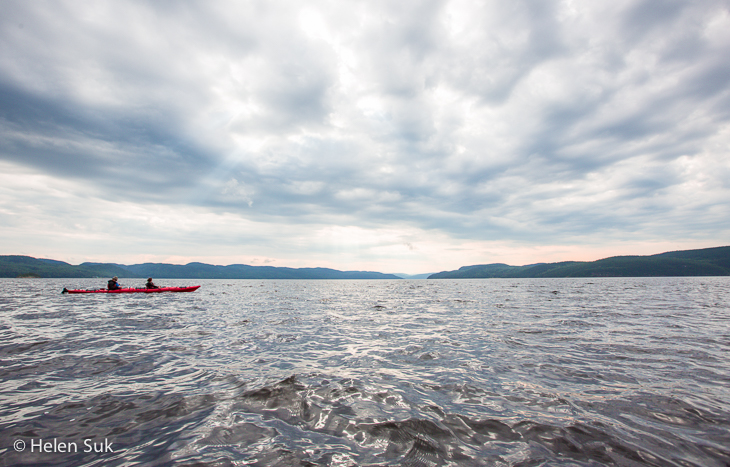 But the park takes its passion for adventure even further, in an American Ninja Warrior kind of way.
The via ferrata, a hiking and climbing course originating from Italy, tests physical strength and endurance against the backdrop of Saguenay fjord. Watch this video to see how it's done (hint: it's not for the faint of heart or those with a fear of heights).
But if that isn't intense enough, the aerial ropes course includes 73 aerial bridges, with each tree presenting a new challenge for adrenaline junkies. If you're afraid of plunging to the ground, not to worry: safety cables, harnesses and nets are there to catch your fall.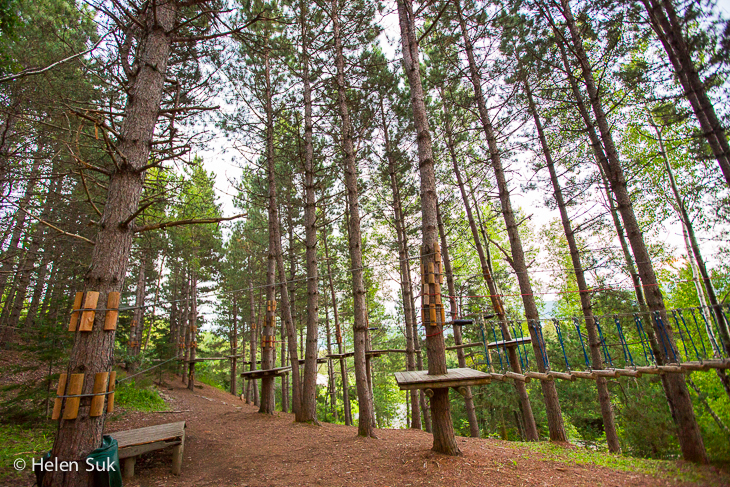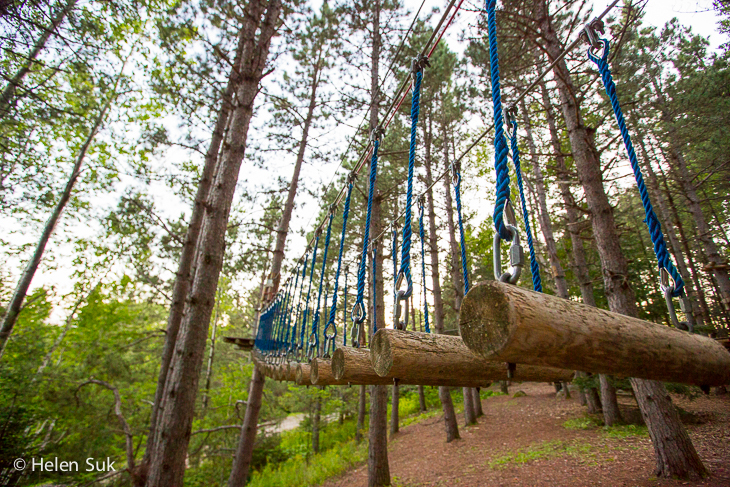 With novel sleeping quarters and activities for thrill-seekers, Parc Aventures Cap Jaseux is a complete outdoor experience where you can get back to nature, with a touch of innovation.
Have you heard of this park? Is it a place you would visit?
Many thanks to Tourisme Saguenay—Lac-Saint-Jean for this most unique experience. As always, all views expressed in this post are my own.
Pin this to Pinterest