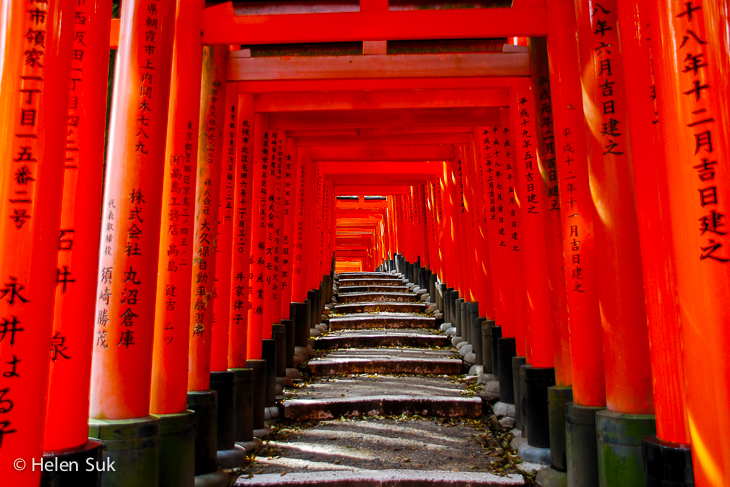 When I look back on my photos of Japan, I cringe at most of them.
My trip was some years ago. It was also my first time travelling with a DSLR camera (the now-discontinued Nikon D80). I was bursting with excitement, eager to experiment with my new investment, but little did I know how steep the learning curve would be — and how much I would fall for a country whose beauty made my foray into DSLR photography all the more challenging. While trying to take in my surroundings, enamoured by nearly everything I encountered, I fumbled with the settings, even dropping my camera on the concrete and shattering my filter. 
It's no surprise then that most of the images I captured with my Nikon are, to be honest, forgettable but these are the few worth sharing.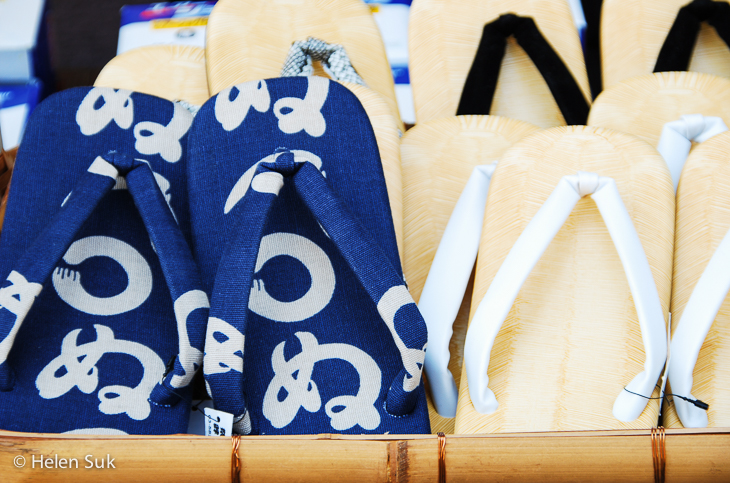 It's believed that the origins of modern flip-flops can be traced back to ancient Japan. These are zori, traditional thong-toed footwear worn by the Japanese as early as the 5th century BC. Today, women in kimonos often slip them on for formal occasions.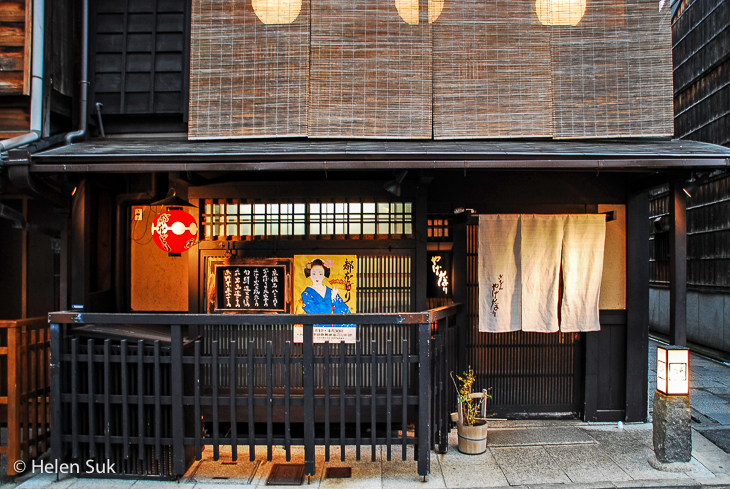 Gion, Kyoto's entertainment and geisha district, was one of my highlights of Japan. Much of its beauty lies in the side streets and alleys lined with traditional restaurants and tea houses in buildings dating back to the 17th century. An air of mystery permeates this historical neighbourhood. In the evening, I was able to catch a glimpse of geishas entertaining Japanese businessmen through the windows of exclusive establishments, many of which are not open to tourists.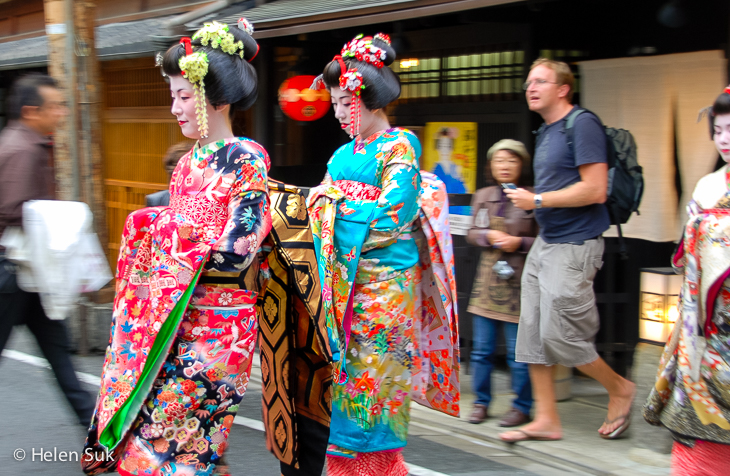 I also encountered geishas as they quietly and gracefully made their way to their appointments, performances and tea ceremonies.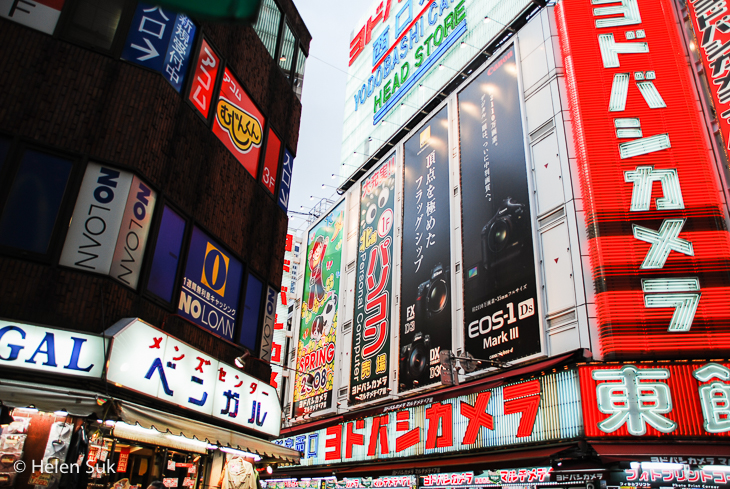 In sharp contrast to traditional Japan are ultra-modern, "Lost in Translation" districts like Shinjuku, the entertainment, commercial and business centre of Tokyo where some of the world's most advanced technology is developed.
An iconic symbol of Kyoto, the Golden Pavilion at Kinkaku-Ji is a temple reflected on the calm waters of the surrounding pond, a vision designed to suggest harmony between heaven and earth.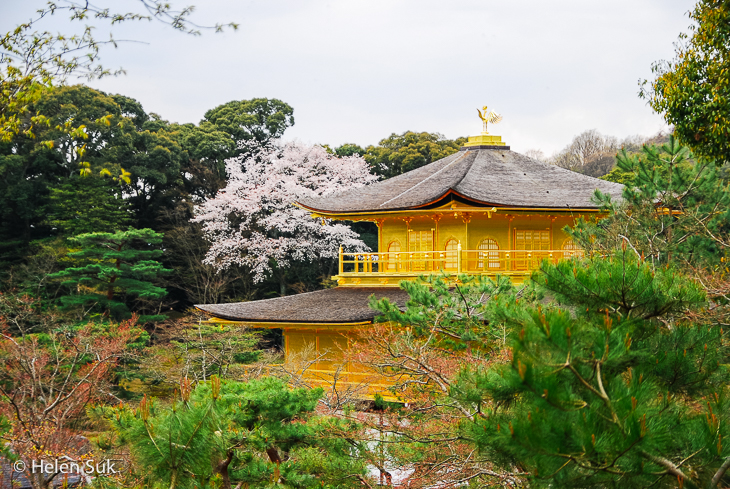 The gold leaf-coated structure was built in the 14th century as a retirement villa for a shogun but was later converted to a Zen Buddhist temple.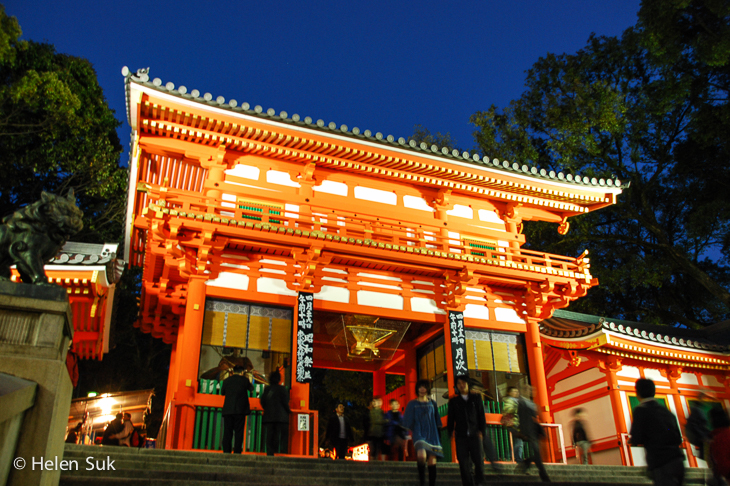 The entrance to Maruyama Park, a public park in the Higashiyama District of Kyoto and the city's most popular spot for cherry blossom viewing and New Year celebrations.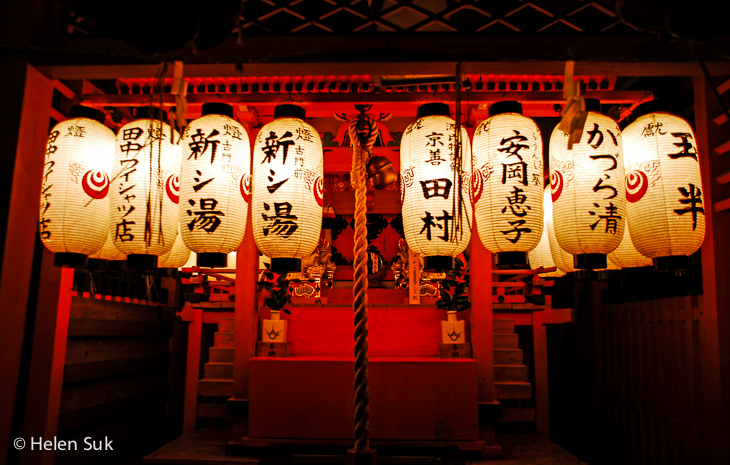 Traditional lanterns illuminate Yasuka Shrine, one of Kyoto's most popular Shinto shrines next to Maruyama Park. Shinto is the indigenous religion of Japan and one of the country's two dominant faiths (Buddhism being the second).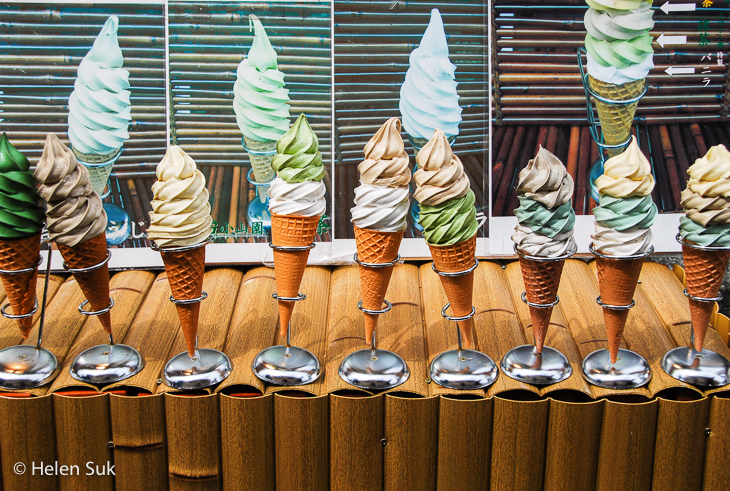 Unique flavours of soft-serve ice cream can be found in Japan, including green tea (my favourite), plum, and even wasabi and miso.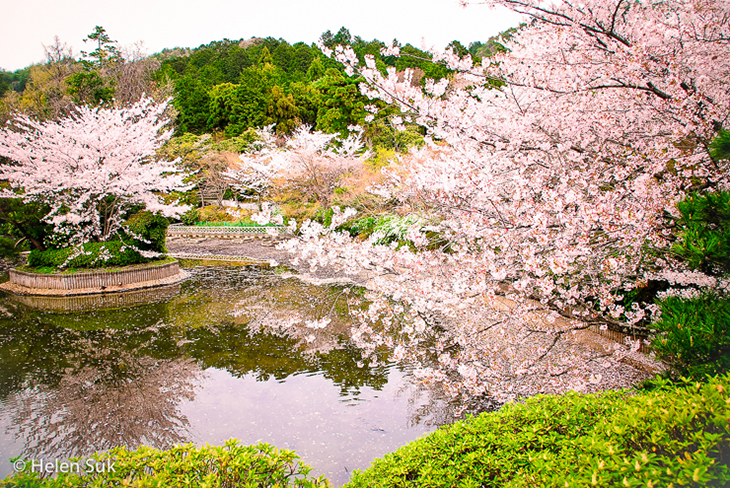 It was serendipitous that I found myself in Japan during cherry blossom (sakura) season in April, a short-lived but overwhelmingly beautiful sight. Pure magic. This a deeply significant time for the Japanese — read this post to find out why. This photo was taken at the immaculately landscaped gardens at Ryoan-Ji, a Zen temple in Kyoto famous for its dry rock garden that's been called a cultural and artistic masterpiece.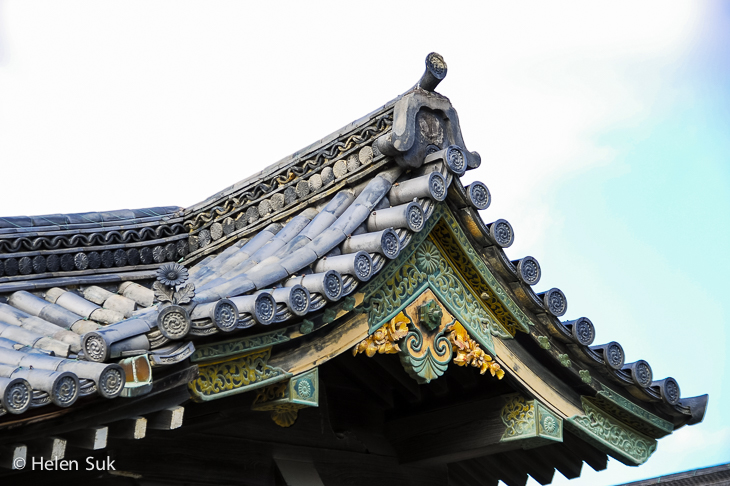 This is traditional Japanese architecture at its finest. Nijo Castle in Tokyo was built in 1603 as the official residence of the first Tokugawa shogun, Ieyasu. The interior was fitted with "nightingale floors" that squeaked to alert guards of enemy intruders.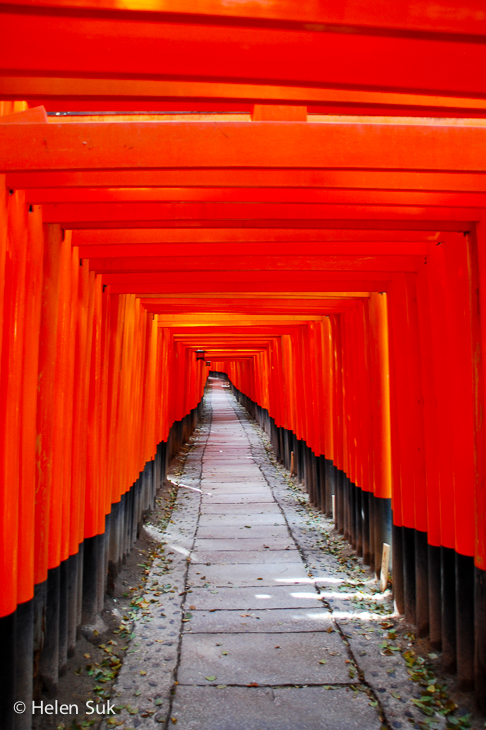 Fushimi Inari Shrine is the largest and most impressive Shinto shrine complex in Kyoto, but it's most famous for its remarkable tunnel of 10,000 torii, which takes about two hours to walk through. Torii are gates that lead to sacred spaces in Japan, traditionally at the entrance to Shinto shrines, but also to Buddhist temples.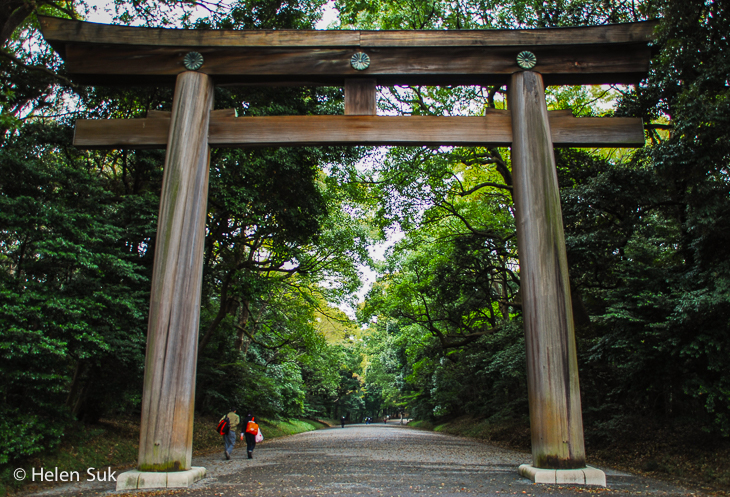 A giant wooden tori at Meiji-Jingu, a Shinto shrine dedicated to the spirits of Emperor Meiji and Empress Shoken. Emperor Meiji is considered responsible for bringing Japan into the modern world and making the country an international powerhouse. Meiji-Jingu is a beautiful and tranquil place located on 175 acres of forest in Tokyo. The Japanese visit the shrine as both a spiritual home and peaceful retreat.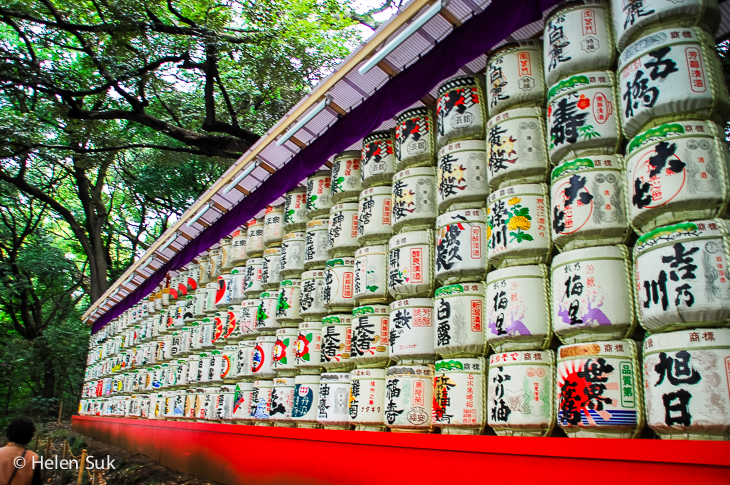 Giant sake barrels are on display along the path. They're donated to the shrine each year by brewers across the country but, contrary to popular belief, the barrels are empty.
Traditionally, worshippers write their prayers or wishes on wooden prayer tablets ("ema") and hung at Shinto shrines where the gods receive them. I think it's safe to assume this one was written by a foreigner.
Established in 1339, Tenryu-Ji temple is considered the first of the Five Great Zen Temples of Kyoto. One of the main attractions at Tenryu-Ji is its bamboo grove. I was struck with awe and couldn't help but feel a sense of peace as I walked through the forest.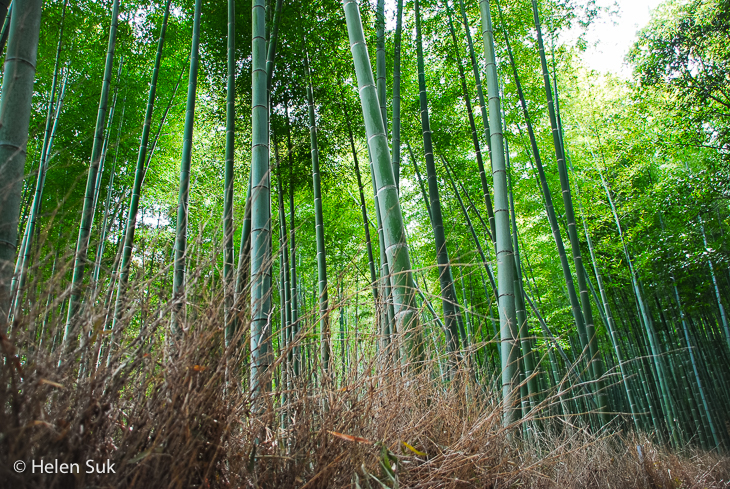 It should come as no surprise that the path through the soaring stalks of bamboo is one of the most photographed locations in Kyoto.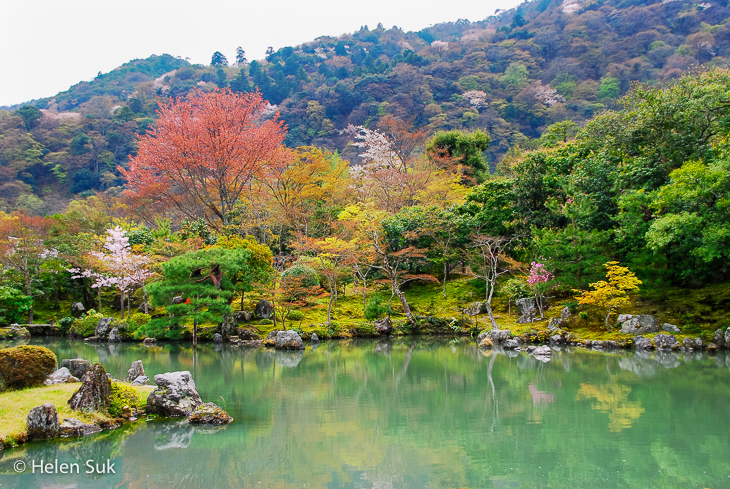 The other main attraction at Tenryu-Ji is its 14th century Zen garden, which is absolutely breathtaking and one of the oldest of its kind.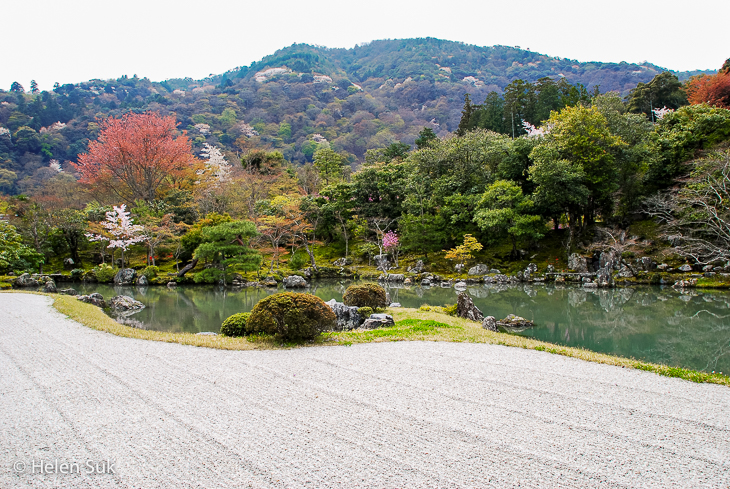 Designed by Muso Soseki, a famous garden designer responsible for landscapes at other major temples, this one at Tenryu-Ji is especially dramatic with its rock garden, pond, forest and Arashiyama mountains in the backdrop.
Pin this to Pinterest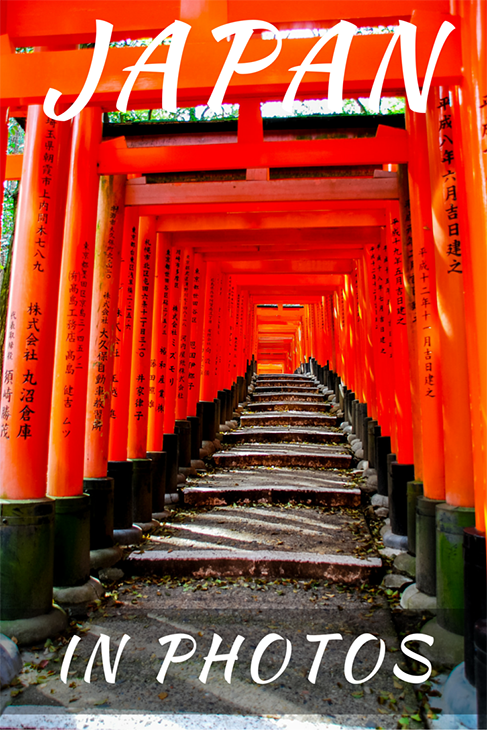 No photos of Japan can do the country justice. As with any destination, you simply just have to experience it for yourself.