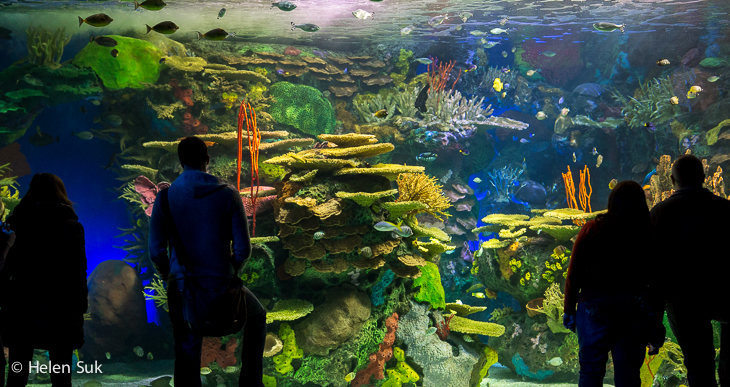 If you're a Toronto resident, you've heard about it. You've seen photos of it. And, chances are, you've seen the line-up of people snake around the building on a Saturday afternoon.
And now? You're wondering how to visit Ripley's Aquarium of Canada, one of Toronto's hottest tourist attractions, without being crushed between the masses–and without losing your mind.
With an impressive 35,000 square feet of space, a 315-foot viewing tunnel, a moving walkway through Dangerous Lagoon, and over 450 species of sea and freshwater creatures, this Toronto aquarium is utterly captivating.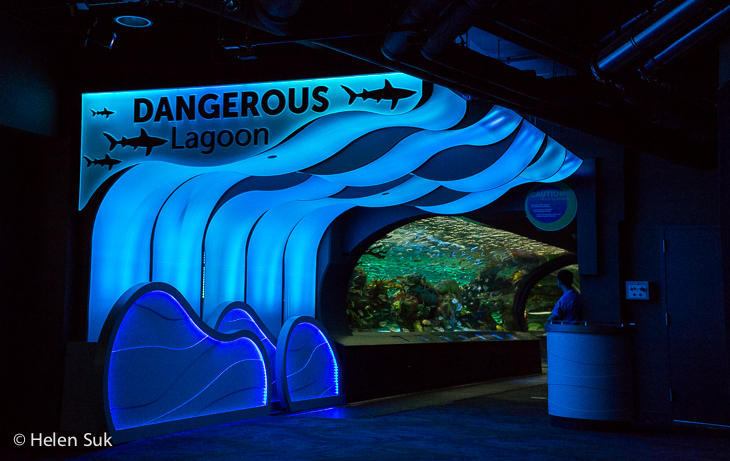 Here are some tips to make the most of your city-meets-sea experience.
When to Go
Plan your visit strategically. In other words, avoid the weekends and groups of school children if you can.
I wanted to know more, so I asked Maggie Doucette, Public Relations Associate of Ripley's Aquarium of Canada, the best times to meet their marine life. Monday to Friday is typically quieter, she says, particularly 9:00-10:00am and after 3pm.
And she was right. I arrived there last Monday at 6:45pm with fellow travel blogger, Sharon. There was no wait. No children. No crowds. With the continuous, soothing music that played through the speakers, it was a tranquil–albeit brief–escape, seemingly worlds away from the January polar vortex that waited for us outside. (Mojitos and a sandy beach would have made our evening vacation complete.)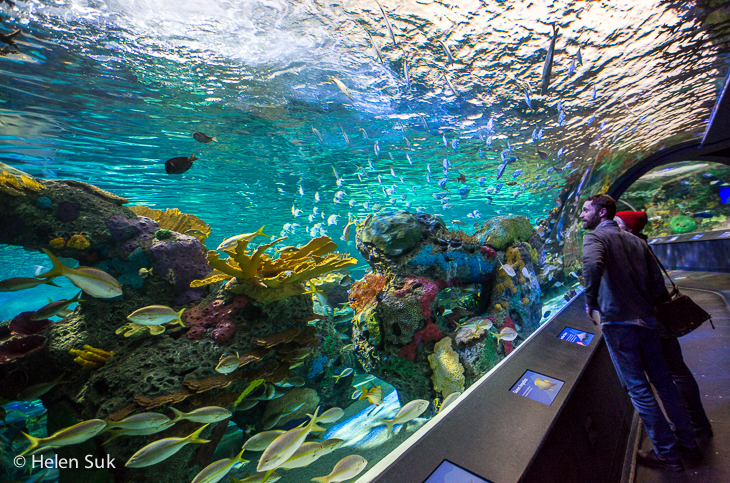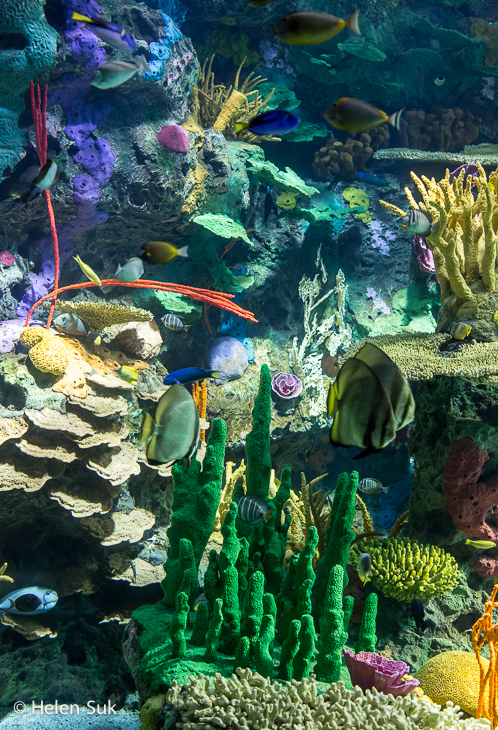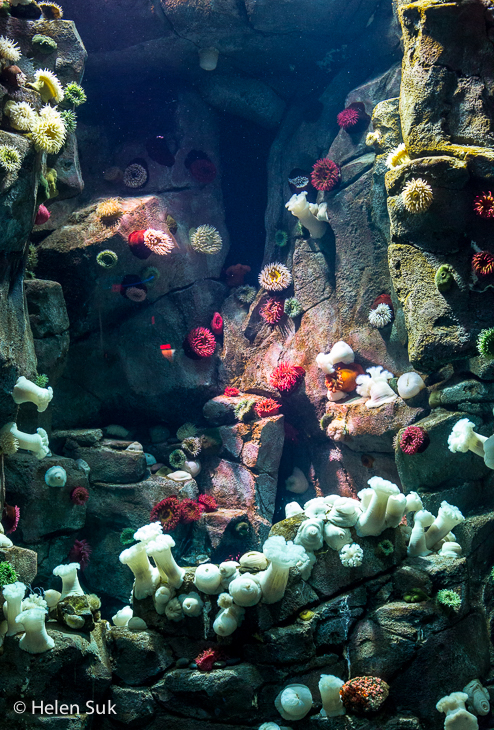 But what if the only time you can visit is during the weekend or a holiday? Doucette suggests arriving before 11am or after 4pm.
Last Saturday, a group of friends took on the aquarium's weekend crowds at 6:00pm. They waited in line to enter but, by 8:00pm, visitors had started to stream out of the building. With just a few people left inside, my friends shut the place down as they repeated the circuit and freely romped about under the sharks, stingrays and in the Planet Jellies gallery.
How Much Time Do I Need?
Give the aquarium at least 2 ½ hours of your time but, if you're as shutter-happy as I am, make it 3 ½. Don't be surprised if you feel the urge to shoot one photo per square foot (that's a lot of pictures!) or, as you compose your shot, patiently wait until a shark swims into the frame before clicking the shutter.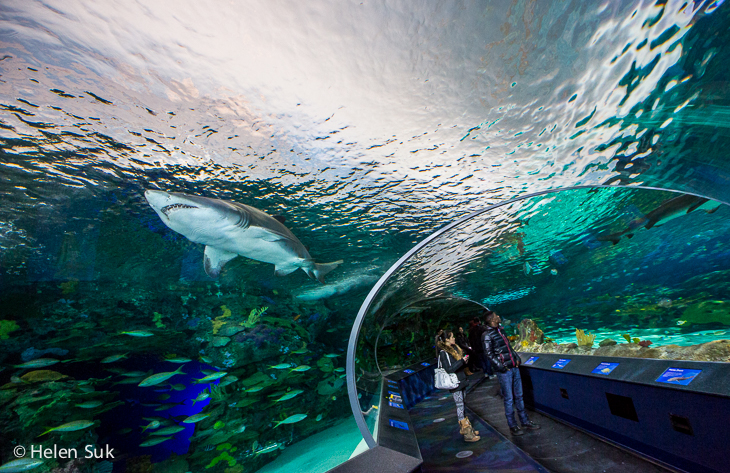 In two hours, I passed through all the exhibits once and captured everything in sight with my camera but, if time allowed, I would've walked through a second time just to engage all my senses, plant myself on a seat in front of the illuminated wall of jellyfish and fall under the spell of the Pacific sea nettle in their rhythmic dance.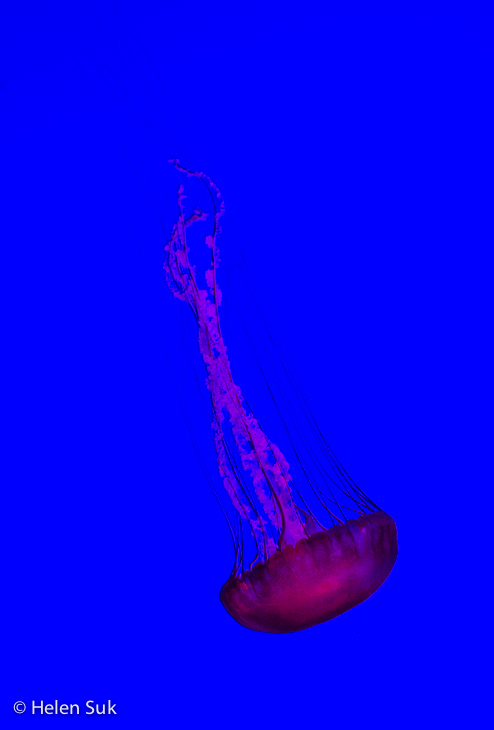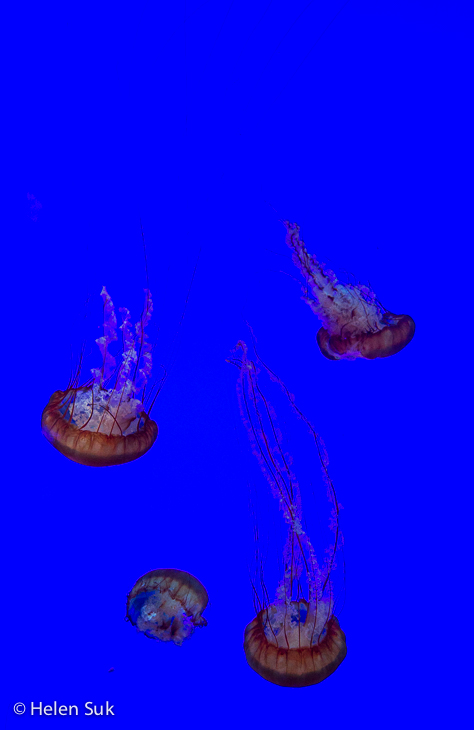 Photography Tips
Inside, the aquarium is generally quite dark and most of the sea creatures are not stationary so let's just say photography can be, well, challenging.
To shoot with a DSLR camera, I suggest a wide angle lens for those tighter spaces and either a prime or standard zoom lens for close-ups of the marine life. Increase your ISO to reduce or eliminate blur and freeze the motion of your subject (do you really want to show off your snapshots of jellyfish when they're globs of red?). How high you can go without adding noise to your image depends on your camera's capabilities, as well as the speed of your lens (of course, the faster and brighter the lens, the better). My DSLR photos were captured with a 17-35mm f/2.8 and 50mm f/1.8 lens. Make use of the burst mode to increase your chances of catching a sawfish or gliding stingray just at the right angle.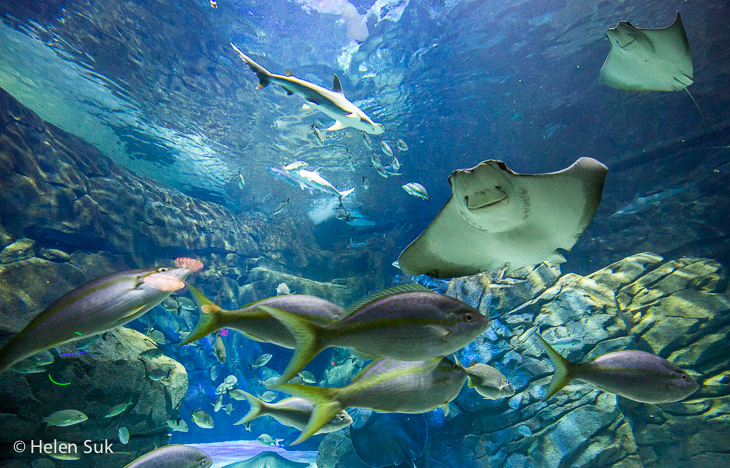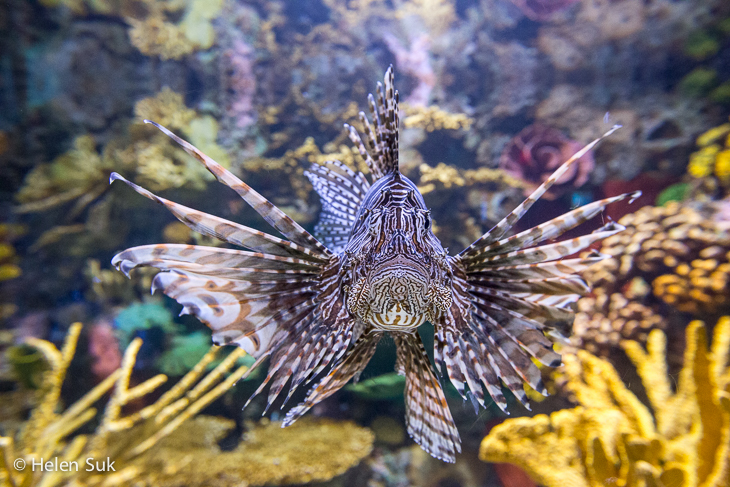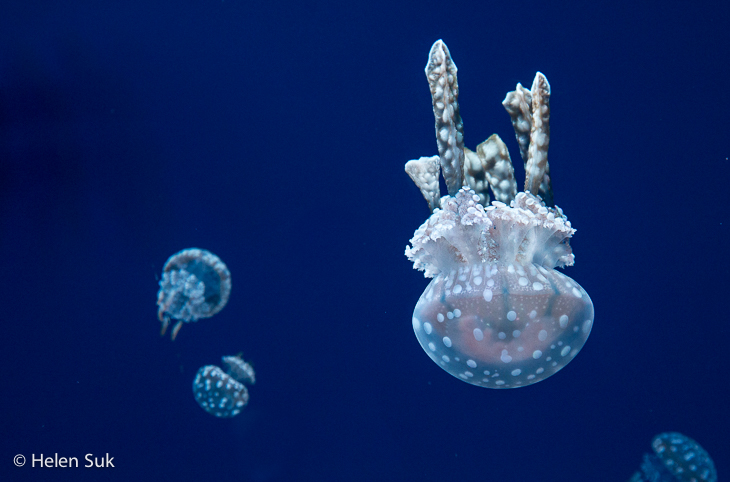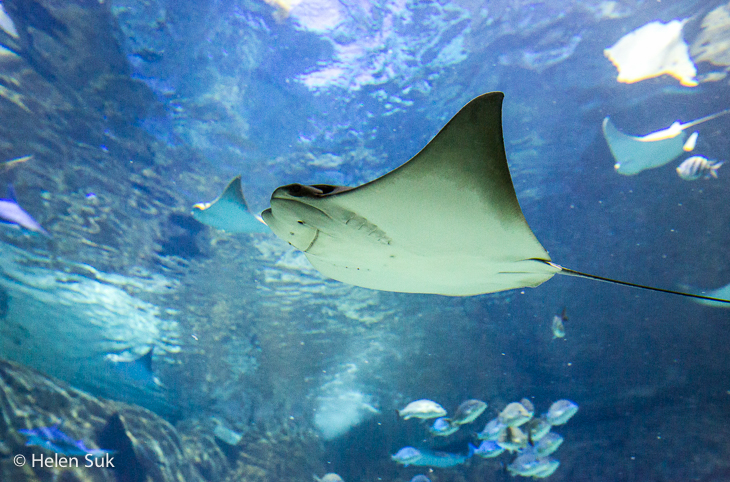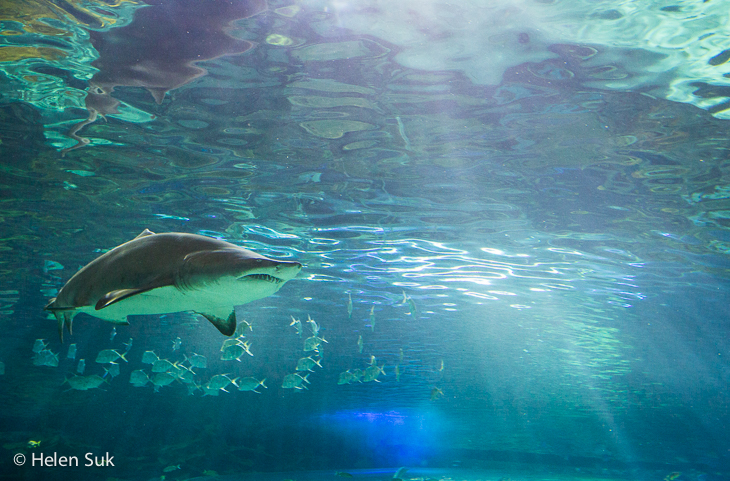 Now, smartphones — these will require more effort. It won't be easy but it is possible to produce decent images with them. I shot a lot of smartphone photos–and you should too. And, yes, I ended up with some blobby jellyfish but, because I snapped so many pictures, a handful of them turned out okay. You'll need a steady hand. If you're as shaky as I am, try leaning against a wall to stabilize yourself.
Here's a sample of my iPhone captures:
Some general photography tips: Take test shots. Also, disable your on-camera flash — it's rarely flattering and will likely kill the ambiance, hit a surface and, depending on which exhibit you're in, create a reflection in your photo.
Instead, get creative. Use the dim setting to your advantage by, for example, playing with silhouettes. Explore different angles. If space allows, lie on the floor (I didn't but it doesn't mean you shouldn't). Compose your shot with people beside or under large sea creatures to give a sense of scale. There are so many possibilities.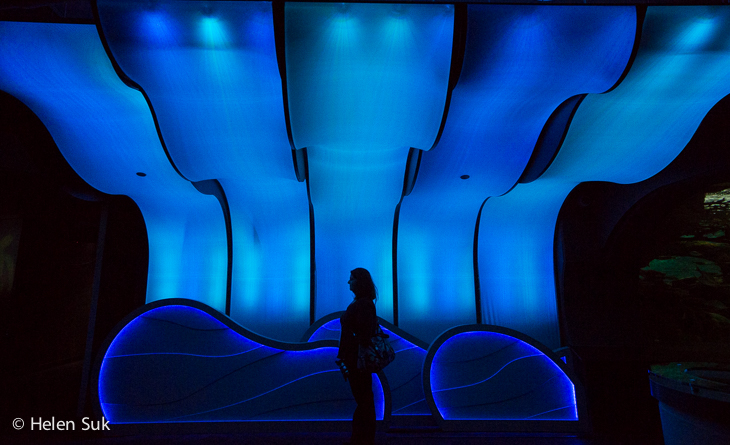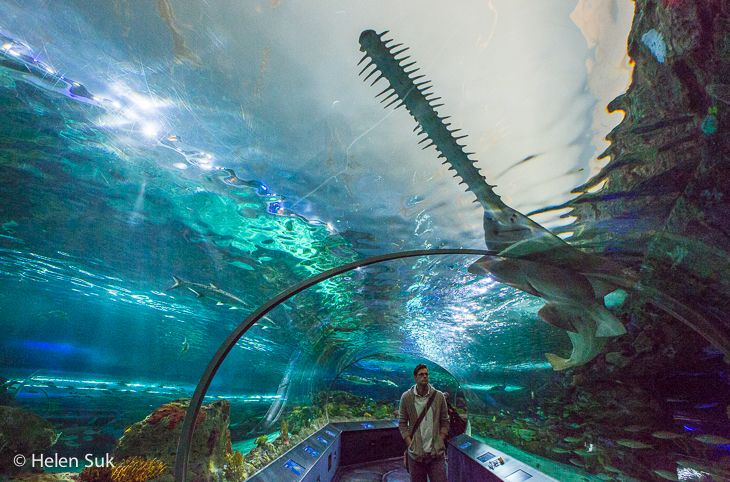 Follow the tips above when planning your visit, and you'll maximize your underwater-world experience.
If you have advice of your own to offer, feel free to leave them in the comments below.
(See this post for a full list of my photographer gear.)
Pin this post to Pinterest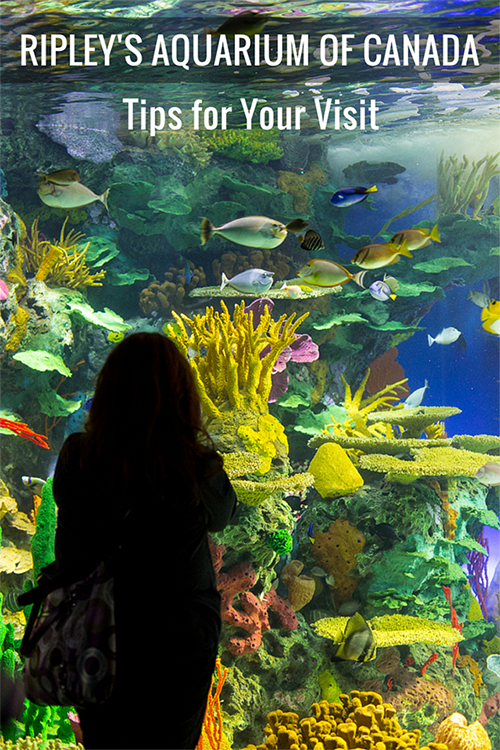 What You Should Know
The aquarium is open 7 days a week, 365 days a year.
It opens at 9:00am and usually closes at 9:00pm (but may sometimes close earlier for private functions). Visit the aquarium's website to check the closing time for the specific day you wish to go. You can also check their Facebook page or Twitter feed for periodic line updates throughout the day.
Their FAQ page offers valuable information (e.g., types of tickets, stroller rentals) for planning your visit.
Special thanks to Ripley's Aquarium of Canada for the complimentary access to their exhibits.