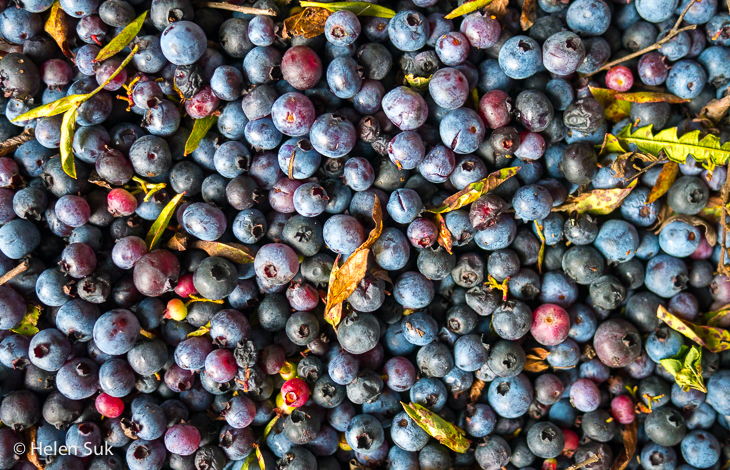 Until just a few months ago, I had never heard of Saguenay—Lac-Saint-Jean, a vast region 2.5-3 hours northeast of Quebec City. But, after a week-long visit through a fjord, national parks and local restaurants, I've discovered it's an area rich not just in natural beauty, but traditional cuisine.
From blueberries to tourtière and village eats to fine dining, here's a guide for sampling the best of Saguenay—Lac-Saint-Jean's gastronomic offerings.
Blueberries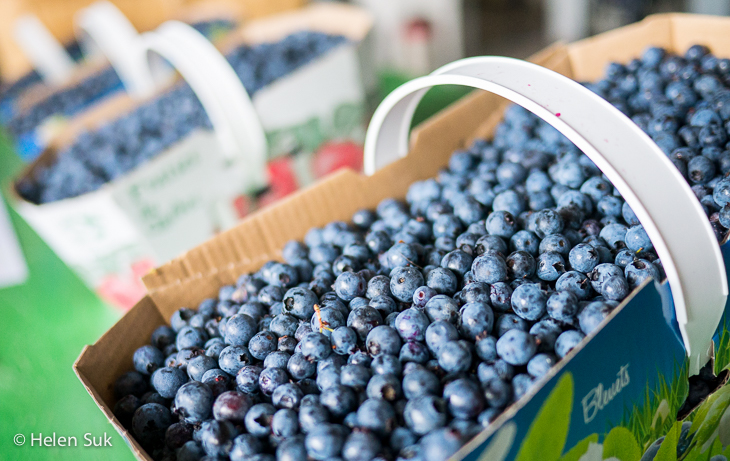 Saguenay—Lac-Saint-Jean is, first and foremost, the land of the blueberry. As Quebec's largest producer, the region grows and harvests 23 million kg of the sweet blue fruit every summer.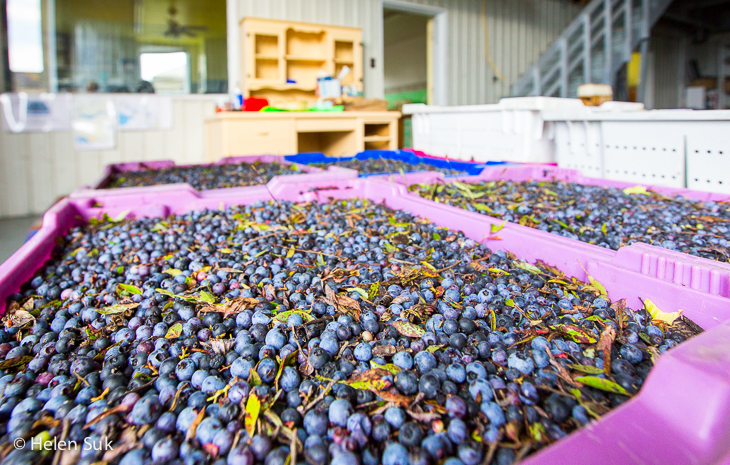 The region's connection to the berries is meaningful: local inhabitants are affectionately nicknamed "Blueuets" ("blueberries") for their close identification with the fruit that's tiny in size but deeply significant as a symbol of survival, determination and pride. Its history goes back to 1870 when the Great Fire devastated two-thirds of the region, but made the grounds fertile for the extensive production of wild blueberries (click here for the detailed history).
Today, blueberries are especially abundant during the harvest season between mid-August to mid-September, kicked off by the Festival du Bleuet à Dolbeau-Mistassini. For a month, you can pick them right from the fields (which can be worthy pit stops while cycling the Blueberry Route), buy them by the basket at farmer's markets and roadside stands, or purchase jars of blueberry jam at small bakeries and shops throughout the region.
Three blueberry foods stole my taste buds:
1) Chocolate-covered blueberries
These fresh blueberries are coated in dark chocolate, refrigerated and sold in specialty shops and grocery stores, but only when they're in season. For the best, look for the ones made by Trappist monks.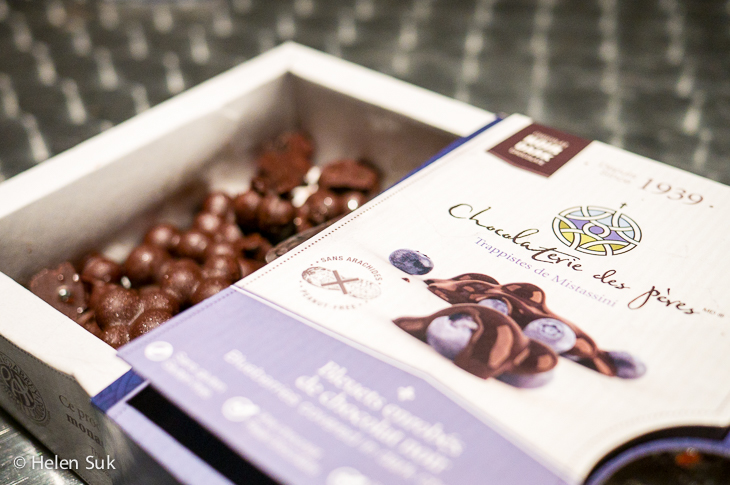 Bite into one and the sweet juice bursts in your mouth (sigh). They're so irresistible, I packed two boxes to take home and, to my disappointment, they didn't last long. At all.
2) Blueberry pie
You'll find this everywhere in Saguenay—Lac-Saint-Jean. I sampled it in a few different restaurants, but my absolute favourite was served at Marie's House at the site of Moulin de Pionniers, an old saw mill in the historic village of La Doré.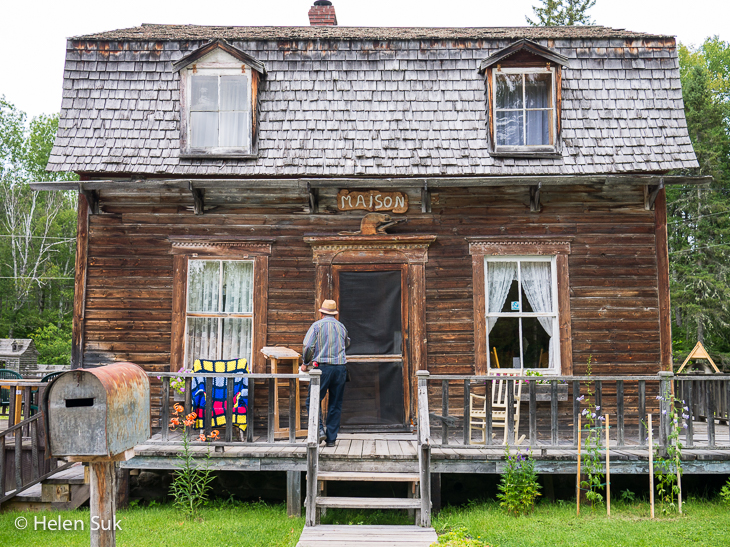 Served in her house dating back to 1901, Marie's homemade pie oozes with the natural flavours of the berries without the sugar rush.
3) Blueberry sausage
Microbrasserie du Lac Saint-Jean in Saint-Gédéon is known for its craft beer (see below), but what I remember most is their sausage encased with meat and blueberries — a creative take on an otherwise plain dish.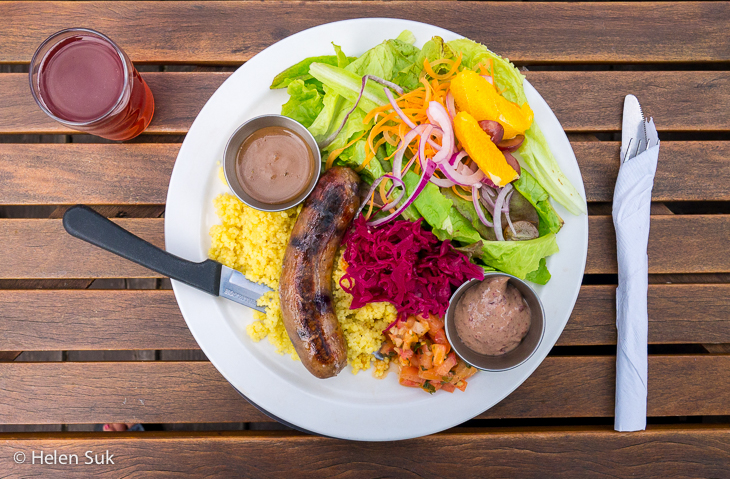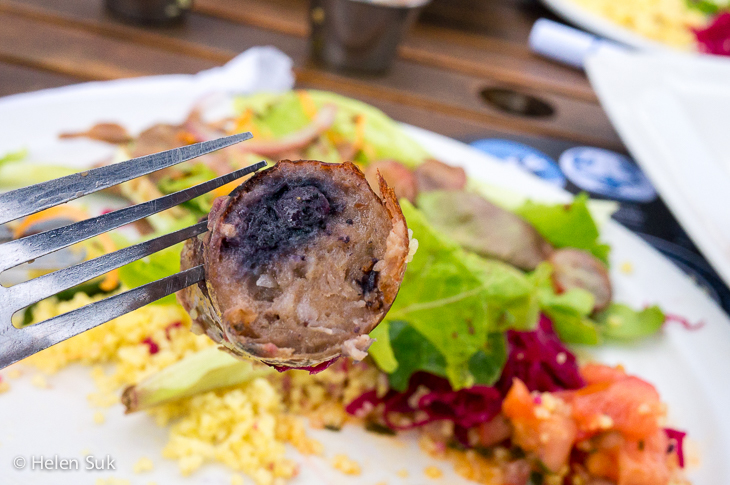 It's beautifully, subtly flavoured and accompanied by a salad with blueberry dressing.
Craft Beer
You'll find a thriving beer scene in Saguenay—Lac-Saint-Jean, and Microbrasserie du Lac Saint-Jean is one microbrewery at the centre of it.
Sip on unique, award-winning cold ones named after people and places in the region, or their sangria with red raspberry beer while basking in the sun on their large patio overlooking Lac Saint-Jean.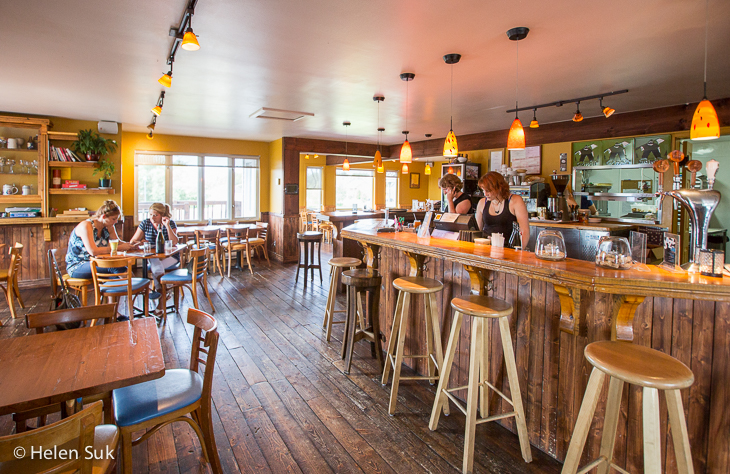 Their beer is also incorporated into their food menu.
After all the food and drink, you can browse the shop or tour the brewery for 12 CAD.
Tourtière
The culinary tradition of Quebec is most famous for tourtière, a favourite meat pie often served during the holidays. But it can be found year-round on restaurant menus and in supermarkets throughout the province. In Quebec, it's typically a shallow pie made with one type of ground meat, but tourtière du Lac Saint-Jean is a deep-dish pie baked slowly in low heat (6-8 hours) with potatoes and more than one meat (typically beef, pork and wild game) cut into small cubes. It's often eaten with a side of ketchup and/or beets.
Cheese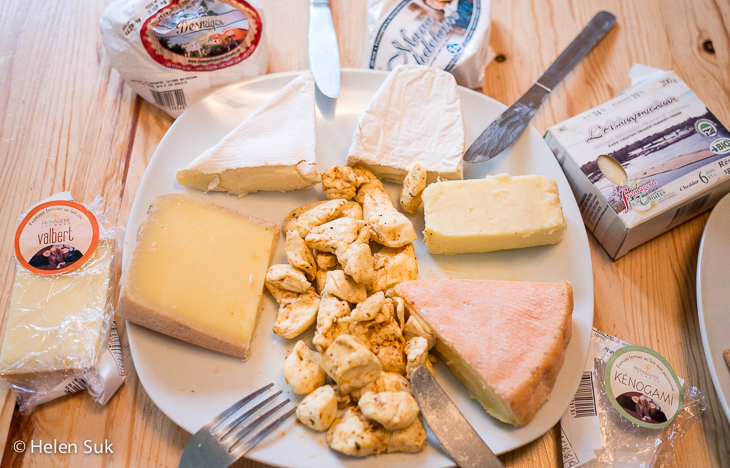 Dairy is an important industry in Saguenay—Lac-Saint-Jean, and you'll find a treasure of artisanal cheeses: soft or firm, strong or subtle, with cow's milk or goat's milk.
Run by the Perron family, the Cheddar Cheese Museum is where you can learn more about the traditional cheese-making process and sample their products in a factory that's been operating since 1895.
Need more? Then pay a visit to one of the dozen cheese-makers like Fromagerie Médard, a family-run shop six generations old where all their fromage is made with the milk of their brown Swiss cows.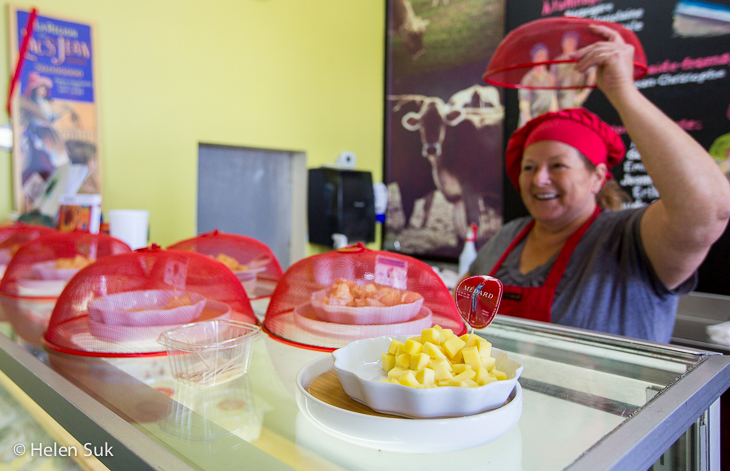 Nibble on cubes of Belle Mére with the flavours of roasted almonds and honey, or smooth Gédéon cheese, a strong aged cheddar with hints of fruit. But this is Quebec after all, so the cheese curds quickly found their way to my mouth.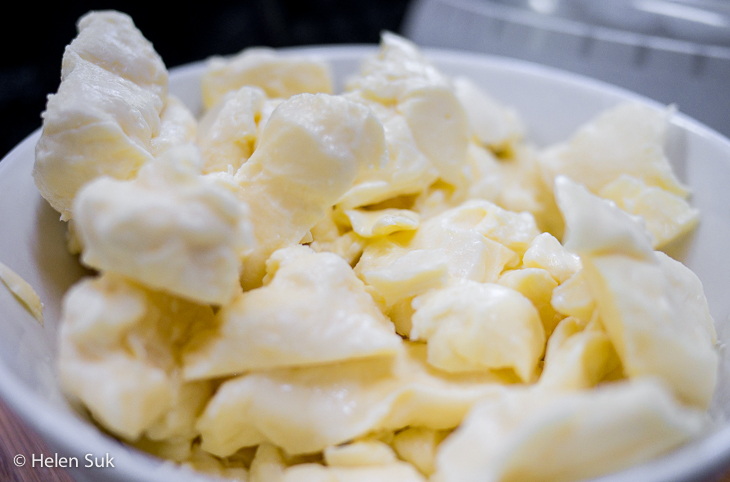 Once you're in a cheese coma, you can hop across the road to pick up pastries and crusty bread at their bakery, Boulangerie Médard.
Gourgane Beans
Gourgane beans (broad beans) were brought by settlers from the Charlevoix region to Saguenay–Lac-Saint-Jean, where the large legume is now commercially produced.
Despite their high protein and fibre content, gourgane beans are no longer a staple in the contemporary Quebec diet, but they are quintessentially Lac Saint-Jean and even celebrated during the Gourgane Festival in the town of Albanel every July. Gourgane beans are prominent in soupe aux gourganes, a simple, hearty soup which includes vegetables and salted pork. In some families, the recipe has been lovingly passed down for generations.
Herbs and Spices of the Boreal Forest
Forget oregano and paprika — if you've ever wondered what the boreal forest tastes like, Restaurant du Moulin, the fine-dining restaurant in the historic village of Val-Jalbert, is where you can find out. A champion of the region's farmers and producers, Chef Carl Murray features local Perron cheeses and boreal pork, but I was most intrigued by his menu's strict use of herbs and seasonings from the boreal forest of northern Quebec, like powdered wintergreen and lovage root.
His four-course dinner was a highlight of my visit to Saguenay—Lac-Saint-Jean, as was the Ouiatchouan Falls (colourfully illuminated at night) just a short stroll from the restaurant.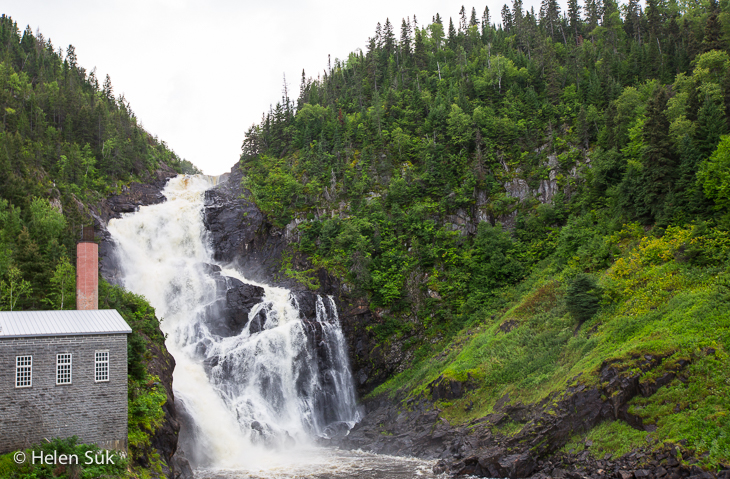 Of course, the list of Quebec dishes in Saguenay—Lac-Saint-Jean doesn't end here: let's not forget sugar pie, or that chefs are working their creative magic with beef, pork, wild game and fish.
The culinary culture — driven by a proud, tight-knit community of local farmers, producers and restaurateurs who bring fresh, quality ingredients to tables across the region — shows no sign of fading.
If you're planning a trip to the Saguenay region, you can check hotel options at Booking.com here. If you click on this link and make a reservation, I'll earn a small commission – at no cost to you. Thank you for your support.
Many thanks to Tourisme Saguenay—Lac-Saint-Jean for hosting my visit. As always, all views expressed in this post are my own.
Pin this post to Pinterest