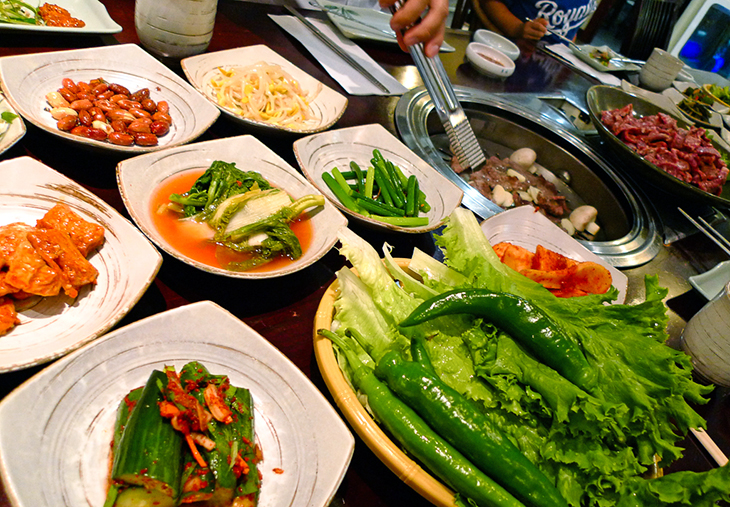 In my family, birthdays are always commemorated with a feast, and it's never large enough until we've nearly run out of table space to lay our chopsticks. More often than not, it's a Korean barbecue meat-fest at Seoul House restaurant in Thornhill (just north of downtown Toronto), the celebratory scene of our many gluttonous gatherings.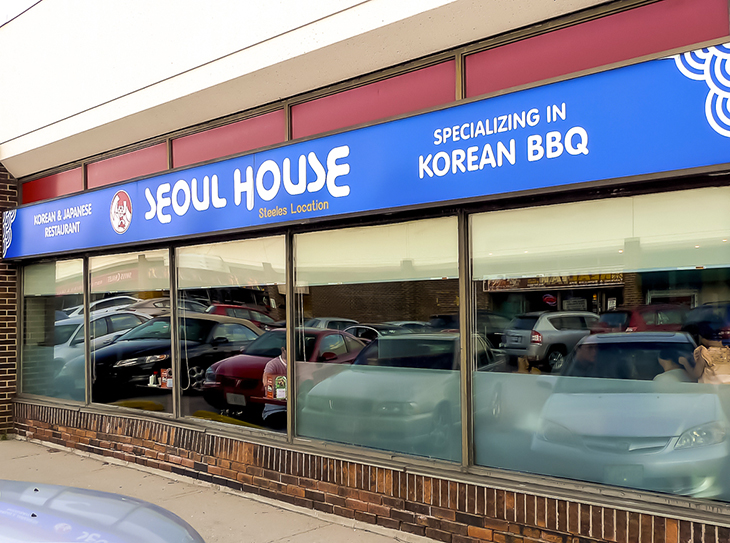 The antithesis of the all-you-can-eat muck served by its imitators that irreverently push quantity over quality, Seoul House is, first and foremost, a barbecue establishment. On my many visits, I've never ordered anything off the menu but the a la carte grilled meat. The fans built into both the table-top grills and ceiling provide the proper ventilation, a significant indicator that Seoul House means serious barbecue business.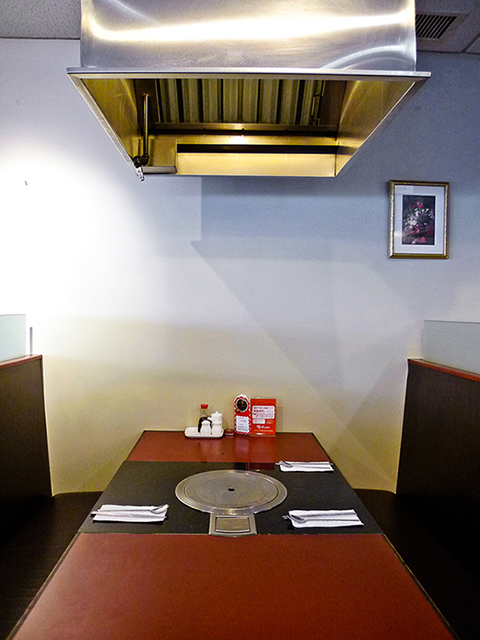 For my father's birthday, we were warmly greeted as usual by the staff who, by now, knows us well.
As with every Korean meal, we started with a variety of side dishes (banchan). Seoul House serves a set of different offerings each day – one of the most extensive and highest quality assortments I've tasted in Toronto.
First up: a light, steamed egg custard with silken tofu consistency (gyeranjjim) and green onion pancake (pajeon) – both personal favourites.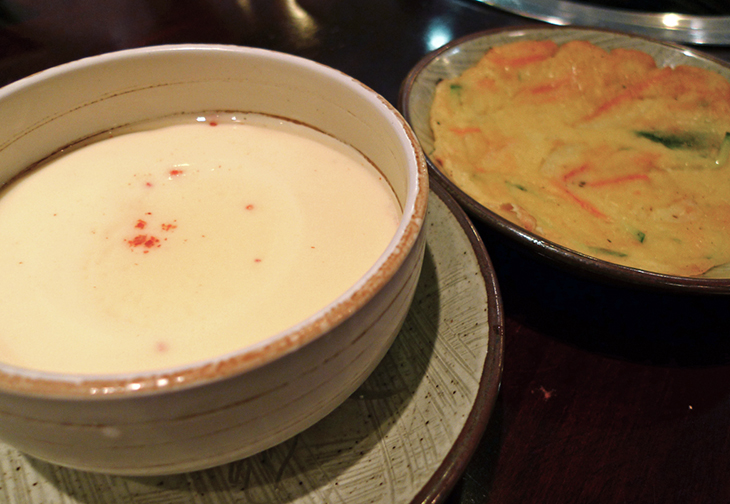 Then the rest followed: seasoned bean sprouts, sliced garlic stems, fish cake, sweet and salty crunchy peanuts, and four varieties of kimchi. (Sorry, I couldn't fit them all into this photo!)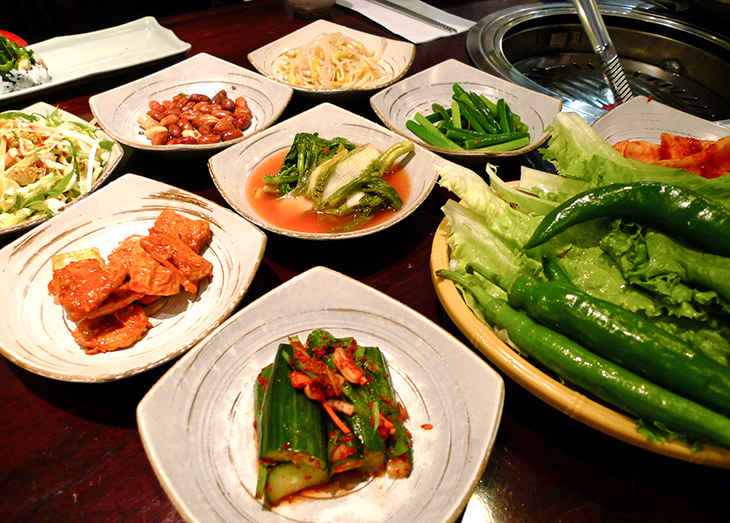 For novices, kimchi is the national dish of Korea and consists of pickled vegetables (typically napa cabbage, daikon radish or cucumber). Touted as a super-food for its many health benefits (when not excessively eaten), there are 200 types of kimchi and, contrary to common fears, is not always a mouth scorcher despite the intense orange-red colour of some varieties.
The barbecue at Seoul House is indeed more expensive than those offered by most of its competitors, but high-grade cuts of beef demand a high price. It could be argued that the barbecue at Sariwon (also in Thornhill) is equal in pedigree but Seoul House has one feature that is absent in Sariwon and other Korean restaurants: charcoal. Some table-top grills are gas-powered but, if you're lucky, you might get seated in front of a charcoal grill to produce that smoky flavour in the meat.
We indulged in kalbi, the succulent marinated short ribs often referred to as the king of Korean barbecue dishes that not a single person I've met in my life has rejected after a tasting. At Seoul House, the ribs are perfectly marbled, glossy and downright irresistible. Seeped with impeccable sweet and salty flavour, they're astonishingly tender. We asked the kitchen to slice off the bones and grill it for us.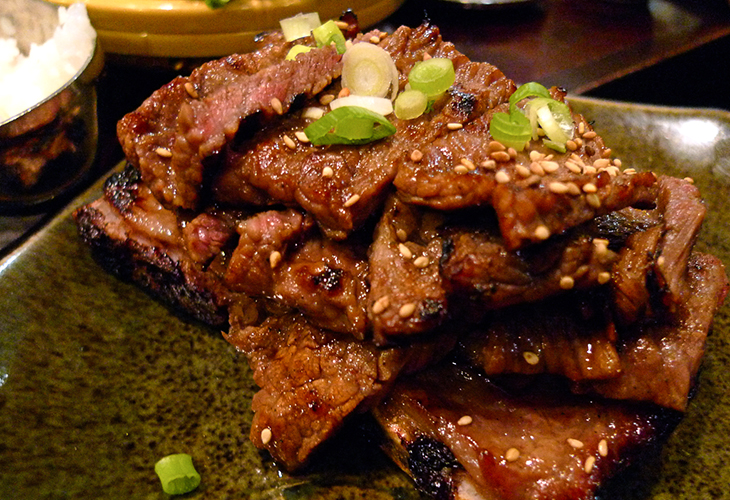 But we did cook our own jumuluk, boneless and tenderized slices of beef sirloin, and an often overlooked alternative to kalbi or bulgogi.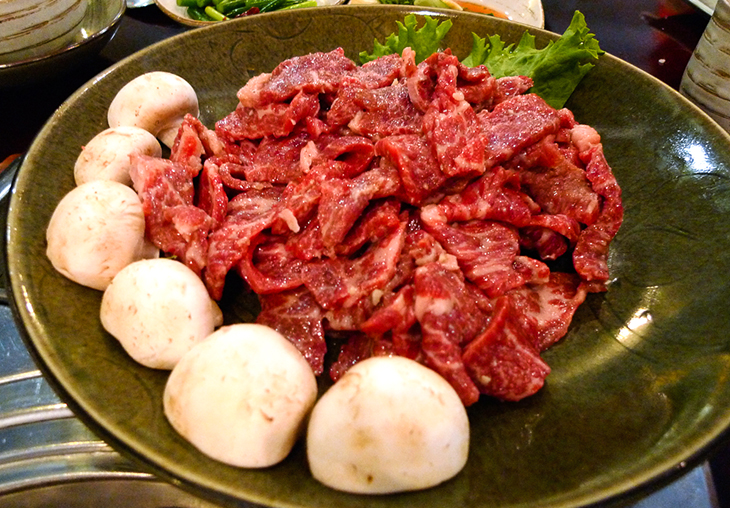 Because the meat lacks flavour on its own, jumuluk is paired with a dipping sauce of sesame oil and salt (geeleum sogeum), and a condiment of fermented soy bean and red pepper paste (ssamjang).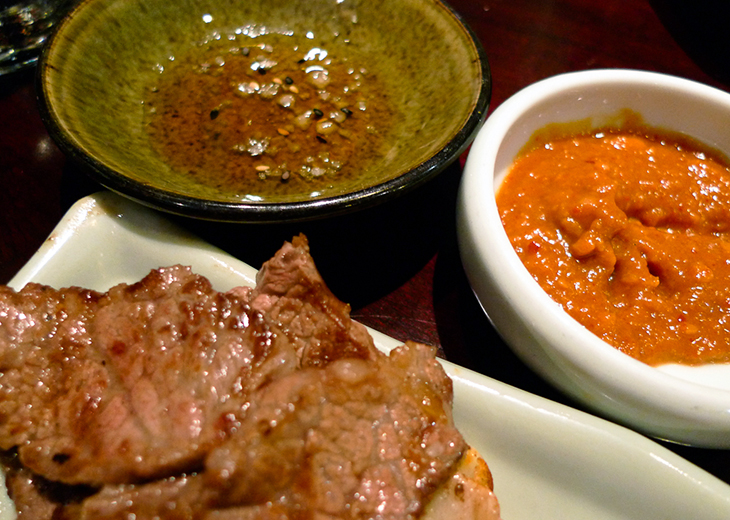 Table cooking is slightly more expensive than having the kitchen do the grilling for you and can be tedious, but some visitors find it a novel and enjoyable experience. It also gives Type A diners full control over how much the meat is cooked to make it either rare or fully charred to their liking.
A do-it-yourself barbecue meal is accompanied by: sliced mushrooms and garlic to grill with the meat (or to eat raw); steamed rice; ssamjang; green onion salad (pamuchim) and lettuce (sangchu).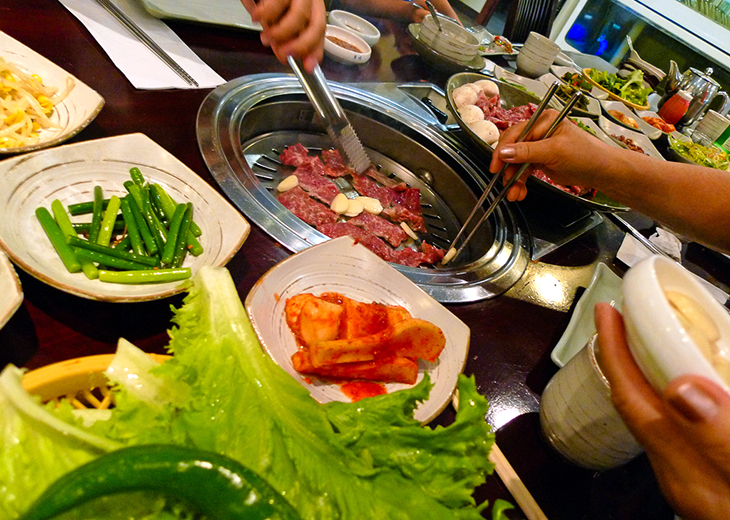 You'll also receive green chili peppers (gochu) that have a touch of sweetness – dip them in the ssamjang and chomp into them raw. Here's a secret: green chili peppers found in Korean supermarkets will usually turn your mouth into an inferno, but the peppers served at Seoul House are home-grown and innocuous.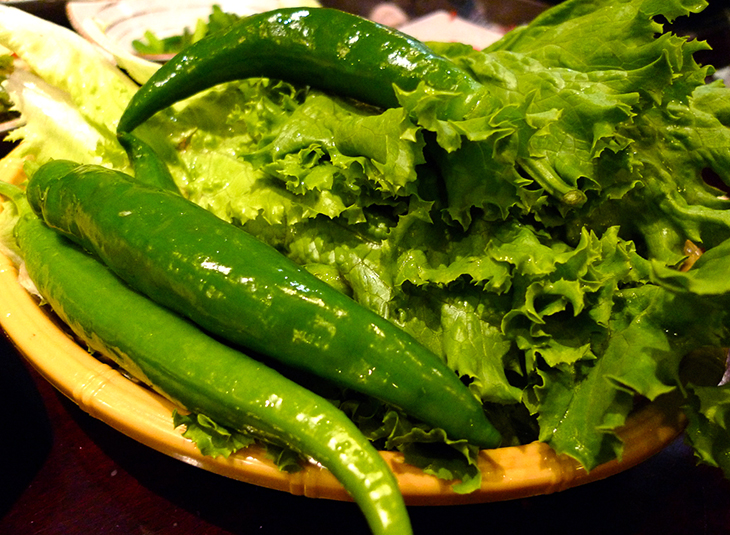 On some nights, we've had to request one of the items listed above so it's worth asking if you find one missing from your table. (Banchan, on the other hand, makes an automatic appearance near the start of your meal.) Keep in mind, however, that Korean meals often involve a long assembly line of many dishes and may take time for all of them to arrive at your table.
So how do these lettuce wraps (ssam) work? Here's a guide, but know that what you put in it is ultimately up to you. Open the leaf in your hand and, in the centre, place a small piece of grilled meat, mushroom and garlic, a little green onion salad, rice, and a dab or two of the ssamjang. Close the wrap – and shove that green pillow in your mouth. It's that simple. It's also meant to be bite size, but I tend to stuff it like a Thanksgiving turkey and make an embarrassing mess.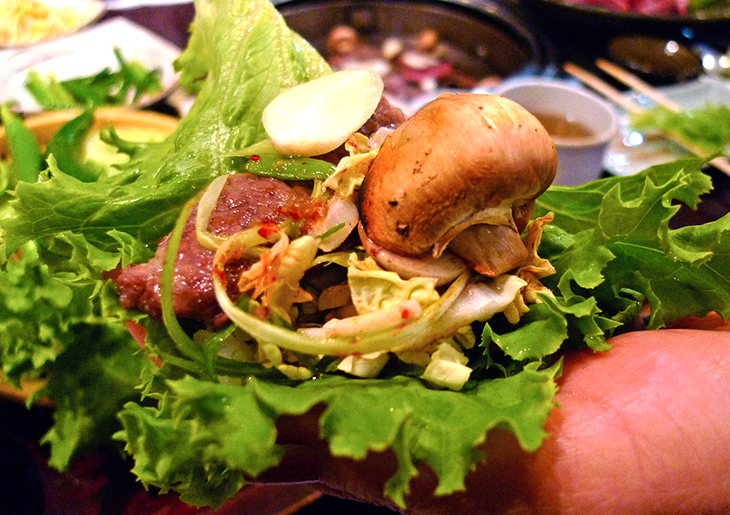 When you're ready to have your grill top replaced, simply press the button on the wall that resembles a door bell to call the server to your table. Often found in Korean restaurants, this calling system seems like common sense, right? It begs the question: why don't other establishments use it? But I digress.
Save room in your stomach because the barbecue is also accompanied with a piping-hot, flavourful stew made with fermented soy beans, vegetables, seafood and tofu (dwenjang chigae).
In the summer months, instead of the stew, you can choose the naengmyun: cold, chewy buckwheat noodles served with crushed ice. It's deliciously refreshing on a sultry summer evening. Naengmyun is made in one of two ways:
With a clear broth, topped with slices of boiled beef, pickled daikon radish, cucumber and a boiled egg (mul naengmyun). Vinegar and hot mustard sauce can be added for zest.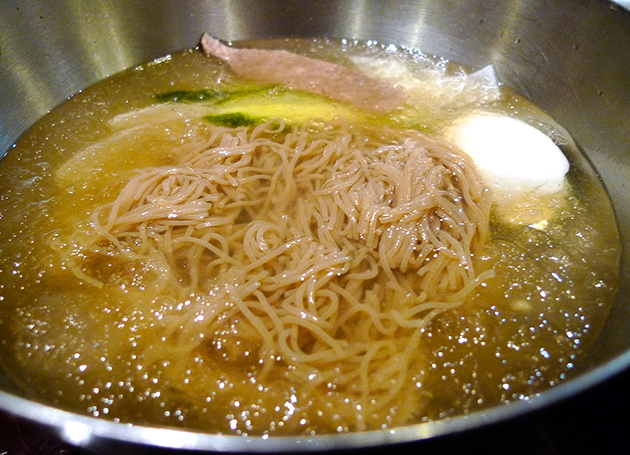 Or with a spicy, red pepper sauce and chopped green onion (bibim naengmyun). Don't let the colour of the sauce alarm you – it's not nearly as fiery as it appears.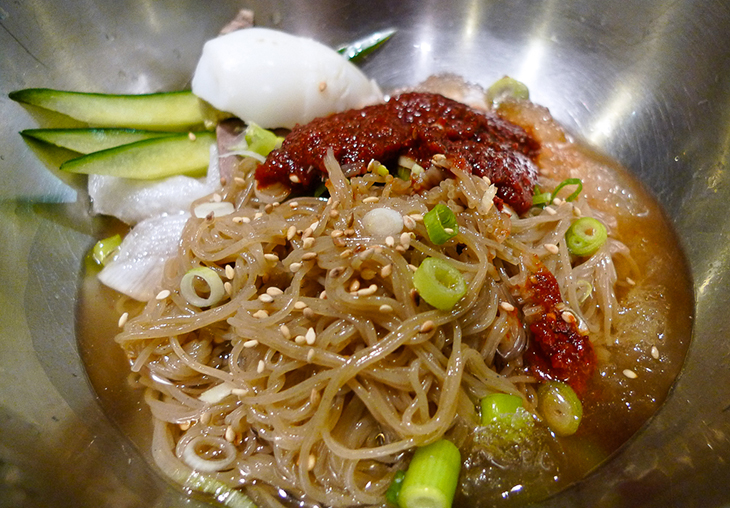 Lastly, a barbecue meal at Seoul House is finished off with a cold cinnamon and ginger beverage (soojeonggwa), a traditional punch believed to aid digestion. It is loaded with sugar – excessive for my taste but those with a love for cinnamon and sweets will surely take to it. You might also get fresh fruit as an additional dessert.
By the end, we always leave Seoul House feeling satiated as we drag ourselves out like sloths with over-padded bellies, and know that it won't be long until our next visit.
A proper Korean barbecue may be overwhelming. To assist, I've included the Korean names of most of the dishes in this post (verified by my family members). Some of the staff speak little English so the translations may come in handy.
The all-you-can-eat options served by the pathetic barbecue impostures that make a loathsome mockery of Korean cuisine are disconcerting to say the least. (Korean Grill House, I'm looking at you.) I'd rather make the trek up to Thornhill to dine at Seoul House any day.
This post is solely about Seoul House in Thornhill (not the North York or Mississauga locations).