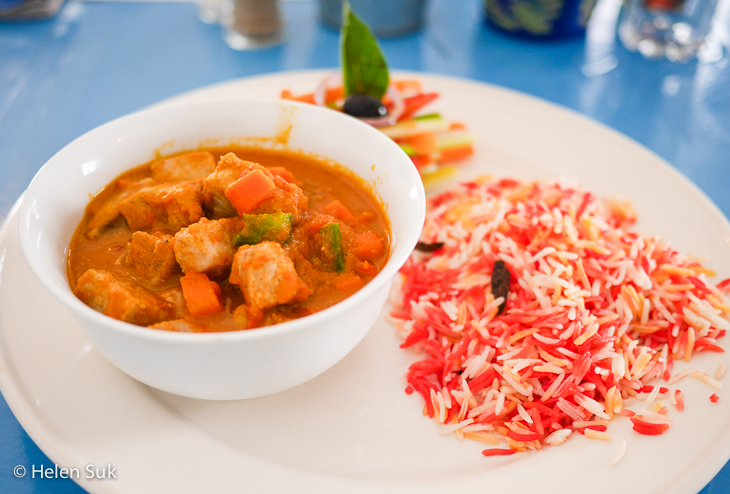 It's an exquisite cuisine that reflects the cultures that have made their mark on Zanzibar: bold dishes infused with exotic spices, an intriguing variety of textures and mouthwatering flavours.
My gastronomic adventure through Stone Town led me to restaurants, food markets and cafes in the maze of narrow streets and alleys which, alone, make this historical seaport a worthy travel destination. Whether you're seeking an authentic taste of Zanzibari cuisine or meals closer to home, these recommended eats and food establishments will leave your taste buds begging for more.
A few points worth noting: many establishments do not serve alcohol, and those with a sensitivity to sodium will find some of the food over-salted (which I found to be the case throughout Zanzibar). And, if you want to be adventurous and eat as the locals do, use your hands instead of the cutlery.
Forodhani Gardens
This evening food market near the Old Fort on the waterfront was my regular hang-out for both dinner and snacks. By nightfall, you'll find everything from spiced seafood skewers to samosas displayed under the glow of oil lamps. The food is generally quite salty, but the buzzing activity at this popular meeting place always had me coming back for more. (It's also home to a number of cats that will happily accept your scraps.)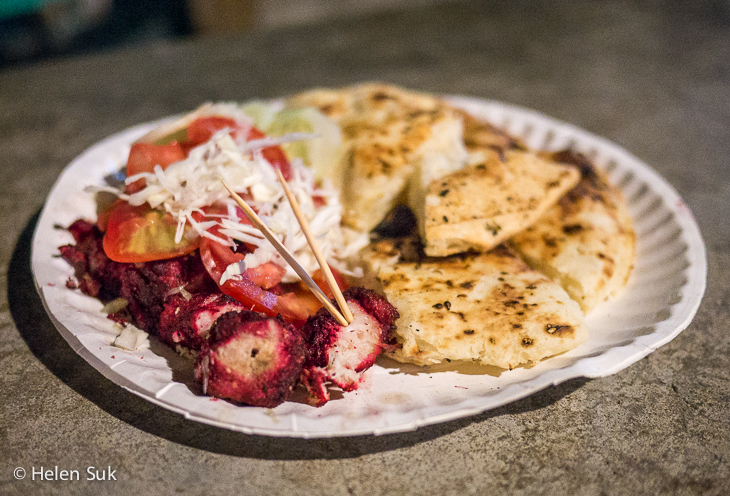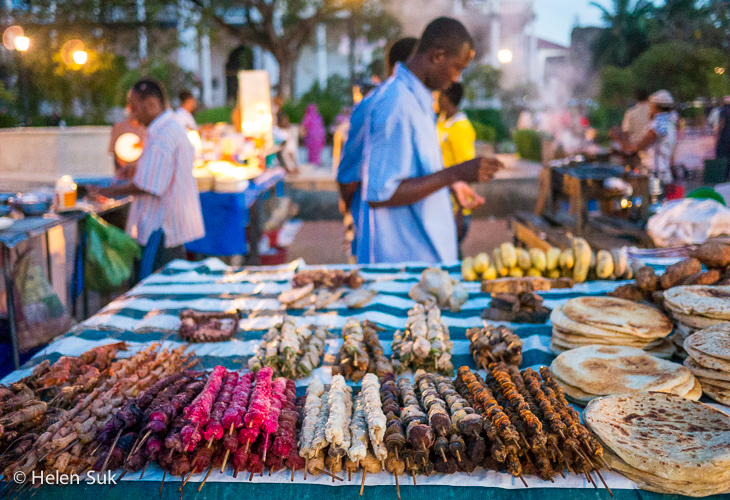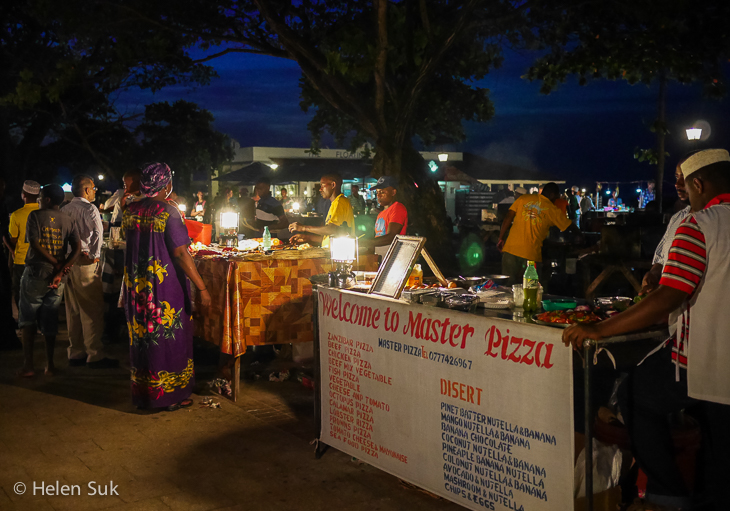 Care must be taken when choosing your meals to avoid food poisoning (which I had the misfortune of experiencing one night, although it's not clear which food caused it). Either ask a local for the freshest tables or select one that's busier than others.
The Zanzibar pizza, which is fried with your choice of fillings right before your eyes, is always a safe bet. For 5,000 TSh, the pizza stuffed with chicken, egg, chopped vegetables and cheese was my go-to meal, and the banana and chocolate pizza satisfied my sweet cravings.
The Zanzibar mix is popular among locals. This soup of falafel, potatoes, boiled egg and cassava chips is only 1,500 TSh. I may have ordered it a second time if my first bowl had been hotter.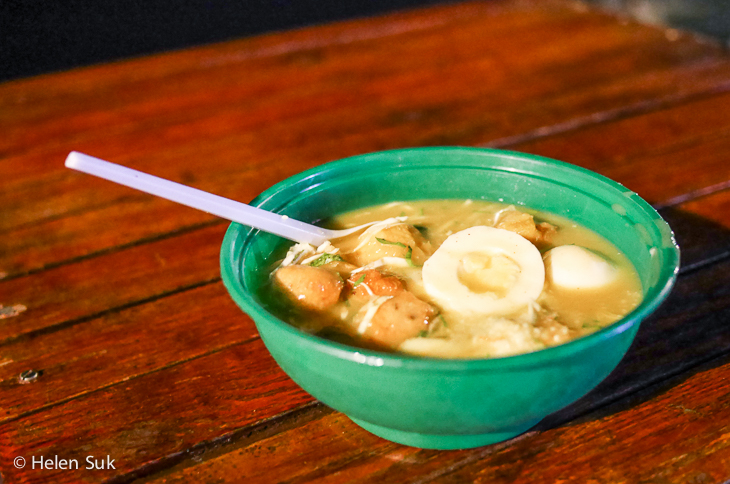 For beverages, make sure to return empty bottles to the vendor you purchased your soda from. Better yet, skip the soda altogether and go for the hand-cranked sugar cane juice with hints of lime and ginger. I haven't had fresh sugar juice like this anywhere else in the world.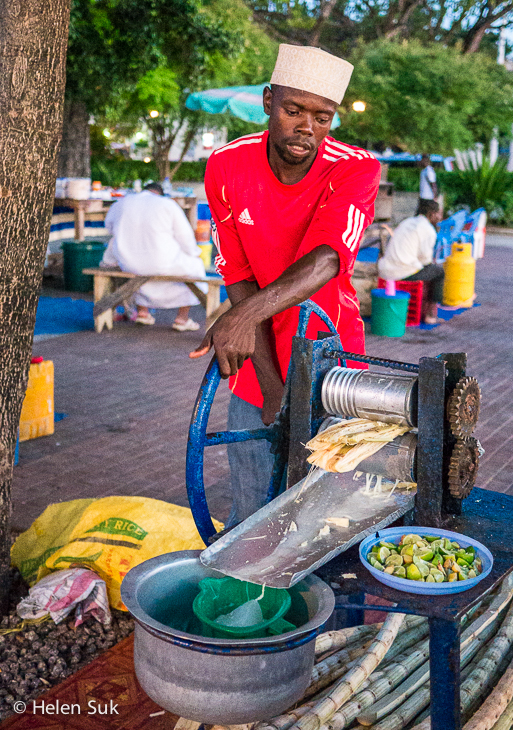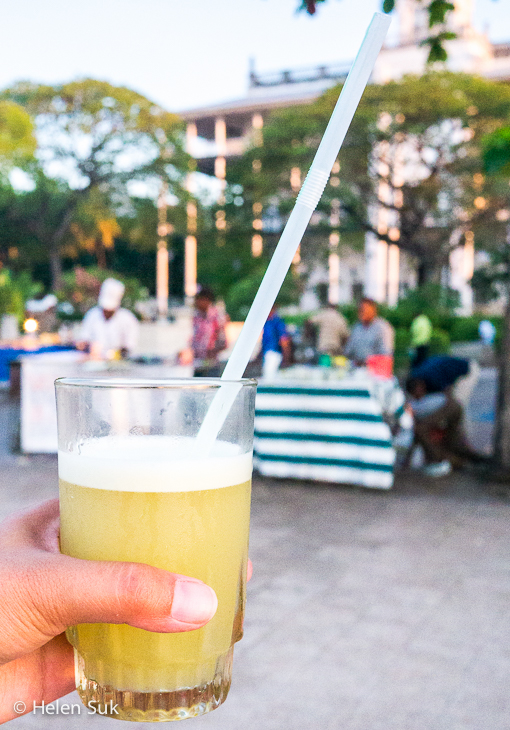 Lukmaan Restaurant
Locals and tourists alike flock to Lukmaan Restaurant near the former slave market. Recommended by Stone Town residents themselves, this small establishment serves up cafeteria-style lunches and dinners.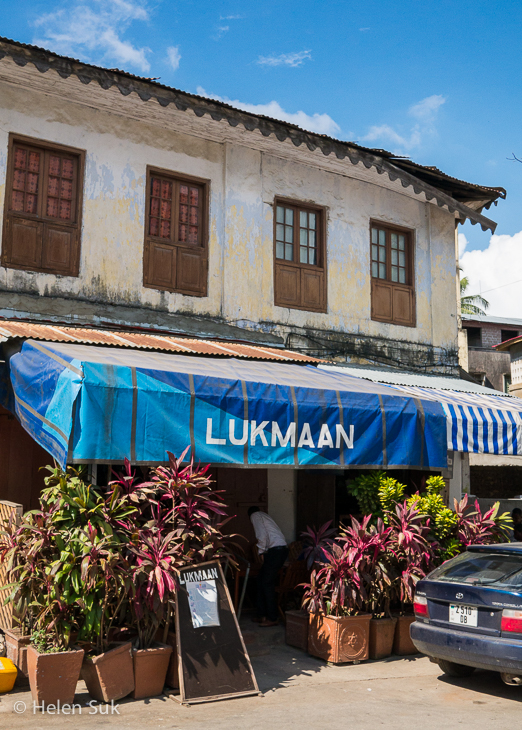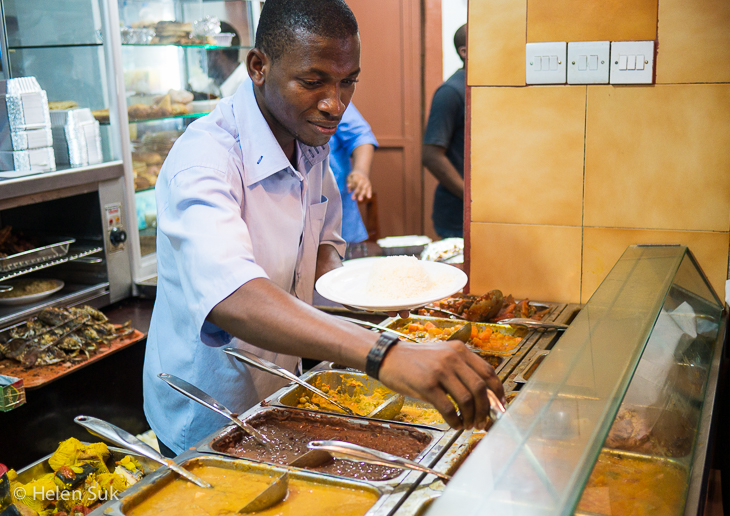 Some of the items I ordered were room temperature, but the Zanzibari meals here are excellent value — about 30-40% less than the food offered at the tourist-trap restaurants. For just 7000 TSh, I indulged in a generous portion of pilau, spinach and fish coconut curry with fresh lemonade.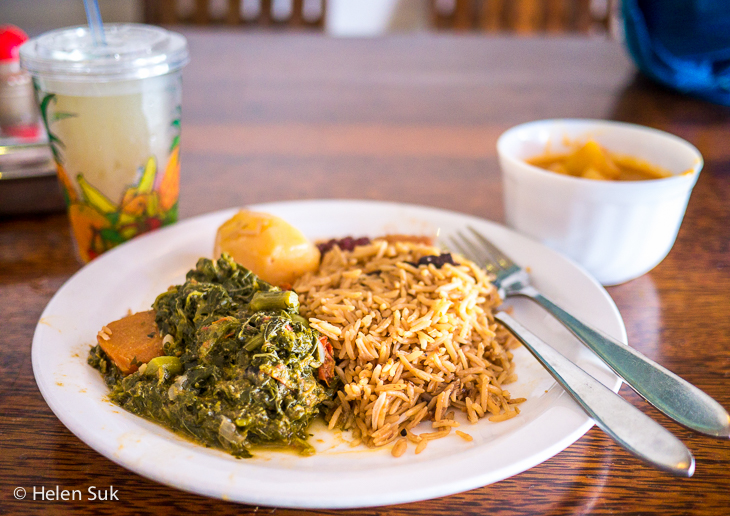 Jaws Corner
Community meets coffee at this outdoor cafe, situated in a small courtyard in the heart of Stone Town's winding streets. It's a glimpse into everyday life: men discuss the issues of the day and play board games over traditional Arabic brew.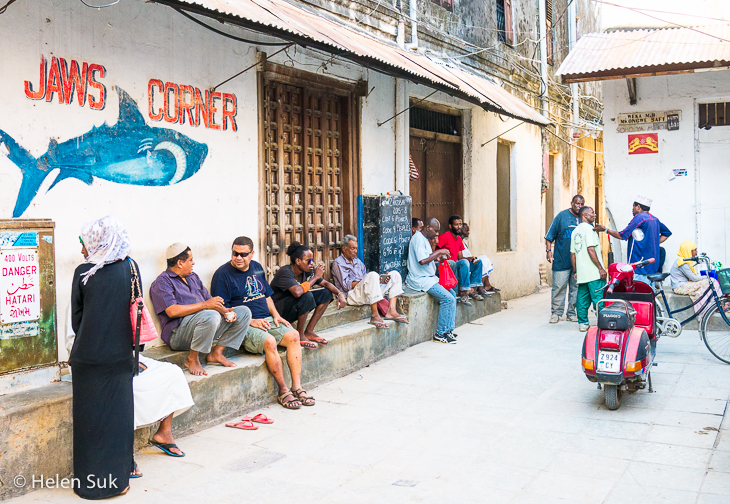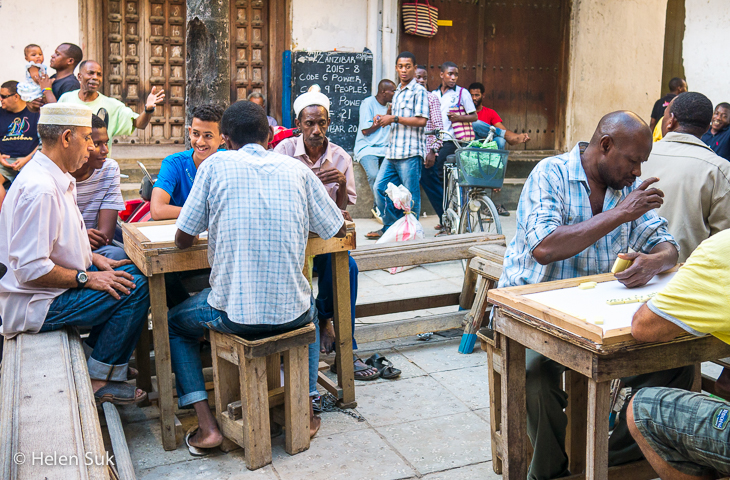 Despite its dark appearance, the ginger-infused, black coffee is not, in my opinion, that strong. If you don't mind the questionable hygiene (the cups are merely doused in water after each use), you can order your own small cup with a piece of peanut brittle for 200 TSh.
Coffee is served in the morning and afternoon — you won't find much activity in the square at other times of the day.
Zanzibar Coffee House
The best coffee I drank in Zanzibar was at this lovely cafe attached to the Zanzibar Coffee House Hotel. Once an Arabic house and one of the oldest structures in Zanzibar, this building is an attractive blend of romantic tradition and warm design.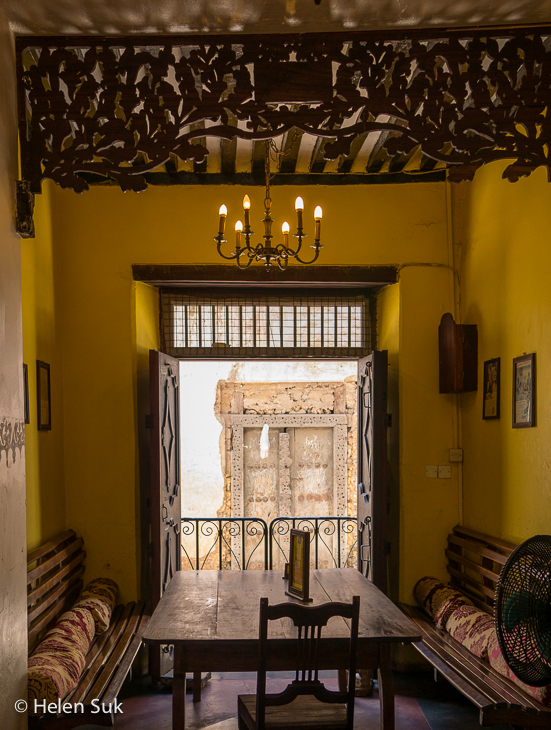 Lovingly served by trained baristas, the coffee is local (grown by the hotel owners themselves on estates in Tanzania), fresh, and produced with a commitment to both quality and sustainability. Zanzibar Coffee House is also an excellent spot for a light breakfast or lunch.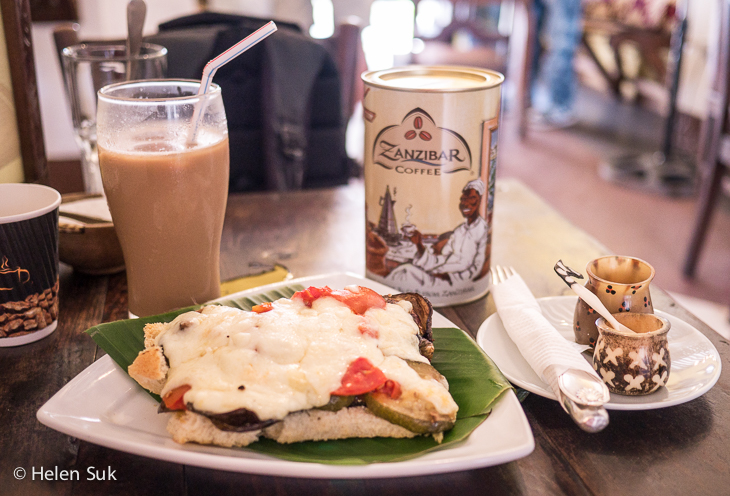 Tins of coffee are available for purchase — a unique gift idea for anyone who will appreciate an authentic taste of Zanzibar. Wifi is 1500 TSh for 1/2 hour.
Lemongrass
*This restaurant may be closed as the website no longer exists. If you have any updates, please let me know in the comments below. Thanks!
When I'm on the road, I occasionally crave Asian food — and I was elated to find it at Lemongrass. Located above the Shangani Post Office just off of Kenyatta Road, this restaurant impressed me with its contemporary dining room, open-air balcony, Thai cuisine, cocktail list — and free wifi.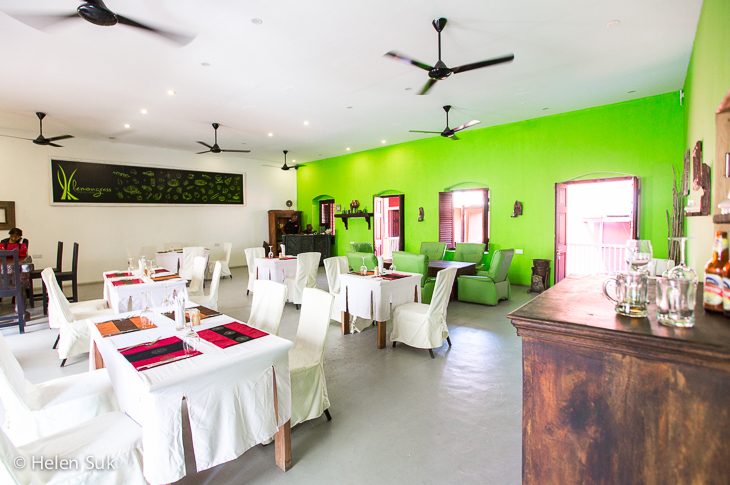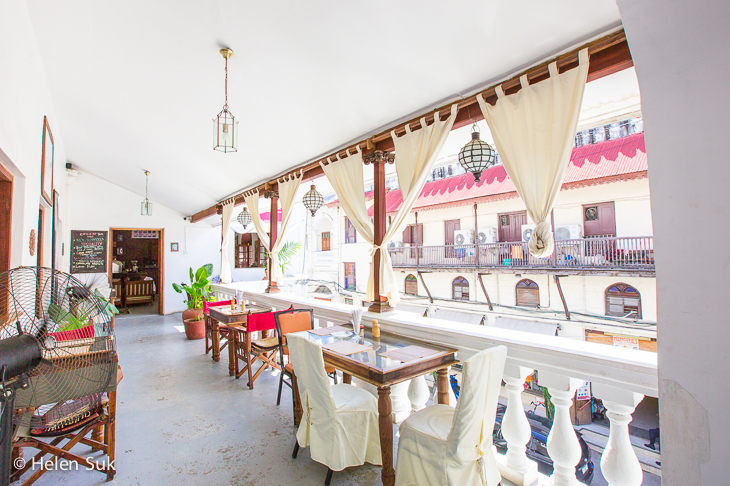 Expect to pay North American prices. I sipped on a caipirinha (7,000 TSh) and devoured the daily special: an excellent dish of rice, sesame chicken stuffed with pineapple chunks and a side of pineapple sauce for 17,000 TSh.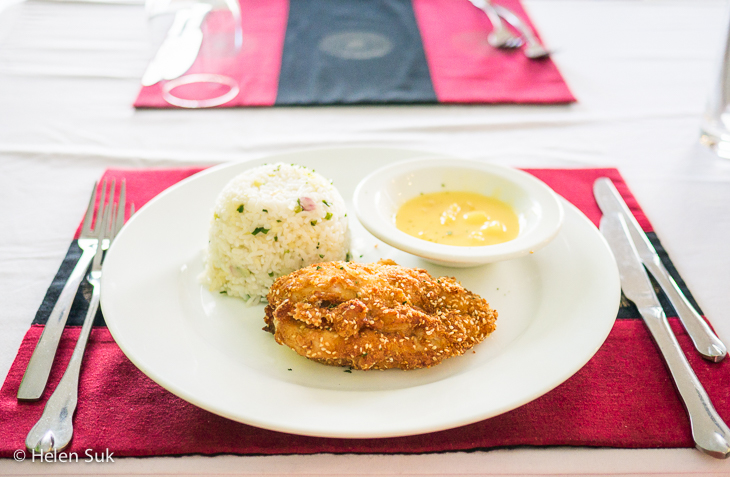 Lazuli Cafe
This colourful, intimate spot is known for its natural ingredients, and fresh, healthy, Swahili-inspired lunches and dinners. You'll find curries, chapati wraps, sandwiches, burgers, seafood and pancakes on the menu, as well as their popular fruit juices and smoothies.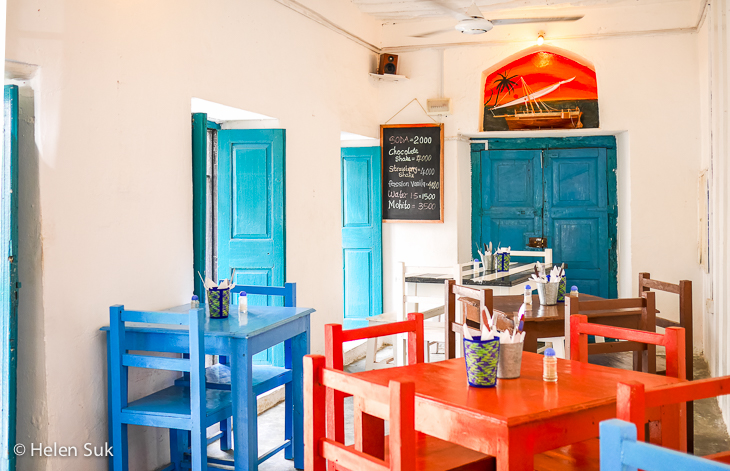 I chose one of their daily specials: a satisfying, delicately spiced fish coconut curry stew with cinnamon-infused rice for 12,000 TSh (see featured photo at the top of this post).
Sunset Lounge, Africa House Hotel
For the premier destination for sunset viewing in Stone Town, make your way to the rooftop terrace of the Africa House Hotel, a 150-year-old building once owned by the Omani sultanate. If you don't mind North American cocktail prices and dance music, you'll enjoy sipping your favourite drink while watching dhows sail across the Indian Ocean against the falling, tangerine-orange sun.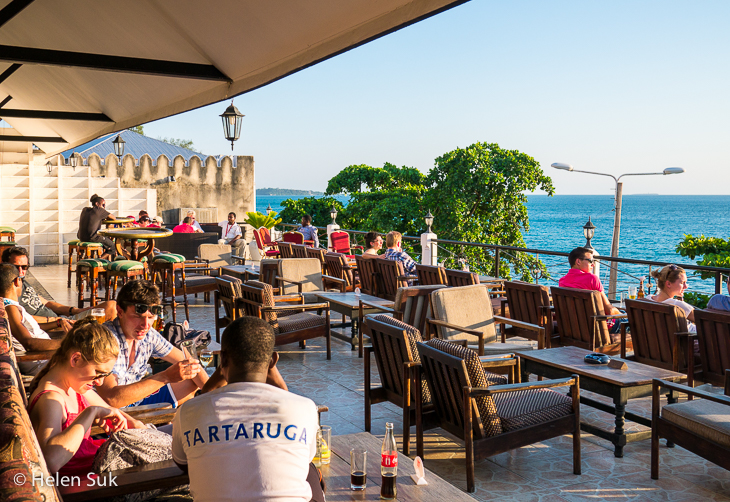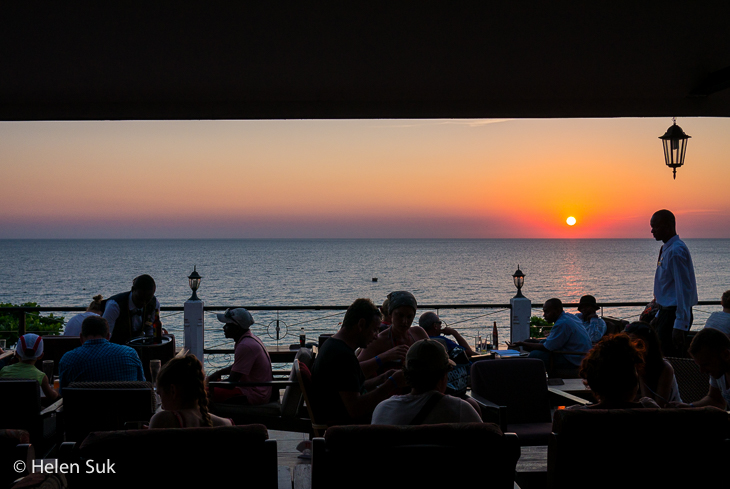 Book Cafe
This cafe can be found in a bookshop on Kenyatta Road — an ideal pit stop after a day of shopping. For 4,000 TSh, I enjoyed an iced coffee, and snacked on avocado, tomato and onion bruschetta.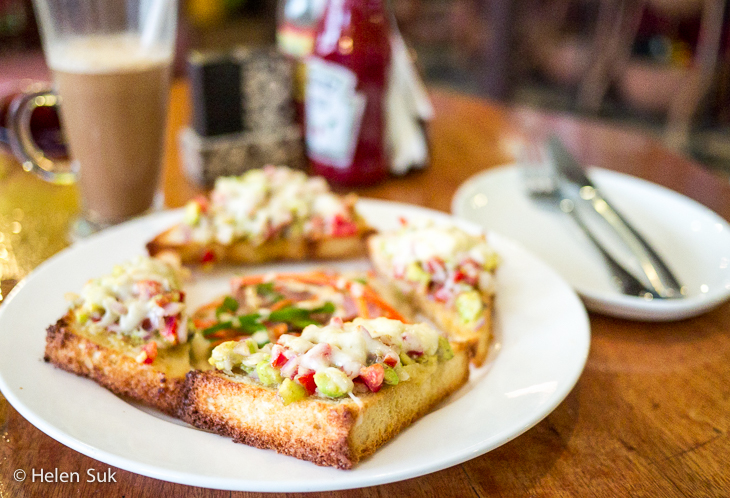 Silk Route
In Stone Town, I'm not sure Indian fare gets much better than this. Aromatic curries, spiced biryanis and tandoori dishes are offered at this spacious, three-story, Goa-style restaurant. Snag a table on the top floor and sip on a pre-dinner drink from their extensive cocktail menu with a gorgeous view of town.
My delectable meal hit the spot: garlic naan (2,500 TSh), a rich and creamy chicken korma (15,900 TSh) served over a candle heater, and Silk Route rice (4,000 TSh). The spread was enough for two people. This is a cash-only establishment.
Rooftop Tea House, Emerson on Hurumzi Hotel
One enchanted evening, I dined on the highest rooftop restaurant in Stone Town at Emerson on Hurumzi for my most magical culinary experience to date. One of the most luxurious and atmospheric hotels in town, the nineteenth century Arabian building is exquisite. If you don't stay as a guest, I highly recommend their dining experience. It will engage all your senses.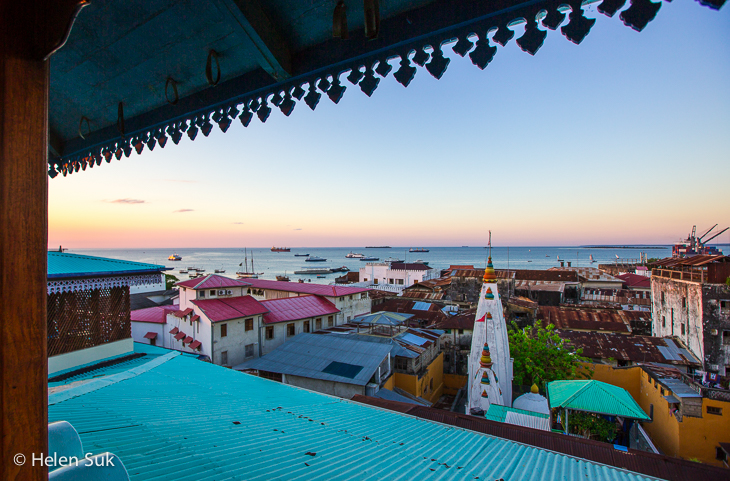 Arrive early for a sunset cocktail, like the Pimm's Sultan that blends cognac with Stoney ginger beer and tamarind juice, and enjoy the 360-degree view of the rooftops, church spires, mosque minarets and Indian Ocean against the hypnotic sounds of the call to prayer and ringing bells from the Hindu temple below.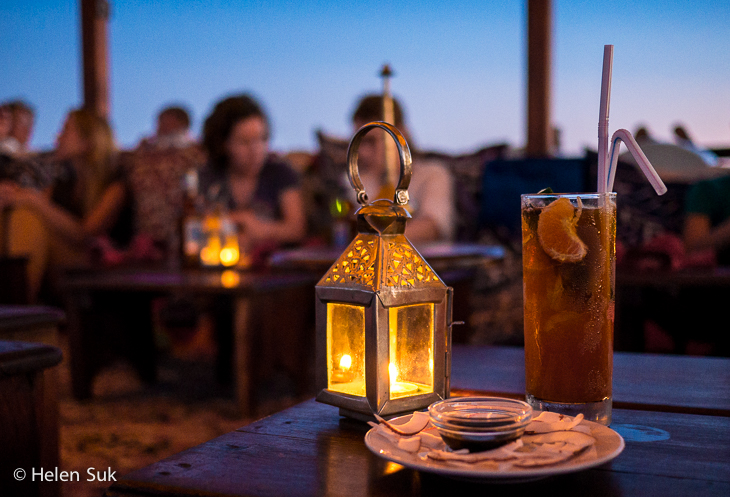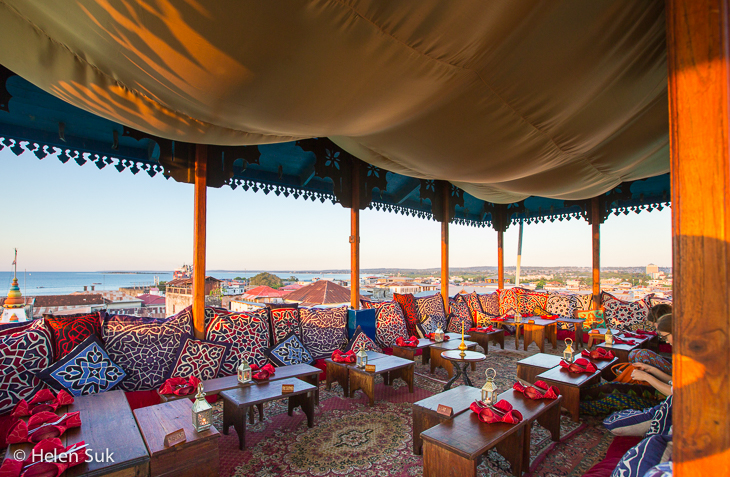 Guests are asked to remove their shoes before being seated on floor cushions under a canopy of silk fluttering through the evening breeze, a local wedding tradition in Zanzibar (a table, however, can be requested if you don't wish to sit on the floor). The menu for the Persian-inspired (and, at 25 USD, surprisingly affordable), three-course menu changes daily. Throughout the evening, you'll be spoiled by your white-robed host with impeccable hospitality; a brief history of Stone Town; captivating stories of the hotel and a bygone era of the Arab sultanate; hand washings with rosewater at your table; spellbinding, live taarab music (a local genre that combines Swahili, Arab and Indian influences); and a fantastic meal which was one of the few I ate in Zanzibar that wasn't overpowered with salt.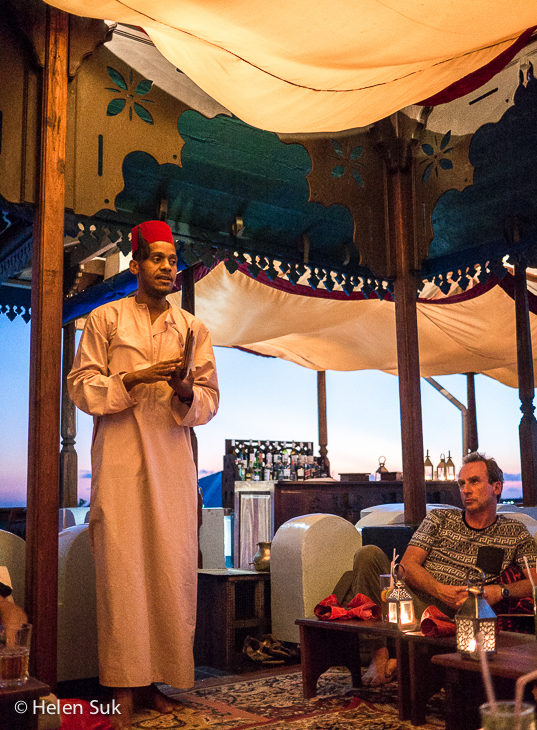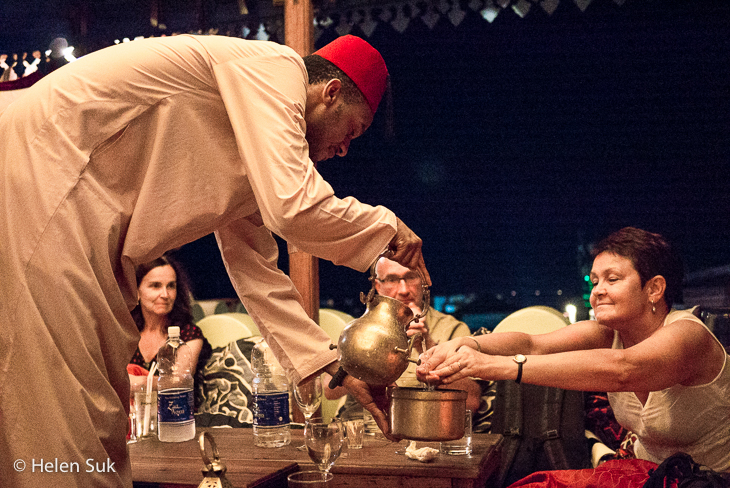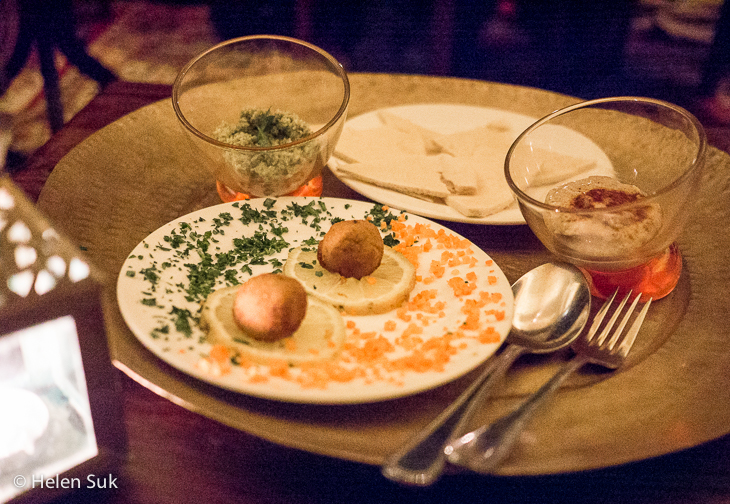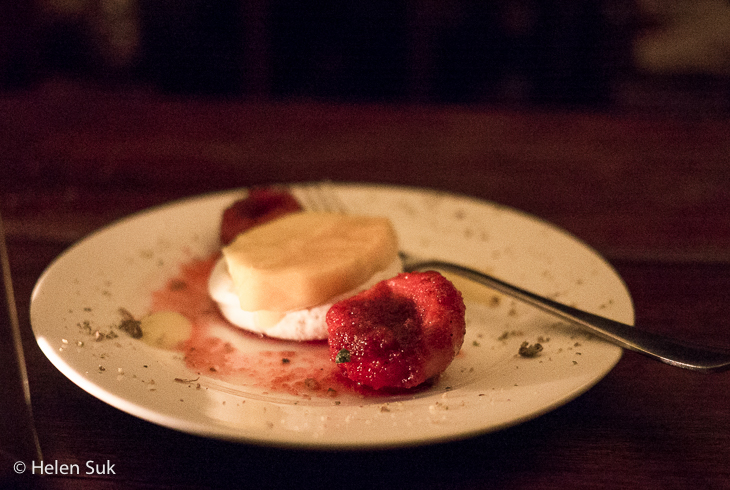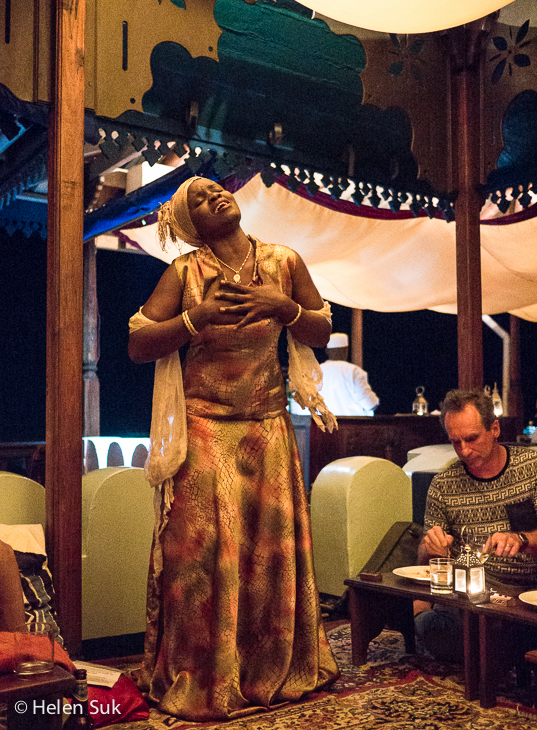 With limited seating, reservations are highly recommended, and the climb up the staircase is steep but worth every step.
Many thanks to Emerson on Hurumzi for the complimentary dinner.
What have I missed? If you've been to Stone Town, are there any other restaurants or Zanzibari delicacies you would recommend?
Pin this Post to Pinterest