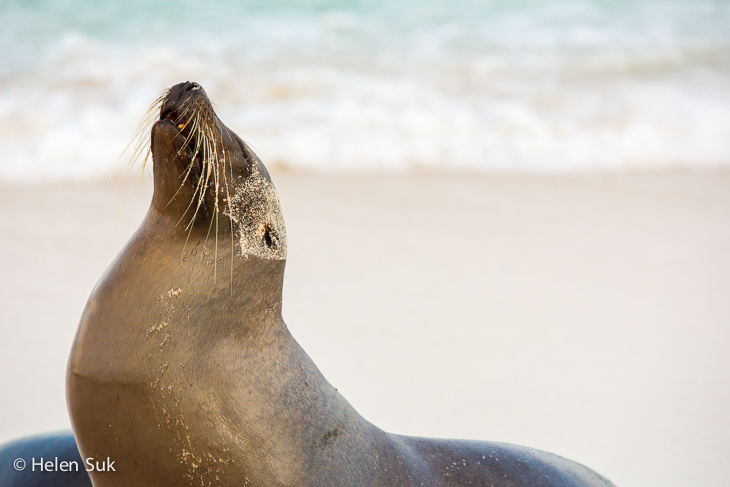 Are you planning a trip to the Galapagos Islands and debating whether to book a series of day trips or a cruise?
After an outstanding, one-week boat tour through the islands, I joined a day trip that was, in one word, underwhelming. That's not to say, however, that the quality of your experiences will reflect mine; a number of factors, of course, will influence the outcome. I would vigorously promote a live-aboard cruise over a land-based visit but, if you're lacking time or funds and day trips are your only option, you can still make the Galapagos a rewarding travel experience.
My week at sea started in Puerto Ayora, where I boarded a first-class yacht that took me on an unforgettable, whirlwind cruise through the eastern Galapagos archipelago. It was an Attenborough-worthy voyage that surpassed my expectations on nearly every level (more about my cruise here).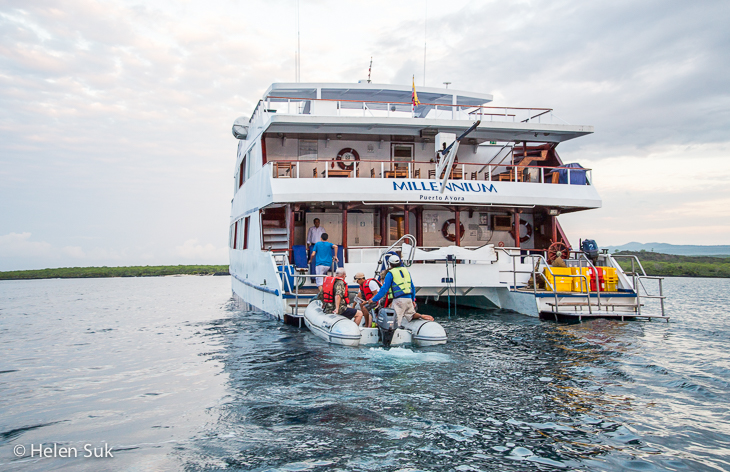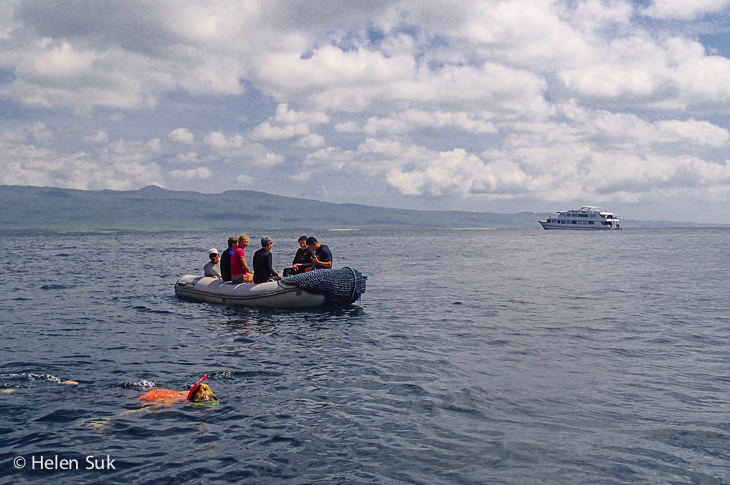 Fast forward a week later. My cruise had come to an end and I returned to Puerto Ayora where I checked into a hotel for three nights. During dinner, I met two sisters who had been in the Galapagos for several days, had completed three day trips and were nearing the end of their stay. They shared that they enjoyed their day excursion to Isabela Island, so I booked myself on one the following day.
And it was a letdown.
Time Spent in Transit
Unless your itinerary involves travelling short distances, you'll lose valuable time in transit on a day trip. It took two hours to get to Isabela Island from Puerto Ayora and two hours to return – that's four hours within a 10-hour period on a loud, uncomfortable and, at times, tumultuous speedboat ride.
On my cruise, however, travel time conveniently coincided with our R&R time. While the boat sailed from one island to the next, we were fed hearty meals, or we socialized or lazed about on the top deck with our favourite reads. It was an activity-filled week, but we were given down time each day to do as we pleased.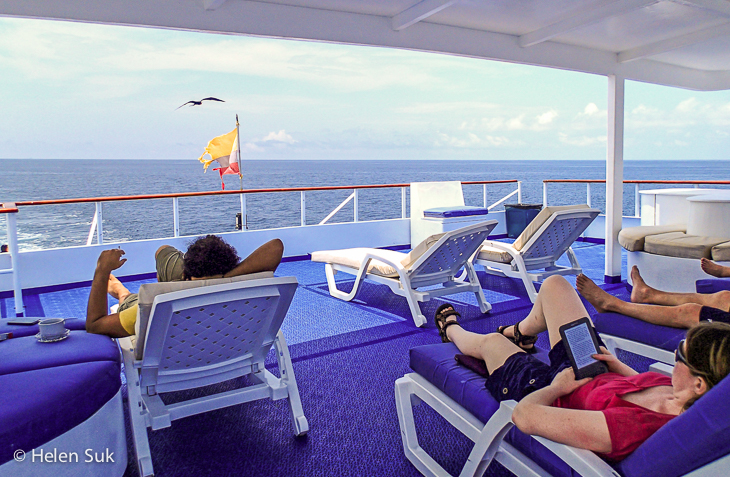 This is what a typical day looked like.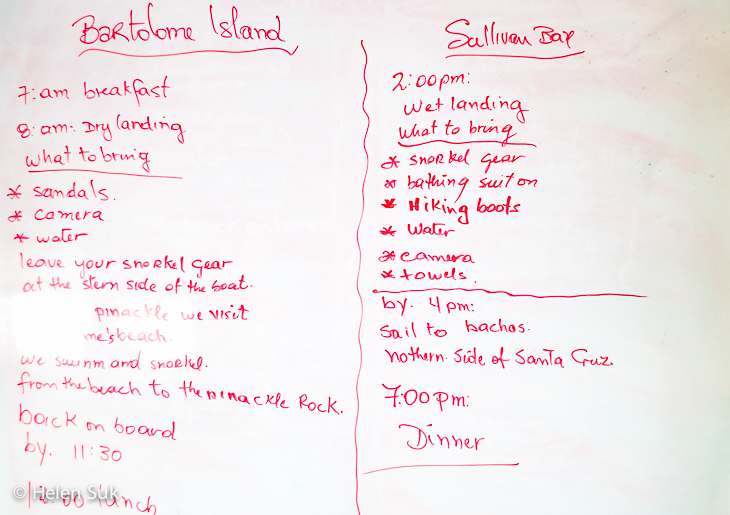 During longer, overnight journeys, we slumbered – no time wasted there. But one of my most memorable, utopian moments came the night I was lounging on the top deck with my new friends as we sailed across the South Pacific and worshipped a night sky faintly illuminated by a shimmering blanket of stars. It couldn't have been more perfect.
Group Size and Lack of Personalized Service
I took the $85 excursion to Isabela Island with two guides and about 20 others. Maybe I chose a particularly busy day, but you really don't know how many people have joined the trip until the morning of your departure. They were all friendly enough, but from one stop to the next, we were herded like livestock on and off a boat, then a bus, across the volcanic landscape of Los Tintoreras where we trailed behind another group (and, at one point, found ourselves caught in a small tourist traffic jam), and into the ocean with snorkels.
At least we had an encounter with these marine iguanas at Los Tintoreras.
About the snorkelling: with 20 swimmers in the same area of water, you're bound to inadvertently crash into someone else when you, along with everyone else, spot a marine animal (on this day, it was a lone sea turtle) and swim after it – you know, a foot in the face, your foot in someone else's face or a collision of other body parts. Perhaps that would've been avoided had there been more marine life to see, but more about that later.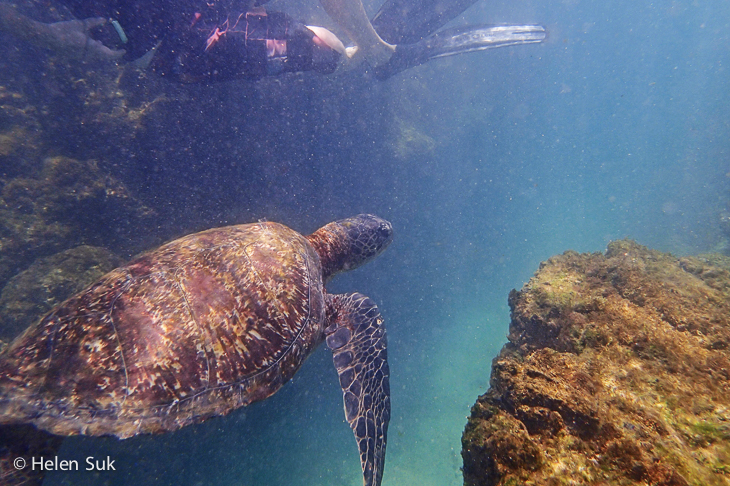 Our crowd was largely made up of English and Spanish speakers so you would think that, during our visit to the tortoise breeding centre, it would have been divided into two smaller groups, each with its own guide to offer information about the centre in the appropriate language. Instead, everyone slowly dispersed, not knowing who to follow or which direction to walk in, then finally decided to wander about on their own. I did hear some commentary in Spanish from one of the guides but, if the other was providing it in English, I didn't pick up on any of it because he had vanished from sight. The tortoise breeding centre is both fascinating and significant, and I went there with great anticipation to learn more about the conservation project. During my brief time there, however, my enthusiasm was deflated.
At least I was able to snap photos of these young tortoises before getting hurried off to the next location on our itinerary.
In the end, the sheer size of our group made the trip impersonal and disorderly, and it's not surprising that the guides didn't seem invested in leaving an impressive mark. We were, after all, with them one day and gone the next. In all fairness, it can't be easy to hustle 20 tourists from one location to another and provide personalized, top-notch service, so I can't say I blame them for the indifference. It would surely be a laborious and frustrating exercise to perform day in and day out.
Now I'm aware that there are much larger live-aboard boats that hold 35+ passengers, so I can't speak for those. What I can tell you is that, on my one-week cruise, there were anywhere between 10-14 people, depending on the day (passengers boarded and disembarked on different days of the week).
My first day on the yacht started with one guide who finished her rotation the following day and was replaced with another guide, and both were committed (albeit one more than the other) to making our Galapagos cruise the comfortable and brilliant experience that it was. For the most part, so too was the crew, despite the language barrier (a challenge I welcomed) and much-too-friendly male crew member (a challenge I did not welcome, but a gentle complaint to my guide promptly rectified that). We befriended our Ecuadorian guides with whom we exchanged stories about our lives.
Of course, providing personalized attention is less demanding and less complicated when you're leading a smaller group, and it helps that, in the end, the guides on our cruise were evaluated with customer feedback forms. I'm also aware that I was beyond fortunate to have shared my journey with an intimate group of passengers who couldn't have been more delightful.
(In)Convenience
During the day trip, we were often forbidden from leaving personal items on the bus, which meant we had to lug them around at each location. A DSLR camera, sunscreen, insect repellent, dry clothing, snorkel gear (I had brought my own), water, and snacks – it was inconvenient and cumbersome to carry all the items I needed for an entire day in sweltering heat and humidity.
On my cruise, however, each excursion lasted no more than three hours on average. We boarded the zodiacs which dropped us off at an island and then returned to pick us up two or three hours later and transported us back to our boat. The only items we took on each excursion were what we needed for just that short time frame. And as soon as we stepped back onto the stern of the boat, there were ice-cold, fresh fruit juice and snacks waiting for us.
If, for whatever reason, you decide to skip out on an activity on a day trip, my guess is that you're either stuck on the bus or at one location until the end of the day – not ideal if, for example, you're injured or fall ill.
How would you like it if you could retreat back to your cabin on a boat and sleep it off in the fetal position on a bed with a pillow, or lie in the shade on the top deck with the ocean-scented breeze against your skin until you recovered?
Lack of Wildlife
After returning to Puerto Ayora from the day trip to Isabela Island, I crossed paths once again with the sisters who recommended the excursion. When asked how it was, I explained that it was disappointing and the snorkelling underwhelming because the only wildlife I encountered were several flamingos (from afar), marine iguanas and one sea turtle. My response was met with beaming eyes and "You saw a sea turtle! That's amazing!" Don't get me wrong – it is thrilling to swim with a sea turtle, but I had already been spoiled by a flora- and fauna-filled cruise through the islands where I got remarkably close to so much of the Galapagos wildlife. It's a tough act to follow. Land iguanas, marine iguanas, lava lizards, sea lions, giant tortoises, frigate birds, all three species of boobies, sea turtles, tropical fish, stingrays, penguins, and Galapagos and whitetip sharks – you name it – we walked amongst or snorkelled with them. And their sheer abundance was what made these encounters even more incredible.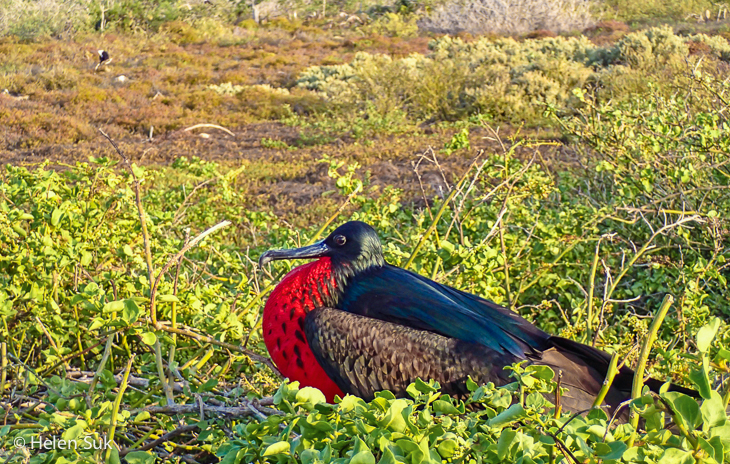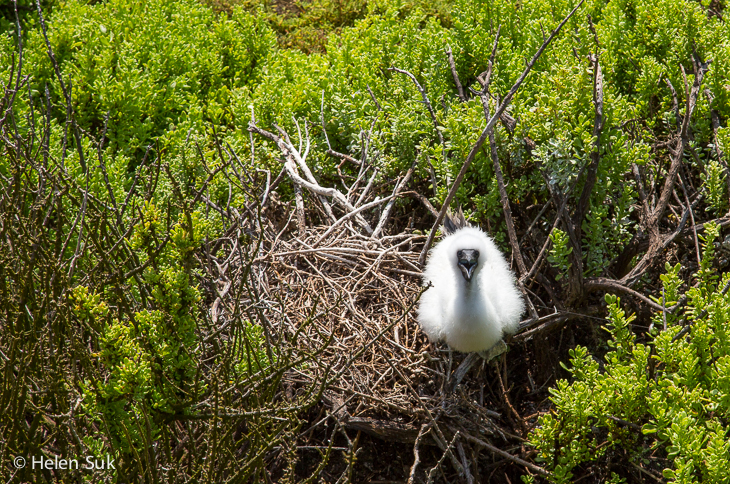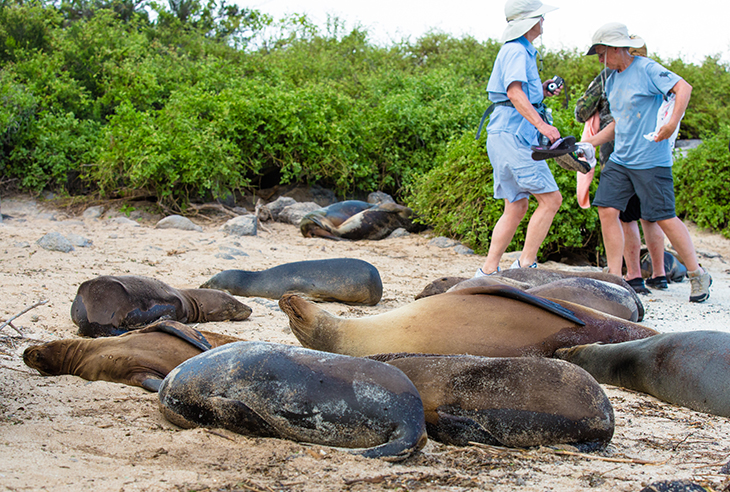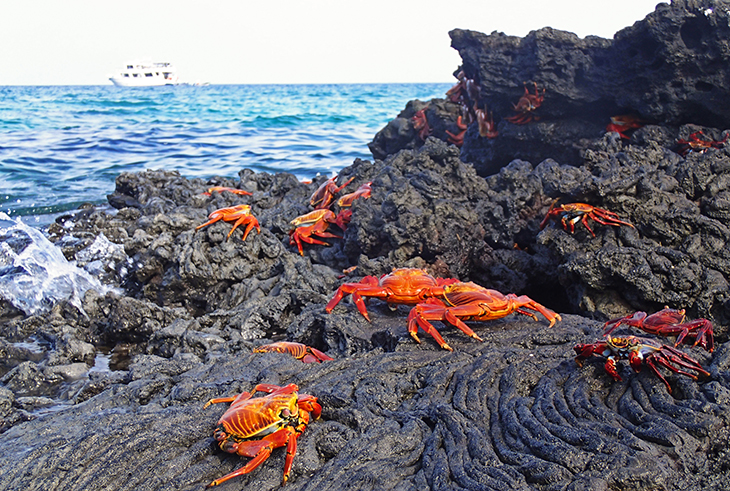 By Galapagos standards, I saw very little wildlife during my day trip to Isabela Island but let me be clear: that does not mean I wouldn't have seen more on a different trip. A cruise, however, does allow visitors to see the wildlife on islands that are further out and require longer journeys. No tourist traffic jams there. If the sisters' enthusiasm over my sea turtle sighting was any indication, my guess is that their wildlife encounters were limited.
But If You Must…
If your budget doesn't allow for a cruise, read this post about how you can significantly save by booking a last-minute deal upon arrival in the Galapagos. If it will still burn a giant hole in your wallet or you don't have enough time, is a land-based stay to the Galapagos still worth it? Absolutely. Just consider these tips as you plan your visit and book your day trips (and read this post for suggestions on what to pack).
Instead of basing yourself in one town during your whole stay, consider splitting your time between two or three of them. For example, if you fly into Baltra, book a hotel in Puerto Ayora on Santa Cruz Island for several days, then take a speedboat (a two-hour ride offered daily) to Puerto Villamil on Isabela Island where you can stay for another three days. Some visitors also fly into Puerto Baquerizo Moreno on San Cristóbal Island. Similarly, you can stay there for several days, then take the boat to Puerto Ayora on Santa Cruz (a two- to three-hour ride) and spend the remainder of your trip there. On each island, explore its surrounding areas on your own or on day trips at a leisurely pace instead of spending four hours in transit on an inter-island day trip and cramming four sites in one day. For example, a day trip can be taken from Puerto Baquerizo Moreno to the stunning formations at Kicker Rock, which is just a short distance from San Cristóbal Island by boat and where you can experience the exhilaration of snorkelling with sharks.
In retrospect, I would have planned my time on land differently by spending at least two nights in Puerto Villamil and using it as my base to explore the rest of Isabela Island. All three islands are rich in flora and fauna so there is plenty to see. Planning your trip in this manner will make it less exhausting and save you valuable time.
---
Search for accommodations at Booking.com:
Puerto Ayora (Santa Cruz Island)
Puerto Villamil (Isabela Island)
Puerto Baquerizo Moreno (San Cristóbal Island)
---
When booking a day trip, shop at different agencies and ask:
What is the average number of people on the tour?
How many guides are on the tour and how are they evaluated (if at all)?
How are language differences within the group accommodated?
How much time will be spent travelling between each location on the itinerary?
What kind of flora and fauna are you expected to see?
Will you be expected to keep all your belongings with you for the duration of the trip, or will you be able to leave some of them on the vehicle or boat at some locations?
You can dodge the surprises and keep your expectations in check by asking the right questions.
To Cruise or Not to Cruise in the Galapagos Islands
Your decision between day trips and a cruise in the Galapagos should be dependent on your own preferences and available resources. Based on my own experience, a live-aboard boat tour longer than five days is the superior choice if time and budget allow. But if that isn't an option? If you go into a land-based adventure with the appropriate expectations, I'm convinced you can still enjoy an unparalleled and spectacular journey.
If you've been to the Galapagos Islands, do you have a different story or opinion?
Disclosure: I earn a modest commission from Booking.com if you click on one of their links and make a reservation through their site (at no cost to you). Thank you for your support!
Pin this to Pinterest