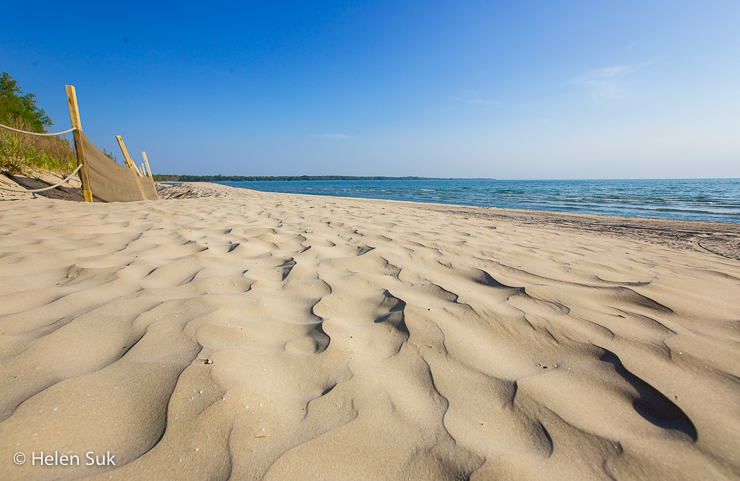 With an abundance of natural beauty, small-town charm, wineries and culinary offerings, there are plenty of things to do in Prince Edward County. I mean a lot. 
This region in southeastern Ontario is often compared to its more famous sister, Niagara-on-the-Lake, but there are notable differences. Whereas Niagara-on-the-Lake is a town in itself, the County is made up of three: Picton (the hub), Wellington and Bloomfield. It's quieter, less commercialized and more affordable. As an area with its own arts trail, it has more character too. In fact, this island destination was named one of the Best Places to Visit in 2015 by Travel + Leisure magazine.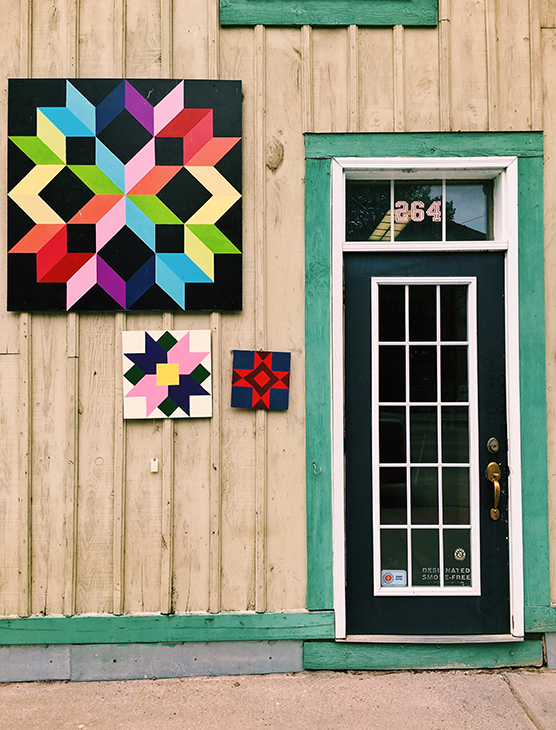 So my visit of three days that should have been seven left me and my friend wanting more. More beach. More food. More wine.
We're so fond of The County, I plan on returning, while she already has — and it's only been one week since our girls' getaway. She's also booked two more trips with her family this month and she's shopping for a County cottage.
So what did we get up to while we were there and why did we leave so enamoured?
Small-Town Wanderings
We were smitten with the warm residents, well-preserved country homes and shops filled with retro art and artisanal food products.
In Picton, the largest of the County's three towns, I loved browsing the goods at Frugal & Company, a retro shop and take-out cafe filled with an array of vintage paraphernalia.
We also spent over a half-hour at Kingston Olive Oil Company sampling high-quality extra virgin olive oil flavoured with Tuscan herbs, chipotle and black truffle, blended with aged balsamic vinegar infused with everything from red apple to dark chocolate. The flavour combinations here are endless!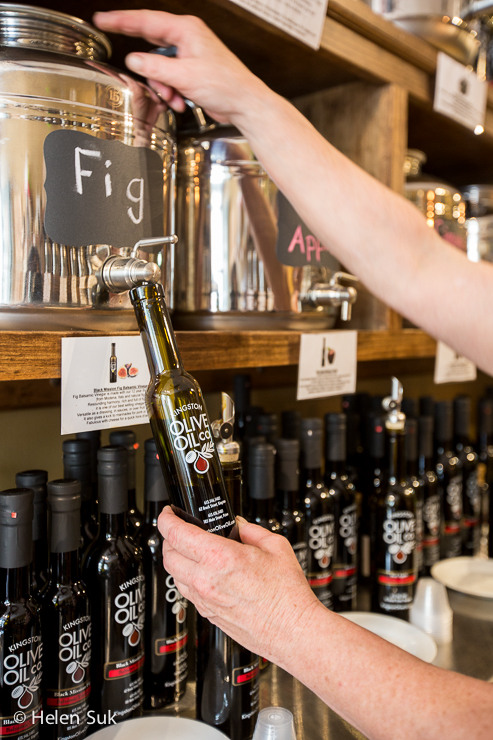 Our biggest dilemma was choosing which ones to buy as gifts and, of course, for ourselves but the staff helped us decide (thanks, Jackie). I've never been so excited to make salad and pasta.
A Prince Edward County Wine Tour
The newest and fastest wine-growing region in Ontario, Prince Edward County is now home to nearly 40 wineries (with more on the way), many of which are independently owned. We wanted to spend a few hours sipping wine in various locations responsibly, so it made sense to contact Sandbanks Vacations & Tours, a company that offers wine tours and vacation rentals.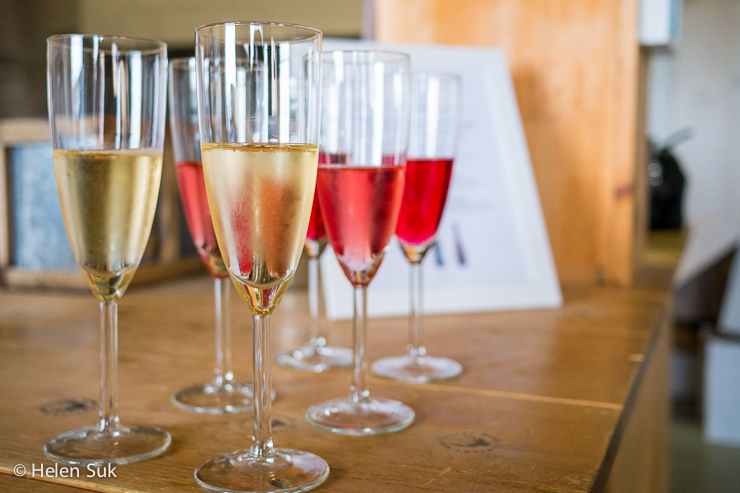 Wolf, our guide intimately familiar with the history, wineries and people of The County, was informative and clearly well-connected in the tight-knit community. He drove us to five wineries during our half-day tour, regaling us with stories and leaving us tipsy by the end of the afternoon (we can only imagine what state we would have been left in had we opted for the full-day tour!).
Our favourite stop by far was Karlo Estates where we sampled wines with small food pairings in the rustic setting of an old barn, surrounded by aged wood beams and oak barrels.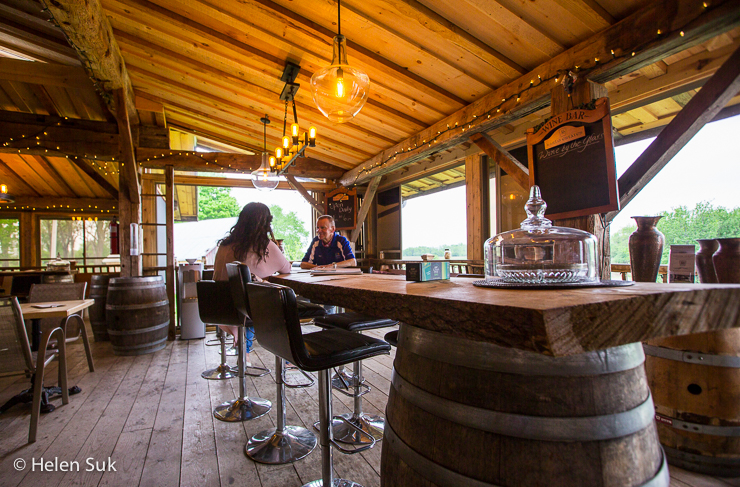 Sandbanks Provincial Park
Imagine a spruce-fir forest, Caribbean beach and the North African desert, and you have Sandbanks Provincial Park, home to some of the largest, most beautiful beaches in Ontario with powder sand that feels like velvet to the feet.
On our first day, we spent a couple hours soaking in the late afternoon sun on Outlet Beach — the closest beach to the park entrance. Bonus: it was nearly deserted (a benefit of travelling mid-week in May).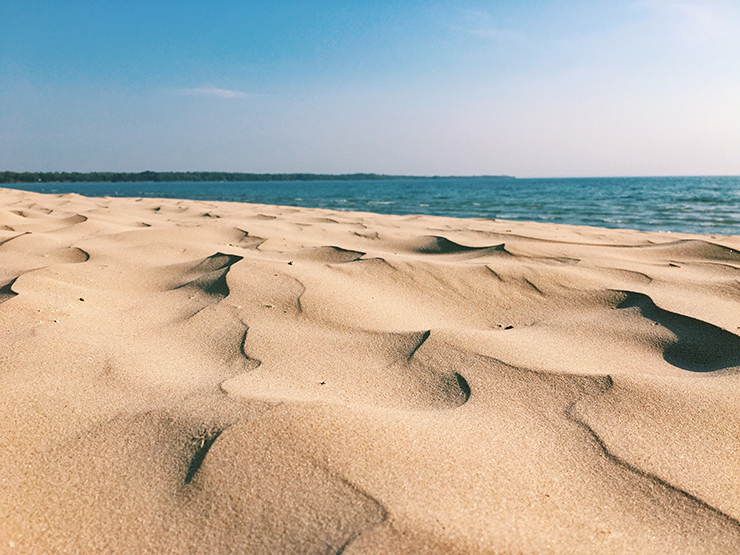 When we returned two days later, we drove deeper into the park to find Dunes Beach, the largest freshwater sand bar and dune system for which the park is named. On the edge of Lake Ontario, these steep, undulating formations of golden sand reach up to 25 m high.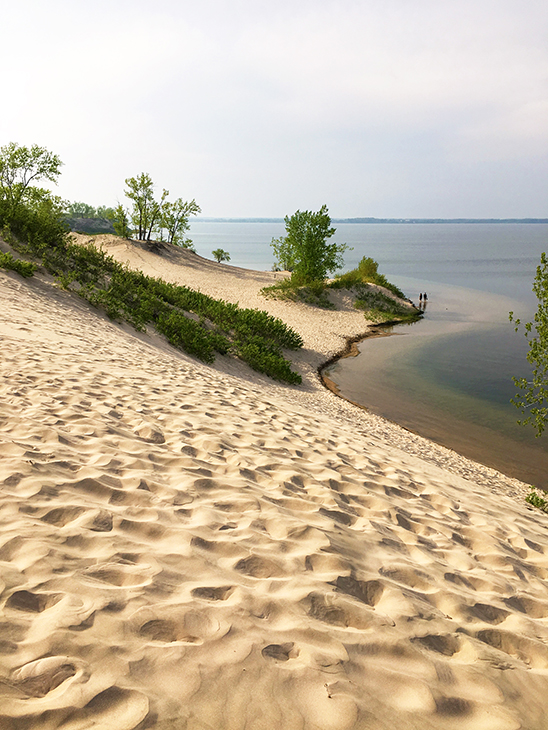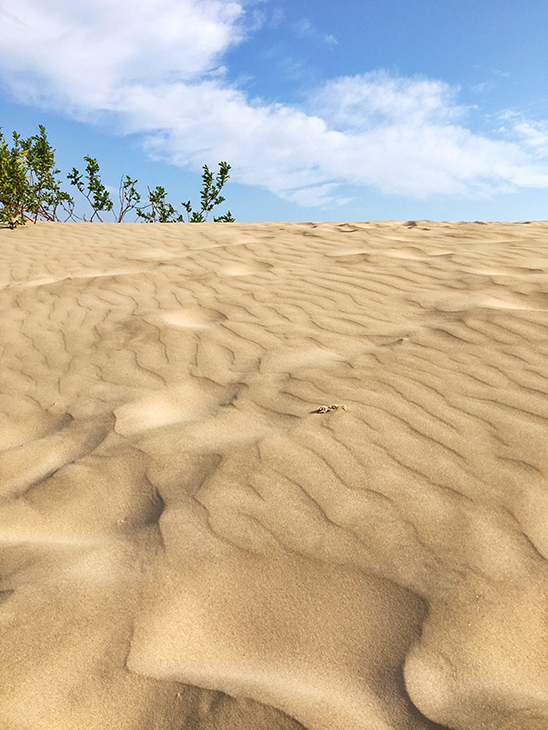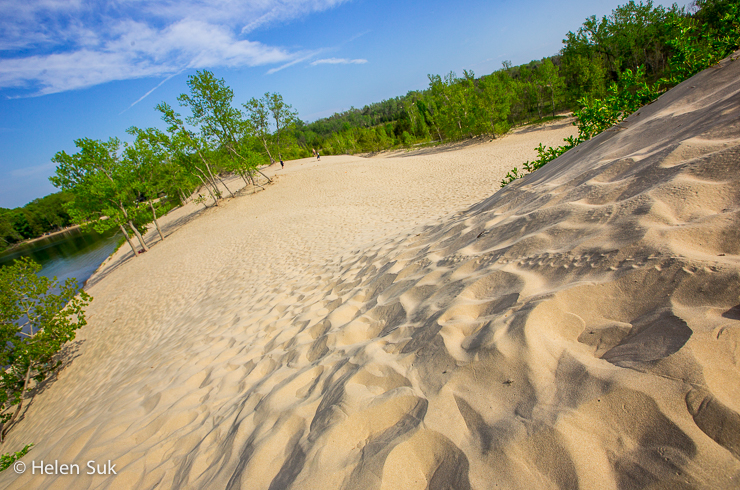 Of course, the dunes are modest compared to the Sahara or Jordanian desert but for someone who's lived in flat Toronto most of her life, this was a welcome discovery in my own province just two hours outside the city.
Next time, I'd like to walk the shoreline, check out Sandbanks Beach (I've read this third beach is the one that most closely resembles a tropical waterfront), and explore the forest hiking trails inland.
Tip: When you reach the park entrance, ask for directions to the specific beaches you want to visit. It can be a little confusing.
Lake on the Mountain
Just a 20-min. drive from Picton, high above the Bay of Quinte is Lake on the Mountain, a mysterious body of water that isn't connected to Lake Ontario whatsoever. How did it come to be? No one knows, but what you should know is that it's one of the most scenic areas of the County.
We sipped wine on the patio of The Miller House Cafe-Brasserie (part of the Lake on the Mountain Resort) with front row seats to a gorgeous panorama of the waterways below.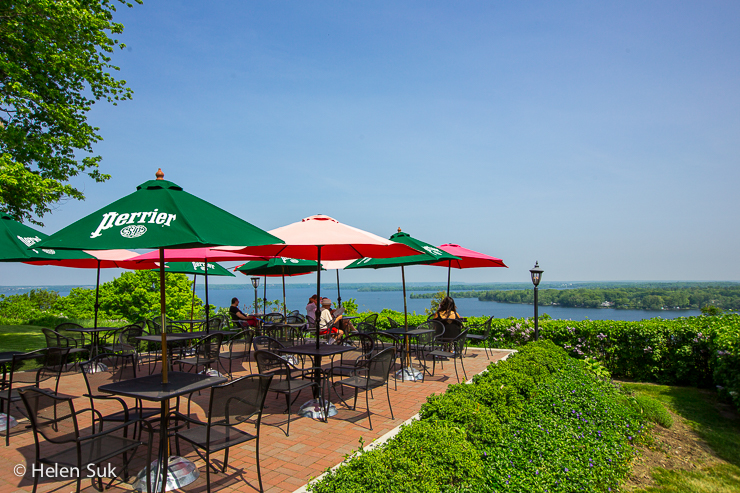 On a clear day, the view is absolutely worth the drive.
Food, Food and More Food
Spandex pants are made for places like this. My waistline didn't need all that I consumed… but, my god, the cuisine! With their agricultural bounty, Prince Edward County has become known as the gastronomic capital of Ontario, thanks to their skillful chefs who focus on locally sourced ingredients, from farm-fresh meats to County-grown produce.
Here's where we dined:
East & Main Bistro (Wellington)
A local favourite, East & Main Bistro serves up "luxury comfort food" at reasonable prices in a casual yet upscale, beautifully designed space.
For lunch, we started with the trio of tapenade and soup of the day, a sublime asparagus soup. The pasta of the day followed, penne with chicken in a rose sauce, but the perfectly grilled calamari was the main that left a lasting impression. We ended on a decadent, sweet note with warm apple crumble topped with ice cream.
I plan to check out Pomodoro, their Italian sister restaurant, on my next visit to The County.
The County Cider Company (Waupoos)
Prince Edward County's craft breweries are making a name for themselves, but so too is The County Cider Company, the oldest cider-producing company in Ontario. Located in Waupoos (15-25 min from Picton) among apple orchards and against a stunning backdrop of sparkling Lake Ontario, it's known for having one of the best views in The County.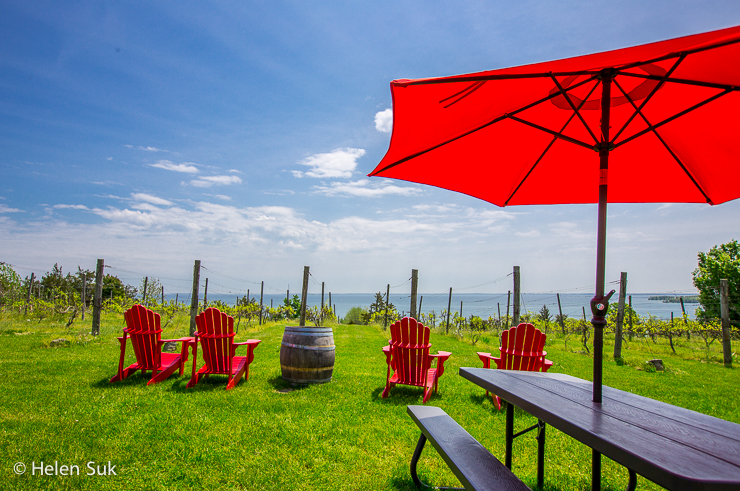 Since I'm not a beer drinker but a cider enthusiast, I couldn't pass up a visit to the cider house which was built on a farm that's been growing apples since 1850.
Our tasting included a flight of five refreshing ciders (all of which are gluten-free), from their best-selling Waupoos Premium to their crisp pear cider — my two favourites. A delicious al fresco lunch of a Cider House salad and porchetta sandwich followed on the patio, with a cold one in hand as we soaked in the scenery on a balmy day. Our meal was as fantastic as the ciders themselves.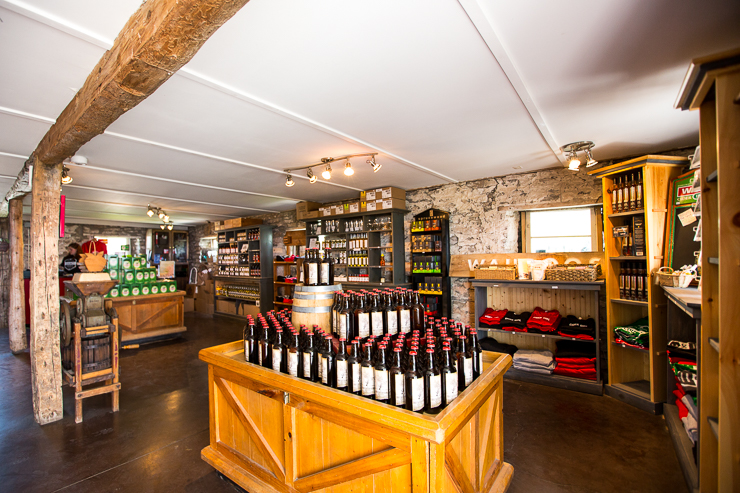 In Ontario and can't wait to try their ciders? Look for them at the LCBO and, by this summer, on the shelves at Loblaws supermarkets.
Update July 3, 2017: the sandwiches at The County Cider Company have been replaced with wood-fired pizzas.
Amelia's Garden (Picton)
This formal dining room is housed in a centuries-old stone farmhouse at The Waring House, the country inn we called home for two nights (read below for more about our experience). Serving breakfast, lunch and dinner, Amelia's Garden is where we had breakfast each morning (included with an overnight stay). We tried the French toast and couldn't resist the poached eggs with cheddar sauce — a more flavourful take on eggs benny.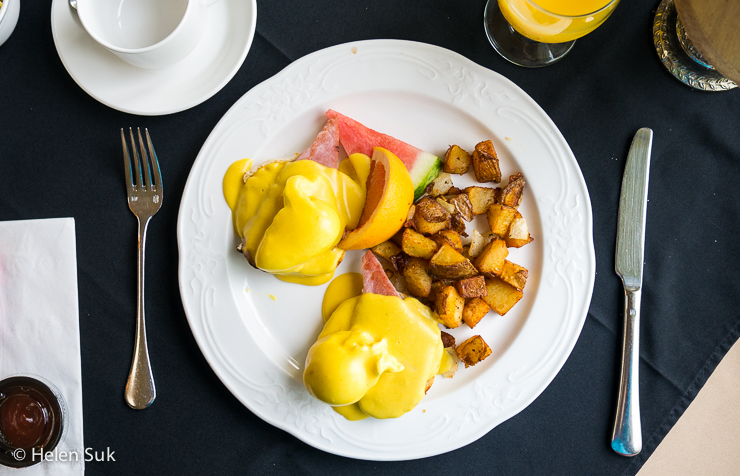 And we apparently didn't get enough of the cheese so, for dinner, we started with the cheddar and apple soup alongside a salad sourced from their own garden. I would have preferred a creamier texture in the soup but the unlikely pairing of fruit and dairy was outstanding.
I never say no to sea scallops, so when they were presented to me on a bed of risotto with my favourite vegetables, my stomach rejoiced.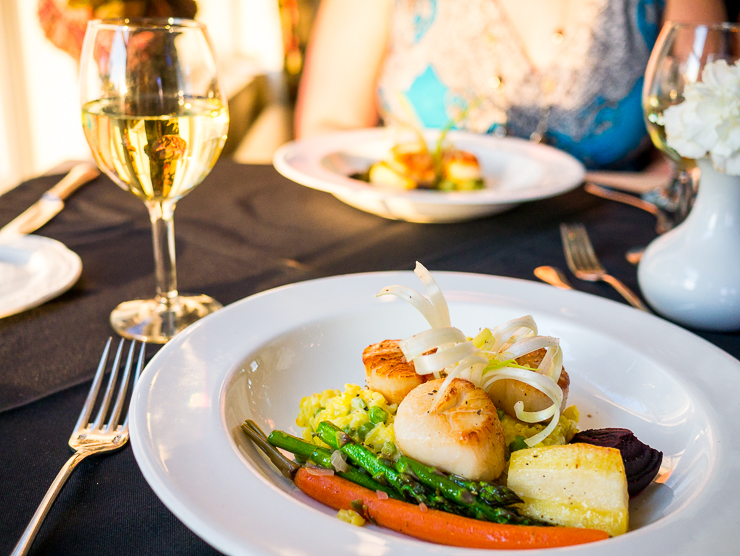 And, hello, coconut cream pie! It's not often we see it on a restaurant menu so we didn't hesitate to share one. After inhaling it, we understood why the restaurant is known across the County for this dessert.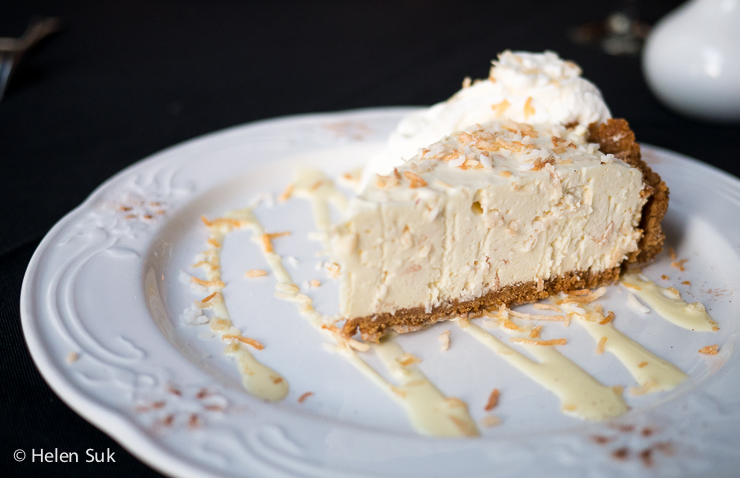 Tall Poppy Cafe (Wellington) – CLOSED
Update: Tall Poppy Cafe has been replaced by The Courage Cafe & Bar.
This bright, cheerful cafe isn't just about great coffee and wholesome food prepared with ingredients from their own farm, but all the values that make the world a better place: community, sustainability and fair trade.
Stop at Tall Poppy Cafe for breakfast, lunch, a sweet treat or iced latte, or just admire its red-and-white exterior. Our service was top-notch too. Without being asked, the barista stepped out to fetch a map and provided us with directions to the Sandbank dunes. Prince Edward County folks are a friendly bunch.
The Vic Cafe (Picton)
Like Tall Poppy Cafe, this coffee house is committed to serving food in a way that respects both the environment and our health. You'll also find ethically sourced coffee, as well as breakfast and lunch items that make use of seasonal products that are both vegetarian- and vegan-friendly.
The Vic Cafe is worth a visit just for its clean, sunlit interior of lemon yellows and pale blues. Want to feel like you're in a spread in the latest issue of House & Home magazine? Come here.
The Hubb Eatery (Bloomfield)
Our most memorable dining experience was at The Hubb Eatery at Angeline's Inn, a boutique, hip hotel consisting of a Victorian house, motor inn and cabins filled with vintage furniture.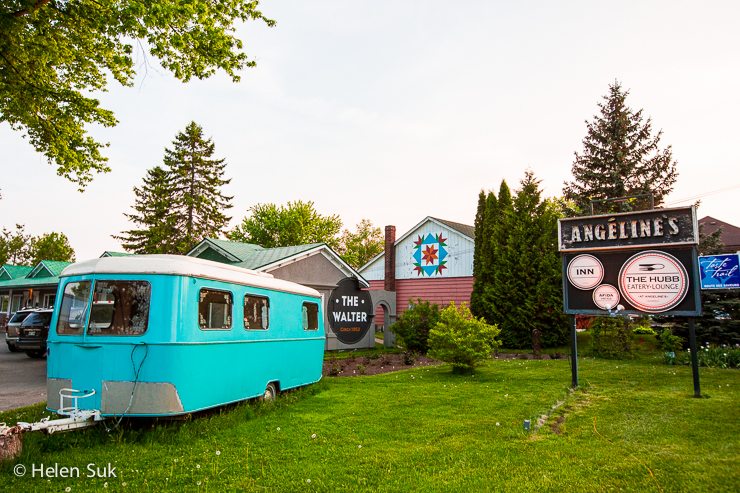 Our dinner came immediately after our wine tour so we skipped the wine and cocktails and dove right into our meals. Each dish was superb: the tuna tartare, beet & blue salad, roasted striploin and gnocchi.
Tip: The dining room is modest in size so reserve your table in advance.
Update: Laura and Chef Elliot of The Hubb Eatery will be parting ways with Angeline's Inn in mid-December, 2017. What's next for The Hubb? To be announced…
Where to Stay: The Waring House
It's not the sassiest hotel in The County compared to trend-setting properties like the Drake Devonshire, but The Waring House, a farm-turned-country-inn surrounded by picturesque gardens, maintains its rural roots and is conveniently located in Picton for activities across the region.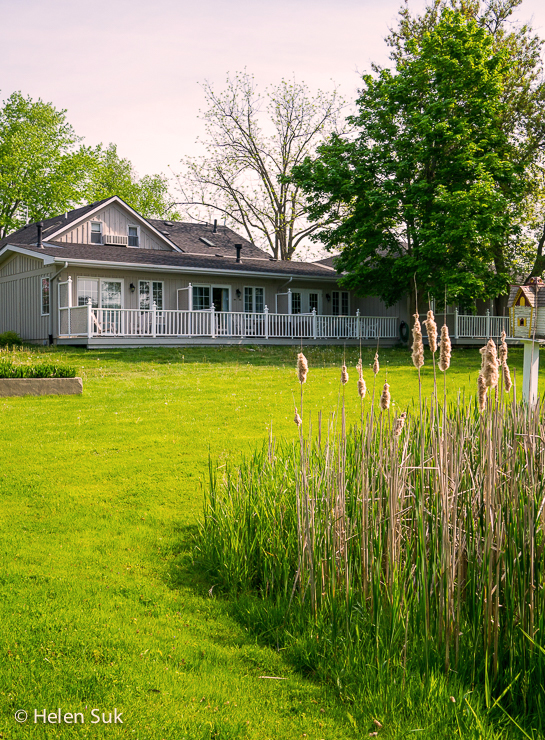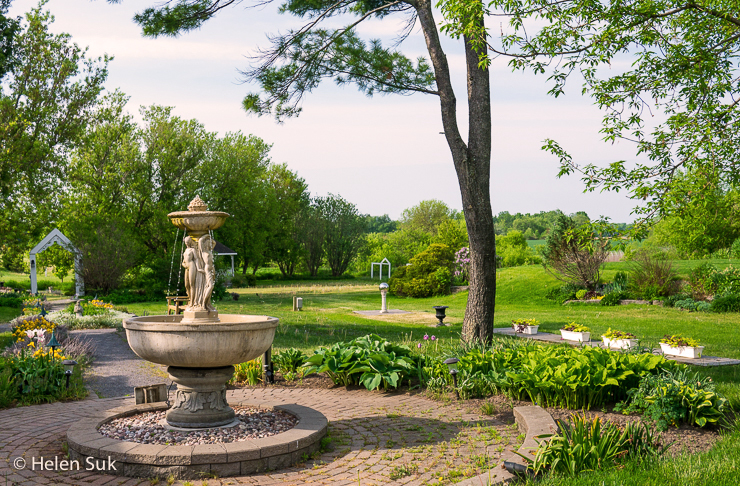 If you prefer contemporary design like I do, request a Premium room in the Heritage Lodge or Quaker Lodge — they're newer and more spacious than the units in the other buildings. Our room with a balcony was traditional (it is the countryside, after all) with modern comforts. We had a tonne of space and the beds were among the most comfortable we've slept on. Wifi was complimentary.
With 49 rooms housed in five buildings, The Waring House is one of the larger hotels in Prince Edward County (but not too large that it feels impersonal) so chances are you'll find accommodations here when all the boutique inns and B&Bs are full.
Reserve a room at The Waring House here or through Booking.com here.
What We Missed
With so many things to do in Prince Edward County, we just didn't have enough time to experience it all: the farmer's markets, cheese shops and the Arts Trail, to name a few… which means I have plenty of excuses to return.
And return I did. Read this post about my subsequent visits and for more County travel tips!
Update June 8, 2016: my friend did end up buying a cottage and she couldn't be happier with it!
Pin This post to Pinterest
Many thanks to the restaurants, Sandbanks Vacations & Tours, The Waring House and The Corporation of the County of Prince Edward for hosting me as their guest. As always, all opinions expressed in this post are my own.
I earn a small commission from Booking.com if you click on their link and make a reservation through their site – at no cost to you. Thank you for your support.