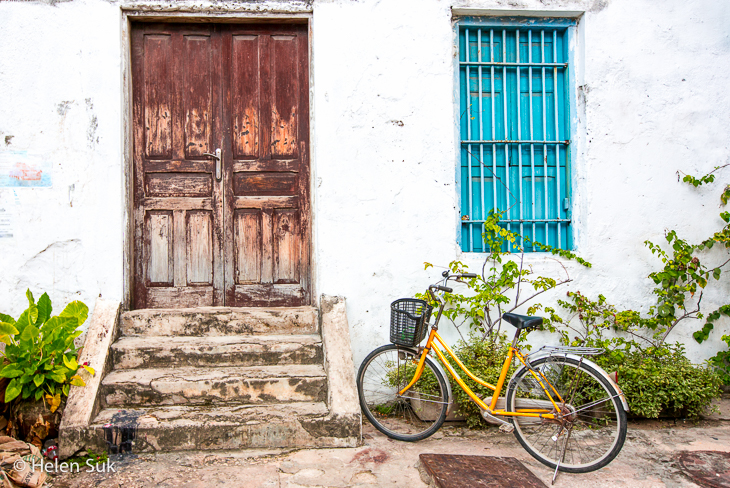 Stone Town isn't just any town. It is a sensory experience not to be found anywhere else in the world.
Of course, the beaches in Zanzibar are ravishing, but this UNESCO World Heritage Site in Zanzibar City, once a flourishing trading hub, utterly captivated me: the history and melting pot of African, Arab, Indian and European cultures; the vivid shades of every colour imaginable; the textures; the vibrant energy of the seafront and markets; and the locals who greeted me with "jambo!" (hello) and "karibu" (welcome) everyday.
But I hope you experience this all for yourself. And to help you, I've written this list of things to do in Stone Town, a guide to everything that made me fall in love with the place (also see this post for visual inspiration). Further down the page, you'll also find a couple suggestions for accommodations.
DO:
1) Wander the maze of winding roads and alleyways
Stone Town can easily be explored on foot. Watch it come alive with historical, multi-story buildings; bright textiles; giggling schoolchildren scurrying across courtyards; and social activity on baraza benches where locals gather throughout the day.
Pin this image to Pinterest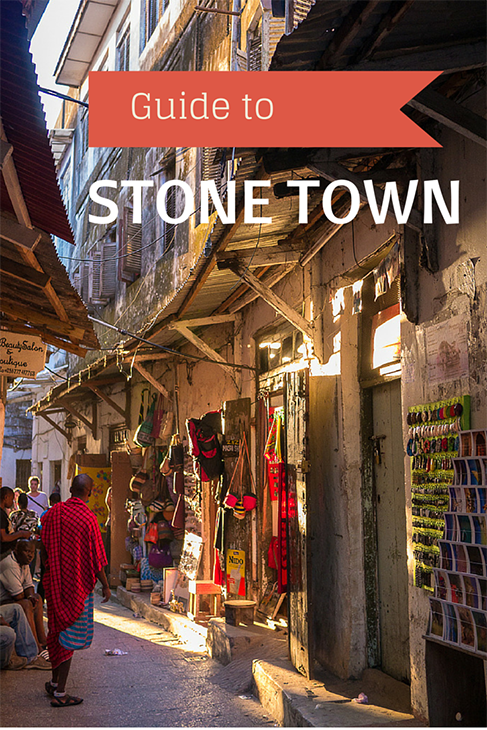 If you find yourself lost, the locals won't hesitate to guide you. I usually asked for directions to the seafront since I always knew how to return to my hotel from there.
2) Explore the grand architecture
The buildings, most of which date back to the nineteenth century, have stories to tell. And they're a feast for the eyes, despite their deteriorating condition (I came upon the rubble of one that collapsed while I was there; thankfully, there were no casualties). It's hard not to see the urban decay as part of the town's charm.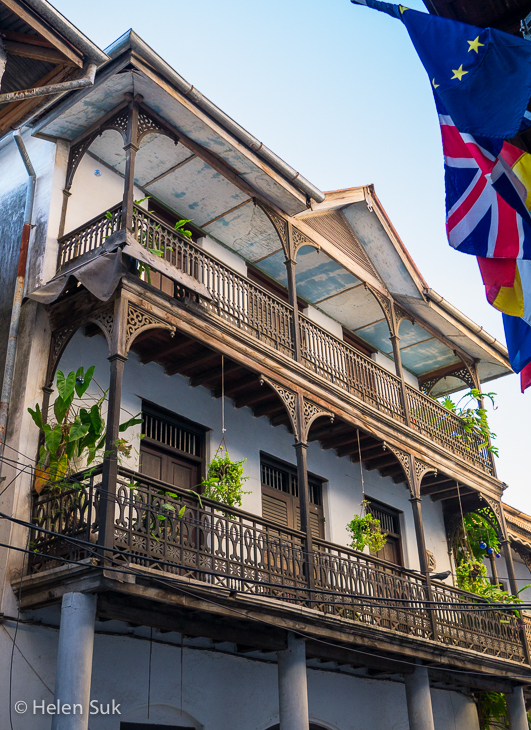 Some of the most important structures, however, have been transformed into hotels and museums. Look for the tall, white walls of elegant Arab mansions (with an average thickness of 40-60 cm to maintain cool temperatures inside); the romantic, latticed balconies carved out of wood by Indian craftsmen (which create beautiful shadows mid-day); and stained-glass windows in a kaleidoscope of colours.
3) Admire the famous Zanzibari doors
You won't find these giant wooden masterpieces anywhere else in the world. Elaborately carved with astonishing detail, the heavy doors in Stone Town are quintessentially Zanzibar, and served as a valuable glimpse into the homeowner's place of origin, profession and economic status. The Gujarati doors were crafted by skilled Indian tradesmen out of imported teak. The large brass studs have their origins in India, where they were once used as a defence against charging war elephants. In Stone Town, however, they were used only as decorative pieces and symbolic markers of wealth.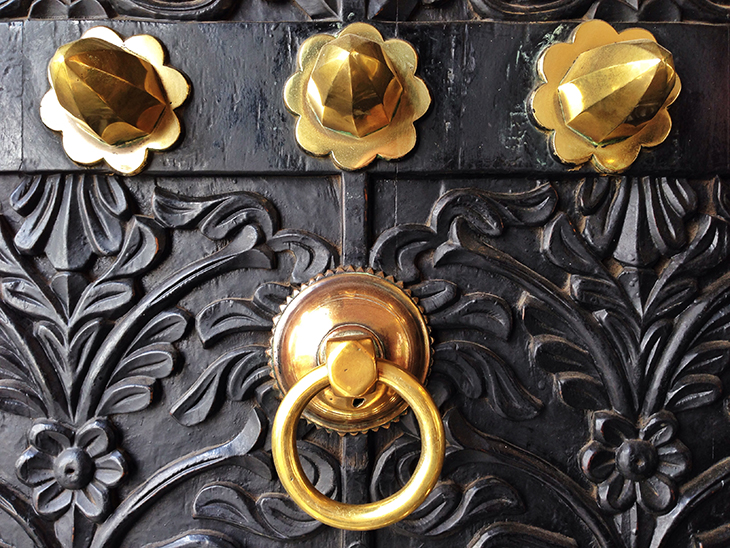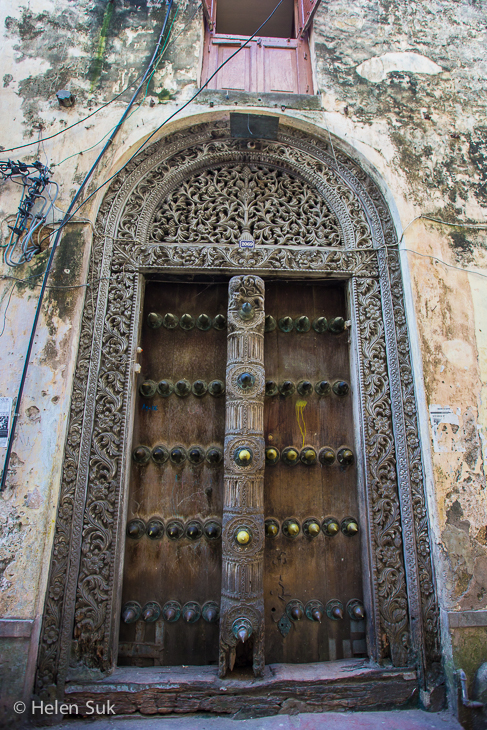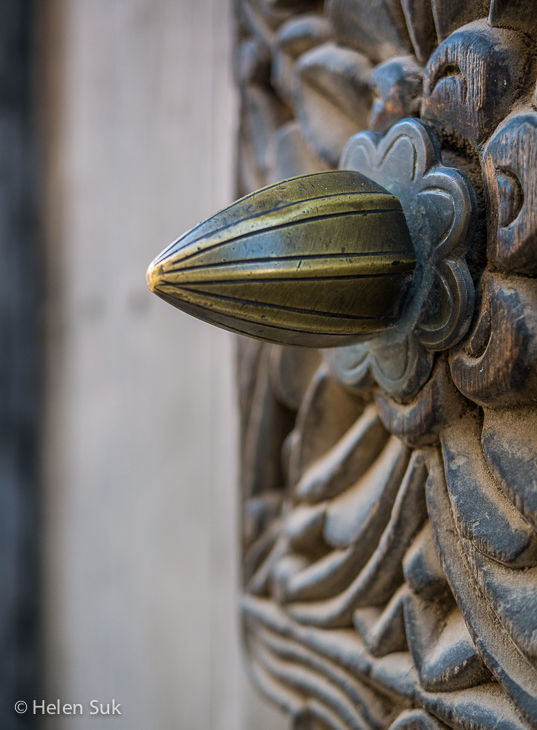 Arab doors have intricately crafted frames with Arabic inscriptions at the top. The chain, lotus and pineapple are common and culturally significant motifs.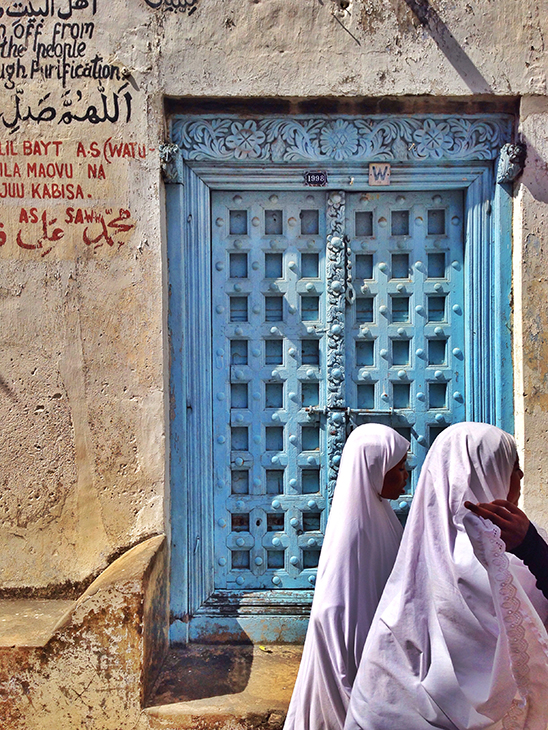 For more on the magnificent Zanzibari doors, I recommend this Mambo Magazine piece and this article from the Stone Town Heritage Society.
4) Visit the former slave market
Zanzibar has a more sinister claim to fame: the archipelago was a main slave-trading port in East Africa. For a deeper understanding of this dark chapter in its history, don't miss the location of the world's last open slave market, a deeply significant site where the Anglican Cathedral now stands as a symbolic triumph over inhumanity.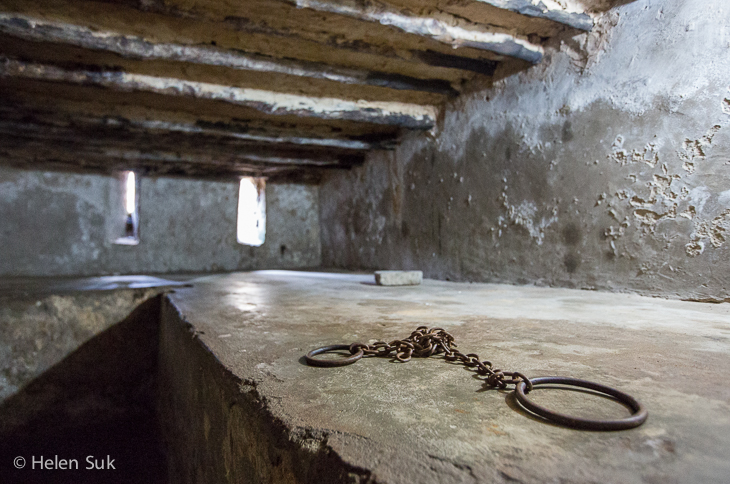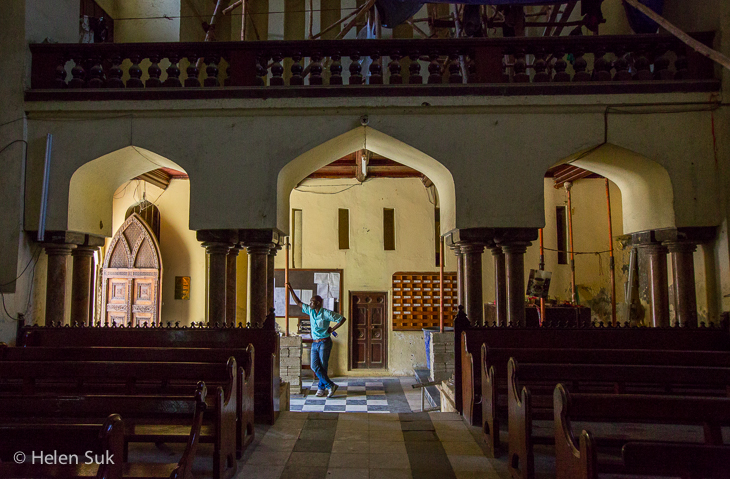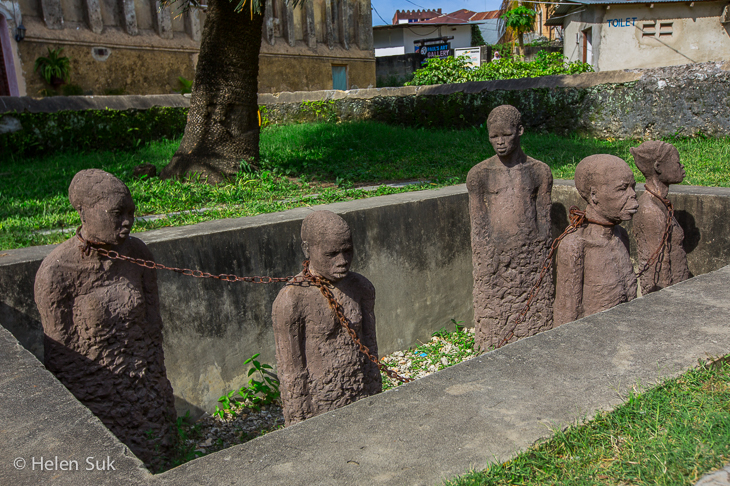 Started by the Portuguese, the slave trade in Zanzibar reached its zenith with the Omani sultanate until it was outlawed by the British in 1873, thanks to the anti-slavery campaign led by the famous Scottish explorer, David Livingstone, who stayed in Zanzibar before his final expedition. Slaves from the African interior were transported here, where they were whipped and sold, then shipped off to the Middle East and as far as North America.
The entrance fee is 7000 TSh. You'll also find guides waiting at the door — pay them a tip in exchange for a brief tour. It's worth it.
5) Meander through Darajani Market
Located near the Slave Market, this bazaar frequented by mostly locals is a riot of noise and colour, with everything from pans and traditional kangas to raw meat and local produce from all over the island.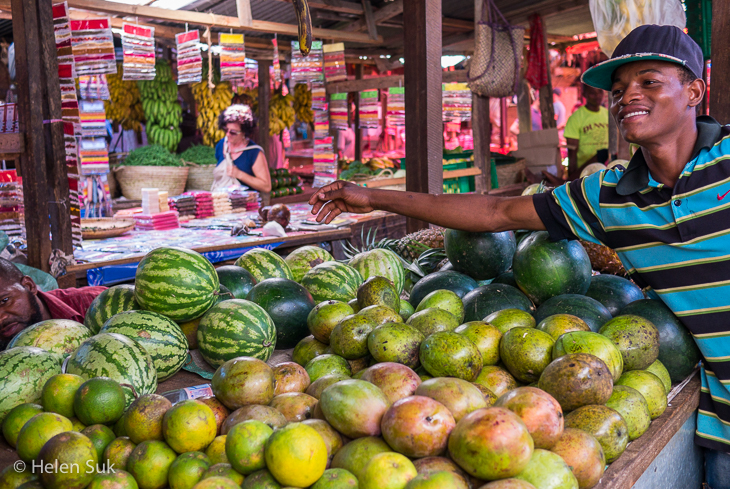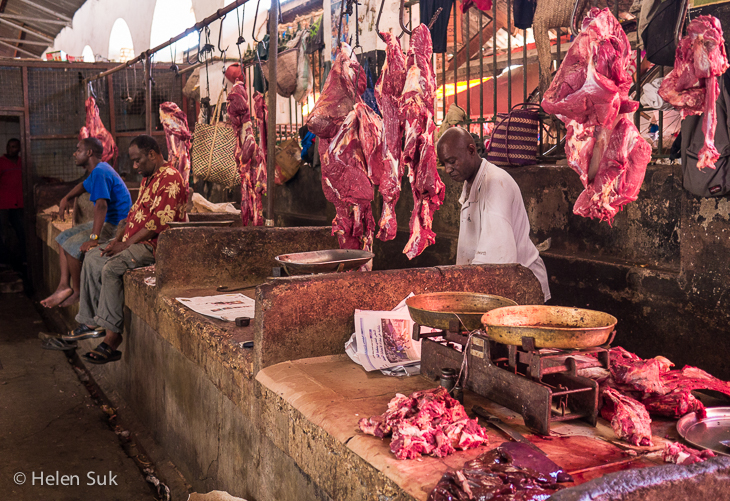 6) Stroll along the seafront
The beach and seawall burst with life in the late afternoon and into the evening. School boys splash about in the water, leap into the ocean from the seawall, test their acrobatic skills with backflips and capoeira kicks on the beach, and challenge each other to games of soccer.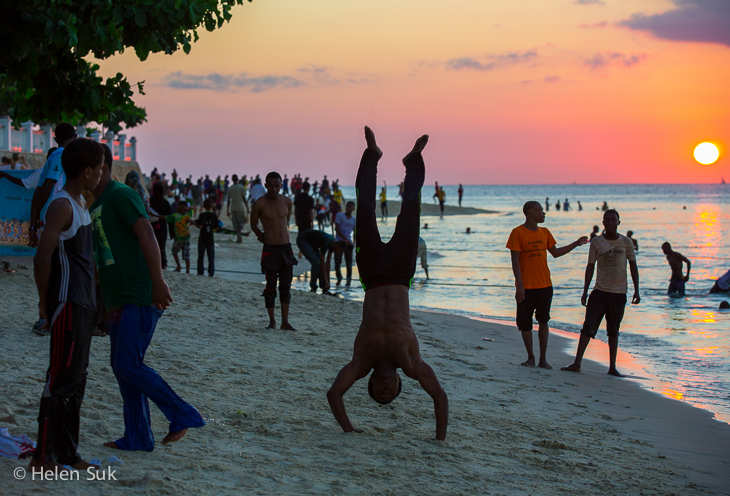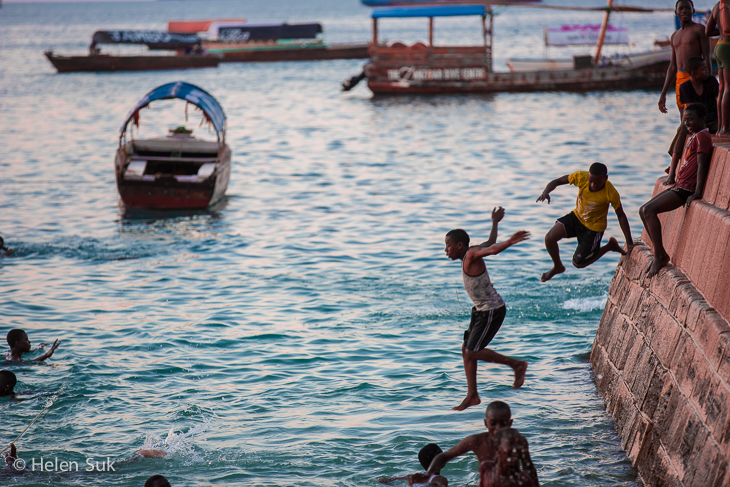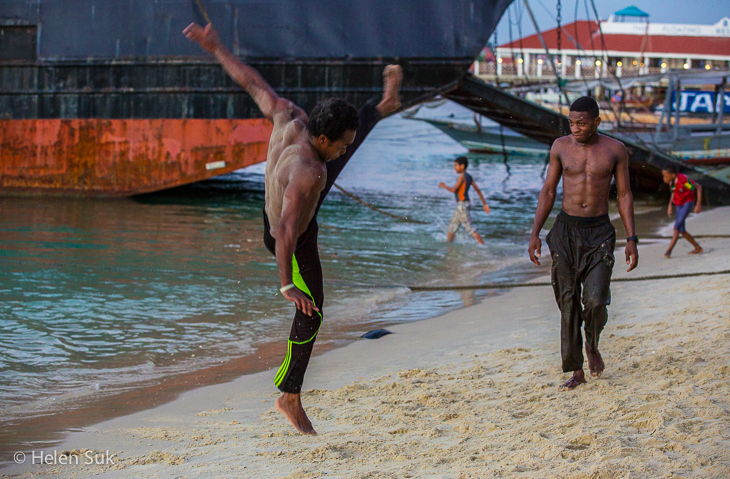 The vibe is lively and entertaining. I loved being there.
Here's a short video that captures the energy of the waterfront:
7) Visit the Old Fort
This large fortification on the waterfront was built by the Omani Arabs in the early eighteenth century as a defence against the Portuguese. By the nineteenth century, it was a prison where criminals were executed.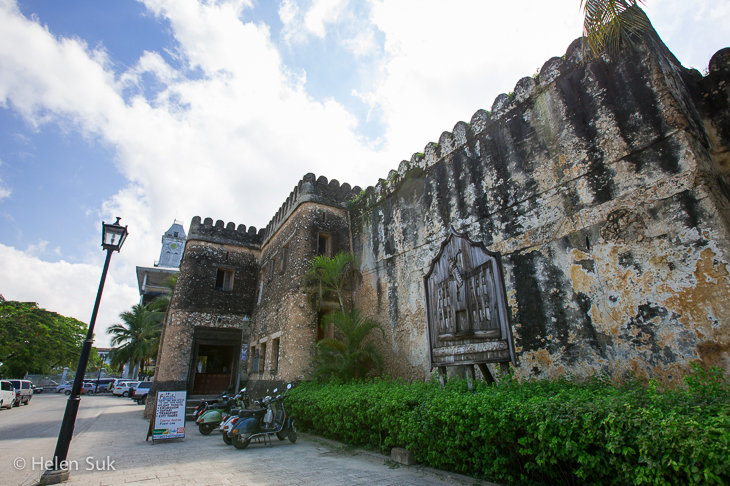 Today, its functions are more civil. Inside, you'll find shops, a restaurant, cultural centre, and an open-air theatre that serves as the location for musical performances and the Zanzibar International Film Festival. 
8) Don't visit the House of Wonders
At least not yet. As of writing, the tallest and largest building in Stone Town is closed for renovations and there's no telling when they'll be complete, but you're free to admire its exterior. Built in 1883 by Sultan Barghash as a ceremonial palace, this landmark structure includes a clock tower, large steel columns and some of the largest carved doors in Zanzibar (the massive door at the entrance is said to have been built wide enough for the sultan to pass through on an elephant!).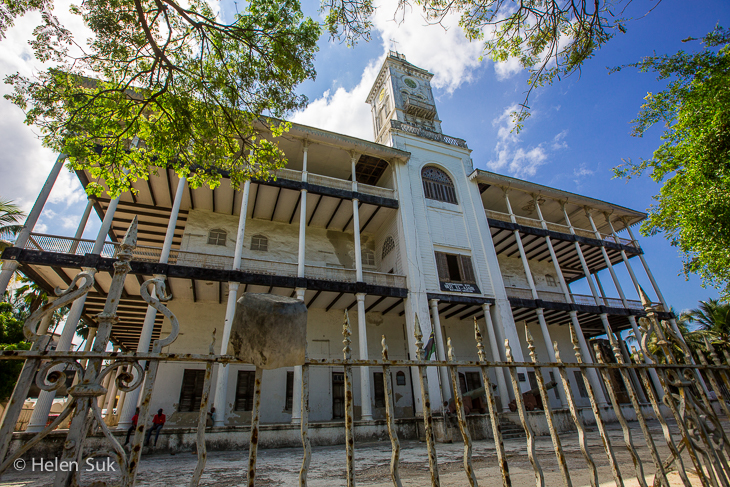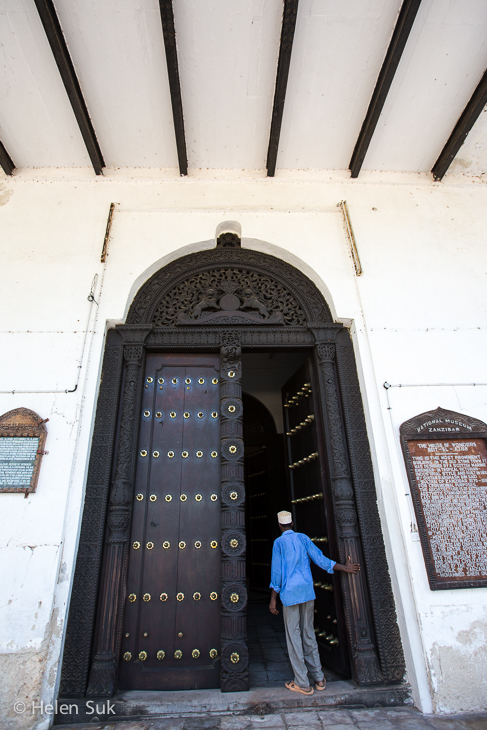 Why was the building called like a David Copperfield chamber? The story goes that the House of Wonders was given its name because it was the first house in Zanzibar to have electricity, running water and an elevator.
9) Visit the Palace Museum
This huge white palace was also erected in 1883, right next to the House of Wonders, but in Omani style. For 5,000 TSh, you can take a peek into the extravagant, domestic life of the sultanate.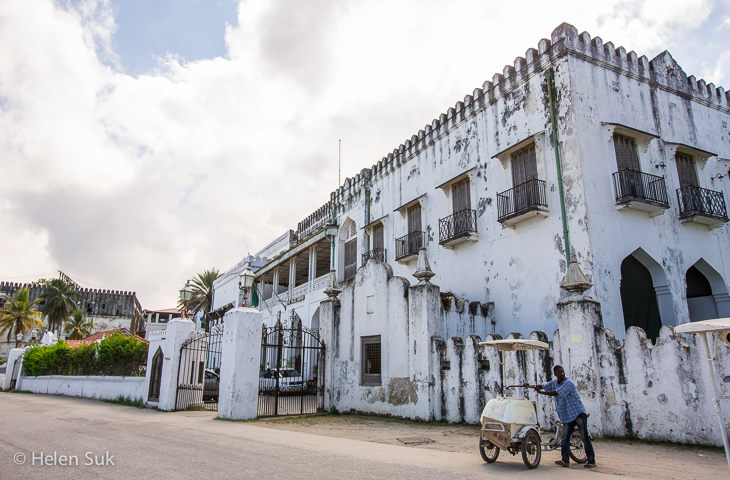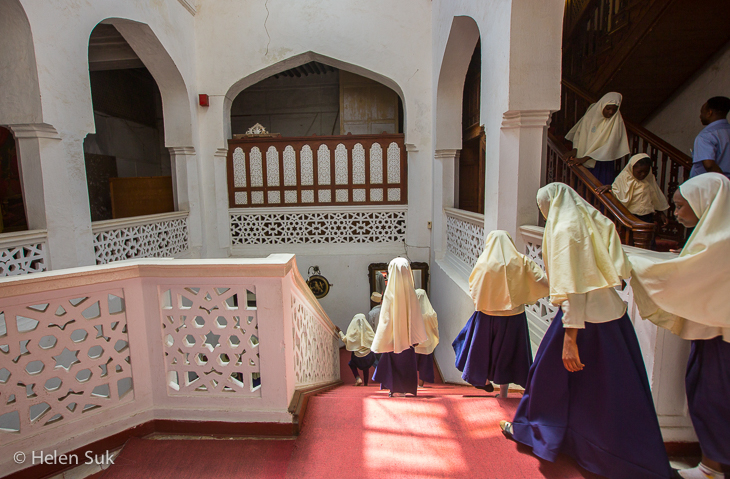 The artifacts, photos and opulent furniture are interesting, but the room devoted to Princess Salme, daughter of Seyyid Said who fled Zanzibar after falling in love with and marrying a German merchant, is especially intriguing.
10) Visit the Old Dispensary 
Continue northeast along the seafront and you won't miss this four-story structure across from the ferry terminal, widely considered to display the most magnificent balconies in Stone Town.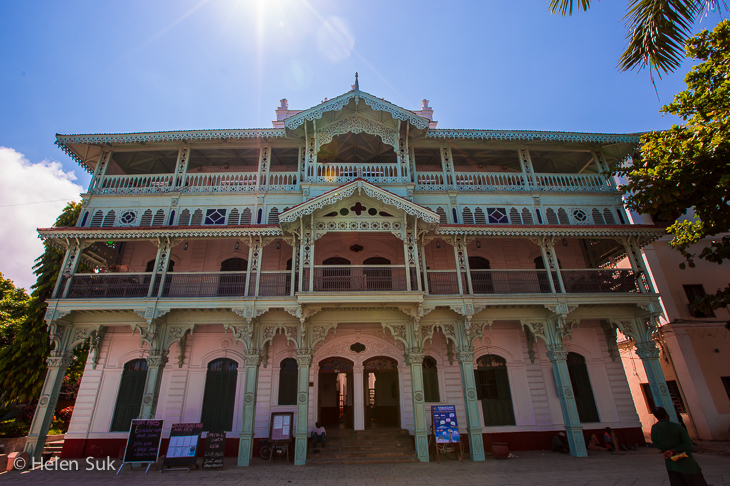 Commissioned by an affluent Indian, this building of ornate balconies and stained glass windows dates back to 1894 when it served as a charitable hospitable for the poor. Inside, you'll find a shop and travel agency on the ground floor. Entrance is free.
11) Stop by Jaw's Corner
For a glimpse into everyday life, search out this square in the maze of Stone Town, where men gather to sip Arabic coffee, talk politics and play board games. It's a hub of social activity in the morning and afternoons.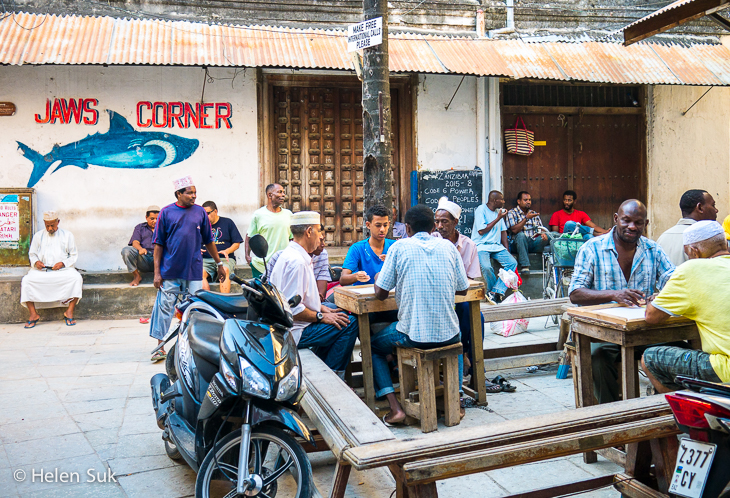 12) Visit Mercury House and Mercury's
The British songwriter, entertainer and powerful lead vocalist of Queen was born in Stone Town to a middle-class family of Persian descent and Zoroastrian faith. He spent his first years here before getting sent off to school in India. The place he once called home is located in the same building as Zanzibar Gallery on Kenyatta Road.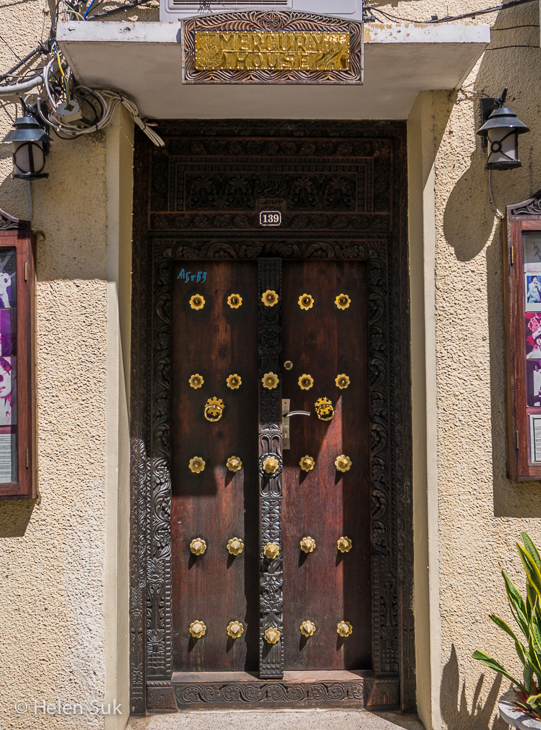 There isn't much to see except a door and plaque that reads "Mercury House" above it, but it's on a main road and, chances are, you'll pass it at least once during your visit anyway.
There's also a restaurant called Mercury's on the waterfront that honours the singer.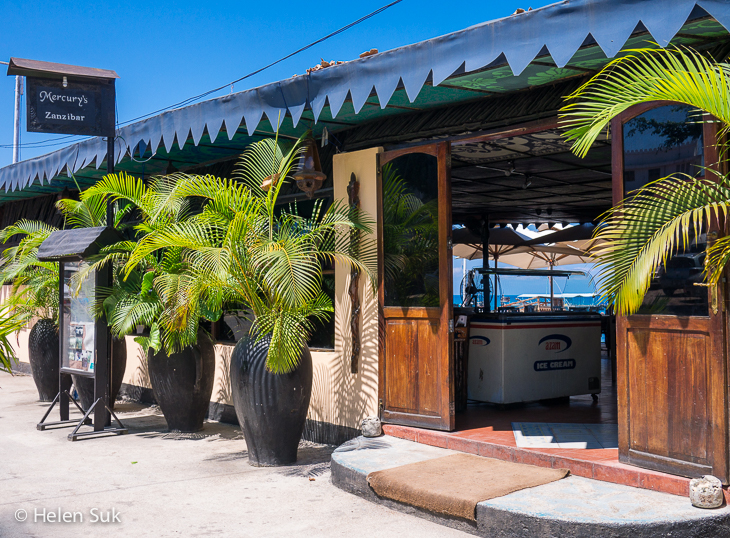 13) Shop
The streets are lined with shopkeepers and vendors selling everything from spices and t-shirts to solid-wood carvings and chests. For women, Aladdin pants, dresses, sarongs and jewellery are popular items. Hone your haggling skills.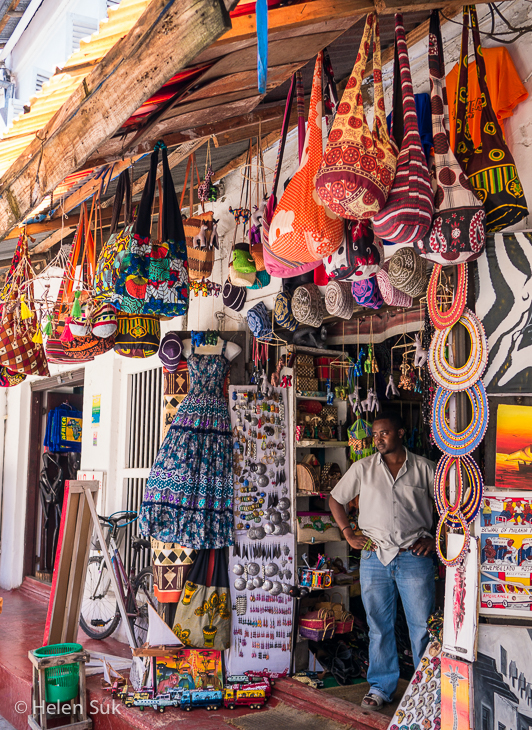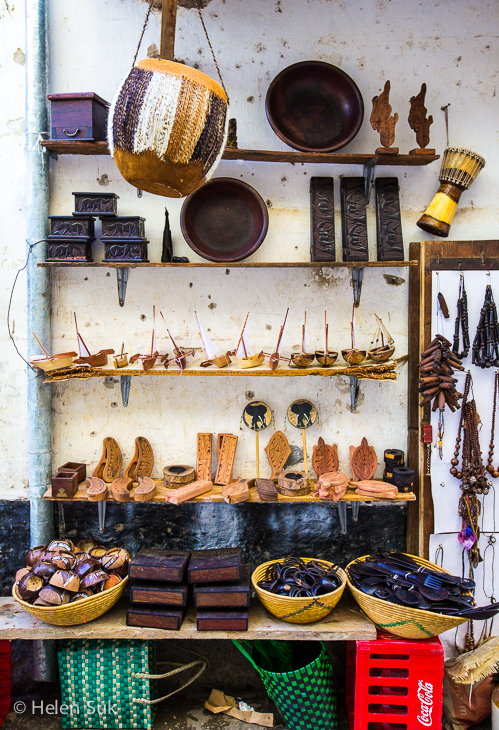 14) Forodhani Gardens
Vendors at this colourful, seaside food market in front of the Old Fort fill their tables every evening. By nightfall, it's buzzing with activity as hungry locals and tourists flock to the Zanzibar pizza stalls and huge array of mostly seafood illuminated by oil lamps.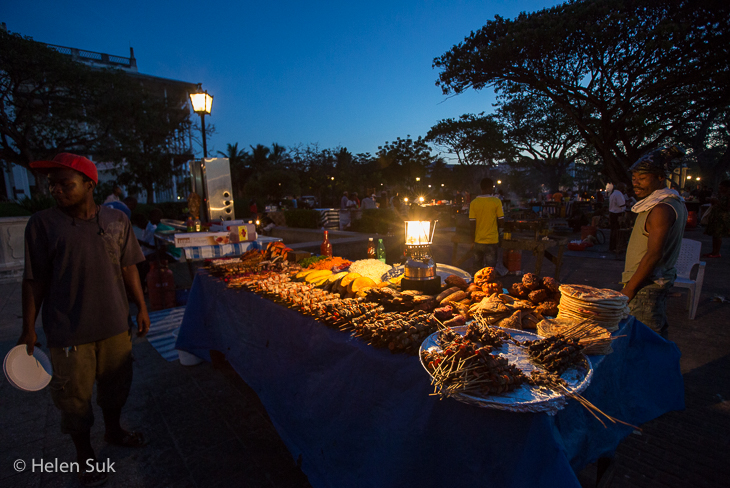 If not for the food, go at least for the people-watching. (Read my tips for what and where to eat in Stone Town — and how to avoid food poisoning.)
15) Pay homage to David Livingstone 
David Livingstone died in Zambia but it was in Zanzibar where the influential abolitionist crusader mounted his anti-slavery campaign. It was also where he started and ended his explorations of Africa. This building on the waterfront is where he lived before embarking on his final expedition to discover the source of the Nile. Today, it's Livingstone Beach Restaurant.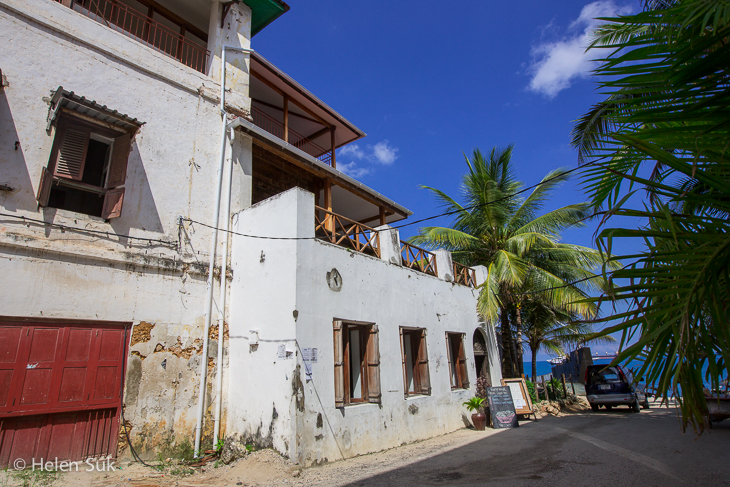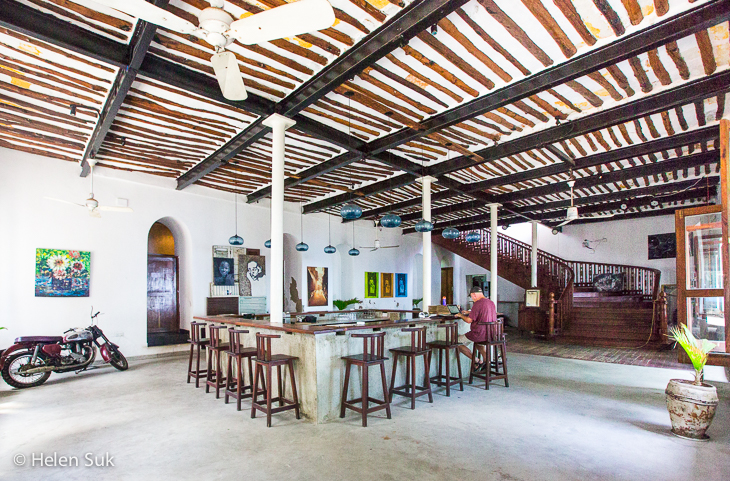 16) Visit St. Joseph Cathedral
Built by French missionaries in 1898, this cathedral in Baghani still holds regular service for Stone Town's Catholic community. In fact, it was designed by the same French architect who designed the Notre Dame Basilica in Marseilles, France. Be warned: although the tall twin spires are a defining feature of both the cathedral and the Stone Town skyline, the building can still be difficult to find.
17) Experience a sunset dhow cruise
Dhows, traditional wooden sailing vessels, were used by Arab traders over centuries as they travelled across the Indian Ocean to the Swahili Coast in East Africa. They can be small, one-man fishing boats with makeshift sails, or larger, two-level boats for foreigners. It's a tourist trap, sure, but I can't think of a better way to take in the Zanzibari sunset than on one of these timeless boats under a white sail.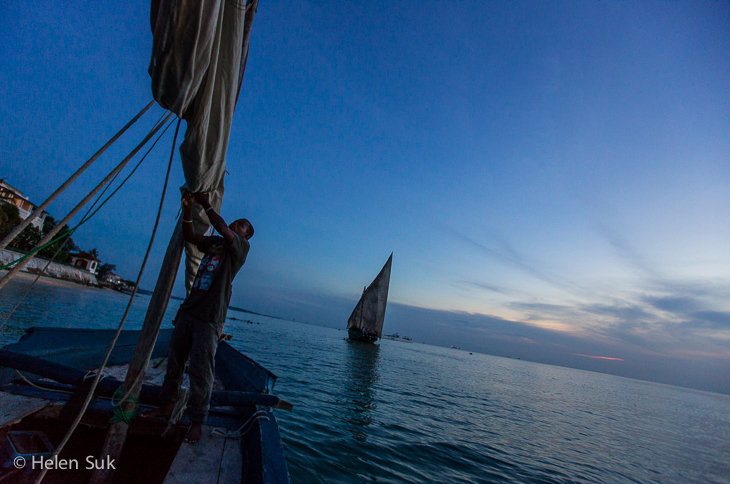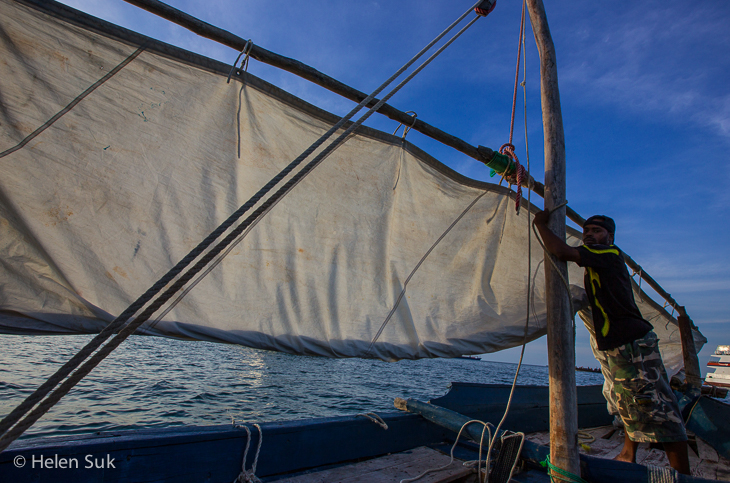 I paid 34,000 TSh for a two-man crew and what turned out to be a private cruise when the other passengers on my dhow cancelled at the last minute.
18) Watch the sun set from Africa House Hotel
On land, most hotels in Stone Town offer a rooftop terrace for sunset viewing, but Africa House Hotel was recommended to me by several locals for its ideal, seafront location and perfect view of sailing dhow boats below.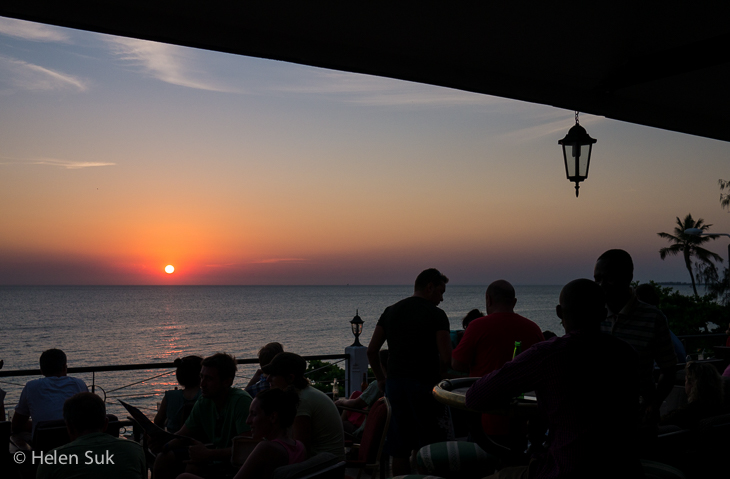 It's a splendid outdoor space if you don't mind dance music and North American cocktail prices.
19) Hamamni Persian Bath
Commissioned by Sultan Barghash bin Said and built in 1880 in Persian style, this was the first public bath in Zanzibar. Given the entrance fee, however, it was only accessible to the wealthy. It's no longer in operation, the tubs are dried up and could use some restoration work, but for 1 USD, you can explore the rooms and imagine the social elite gossiping and bathing in a steamy setting.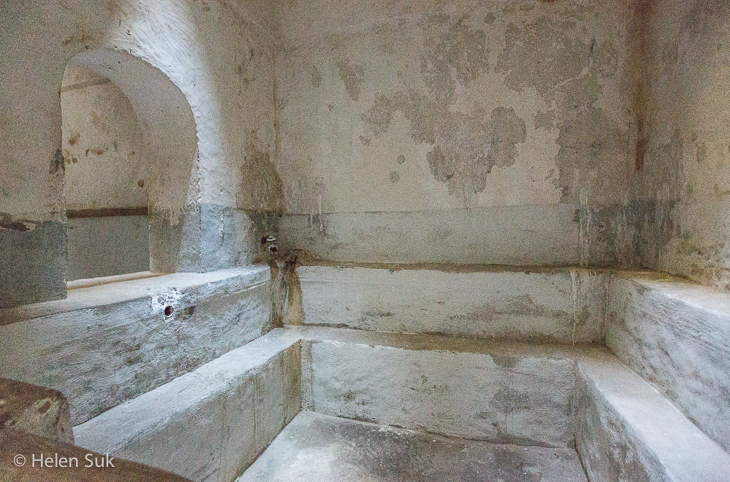 It sits in the middle of town so it's a challenge to find. Just ask someone to point you in the right direction.
20) Join a spice tour
The famous spice plantations are as much of a tourist trap as the dhow cruises, but they're fascinating and educational for foodies, chefs and anyone who loves to cook. Influenced by the Arabs, Indians and Persians, the Zanzibar archipelago is called the "Spice Islands" for a reason. Spice plantations can be found everywhere. Have you ever wondered what some of your favourite spices look like in their natural form or how they're harvested? You'll find out on one of these tours. Cloves are king in Zanzibar, followed by cinnamon, nutmeg and black pepper. Most surprising is the nutmeg, which looks like a Christmas tree ornament encased in a shell.
21) Take a half-day trip to Prison (Changuu) Island
If you can get past the odd combination of pleasure and shades of despair, this popular trip could make for an interesting morning. After a 30-minute boat ride, you'll be led through a park where you can get up close to a colony of rare Aldabra giant tortoises (thought to have been brought to Zanzibar from the Seychelles), the grounds of what used to be a place of punishment for unruly slaves and quarantine for yellow fever patients, and the surrounding reefs for a snorkelling adventure.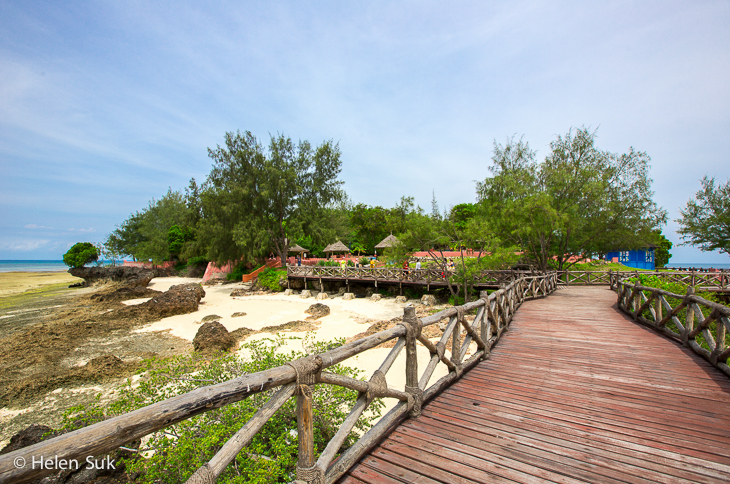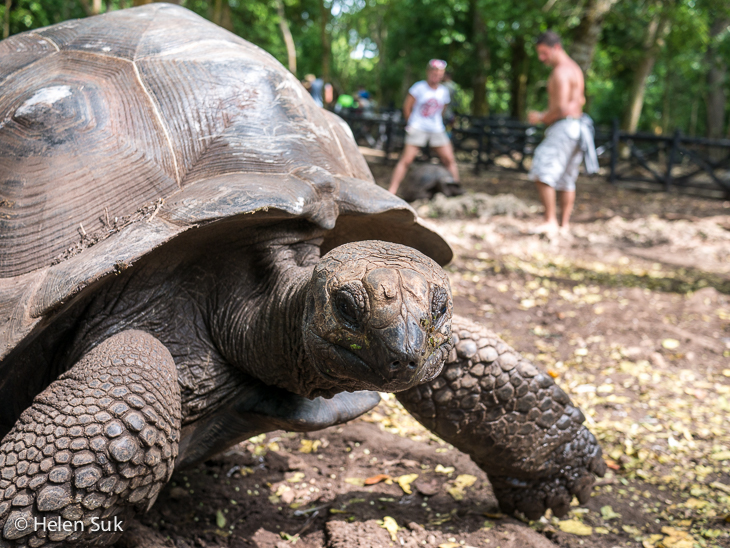 The quality of these tours can vary widely — mine was poorly organized and led by unprofessional guides, but that's not to say yours will be. When making payment (mine was 15 USD), confirm whether the tour includes snorkelling equipment to avoid surprises. Also keep in mind that most, if not all, the group tours to Prison Island depart around 9am. For a calmer experience, consider paying for a private excursion in the afternoon after the morning crowds have disappeared. As for the snorkelling, it was underwhelming — it's clear the reefs are not well protected. Chumbe Island is by far a superior snorkelling destination.
22) Snorkel at Chumbe Island
This is the top snorkelling destination in Zanzibar and, some would argue, all of East Africa. The reef sanctuary at Chumbe Island is a famous private nature reserve with 200 species of both coral and fish, a giant underwater garden so pristine and well-protected that diving is not allowed and a permit is required to snorkel. Researchers from every corner of the world travel to the island to study the delicate ecosystem. The diversity, colours and size of the tropical fish are spectacular.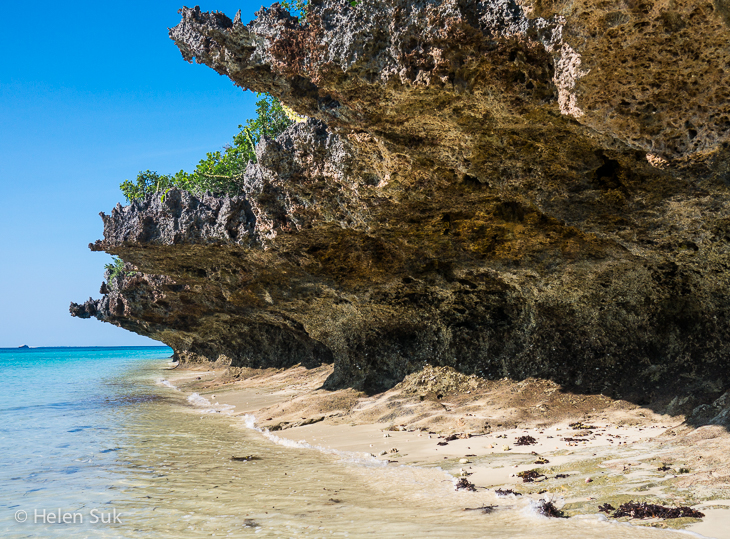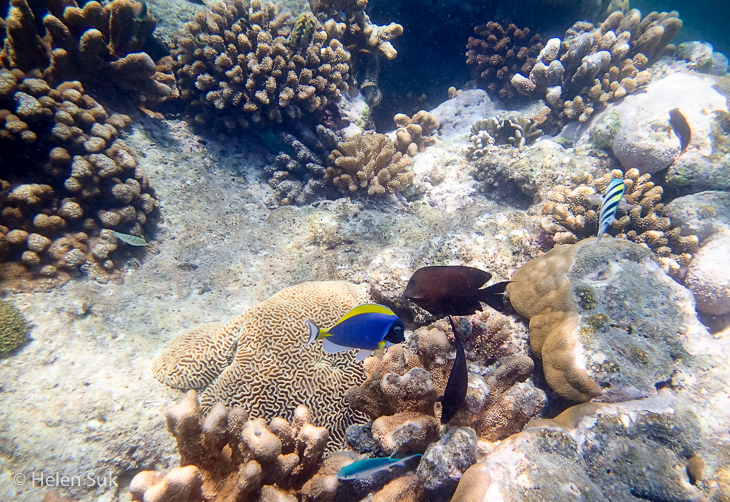 It's a full-day trip but the snorkelling is only for 1 1/2 hours; the rest of the day is spent on a forest walk and at the impressive, seven-bungalow eco-lodge where you'll learn more about the conservation project and indulge in a delicious lunch.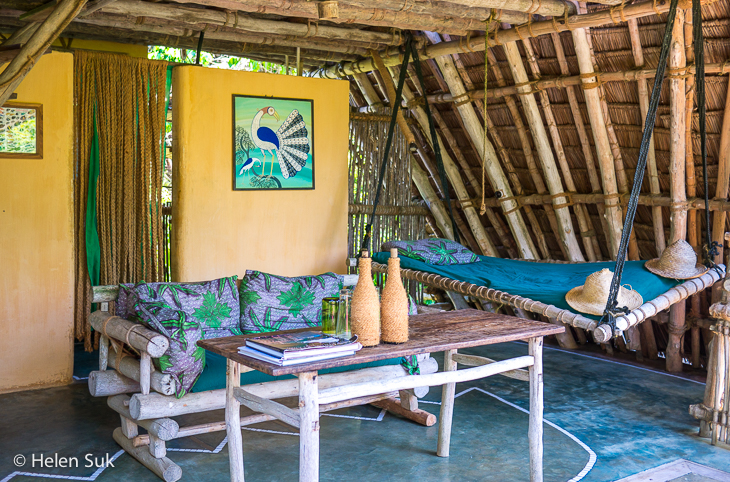 Book the trip from one of the travel agencies in Stone Town in advance (only 14 spots are available on each tour). Cost is about 110 USD.
Other day trips you may want to consider: Mnemba Atoll is another top snorkelling site in Zanzibar, second only to Chumbe Island, but it's located on the other side of the island so it will take a one-hour drive and a 20-minute boat ride to get there (read about my excursion to Mnemba here). You can also visit Bawe Island, Grave (Chapwani) Island and Nyange — none of which I experienced myself but you can find more info on each one at one of the many travel agencies in town.
With respect to group tours, it's strongly advised to arrange them through a travel agency instead of people who approach you on the street. Remember to also have small bills on hand for tips.
STAY:
From budget accommodations to the luxurious, there's no shortage of hotels in Stone Town, and many of them have their own, unique character.
Dhow Palace Hotel
I found this hotel in the town centre a great mid-range option. Not only did I have a comfortable stay, I love how the elegant building, once a stately home, breathes history. In fact, Dhow Palace Hotel dates all the way back to 1559 A.D. when it was first owned by Sheikh Mushin bin Mujbia and passed on to his descendants for three centuries.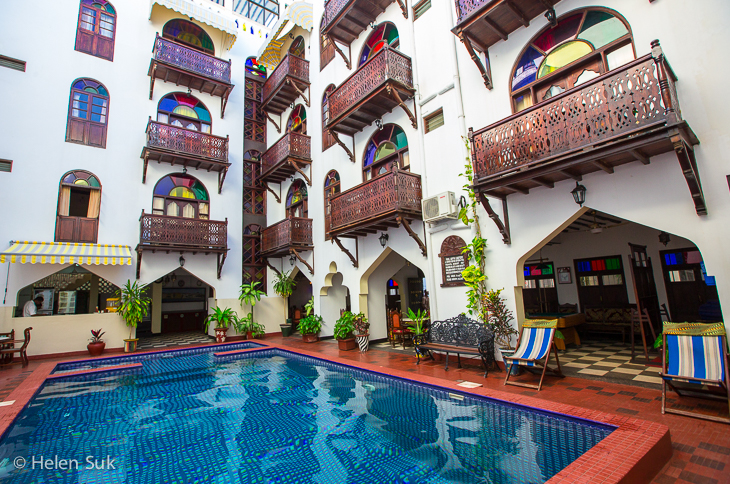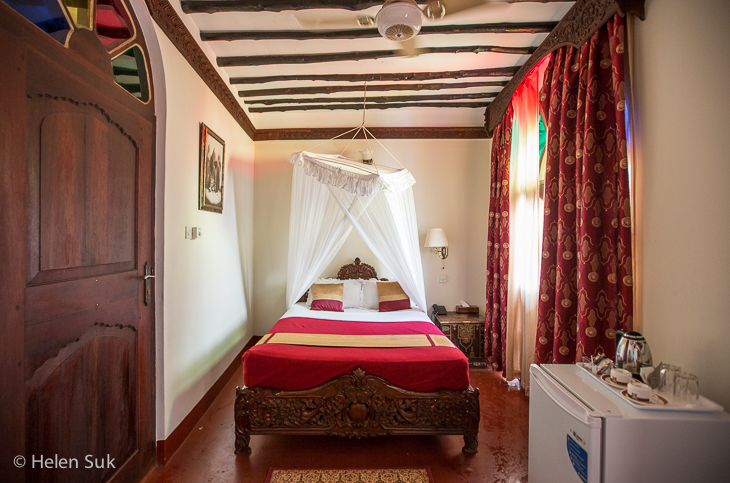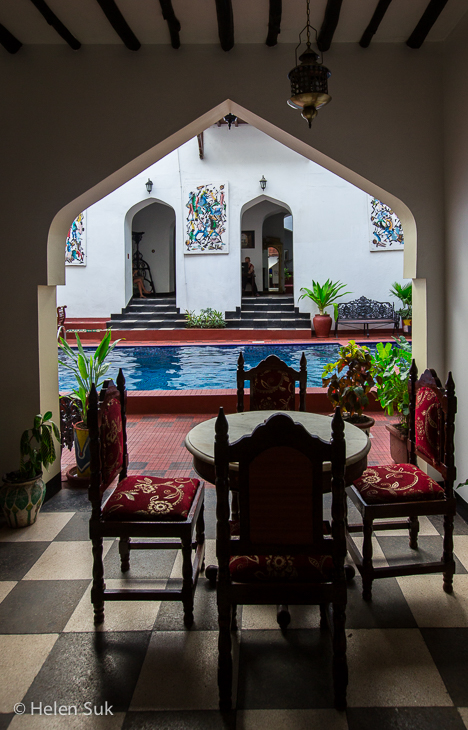 The buffet breakfast is hearty, and the pool in the inner courtyard refreshing after a sweltering afternoon of sightseeing. Rates start at 85 USD for a single room and 120 USD for a double.
Jafferji House & Spa
For a more indulgent experience, this romantic, richly decorated, antique-filled palace is what Zanzibar dreams are made of. Jafferji House & Spa is a luxury, boutique hotel lovingly restored by renowned East African photographer, Javed Jafferji, who once used the building as his family home. It's fitting then that his photographic work fills the walls, providing visual inspiration around every corner among the elaborately carved wooden balconies and furniture.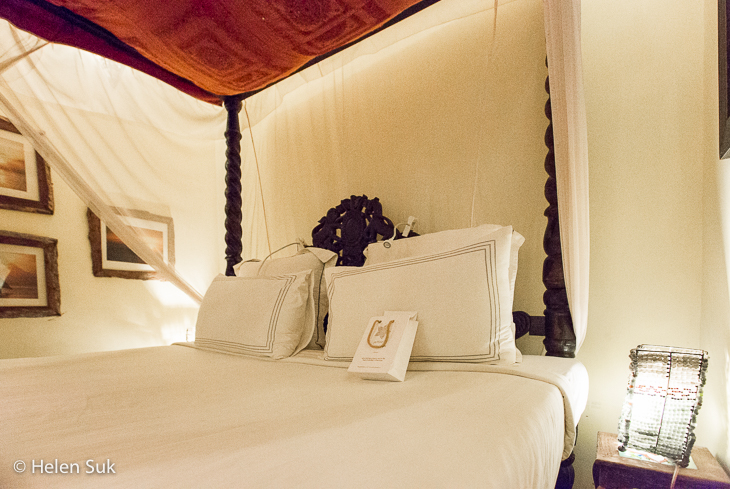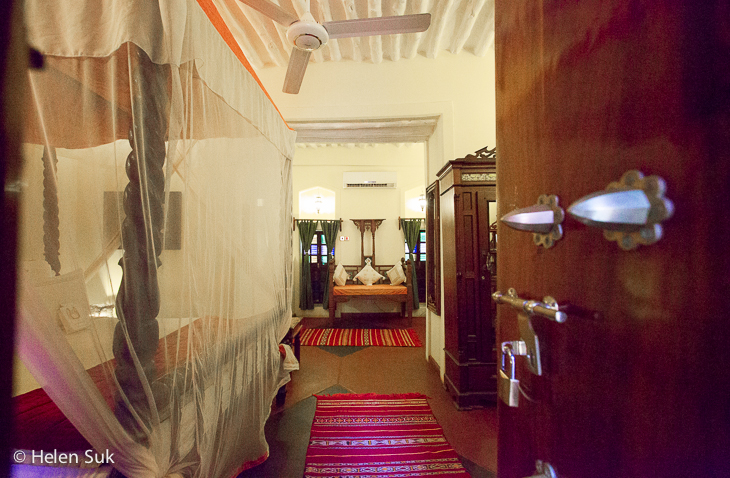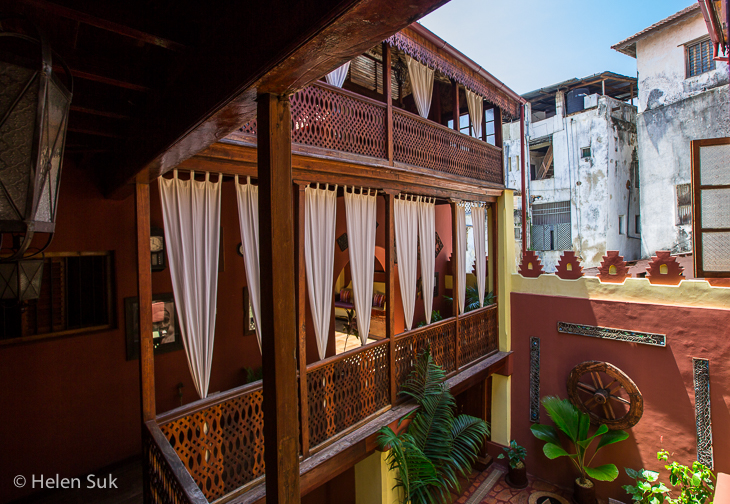 No two suites are alike, and some are even designed to reflect the legacies of Zanzibar's most famous historical figures, like David Livingstone and Freddie Mercury. Rates start at around 196 USD.
If you've been to Stone Town, were you as taken by it as much as I was?
Disclosures: I received a media discount for my stays at both the Dhow Palace Hotel and Jafferji House & Spa but rest assured the opinions expressed in this post are entirely my own. I also earn a small commission from Booking.com if you click on one of their links and make a reservation through their site – at no cost to you. Thank you for your support.