Sam: What is tiramisu?
Jay: You'll find out.
Sam: Well, what is it?
Jay: You'll see!
Sam: Some woman is gonna want me to do it to her and I'm not gonna know what it is!
Sleepless in Seattle
With an impassioned following of worshipping women, it's no wonder that tiramisu found its way into the script of one of Hollywood's most beloved romantic films.
My curious taste buds were first aroused by this exquisite, classic Italian dessert at the neighbourhood Olive Garden as a young tenderfoot, when a bowl of four-month-old, freezer-burned Chapman's ice cream was actually a treat. I remember reading the menu and wondering why a dessert that sounded like sushi was being served in an American-Italian restaurant alongside fettuccine. Despite my bemusement, I ventured into the unknown and, after the first bite, I asked myself how I could've missed out on something so good for so long.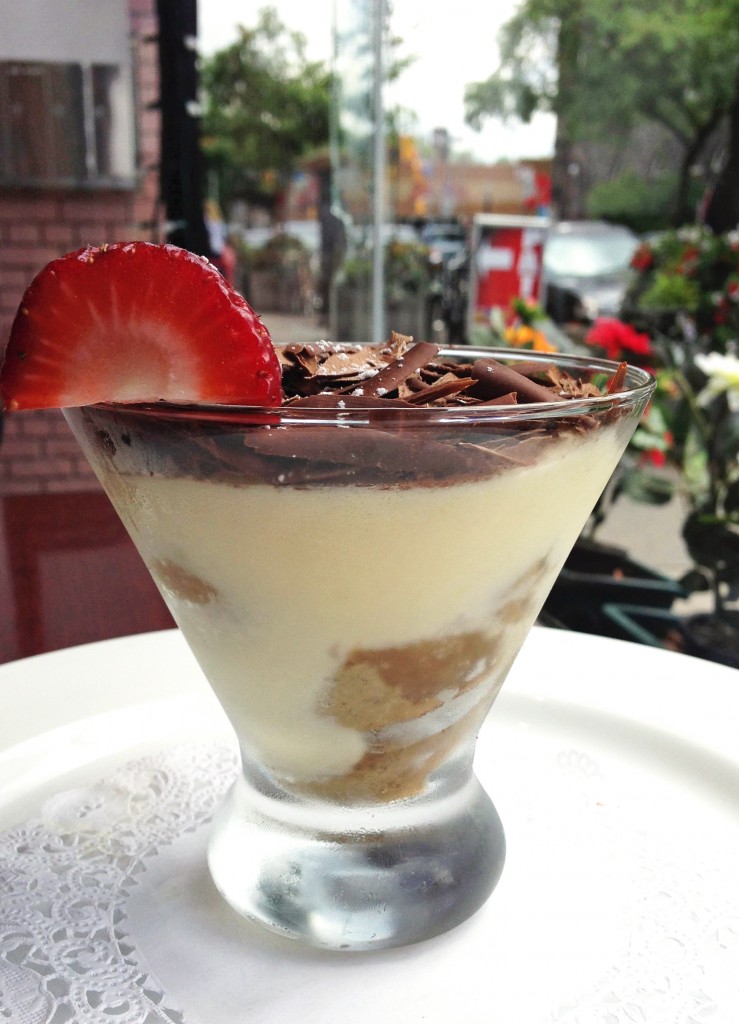 Some time after, however, I learned that what I had was nothing more than an aberration of something truly extraordinary, and tiramisu went from satisfying to sublime. Since that fateful Olive Garden evening, I've exponentially refined my taste and even transported my quest for the consummate tiramisu – my Holy Grail of sweets – across international borders.
Meaning "pick me up" in Italian for its sugar and espresso ingredients, tiramisu is a creamy, unbaked, cool cake of layers. Velvety mascarpone cheese is beaten with eggs, sugar, vanilla and (sometimes) whipped cream, then slathered on a moist bed of ladyfingers lightly soaked in espresso and liquor. Now, imagine another layer. The finishing: a cloud of cocoa powder dusted on top or a sprinkling of chocolate shavings. Light and silky, tiramisu is a dessert of subtleties. When prepared with utmost care (god forbid should you forget to whisk the egg whites separately from the yolks!) and only the finest ingredients, the result is an ethereal confection of sensual delight that renders your senses begging for more.
Be warned, however. Poorly prepared, inferior representations may lurk in your neighbourhood eateries. The ladyfingers could be over-soaked in liquor, create a soggy foundation and drown the other flavours. Or – the greatest sacrilege of all – the essential ingredient of mascarpone cheese could be entirely omitted and substituted with whipped cream or ricotta cheese as a cost- or calorie-saving measure. When it comes to tiramisu, such a drastic (and reprehensible) shortcut will only compromise its integrity.
When made flawlessly, it's wonderful. Paradoxically, it is possible for something to be as heavenly as it is sinful by virtue of its pleasure-inducing properties. Within seconds of it arriving at my table, I become a woman on a mission, forsake any concern about calories and indulge with reckless abandon.
And every tiramisu lover has a preferred adaptation: on a plate or in a cup; with amaretto, rum or (my preference) marsala. Over the years, I've witnessed an evolution of sophistication in tiramisu that has given birth to a myriad of variations. As Chef Dennis says, "there are as many different tiramisu recipes as there are Italian grandmothers, each with their own little twist": chocolate tiramisu, strawberry tiramisu, rhubarb tiramisu, almond tiramisu. The list goes on and on.
My favourite interpretation, by far, is an unlikely but brilliant cross-cultural creation inspired by the spirit of internationalism: green tea tiramisu, an Italy-meets-Japan concoction that marries the dessert's best ingredients with antioxidant-rich matcha (green tea leaves ground to powder). Check out this recipe and stunning presentation by Amy at U Try It. It's like finding the path of Zen enlightenment in the lush, rolling hills of Tuscany.
Whether you're a die-hard purist or one for adventurous experimentation, there is a slice of tiramisu waiting to awaken your taste buds and, when it does, you'll join the legions of fans who just can't get enough.
Can you believe I only have one photo of my favourite dessert? Thanks to Amy and Chef Dennis for graciously allowing me to include their images in this post.