Last weekend, the curtains closed on the Travel Blog Exchange (TBEX) annual North American conference in Toronto, Canada. For the international travel-blogging community, it was a festival of learning, merriment, and the forging of international friendships and professional connections. What an event.
But I want to talk about Toronto. My birthplace. The city I will forever call home.
I'm fortunate to have visited countries steeped in ancient history, with landscapes and architecture that have brought me to my knees, and where cultures – radically different from my own – have taught me poignant life lessons. But the paths I tread always lead me back here – Toronto – a metropolis that, despite its imperfections and challenges, is truly one of the world's greatest cities.
I was excited to see 1,300 travel bloggers and tourism professionals from across the globe wholeheartedly embrace my hometown too, with wide eyes and the child-like curiosity that only comes with the thrill of discovery – a hallmark of passionate travellers. They wear it on their sleeves. After fervently swarming the city, they explored the urban parks, symbolic landmarks, Victorian architecture, award-winning craft breweries, Centre Island by bike and the cobble-stoned Distillery District by segway. They traversed the narrow alleys of arresting graffiti, then Queen St. West for more vibrant art, Kensington Market and what National Geographic has named the number one food market in the world: St. Lawrence Market.
Taste buds were singing in Toronto, even for bloggers who have already eaten their way through 50+ countries. There are few cities in the world where you'll find such diverse and ever-changing culinary traditions. Most recently, we've seen a savory explosion of burger, Latin American and Japanese eateries, and I can hardly wait to find out what the next culinary movement will bring to the tables for salivating Torontonians.
This rich medley of imported cuisines reflects the principle of multiculturalism that is firmly and proudly entrenched in the Canadian constitution. Ethnic enclaves such as Little Italy, Chinatown, Little Portugal, Koreatown, Greektown and Little India harmoniously coexist and, if we're lucky, introduce new fusion menus (kimchi fries really are delicious), and hold colourful, activity-filled festivals. Toronto is where you'll hear the calypso beats of the elaborate Caribbean Carnival Parade, the largest street festival in North America.
This diversity isn't just found in the ethnic patchwork. One of the biggest LGBTQ communities in the world calls this city home, where tolerance and acceptance are celebrated during one of the greatest annual Pride Parades in the world. And, in 2014, Toronto became the first North American city to host WorldPride.
After attending all these events, it's a wonder how Torontonians make the time to hit the live theatres, flock to Hot Docs, North America's largest documentary festival, then stargaze at the Toronto International Film Festival.
Is it any surprise that TBEX delegates were Toronto's most spirited cheerleaders last weekend, heaping praise at every opportunity?


I emphatically agreed and thirsted for more details as I hung on their every word. It just so happens that they saw what I see everyday – but even more. On the last day of the TBEX event, I excitedly led a small group of bloggers (and now friends!) on an impromptu saunter through Kensington Market, where Lance of Travel Addicts pointed out an art installation of mannequins on the top deck of a Victorian house that I had never noticed before, despite the regular visits I make to the neighbourhood. I steered them to Chinatown's own graffiti alley that was missed on the official TBEX graffiti tour and, later at dinner, I watched with satisfaction as they slurped their ramen noodles with zeal. When you experience your city through the eyes of an outsider, colours appear brighter. The details become more visible. The flavours of your favourite dishes take on more intensity.
With so much to admire and do, and thanks to a job well done by Tourism Toronto, some of the leading social media influencers and blogging novices in the travel landscape set Twitter afire last weekend, flooding it with comments and photos that flaunted their cold glasses of Canadian beer, gastronomic pleasures (poutine, anyone?) – and all the details I miss everyday.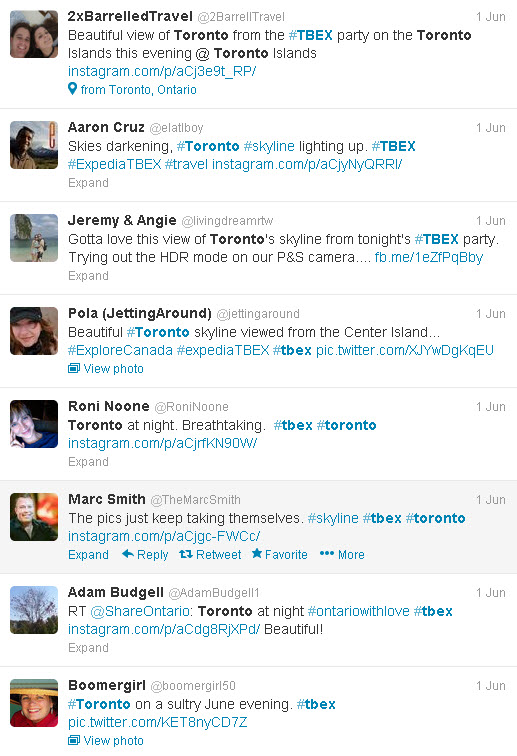 Bloggers put Toronto on the travel map. As I type, they're posting their experiences on their blogs and across all social media platforms, eager to tease and inspire their readers with tales and images of my beloved city.
Toronto showed her love for the travel blogging community at TBEX – and travel bloggers couldn't help but love her back.

Planning a trip to Toronto? You can check hotel options at Booking.com here. If you click on this link and make a reservation, I'll earn a small commission – at no cost to you. Thank you for your support!