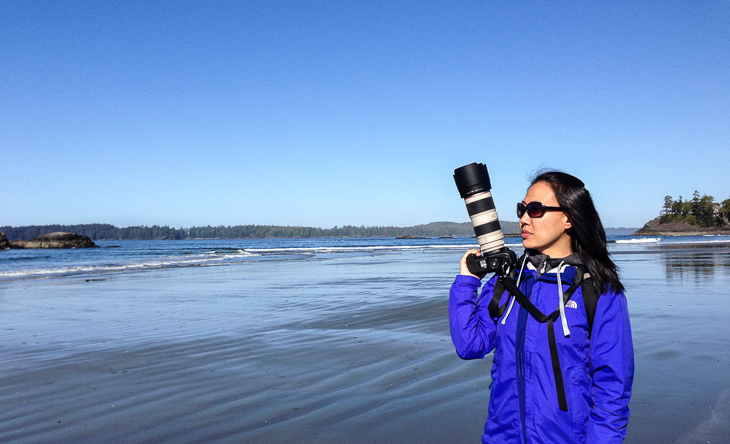 *Updated November 2017*
Readers sometimes ask me which cameras and lenses I use for the images you see on this blog, so it made sense for me to finally publish this list of my favourite travel photography gear.
Depending on the destination, I sometimes travel with four cameras (including my iPhone), in addition to all the lenses and accessories. I imagine most people don't want to carry all this equipment, but surely you'll find something on this list worth adding to your own collection.
Canon EOS 5D Mark III
I upgraded my DSLR from a Nikon D90 to this beast a few years ago when I wanted to graduate from a cropped sensor to a full-frame camera — and what a difference it's made. From its phenomenal low-light performance to the wide selection of top-quality glass, the Canon EOS 5D Mark III has completely spoiled me. I also love how I can shoot to two memory cards in case one of them fails (it's happened).
Since I bought this camera, Canon released their newer model, the Mark IV.
I considered making the transition to the Sony A7R II for a full-frame camera that's more compact but, after handling it in the store, I realized it's not that much smaller and lighter than my Canon EOS 5D Mark III, especially after attaching a premium zoom lens to it. Many photographers swear by the Sony A7R II but I'll stick with my Canon for now.
Canon EF 16-35mm f/2.8L II USM lens
Speaking of glass, this is my go-to lens (shown in the photo above). The Canon EF 16-35mm f/2.8L II gives my wide-angle shots beautiful clarity for large buildings and monuments, landscapes and tight, indoor spaces.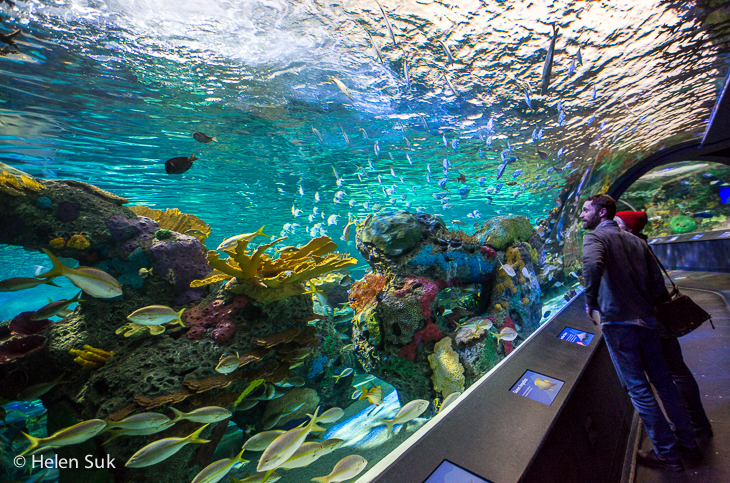 With its wide aperture, it's fantastic in low-light situations.
For the updated version of this lens, you'll want the Canon EF 16–35mm f/2.8L III USM.
Canon EF 70-200mm f/2.8L II USM lens
This lens is my largest, heaviest and most expensive — and an absolute pain to travel with (I'm holding the tank in the featured photo at the top of this post). But the rewards speak for themselves.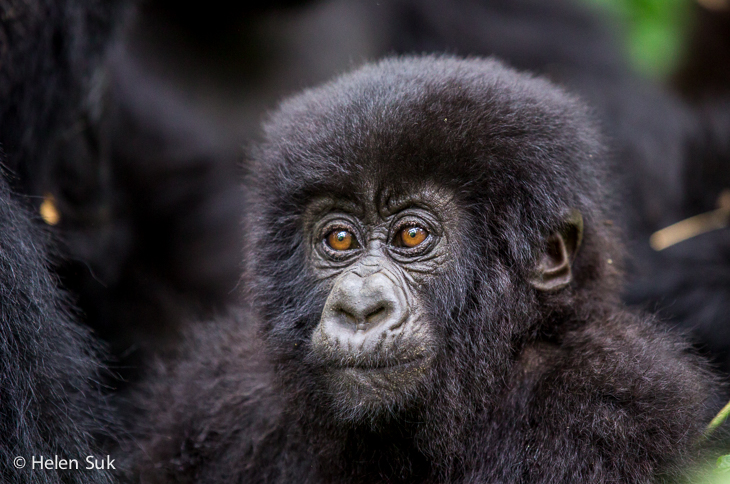 With the Canon EF 70-200mm f/2.8L II telephoto lens, I can shoot portraits from a distance and achieve sharp images with gorgeous bokeh. I love, love it.
Canon EF 50mm f/1.8 STM lens
My only prime lens for my DSLR, the Canon EF 50mm f/1.8 STM ("Nifty Fifty") isn't as versatile as my other two lenses, but it is the lightest and brightest (I do not like to shoot with anything slower than f/2.8), allowing me to achieve the shallowest depth of field.
At just over $100, it's also affordable.
Panasonic Lumix DMC-GX7
Without question, mirrorless cameras are the future. But since I'm not willing to abandon my Canon 5D Mark III just yet, I bought this mid-range micro four-third camera for the times I don't feel safe carrying my DSLR, when I head out for the evening with friends and just need something light and compact, or for food photography. The Panasonic Lumix DMC GX-7 feels great in my hands, and it's not nearly as conspicuous as my DSLR. Its size and weight are also a relief after schlepping my Canon around all day. (Since my purchase, Panasonic has released the GX-8 updated model.)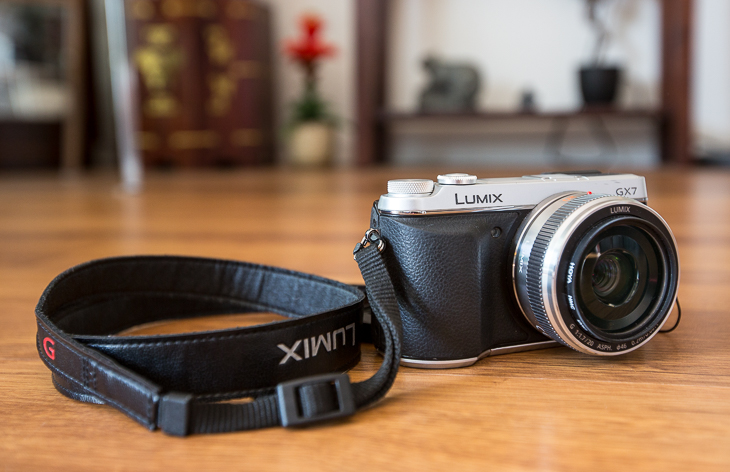 In terms of lens selection, there's this benefit: Olympus micro four-third lenses work with the Panasonic system (and vice versa), giving me more options with glass.
Panasonic 20mm f/1.7 II ASPH Lens
Food photography has never been easier than with this "pancake" lens (shown in the photo above).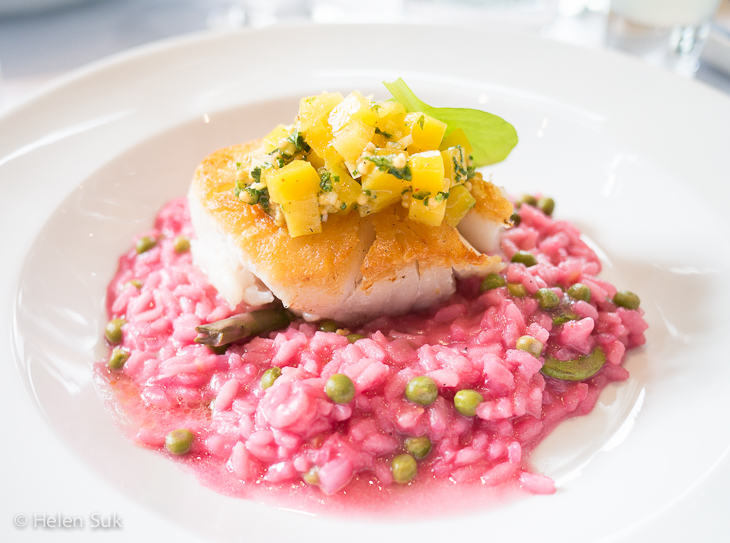 The Panasonic 20mm f/1.7 II is perfect for restaurant meals, even in low light. With this compact lens on my compact body, I can discreetly shoot while sitting in front my plate but it also comes in handy in other settings.
Olympus Tough TG-1 waterproof camera
I ached for a GoPro (still do)… but I just couldn't bring myself to pay for it. As a compromise, I went with the Olympus Tough TG-1 for capturing 12MP images near water and up to 40 feet underwater (the latest model is the TG-5). I tried other waterproof cameras but they were quickly returned because I just wasn't satisfied with their performance, largely because of their small aperture. This one has a fast lens (f/2.0) and I'm satisfied with it, even though photos shot on land can turn out oversaturated. The camera is also shock-proof and freeze-proof.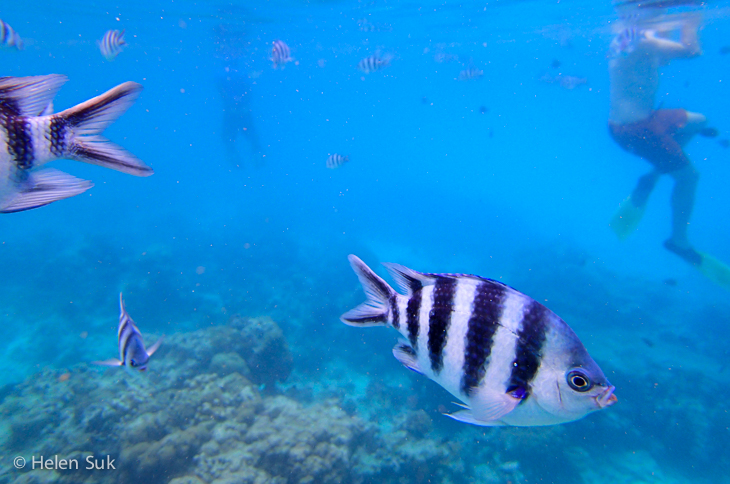 For more examples, you can see photos taken with my TG-1 (both above water and underwater) in this post. 
iPhone
As an avid mobile photographer, I can't imagine travelling without my iPhone. While this blog highlights my DSLR images, my Instagram feed features photos captured only with my iPhone. It's a challenge I enjoy. It's also the best way for me to provide immediate updates with visuals on Facebook and Twitter during my travels. 
Smartphone lens
I have lenses for my Canon and Panasonic cameras, so why not for my iPhone? The pocket-sized Olloclip comes with four lenses (one wide angle, one fish eye and two macros), but I only use the wide angle, which allows me to capture more in my frame. Just slip it over your iPhone lens and away you go. (Note: it doesn't fit over all phone cases so you may have to remove it before attaching the lens).
While the Olloclip is for iPhones only, this CamKix universal lens is a comparable product that works on all smartphones.
Tripods
It's not just my Canon 5D Mark III that's heavy — so is my travel tripod, even though it's lighter in weight than the one I use at home. But it's useful for: HDR photography; shooting at slow shutter speeds; preventing noise and image blur (at night, especially); and shooting self-portraits and group photos with yourself in it.
I also have two smartphone tripods:
1) Weighing only 320 g, the Lollipod is super compact and easy to carry in a daypack. The tripod's lightweight frame also means it will easily shake in even slightly windy conditions, but you can add additional weight to the stabilizing net.
2) The JOBY GorillaPod also travels with me. With legs that bend, it's extremely versatile, making it easy to stabilize on uneven surfaces and wrap around a tree.
To use a smartphone tripod, you'll also need a smartphone mount like the JOBY GripTight.
Pacsafe Carrysafe 100 camera strap
I'm always raving about the Pacsafe line of anti-theft travel products. In addition to my Pacsafe backpack (which I reviewed here) and handbag, I also use their Carrysafe slash-proof camera strap for my DSLR so a thief can't slice through it and make off with my pride and joy. (See this post for more on travel safety gear.)
Remote controllers
I typically travel with two remotes that can wirelessly fire my camera:
1) The Canon RC-6 for my DSLR, which can release the shutter up to 16 ft away.
2) The iStabilizer Shutter Remote for my iPhone. Enable Bluetooth and it can shoot photos and video from up to 35 ft away. It can also be used with an iPad.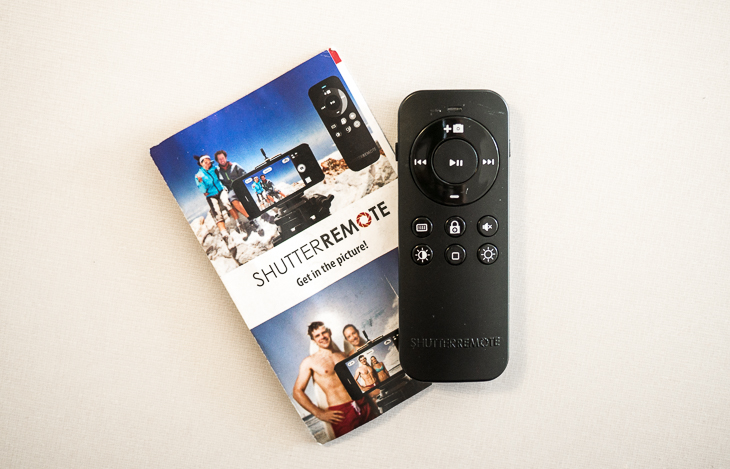 The remote is for iOS devices only, but this one by CamKix is compatible with both iPhones and Androids.
I use a remote when my camera/iPhone is secured to a tripod. Sure, I can use my camera's built-in timer but a remote gives me more freedom and control. Don't you just get tired of running back and forth between your standing position and the camera?
Padded camera liner
Camera bags are expensive. Instead of emptying my wallet to buy different ones for different occasions, I use a cubed camera liner with detachable dividers. When I want to spend a day exploring a city, I just insert my DSLR into the cube and place it in the bottom of my backpack. The same can be done with a cross-body bag or large purse.
Also, I never understood why so many camera bag manufacturers stick their logos right on their products. Camera liners allow me to carry my camera in a bag without advertising to thieves that it's in there.
Memory cards
I feel confident using Lexar CompactFlash cards (for my Canon 5D Mark III only) and SanDisk SD cards. Both brands have been reliable for me.
Selfie stick
With hesitation, I finally bought one last year but only because they are so inexpensive (and everywhere) in Southeast Asia. Selfie sticks are actually fun to use, but I do not — I repeat, do not — abuse it (note the absence of a selfie here).
Astro Mini external battery charger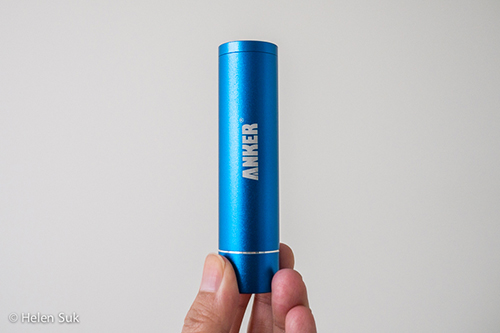 Since I use my iPhone as a camera so often for mobile photography, I drain the battery pretty quickly. The Astro Mini battery charger by Anker is a little lipstick-shaped device that gives my phone a full charge when I'm out and about, and my battery is almost down to 0% (or dead). I simply carry it around in my daypack and plug it into my iPhone, eliminating the need for an electrical outlet.
Lenmar battery case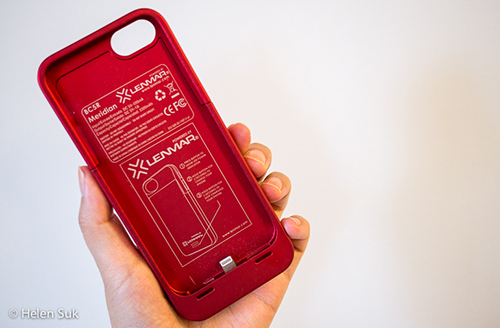 I use a Lenmar battery case that does exactly what the Astro Mini does, but it allows me to continue taking photos with my iPhone without a battery pack dangling from it. To charge my device, I just insert it into the battery case, press a button and voila: it starts charging to 100% — while I keep shooting.
Editing software
All my images (except mobile photos) are edited in Adobe Lightroom. With presets, brushes and distortion correction tools, it gives me almost everything I need. On the rare occasion it doesn't, I bring the photo into Adobe Photoshop for more manipulation. I'm also experimenting more with HDR — for that, I use Photomatix Pro.
Editing Apps
My go-to editing apps for mobile photos are Snapseed (love the Ambiance feature) and VSCO (both free). Sometimes I also edit in the Camera+ app, and play with the native editing tools within the iPhone. With a number of gradient and light leak effects, Mextures is fantastic (iOS only) — I'm not keen on the textures but I regularly edit landscapes with the Landscape Enhance gradients. Need to remove a small distracting object? TouchRetouch will do the trick. For long exposures, I use Slow Shutter (iOS only) and NightCap Pro (iOS only). You'll need a tripod for both. It is not unusual for me to edit a photo in more than one app before posting it to social media.
Portable hard drives
Portable hard drives have become critical to my peace of mind. I use this G-Technology G-Drive and two by LaCie: a Rugged and Rugged Mini to back up my photos. All have fast 3.0 USB speed and offer password protection, and the LaCie Rugged hard drives offer the added feature of shock, rain and pressure resistance. (See this post for more on my favourite travel electronics.)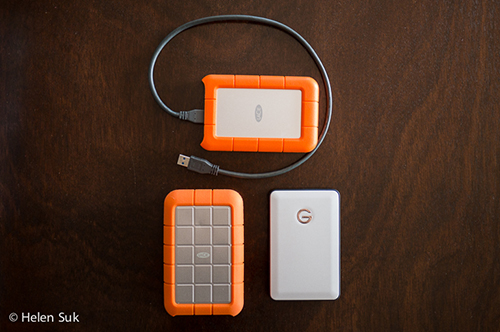 This is my photo back-up process:
After a day of shooting, I download the photos to my MacBook Air (I'm not always so diligent but, for the most part, this is what I do). If I wait days or weeks, I may lose all my photos if something corrupts my memory card (as I've mentioned already, it's happened).

I copy the photos to a portable hard drive. These are my back-ups.

I keep my laptop and portable hard drive in two separate places. For example, if I lock my laptop in the hotel safe while I spend a day wandering, I carry the hard drive with me. These days, they're remarkably small and lightweight.
If, god forbid, my hotel floods or goes down in a blaze, my laptop goes on the fritz or my hard drive is stolen, I will never lose my photos. If I'm with a travel partner, I may even back up my photos to a second external hard drive and store it in his/her luggage.
More travel photographers are starting to use a cloud like Crashplan, which stores data on a remote server. There is, however, one problem with this while travelling: it requires a reliable wifi connection. With my sheer volume of photos, it would be impossible (or take forever) to upload all my RAW files when I'm in countries where the internet speed is painfully slow.
Beautiful photos start with you
While my travel photography gear is really important to me, let me make clear I do not let it define me as a photographer. You don't need the latest, most expensive equipment to shoot stunning, impactful images (if you don't believe me, take a look at the winning shots for the iPhone Photography Awards).
Your camera does not move with the direction of the light, choose the best angle or compose the shot. You do.
Pin this post to Pinterest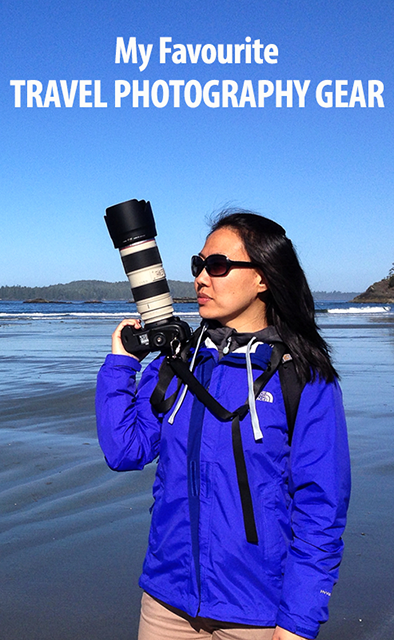 Featured photo credit: Jasmina Emmanuel
Disclosure: I earn a small commission from purchases made through the Amazon and iTunes links on this page (at no additional cost to you). Thank you for supporting this blog.