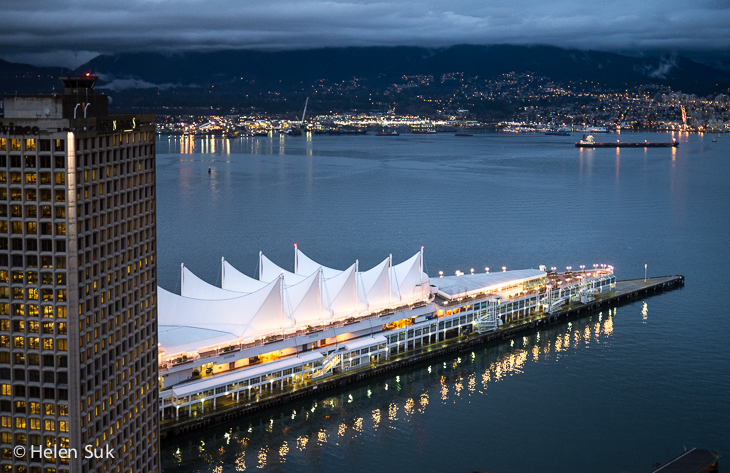 With its cosmopolitan vibe and standout attractions, it's easy to find things to do in Vancouver… but finding a place to stay? If you've ever had to wade through a seemingly endless list of options, you've had your patience tested by time-swallowing hotel searches.
Luckily, though, I've done some of the legwork for you.
Here are three Vancouver hotels worth staying at:
The St. Regis Hotel
The historic St. Regis Hotel in the downtown core is an independent, boutique property built in 1913. It may be a heritage building but, thanks to its most recent renovations in 2008, you'll find modern comforts here: Award-winning service, a filling, made-to-order American breakfast and, for the active, a gym pass to the adjacent, world-class Steve Nash Sports Club. Most impressive though is its offering of — get ready for this — free worldwide long distance calls! It begs the question: Why don't more hotels offer the same feature?
Getting to the hotel was a cinch: After a 25-minute, rapid-transit SkyTrain ride from the airport to Vancouver City Centre station, I found the hotel just one block away. And, with so many sites nearby, getting around the city was just as easy.
As for the room itself, I was in a Smart Double room with all the amenities I could ask for — and more — including a marble bathroom and FIJI bottled water that was replenished daily.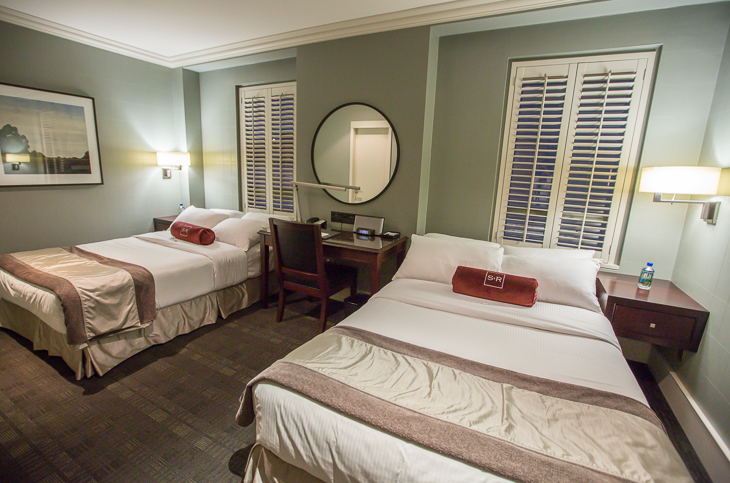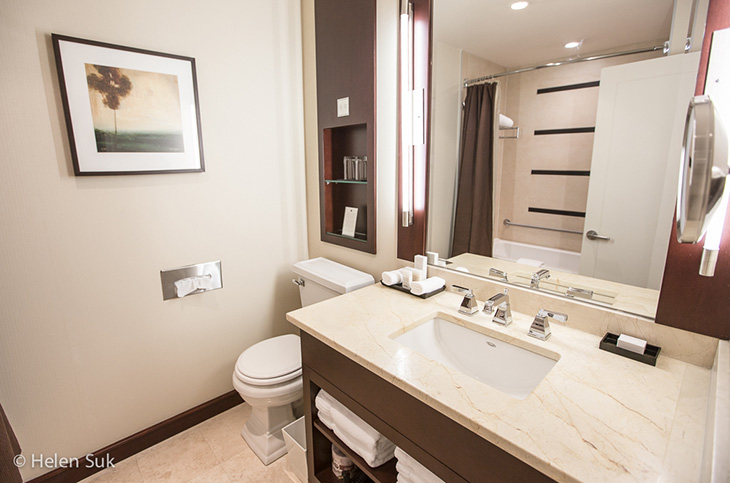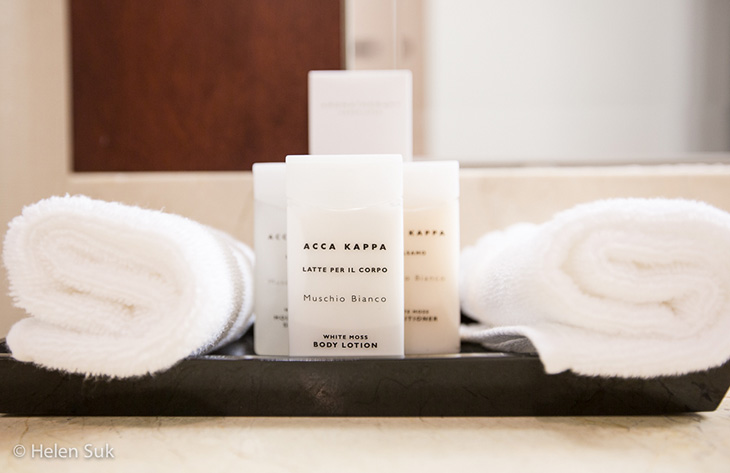 My absolute favourite in-room feature though had to be the plug-and-play media hub mounted on the wall above the desk between the two beds. Who wants to waste time searching for electrical outlets or climb out of bed late at night to check phone messages because your phone is plugged into the outlet next to the garbage can on the other side of the room? With the media hub, you can also view your own movies or photos on the flat-screen TV. It's brilliant.
Delta Vancouver Suites
Also just a block from the SkyTrain rail system, the Delta Vancouver Suites is conveniently situated in the heart of downtown Vancouver near all the attractions and at the doorstep of the historic Gastown district, a vibrant hotspot for dining and independent shops. Indeed, at this property, location is everything.
Upon check-in at front reception, each guest is welcomed with a warm, chocolate chip cookie (mine quickly found its way to my stomach) and, since I work during my travels, the business centre behind the reception area came in handy when I unexpectedly found myself in need of a printer.
My Signature Club Suite came with a roomy sitting area, separate bedroom, spacious bathroom and, at 20 stories high, a fine view of the harbour.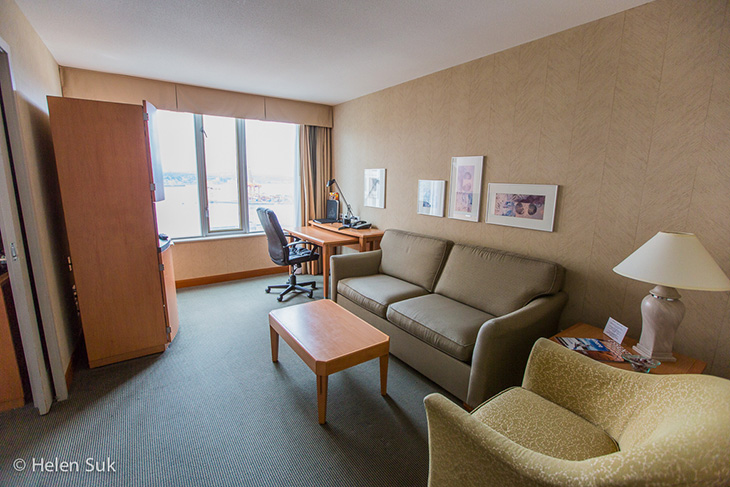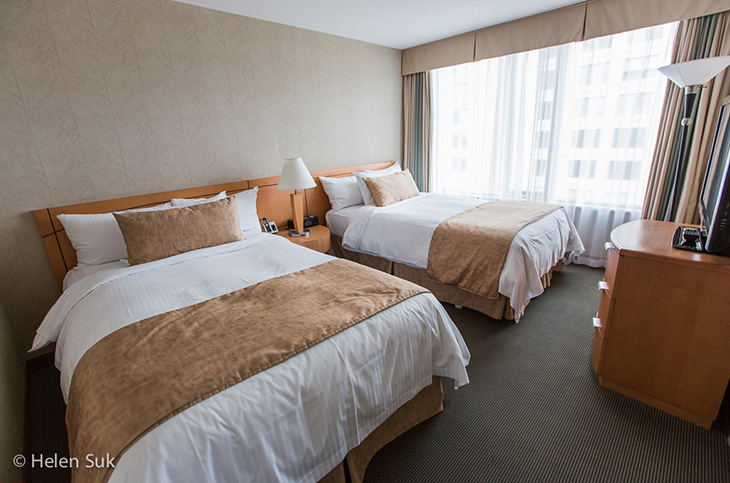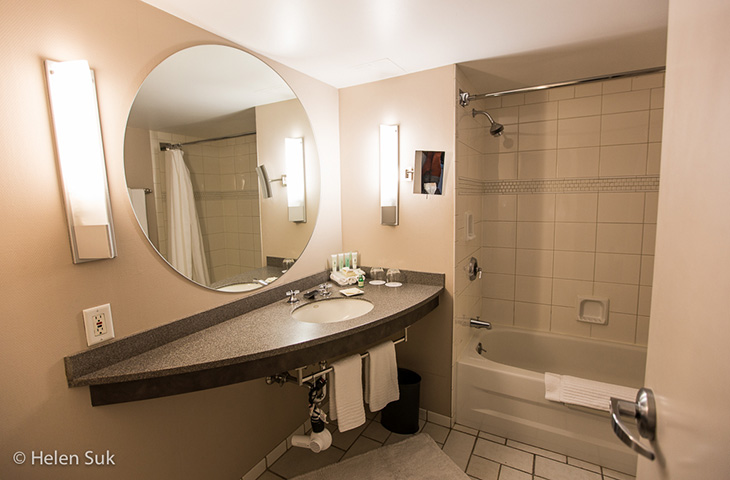 Signature Club accommodations will place you on one of the highest floors of the hotel (above the Delta and Deluxe suites) and access to the exclusive Signature Club Floor lounge, where complimentary beverages, evening hors d'oeuvres and continental breakfast are served. (Alcoholic beverages, however, do require payment so keep that in mind before filling up your wine glass.)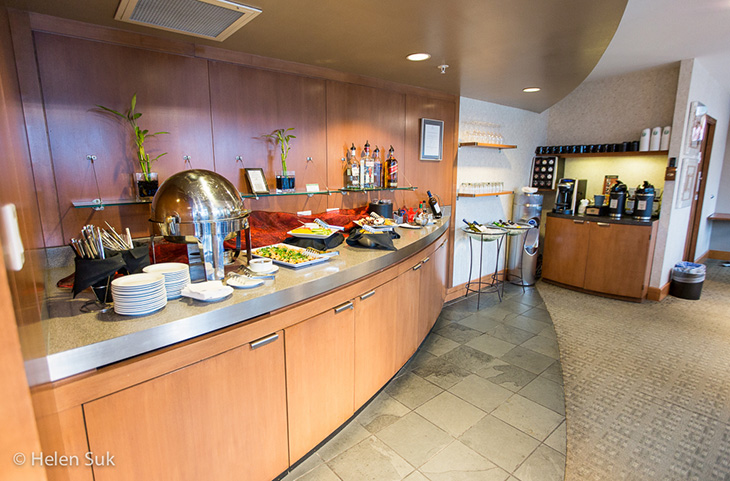 Service in the lounge is attentive and personalized, where guests are greeted by name and made to feel truly at home. Delta staff members Diana and Gina are worthy of special mention — they were consummate professionals yet, after just two days, I came to see them as friends.
Cross the street and you'll find yourself at the Vancouver Lookout, a tower with a superb, 360º aerial view of the city. If you stay at the Delta Vancouver Suites, you'll be in a perfect position to do what I did: Since admission is good for a whole day, visit while the sun is out (or clouds, depending on your luck), retreat back to your hotel room or have an early dinner in Gastown, then return to the Vancouver Lookout to experience the dazzling city skyline by night.
Granville Island Hotel
After all the sightseeing and shopping, you may want a change of pace — and scenery. Granville Island Hotel offers a relaxed but refined setting on the banks of False Creek. The public market, unique shops and dining scene on Granville Island are musts for every visitor, so why not spend a night or two at the only hotel in the neighbourhood?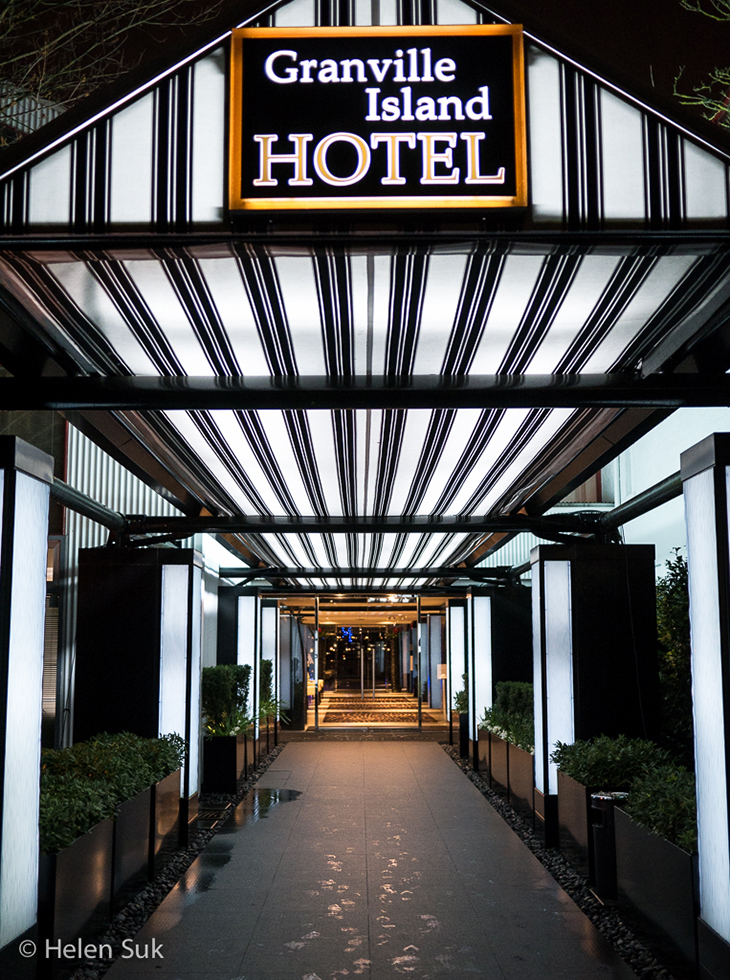 This elegant, boutique property is a gem, featuring a striking entrance, orchid-filled lobby and 100% non-smoking rooms. In fact, all the rooms come with luxury amenities and views of either the waterfront or park, but no two rooms are alike — each has its own unique feel.
If you plan on renting a car, parking is a mere $12/day, a much lower rate compared to hotels in the downtown core.
But there are other ways to get around. The team at Granville Island Hotel knows that one of the best ways to see Vancouver is by bicycle, which is why it offers seasonal bike rentals at an hourly or daily rate, complete with locks and helmets, for explorations along the seawall or Stanley Park.
After your outdoor workout (or indoor, if you choose to use the fitness centre instead), you may want to retreat to the roof-top jacuzzi for some R&R, then dine at the waterfront Dockside Restaurant while admiring the city and mountain view.
While I didn't sample their classic fare, I did enjoy a late-night dessert (tiramisu, just the way I like it) and cappuccino next to the floor-to-ceiling windows.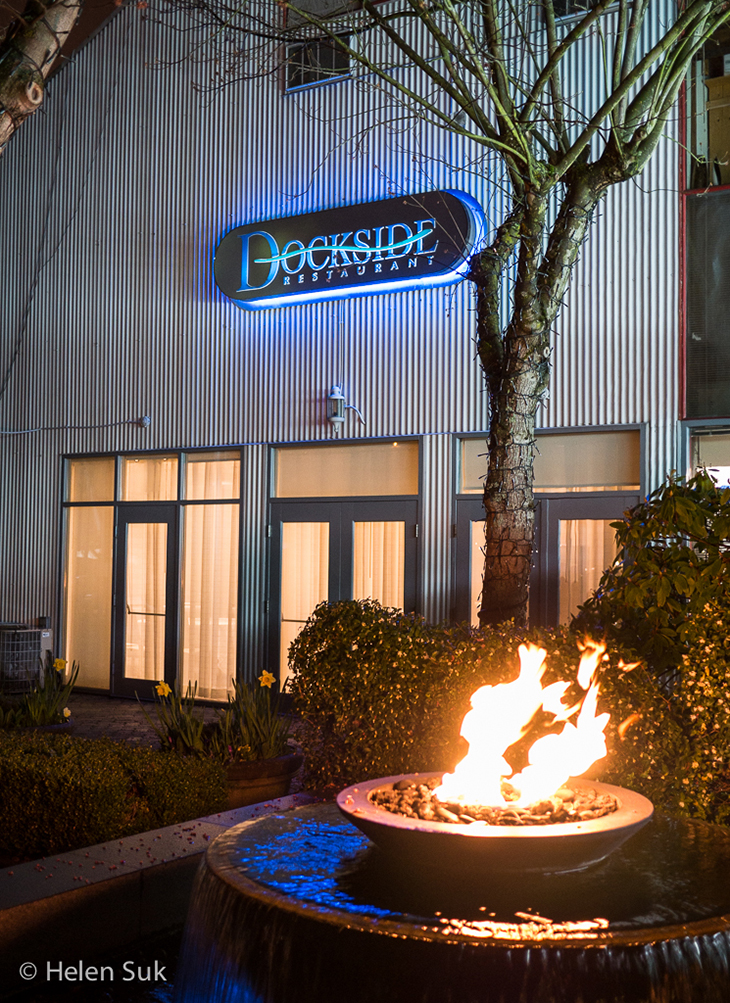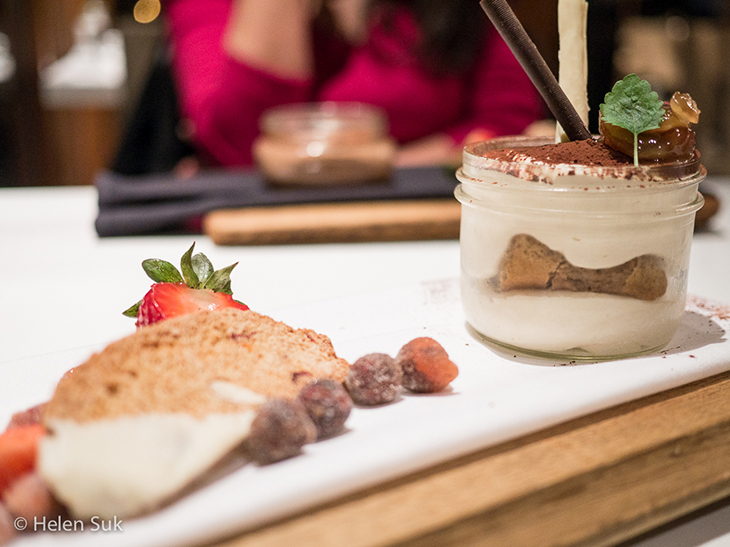 My time on Granville Island was chilly and drizzly but, if you visit during summery days, be sure to get a taste of island life on the chic, award-winning patio. This waterfront refuge is a crowd-pleaser.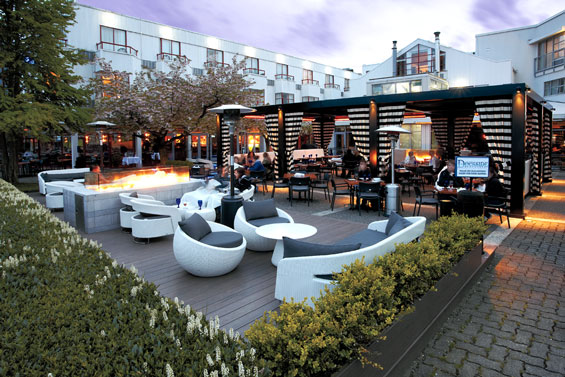 In the end, all my pre-trip, hotel research served me well. In addition to the features already mentioned, I slumbered on plush beds and took full advantage of the complimentary, in-room wifi at all three properties.
At these Vancouver hotels, you'll find all the creature comforts you'll need to unwind after a long day of exploring, or to hide from the west-coast rain.
My stays at the above hotels were either complimentary or discounted but rest assured all views expressed in this post are my own. I also earn a small commission from Booking.com if you click on one of their links and make a reservation through their site (at no cost to you).
Pin this post to Pinterest