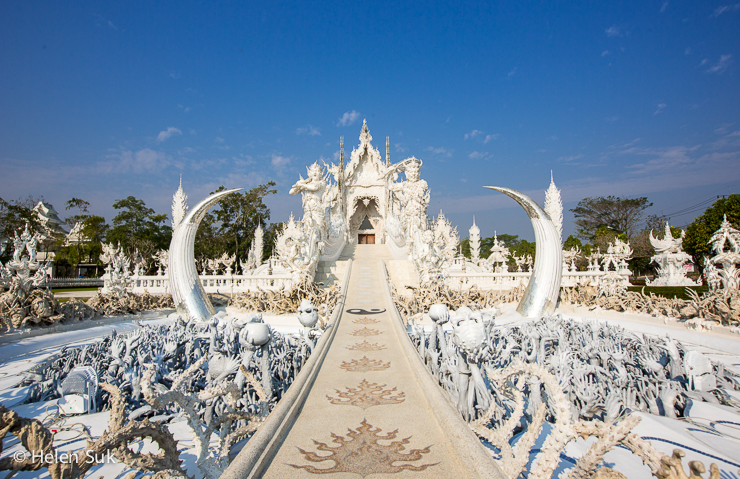 Wat Rong Khun, commonly known as the White Temple, is the reason I made the three-hour bus journey from Chiang Mai to the small city of Chiang Rai. I had been wanting to visit this extraordinary temple for years.
I was a bit unlucky though. The complex was partially closed for repairs following an earthquake in 2014 so I wasn't allowed inside the main structure, but its exterior and the grounds surrounding it were still a feast for the eyes.
It has since been re-opened, with non-Thai visitors now being charged an entrance fee of 50 THB, a nominal price I would gladly pay to preserve this spectacular masterpiece by local artist Chaloemchai Kositpipat.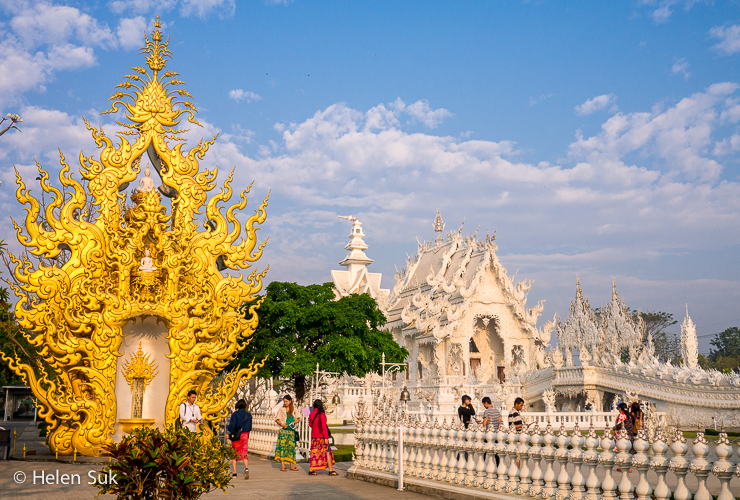 With its modern Buddhist design and intricately carved facade, the White Temple is unlike any other religious structure in Thailand — even the "templed out" will be overwhelmed by its unique beauty.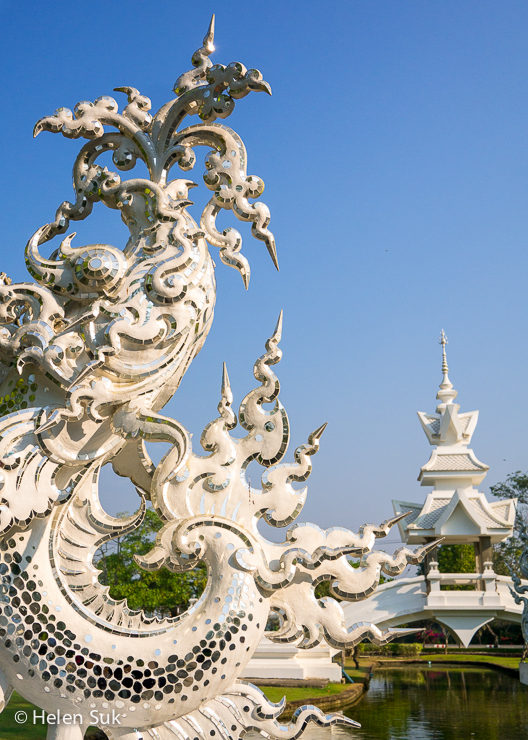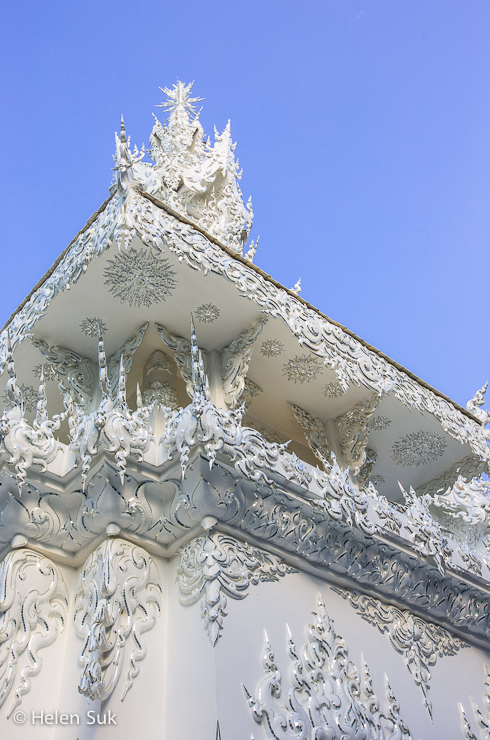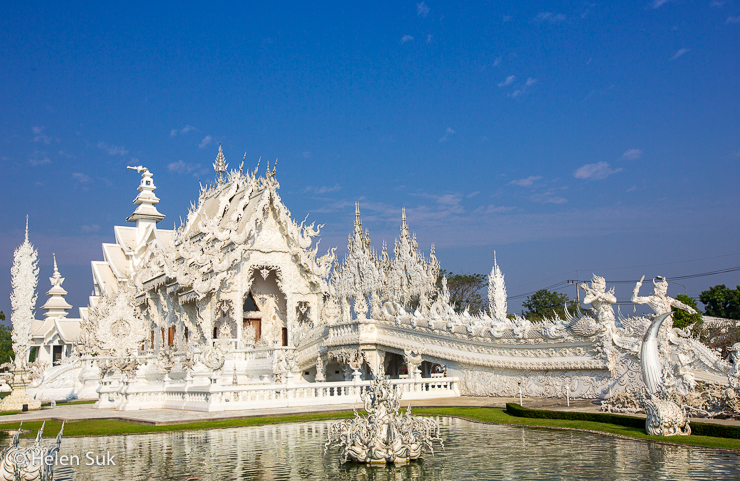 I was so awestruck that the crowds were nothing more than an inconvenience (it helped that I arrived at 8:30am before the throngs of tourists reach their highest numbers at around 10:30am). By 9:00am, the sun hit every detail of the building with sublime perfection.
The Lessons of Wat Rong Khun
The temple's appeal isn't just aesthetic. Take the time to reflect on Kositpipat's vision, as well as the profound religious and philosophical meaning behind his work or you'll miss the point of Wat Rong Khun entirely. For Westerners like me who struggle against the seductive power of mass commercialism on a daily basis, his message is especially relevant: one must overcome hell (the cycle of death and rebirth) to reach heaven and nirvana.
The main hall's exterior is all white to symbolize the purity of Buddha, and embedded with glistening, mirrored fragments to reflect his wisdom. To enter, visitors must cross a bridge over a sea of suffering — untamed desire and greed personified by hundreds of ghostly hands reaching out in eerie desperation.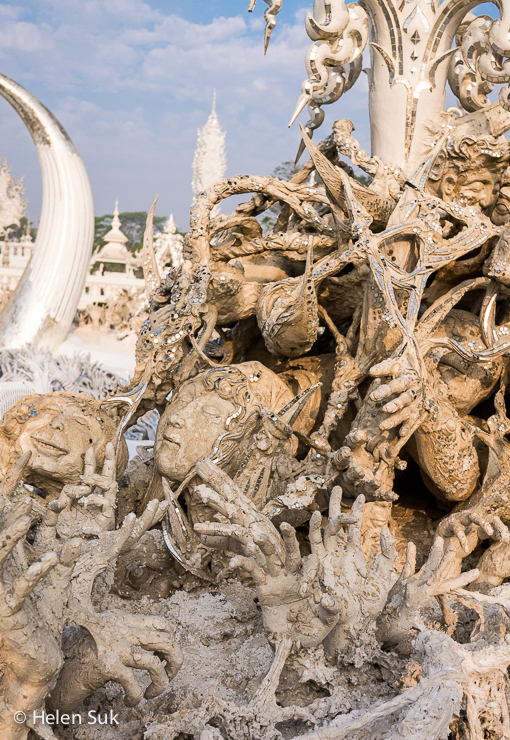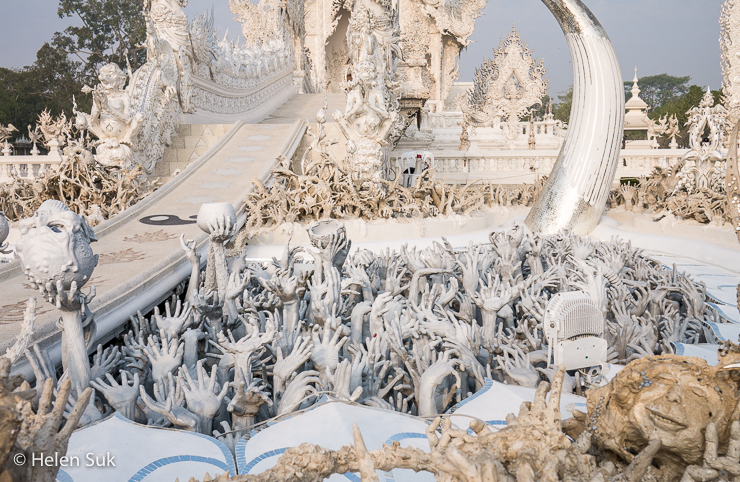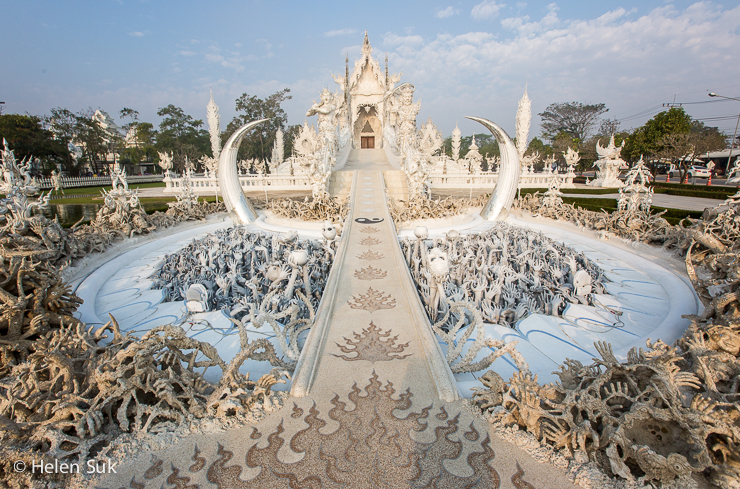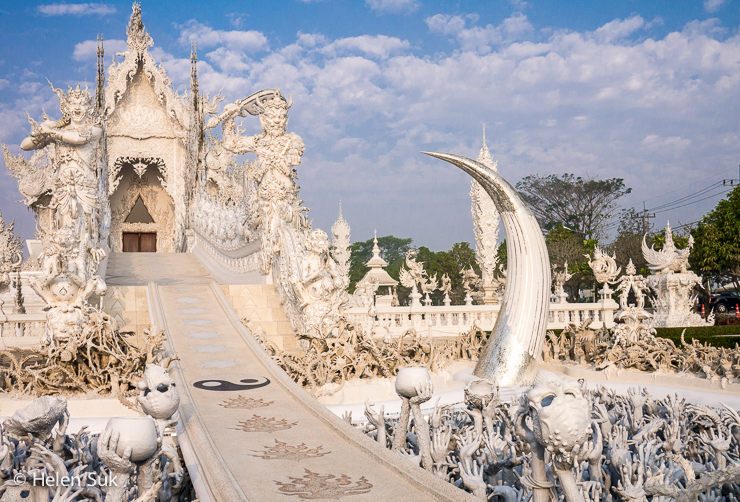 Inside the main hall, representations of the Buddha and mythical creatures are juxtaposed with unexpected pop culture references like Superman, Star Wars, Disney characters and a crotch-grabbing Michael Jackson, a controversial move that has drawn some criticism within Thailand. I regret not being able to see the interior myself but from what I've read, it's bewildering. Photography is no longer permitted in here so be sure to absorb it all before exiting.
Beyond the Main Hall
Don't forget to walk the grounds surrounding the main building because they're photo-worthy too: the smaller buildings, the ghoulish sculptures and the path under the canopy of prayer plates (to which you can contribute by adding your own prayers).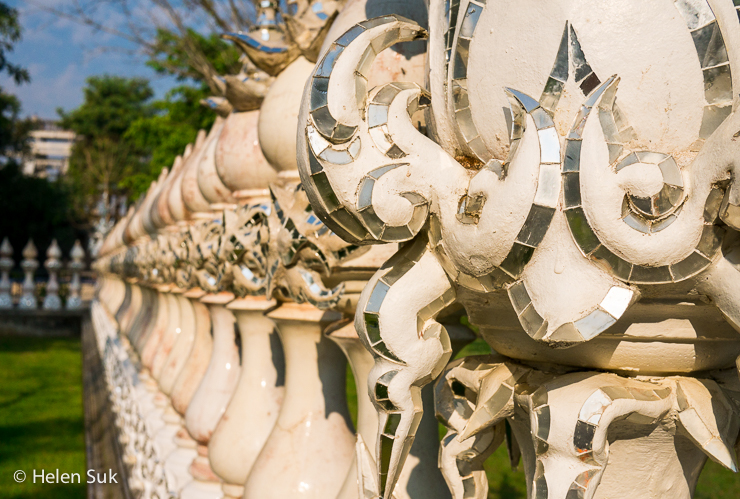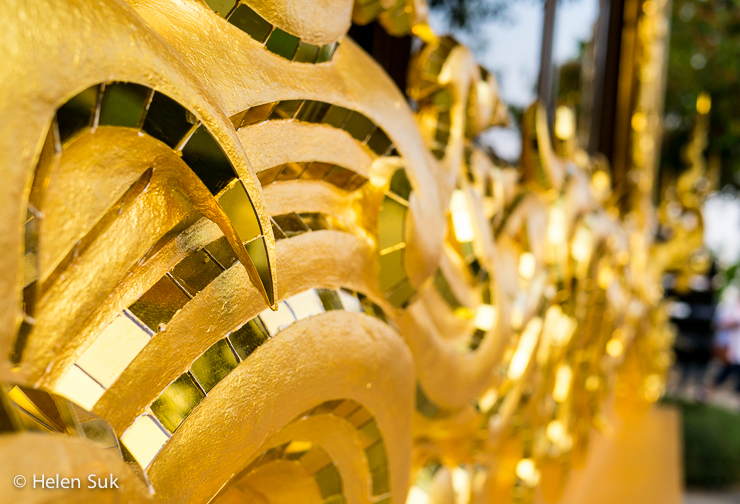 Even the restrooms are stunning.
Beside the temple is an art gallery featuring Kositpipat's work. Entrance is free but photos are also forbidden in here.
The Future of the White Temple
The temple complex is still a work in progress, to be completed by 2070 with nine buildings. Kositpipat has spent millions of his own THB to dedicate himself to this project, and accepts monetary contributions but refuses donations over 10,000 THB to preserve his artistic freedom. He won't live to see the glory of his finished work (neither will I) but something tells me it will be worth the wait for those who do.
What You Should Know:
Opening hours: they were 8:00am-5:00pm when I was there but I've seen different hours posted on different websites and blogs so check with your hotel the day before your visit. Also, the temple closes for an hour during mid-day.

The White Temple is a 20-30 minute drive from the city centre. From your hotel, hire a tuk tuk (about 300 THB) or a taxi (about 500 THB) roundtrip. The driver will wait an hour while you visit the temple. You can also take a public bus (no air conditioning) from Chiang Rai bus station for 20 THB or a songthaew (shared taxi).
Search for hotels at Booking.com: Chiang Rai | Chiang Mai
Respect local customs by covering your arms and legs. Despite the fact that some see the temple more as a work of art than a religious complex, this dress code is strictly enforced.
Pin this to Pinterest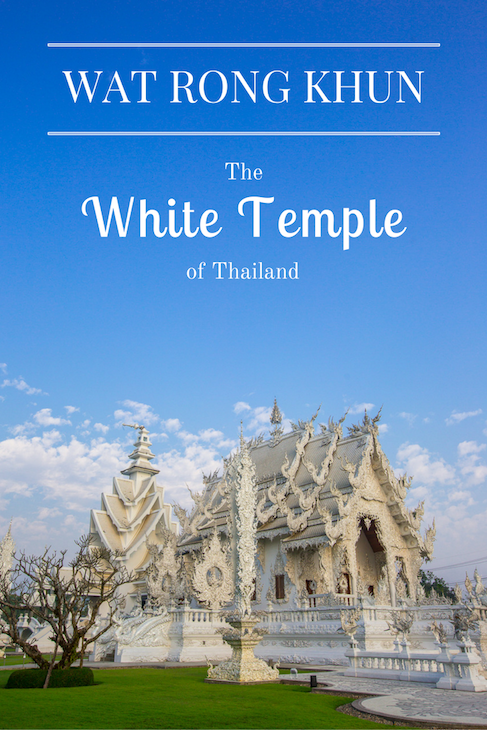 If you've been to Wat Rong Kun / the White Temple in Thailand, what were your impressions?
Disclosure: This post includes affiliate links that allow me to earn a modest commission from Booking.com if you click on them and make a hotel reservation (at no cost to you). Thank you for your support!