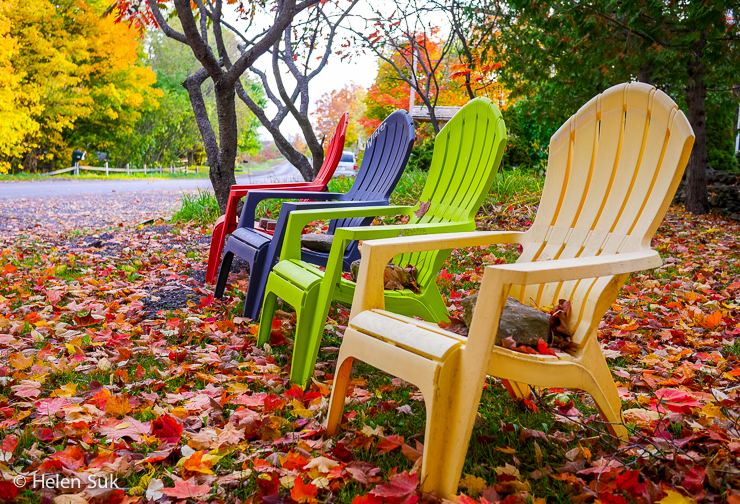 It was last May when I headed to Prince Edward County for the first time and learned just how special this destination is to so many Ontarians. Just days after hitting the Publish button, the blog post about my visit to The County had garnered 1,200 likes on Facebook! Residents, proud of the community they lovingly call home, shared it with their friends. Visitors who have experienced the charms of County life firsthand spread the word. And the post piqued the interest of those who didn't know about the spot at all, inspiring them to plan their own trip.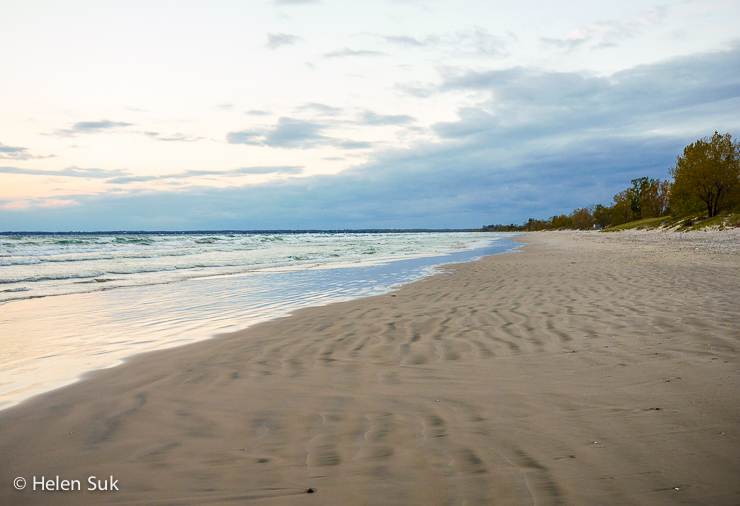 Well, as you may know from that blog post, Prince Edward County is my favourite weekend escape from Toronto and I've returned twice this fall. 
Not sure what to do in Prince Edward County? I've got you covered with more suggestions to help you make the most of your stay.
Waupoos Estates Winery
Head to the water's edge in Waupoos and you'll find the vineyard where The County's wine industry was born. I've visited a few wineries in the area and Waupoos Estates Winery, the oldest winery in The County, may be the most scenic. Stop by for a tour and tasting of their wide selection of vino from light and crisp whites to full-bodied reds and their award-winning Baco Noir.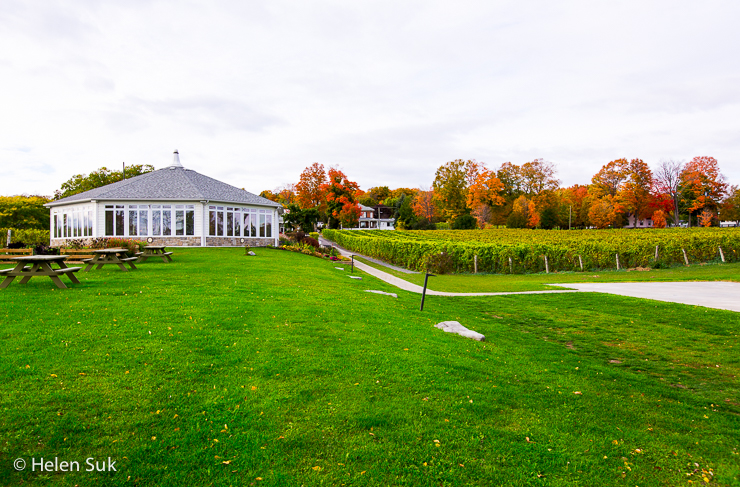 But there's so much more here to enjoy: hard cider made from the apples in their orchard, maple syrup from their sugar bush (maple ice wine, anyone?), a chocolate/gelato shop, a fruit winery on the other side of the road offering peach- and chocolate-flavoured wines, a petting zoo for kids and four rooms in a farmhouse from the 1900s with views of the vineyard and Lake Ontario for overnight stays. (Note: some activities and products are seasonal.)
Next to the winery is the Gazebo Restaurant, a gorgeous setting for lunch and dinner (and wine pairings, of course!) with an emphasis on local ingredients. Their vegetables are sourced from their own garden. My lunch in the Gazebo was outstanding — every bite was a mouthful of freshness, quality and flavour.
The Gazebo Restaurant offers patio seating on select days, and is closed from December to March.
The Local Store
To find all things County-made under one roof, make a stop at the Local Store, a shop located in a restored 19th century barn in Picton.
It's a good thing the space is enormous because the owners pack a lot in there, including: art, jewellery, woodwork, linens and edibles like preserves and pickles. Opened just this year, the Local Store showcases and promotes the work of over 130 artists and artisans from Prince Edward County.
But it's not just for shopping — climb upstairs to the spacious hayloft for antiques, a gallery filled with original oil paintings and a children's area.
Soup Opera Market Bistrot
For a taste of France, I stopped by Soup Opera Market Bistrot in Wellington, a relaxed, casual eatery that opened its doors just last February. Some County restaurants only offer lunch and/or dinner, especially during the off season but Sujo, owner and chef, offers meals in the morning, afternoon and evening, made with locally sourced products and cooked in an open kitchen in full view to diners, most of whom are locals. Expect unpretentious, attentive service from Sujo and her husband Michael.
As starters, I sampled the salade caprese but the onion soup topped with melted gruyere and emmenthal cheese stole my taste buds.
For my main, I went with a French classic: confit de canard. Ask for the aioli to dip your fries into — it's worth the extra 75 cents.
Of course, don't forget to pair your meal with a glass of County wine.
And, for a sweet finish, you can't go wrong with the creme brûlée.
You might be surprised to find Korean dumplings ("mundoo") with kimchi on the menu, as well as Asian food products like sriracha sauce, miso paste and even ready-made banchan (Korean side dishes) alongside antipasto and cheeses in the mini market beside the dining area.
Soup Opera Market Bistrot may be a French restaurant, but the Asian theme makes complete sense, considering Sujo's Korean descent and desire to make international food products more accessible in The County.
Reservations are recommended.
Jackson's Falls Country Inn
From the moment I read about this boutique property during my research for accommodations, I wanted to visit. Located in an idyllic setting in Milford, Jackson's Falls Country Inn is designed with antique furnishings and a contemporary flair. No two guest rooms are alike — each of the 10 spacious suites comes with its own personality. I stayed in the hip and sassy Canadiana-themed Pilsworth Suite surrounded by National Geographic magazines and an art collection, each piece with a story to tell. Just ask the owner Lee about them and she'll regale you with animated tales and a healthy dose of humour.
She opened the inn as a place to introduce the richness of aboriginal culture to her guests. The dream catchers, native art and massive Mohawk Suite are a nod to her Mohawk heritage.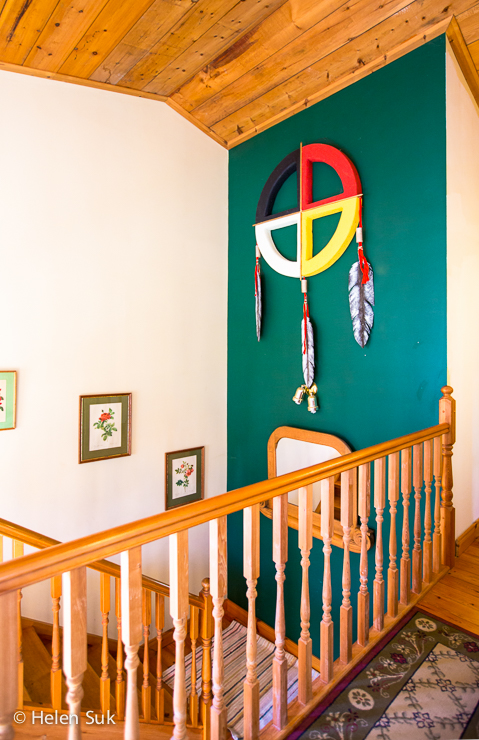 So too is the restaurant, a restored school house from the 1870s that serves up farm-to-table, aboriginal-influenced cuisine like bannock, elk chorizo sausage and corn ice cream sandwiches against the backdrop of blackboards and vintage maps. To be a guest of Lee's is to walk into history. I've dined at the Public School House twice now and will always want to return.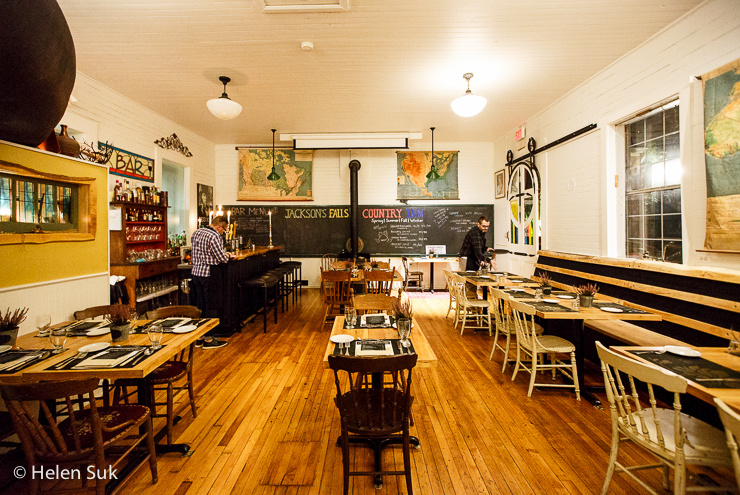 But it's not just its unique character that makes Jackson's Fall Country Inn stand out — it's the cozy atmosphere, down-to-earth hospitality and personalized service from Lee, Meghan (the chef) and Paul (server). This place has heart.
It was also Lee who inspired me to visit the reservation where she spent her childhood, Tyendinaga Mohawk Territory (just a 20-minute drive away), where an aboriginal artfest happened to take place during my visit. It was small but impressive, showcasing the many talents of the local community. So thanks, Lee.
Reserve a suite at the Inn here or through Booking.com here.
The Drake Devonshire
For an upscale, hipster vibe, The Drake Devonshire in Wellington is the place to visit if you want to see and be seen. Want to spend the night? You'll need to make a room reservation oh, I don't know, five months in advance. If that fails, consider dining in the restaurant. Warning: it's also frequently fully booked but my friend was able to secure a table in September by reserving it about three weeks in advance.
Opened in 2014 to much fanfare, this lakeside hotel of only 13 rooms is indeed seductive — it's country rustic with a touch of modern chic, designed with swanky decor and contemporary art. It's also a hipster hotbed for live music and parties.
And the culinary offerings? Expect the same calibre as you would at its flagship property in Toronto.
Huff Estates
This winery in Bloomfield offers an intriguing combination of award-winning wines and contemporary art in a gorgeous setting. Opened in 2004, Huff Estates began crafting chardonnay, pinot gris and merlot wines but their Off Dry Reisling was the clear winner for me and my friends.
Following a tasting and tour, visitors can enjoy lunch on the patio overlooking the vineyard from May to October.
What makes Huff Estates unique in The County are the indoor and outdoor displays of art and sculpture from both Canadian and international artists. Inside, the Oeno Gallery is bright and worth a peek.
Outside, the Sculpture Garden takes visitors on an artistic journey across four acres of a landscaped garden where they can pause at, and contemplate, each art installation and sculpture.
Huff Estates also hosts overnight guests in their 21-room country inn.
The Outdoors
Summer is a fantastic time to visit Prince Edward County but don't forget autumn. In October, you'll be enticed by the cool, crisp air and the multicoloured foliage: vivid hues of tangerine, gold and scarlet. Drive along the winding country roads and to Lake on the Mountain to take it all in.
The three beaches and 25m-high sand dunes at Sandbanks Provincial Park may see a lot of activity June-August but, in the fall, they're amazingly quiet and secluded.
Read this post for more on Lake on the Mountain and Sandbanks Provincial Park.
I plan on returning to Prince Edward County every year so if you have your own travel tips or thoughts to share, please leave a comment below!
Pin this post to Pinterest
Disclosures: Waupoos Estates Winery, Soup Opera Market Bistrot and Jackson's Falls Country Inn hosted me as their guest but rest assured all opinions expressed in this post are entirely my own. I also earn a small commission from Booking.com if you click on their link and make a reservation through their site (at no cost to you). Thank you for your support.