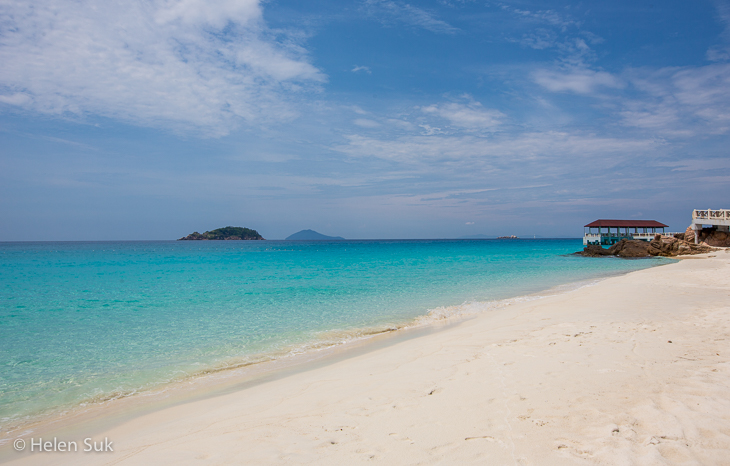 Thank you, fellow travellers, for leading me here. I knew little about Malaysia until I arrived in the country and absolutely nothing about Redang Island (Pulau Redang), the tropical utopia that, after heeding the advice of two travel bloggers, became my home for a week.
I wanted a Southeast Asian beach escape far from the swarms of tourists, and found Wisana Village, an intimate resort on a small stretch of white-powder sand in a secluded cove. I wanted a shimmering blue sea, and found aquamarine waters with the clarity of luminous glass. I wanted sea turtles, and encountered a group of them as I snorkelled just off the resort's shore.
Pinch me.
Redang Island (Pulau Redang)
Located off the coast of Kuala Terengganu in eastern Peninsular Malaysia (and just a one-hour flight from Kuala Lumpur), Redang Island is one of nine protected islands that make up a marine park on the South China Sea.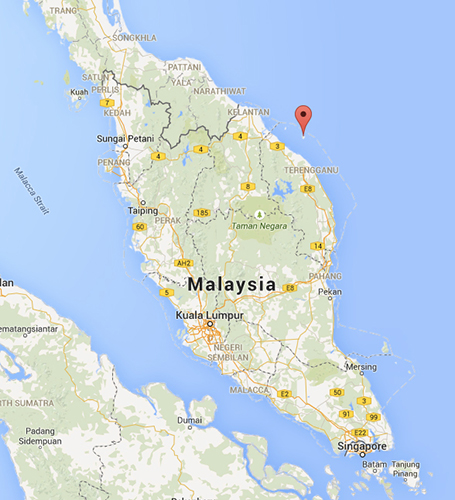 Rich in natural beauty, spectacular beaches and aquatic life, the whole archipelago is a sanctuary for jungle trekkers, divers, snorkellers and those just seeking a relaxing, idyllic getaway. I was doubtful I'd find beaches and waters in Southeast Asia as unspoiled as those I visited in Zanzibar and Mozambique, but Redang Island blew my expectations.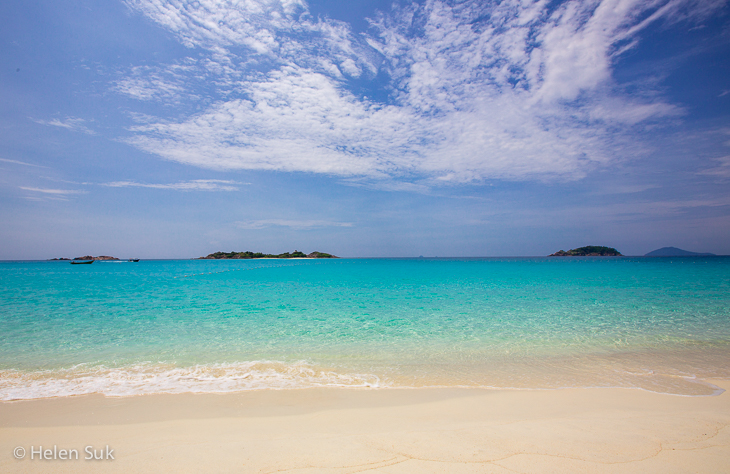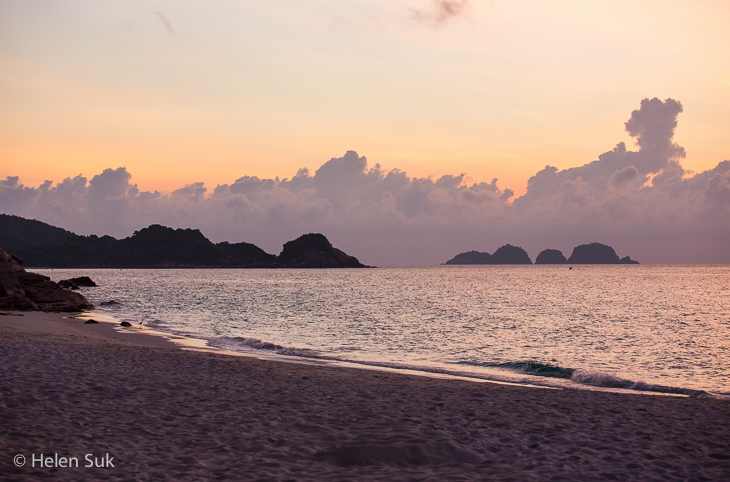 Such treasures, however, don't stay secret for long. Redand Island is also a popular holiday destination for both Malaysians and non-Malaysians on package deals with resorts. The island, which served as the location for Summer Holiday (a best-selling Chinese film), has seen a boom in tourism particularly from China.
Most of the resorts are located on Long Beach (or Pasir Panjang) which, from what I've read online, is superb but I was in search of some privacy and stillness.
Wisana Village
Then I found Wisana Village, the only resort on the private beach of Teluk Kalong Kechil. This cozy refuge of only 10 rooms is no Ritz-Carlton, but guests can expect warm, family-like hospitality — and, my god, this setting!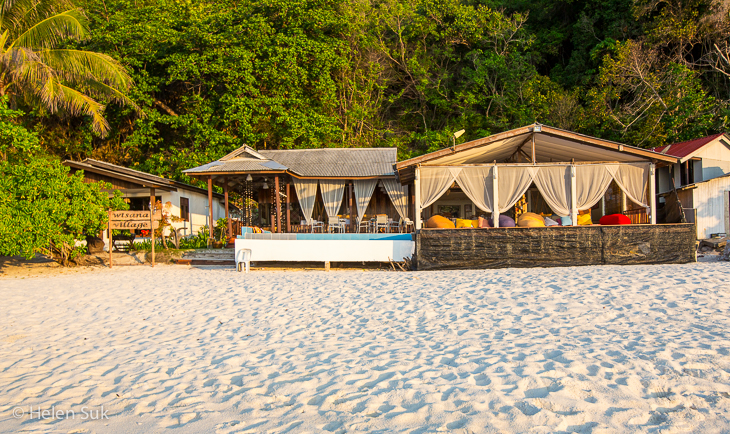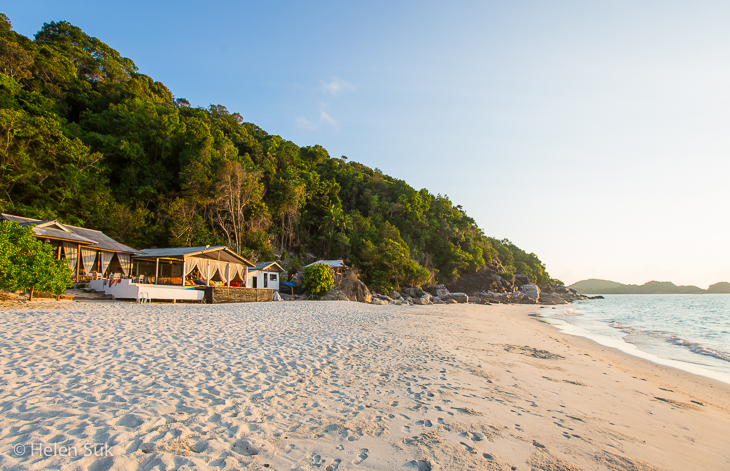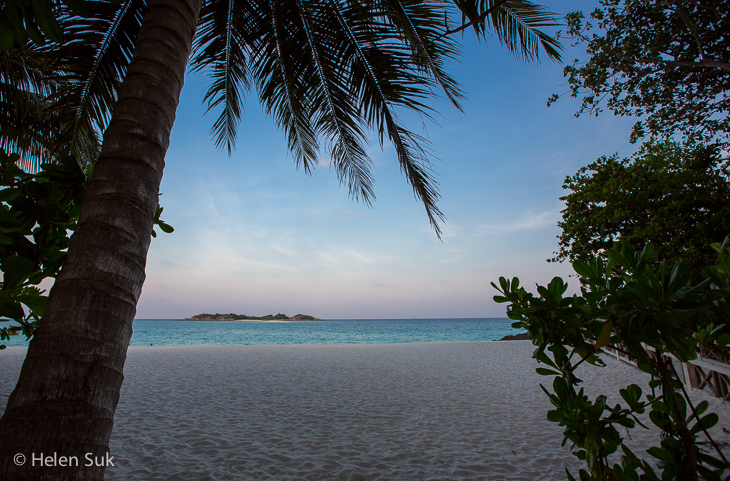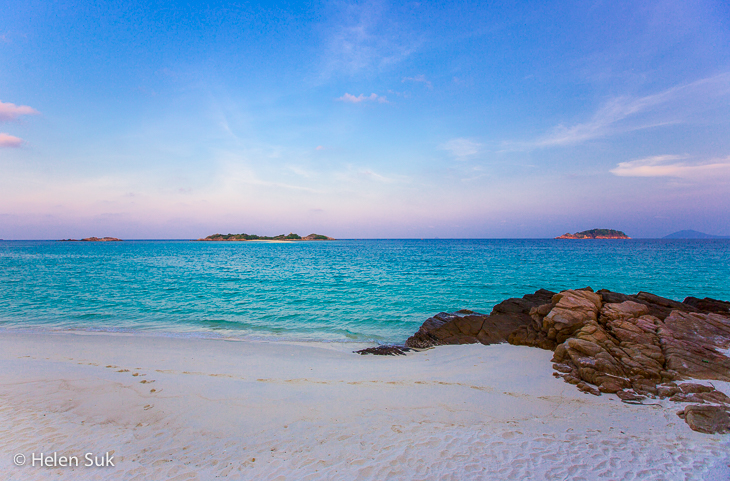 Owned and staffed by locals, Wisana Village is also committed to promoting art and culture by showcasing the artistic talents of youth within the Redang Island community.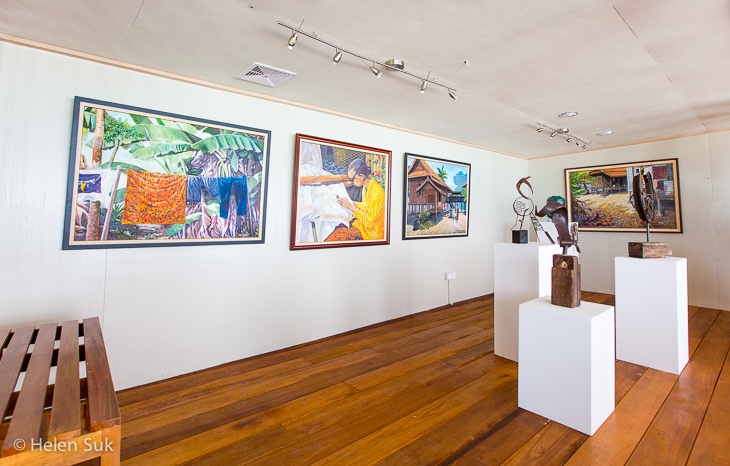 The layout of the resort is simple, with an atmosphere of a Malaysian beach home, and public areas that are both open-concept and open-air. The colourful lounge includes bean bags, cushions, a flat-screen TV, book and board games.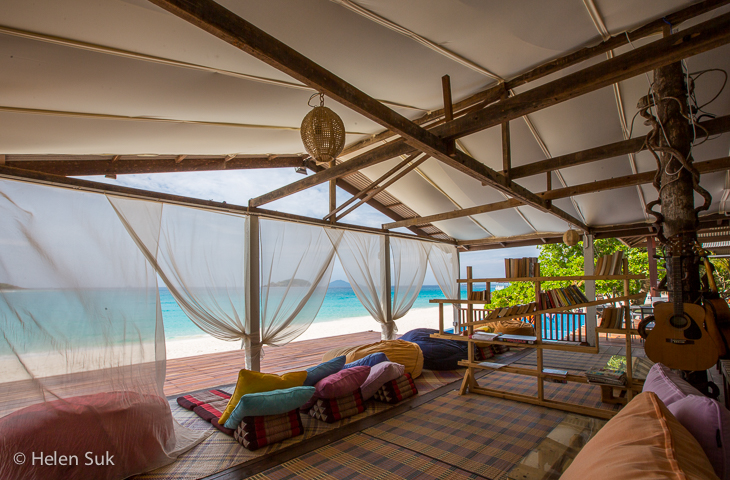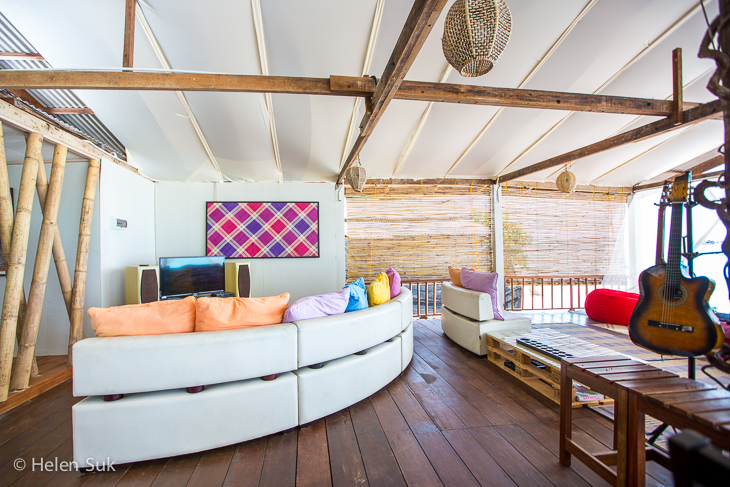 Satisfying Malay and Western-style meals are served buffet style (unless occupancy is low, in which case individual meals will be served) in the dining area, where a beverage station is available 24 hours/day.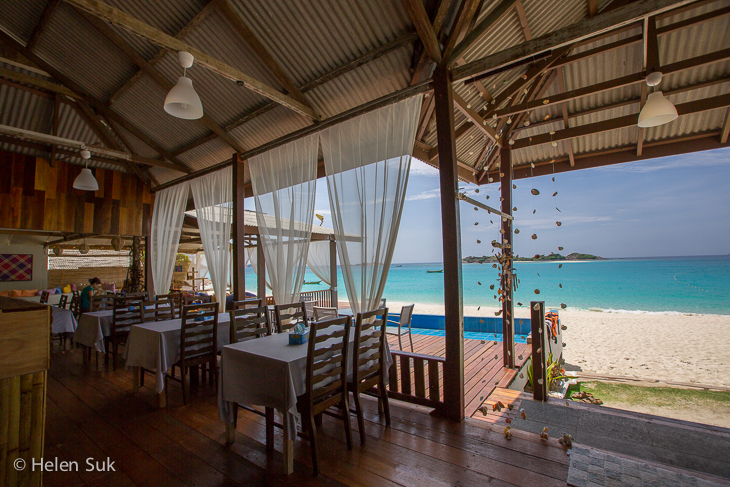 And couples on their last night are offered a special touch: a romantic, candle-lit dinner close to or right on the beach.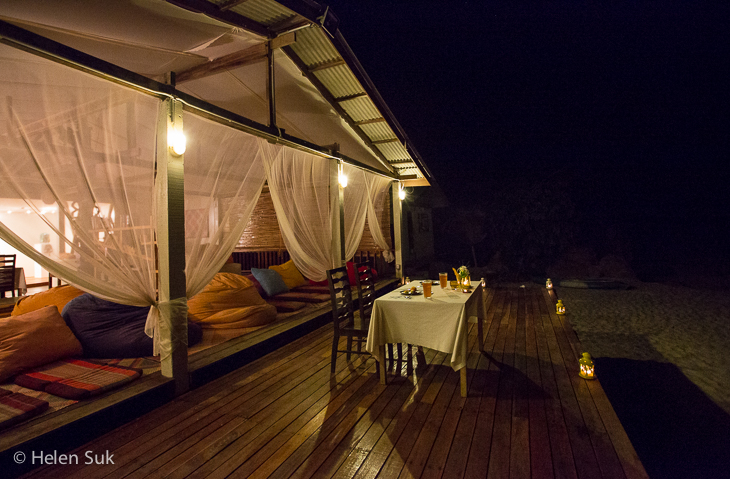 The theme of simplicity is also found in the accommodations which are rustic but clean, and equipped with air conditioning (although the cool air doesn't make it into the bathrooms) and hot water. Rooms are cleaned on request.
The four Standard Terrace rooms are located in one building and furnished with Ikea furniture, but the Private Chalets are individual cottages with more privacy and style. This is a family-friendly property, so couples would be wise to book a chalet.
My first two nights were spent in a Standard Terrace room, followed by four nights in a Private Chalet (when one became available). The air conditioner started leaking in the chalet, at which time I was, thankfully, promptly moved into another suite.
The best feature of the accommodations is their proximity to the South China Sea — every room is beachfront, mere steps from the water. (And if the resort invested in some lounge chairs and replacement hammocks, it would be off the hook.)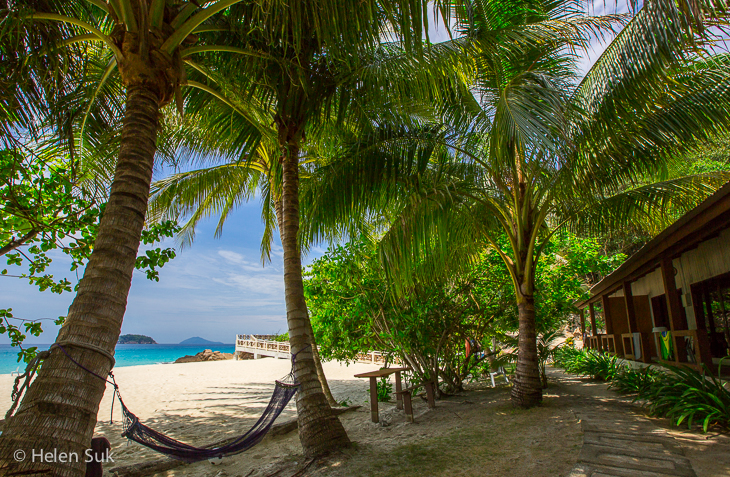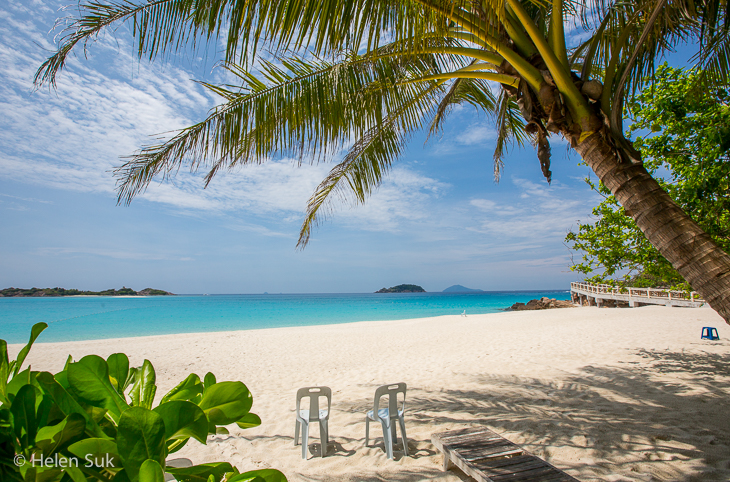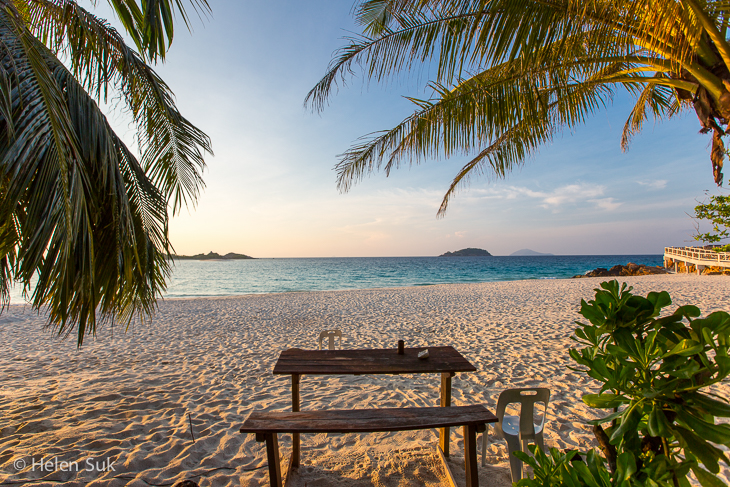 Sunrise, mid-afternoon or evening, this white-sand beach is a surreal vision of beauty at any time before nightfall.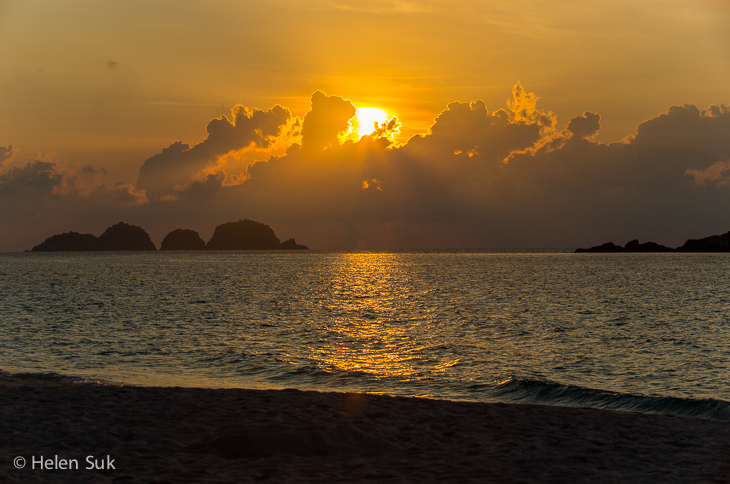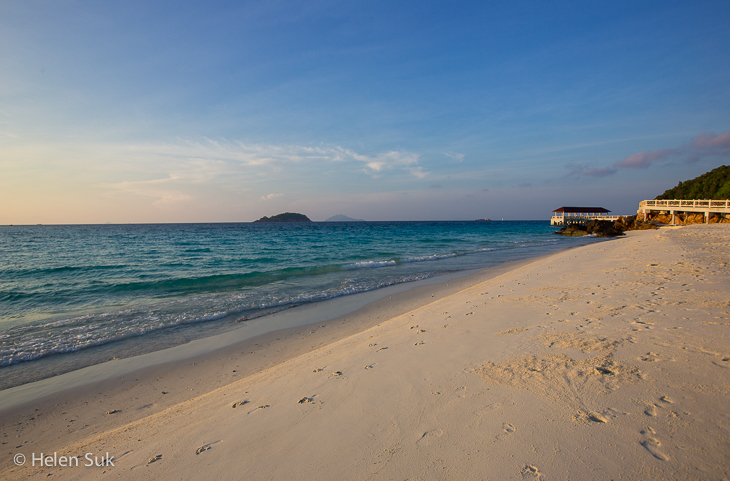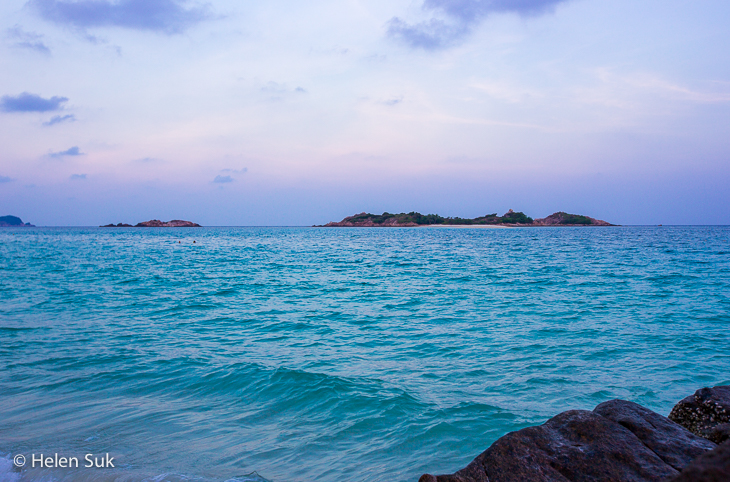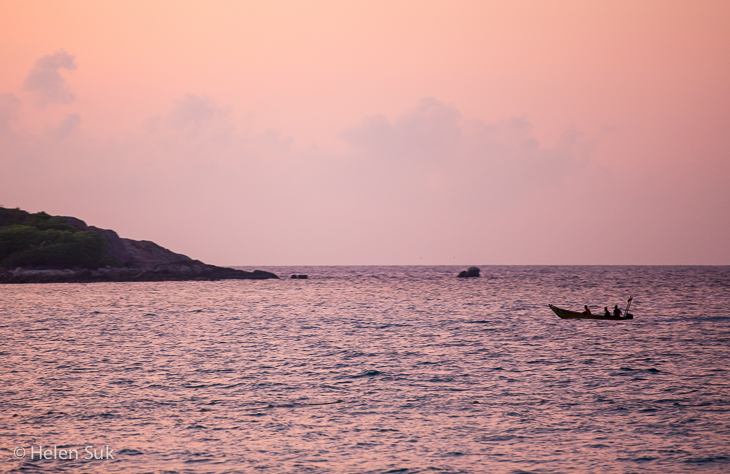 For activities, Wisana Village features a small pool but only for the little ones (which was being cleaned during my stay).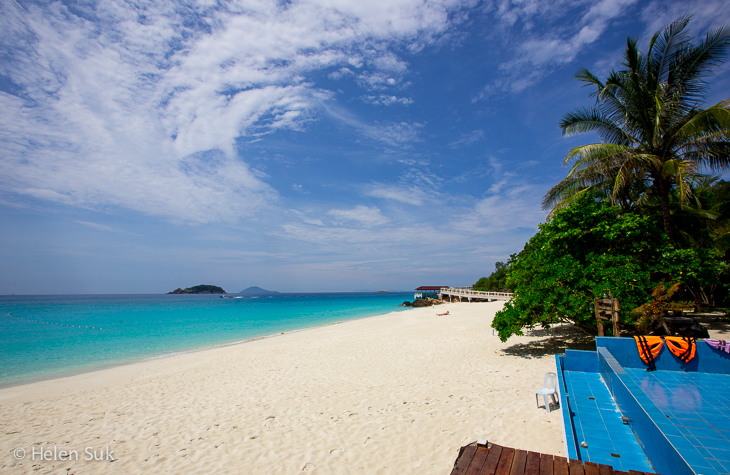 A kayak is available for visiting nearby islets and beaches, as well as snorkels for exploring the biodiversity of the underwater world.
And it couldn't be easier. With a seafront that's home to turtles, the resort offers guests the opportunity to swim with their gentle friends just off its shore. Surely, they can't be that close, I thought. The staff told me they were. The guests told me they were. And yet I was still dubious. But then it happened one day during a morning snorkel: a sighting of sea turtles, a whole group of six, resting on the seabed and gliding to the surface for breath. The best time for sightings is early morning when the waters are undisturbed by passing boats.
For snorkelling and diving trips to world-class sites near surrounding islands, guests can make the three-minute walk to the Seamonkey Dive Centre at Redang Mutiara Beach Resort (located on the neighbouring beach). But there's fantastic snorkelling just in front of this resort as well — far better than what I expected — where multi-hued coral and tropical fish are abound. (Wearing a life jacket here is recommended to ensure passing boats spot you easily.)
The private location, magnificent beach and snorkelling were everything I wanted for my tropical escape, but my experience at Wisana Village was made even more memorable by the family atmosphere and personalized attention provided by the staff. At the end of my stay, my departure felt akin to leaving home. Before bidding my Malaysian family farewell, they slipped me a packed lunch for the boat journey back to Kuala Terengganu, waving as I sped off into the distance. Because it's just that kind of place.
Deepest thanks to Wisana Village for hosting my stay.
Pin this post to Pinterest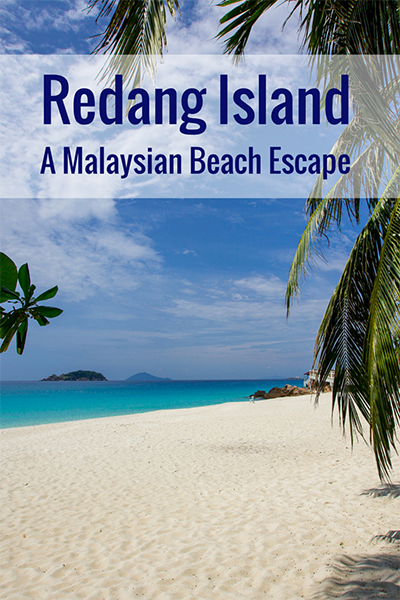 What You Should Know:
Climate: March to October is the ideal time to visit Redang Island. Many resorts close during the November-to-February monsoon season.
Families love Wisana Village so expect to share the resort and beach with children.
Because of its remote location, wifi is rarely functional so guests should be prepared be off the grid for most of their stay.
You may see a few ants in the bathroom but it's nothing to be alarmed about. I wasn't bothered by it.
Getting to Wisana Village is a bit of a journey (but worth it!). Once arriving at Kuala Terengganu airport, purchase a ticket for a taxi to Shahbandar Jetty (30 MYR; 20-minute drive). At the jetty (not to be confused with Merang Jetty), buy a ticket for the next public ferry to Redang Island (55 MYR; 1.5 hours) and tell the ticket agent you're heading to Wisana Village. He or she will provide you with a tag for your luggage (make sure you use it). You can pass the time in the indoor, air-conditioned waiting area. The ferry, which holds 100 passengers, can be a little chaotic and sometimes sells out on weekends and holidays, so it's advised to purchase your return ticket at this time as well. After arriving on Redang Island, you'll have to board a second ferry that will take you directly to the resort. Be vigilant. The crew will know to transfer your luggage to the second ferry by looking at your tag, but I'd suggest keeping a close eye on it to ensure they do. During my transfer the second ferry almost passed Wisana Village completely (which you should reach in only 5 minutes), at which time I immediately notified the crew (thankfully, I recognized the appearance of the resort) and they made a quick turn, so I strongly recommend telling a crew member at departure that you expect to be dropped off at Wisana Village. An alternative to the public ferry is a private speedboat (55 MYR per person for two people) from Merang Jetty but, unless it's enclosed, you'll get splashed for an hour if the sea is a little choppy. I took this mode of transportation when I returned to Kuala Terengganu — not fun, and the salt-water sting in my eyes was rather painful.